posted on 16 February 2015
Written by Sig Silber
It is cold in the East and wet in the South. But what is up with the Ridiculously Resilient Ridge (RRR)? There is a suggestion that it might be shifting its position and this is discussed in the NOAA 6 - 14 Day Outlook. We shall see. This week the discussion at the beginning of the report is about how an El Nino Modoki can shift precipitation patterns from what one might expect with a traditional El Nino. More on that in the weeks ahead.
This is my weekly Weather and Climate Update Report. A more complete report can be found here in what I call Page II of my Weekly Report.
Why Modokis are important. I have some good information on El Nino Modokis on Page II of my report but I came across this article recently and decided I would share some of it with you.
Indo-Pacific Warm Pool Area Expansion, Modoki Activity, and Tropical Cold-Point Tropopause Temperature Variations Fei Xie, Jianping Li, Wenshou Tian, Yanjie Li & Juan Feng
This article was written for the purpose of studying changes to the Tropopause, the transition between the Troposphere and the Stratosphere. But as is often the case there can be much learned about a general topic from a paper which is addressing a very narrow topic as is this one,
First of all I want to start with the original defining of a Modoki which was publicized in a report by Ashok et al. in 2007. You can read the full report here. The definition has evolved a bit over time as Type I and Type II Modokis were later defined but I think this author is working with Ashok's original definition. More information on Modokis can be found on Page II of this report.
"Using observed data sets mainly for the period 1979–2005, we find that anomalous warming events different from conventional El Nino events occur in the central equatorial Pacific. This unique warming in the central equatorial Pacific associated with a horseshoe pattern is flanked by a colder sea surface temperature anomaly (SSTA) on both sides along the equator. Empirical orthogonal function (EOF) analysis of monthly tropical Pacific SSTA shows that these events are represented by the second mode that explains 12% of the variance. Since a majority of such events are not part of El Niño evolution, the phenomenon is named as El Nino Modoki (pseudo-El Nino Nino) (''Modoki'' is a classical Japanese word, which means ''a similar but different thing''). The El Niño Modoki involves ocean-atmosphere coupled processes which include a unique tripolar sea level pressure pattern during the evolution, analogous to the Southern Oscillation in the case of El Niño. Hence the total entity is named as El Nino–Southern Oscillation (ENSO) Modoki. The ENSO Modoki events significantly influence the temperature and precipitation over many parts of the globe. Depending on the season, the impacts over regions such as the Far East including Japan, New Zealand, western coast of United States, etc., are opposite to those of the conventional ENSO. The difference maps between the two periods of 1979–2004 and 1958–1978 for various oceanic/atmospheric variables suggest that the recent weakening of equatorial easterlies related to weakened zonal sea surface temperature gradient led to more flattening of the thermocline. This appears to be a cause of more frequent and persistent occurrence of the ENSO Modoki event during recent decades."

Citation: Ashok, K., S. K. Behera, S. A. Rao, H. Weng, and T. Yamagata (2007), El Nino ̃o Modoki and its possible teleconnection,J. Geophys. Res.112 , C11007, doi:10.1029/2006JC003798.
Now let us look at the impact of Modoki or not Modoki on convection.
As I mentioned these charts were prepared for a different purpose namely to examine when convection was so powerful that the clouds came close to entering the Stratosphere. But this also shows at least partially where the strongest convection activity was in the case of 8d for traditional/canonical El Nino events and in the case of 8c where convection was during Modoki events. If nothing else, this tells you about cloud height.
As you can clearly see, the pattern is very different between 8c and 8d. But in 8a you see that the sea surface temperature anomalies were almost identical. It is just a spot check but when I look at the flow of water in the Rio Grande in New Mexico, it is confusing when one considers the impacts of all El Ninos and all La Ninas but it makes more sense when you also consider Traditional/Canonical versus Modoki.
This is a glimpse at how weather patterns for a traditional El Nino and an El Nino Modoki can be very different. The conclusion I draw is that the NOAA Analysis of ENSO is close to being useless. They categorize the phases within ENSO as being:
But without identifying what kind of El Nino it is or what kind of La Nina it is, the further interpretation by computer models would be problematic unless the models actually differentiated between the impacts of Canonical and Modoki forms without the need to have that specified in the initialization of the models.
Short-term Outlook
Let us take a look at the 8 - 14 day outlook that was issued today February 16, 2015. It will auto-update every day so it will be changing day by day (and thus be up to date whenever you elect to read this report) but my comments may become out of sync with the map since my comments do not auto-update.
Generally I only show the "second week" namely the day 8 -14 outlook. The first week together with much additional information on current weather patterns and near-term forecasts can be found in Part II of my report, but 8 - 14 days covers most of the 6 - 14 day period. However for today I am also showing the 6 - 10 Day Precipitation Outlook.
Here is the updated February Temperature Outlook Issued Saturday January 31.
And here is the 8 - 14 Day Temperature Outlook.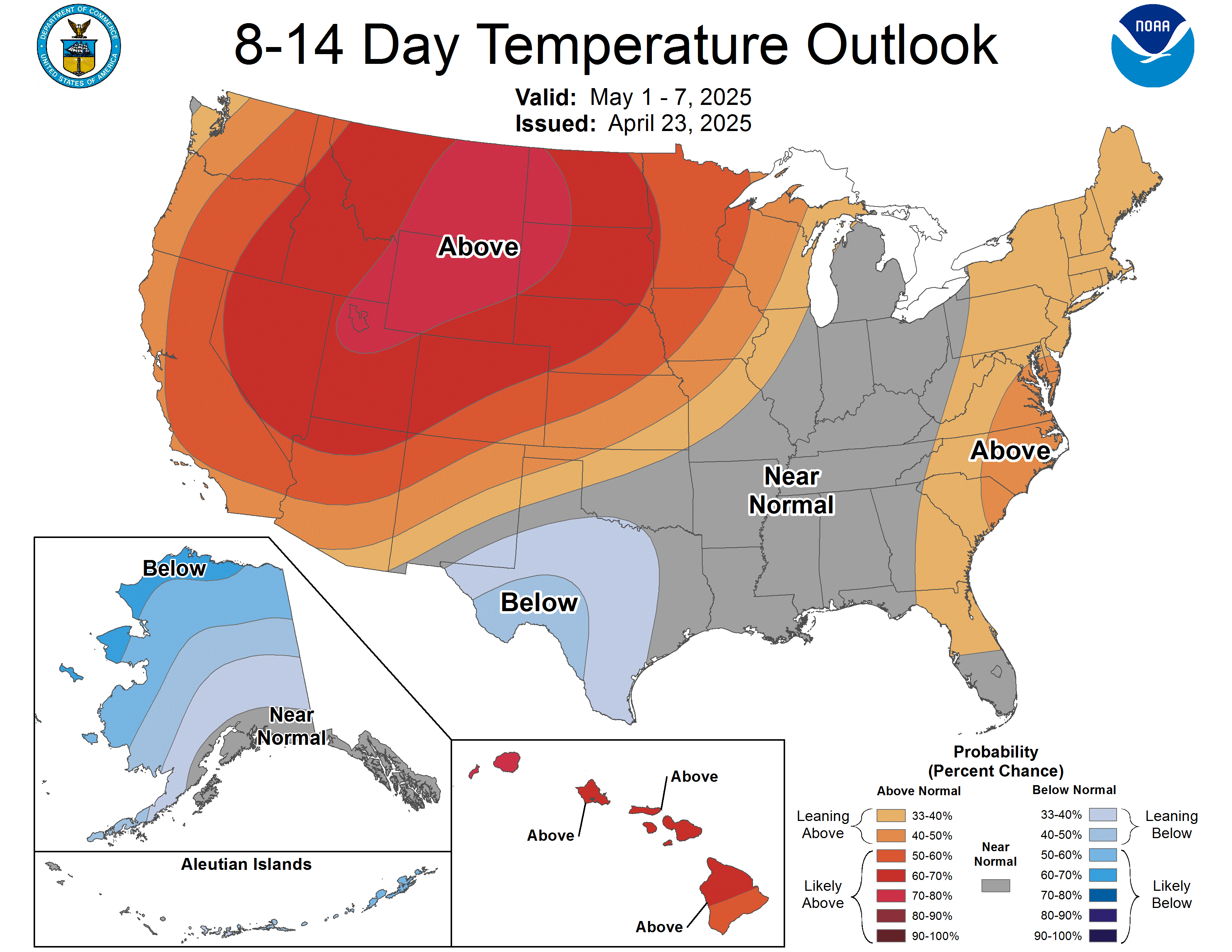 The 8 - 14 Day Temperature Outlook is consistent with the Monthly Outlook but far more intense. We are reading about the cold wet wetter in the Midwest and Northeast on a daily basis.
Here is the updated February Precipitation Outlook Issued on January 31, 2015
And here is the 8 - 14 Day Precipitation Outlook issued today February 16, 2015.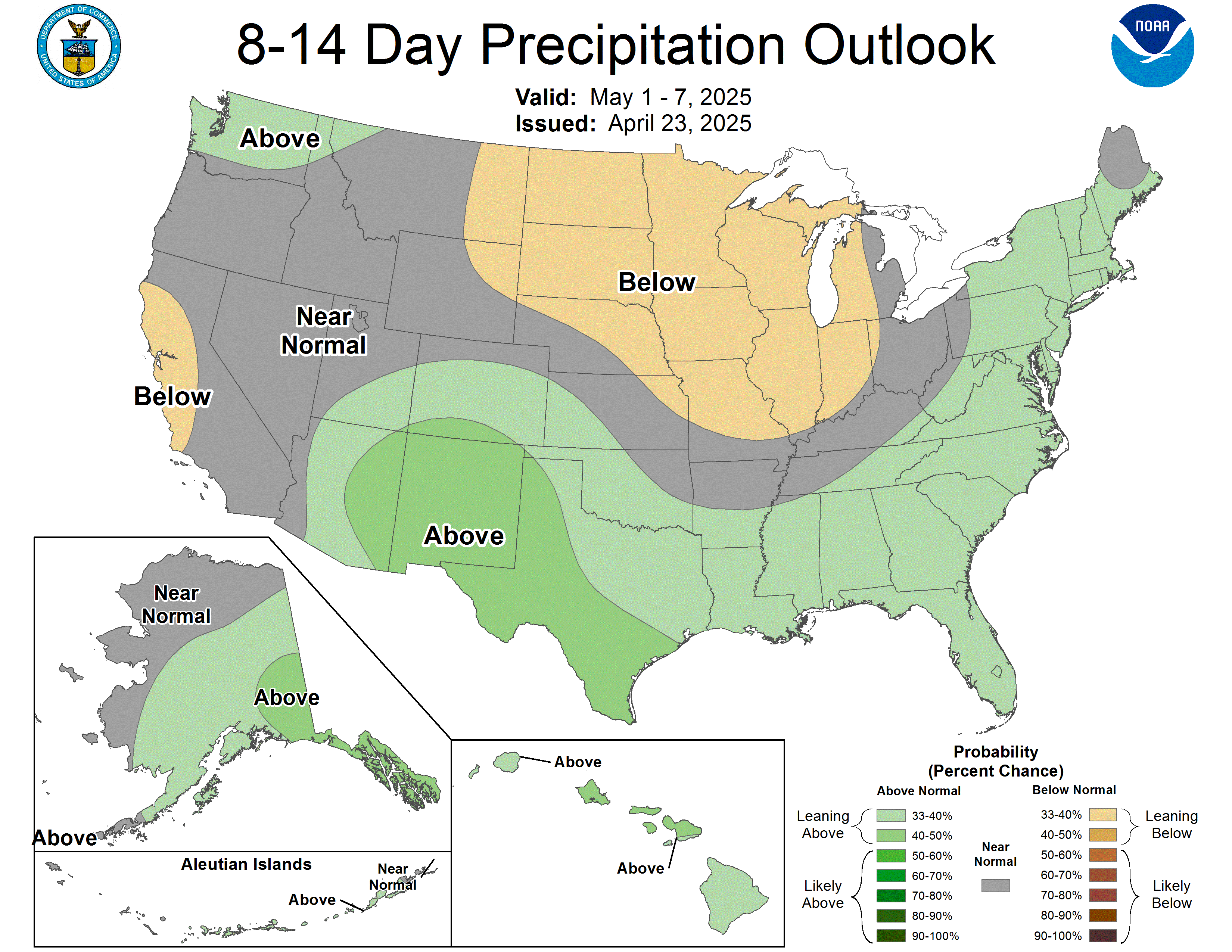 Here is the 6-10 Day Precipitation Outlook issued today February 16, 2015.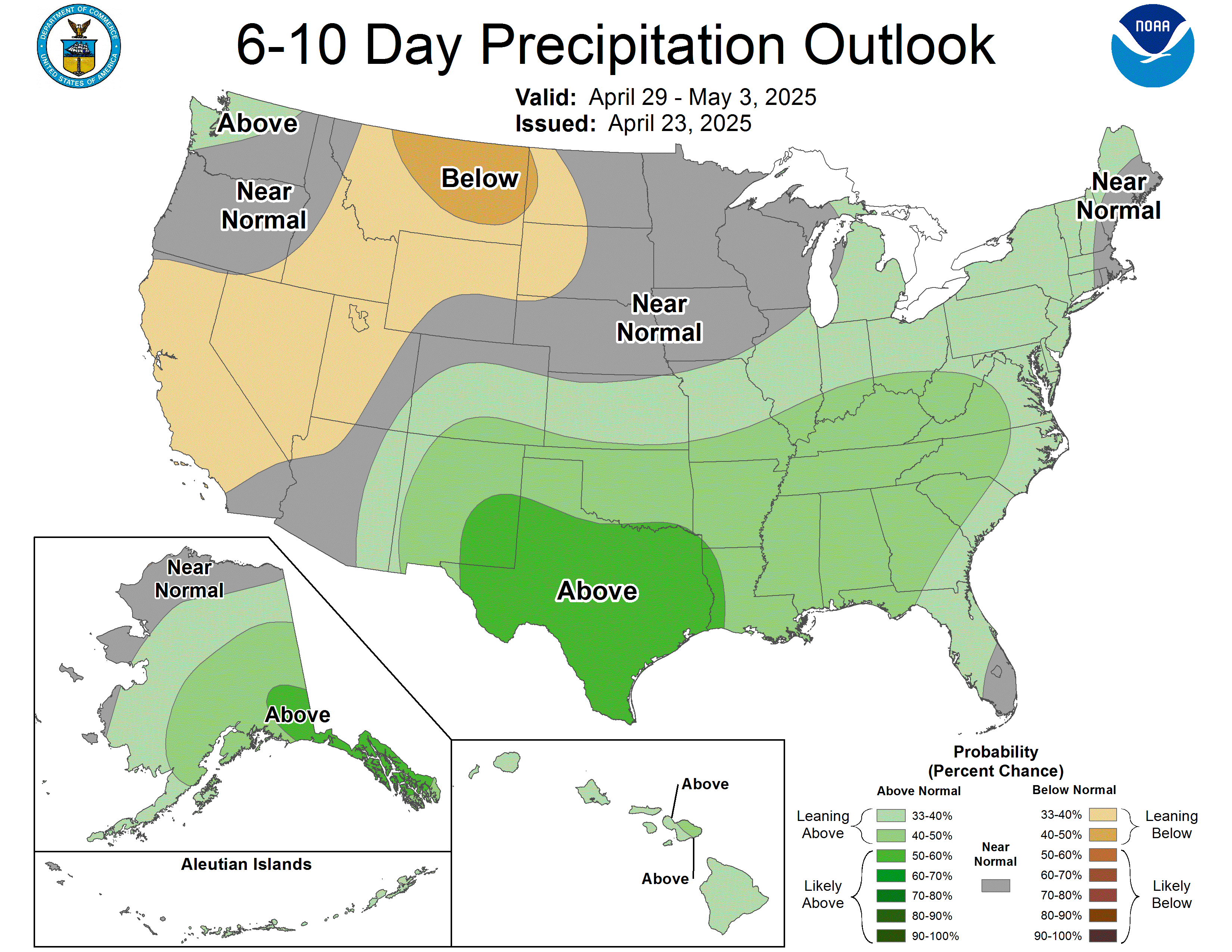 The Precipitation Outlook for the February clearly does not appear to be developing according to the February Outlook. The RRR is supposed to go away during an El Nino but has not. Thus we have a very unusual weather pattern for February.
"6-10 DAY OUTLOOK FOR FEB 22 - 26 2015

THE 0Z ECMWF AND 0Z CANADIAN ENSEMBLE MEANS ARE IN EXCELLENT AGREEMENT FEATURING A RIDGE EXTENDING FROM THE NORTHEAST PACIFIC TO NORTHWEST NORTH AMERICA AND A HIGHLY AMPLIFIED TROUGH DOWNSTREAM OVER THE EASTERN TWO-THIRDS OF NORTH AMERICA. THE 0Z/6Z GFS ENSEMBLE MEANS DEPICT SLIGHTLY HIGHER 500-HPA HEIGHTS ACROSS THE SOUTH-CENTRAL CONUS COMPARED TO THE PREFERRED 0Z ECMWF AND 0Z CANADIAN ENSEMBLE MEANS. DUE TO POOR CONTINUITY, THE HIGH RESOLUTION 0Z/6Z GFS AND 0Z ECMWF MODEL RUNS WERE NOT USED IN CREATING THE 500-HPA MANUAL BLEND.

THE AMPLIFIED TROUGH WITH BELOW-NORMAL 500-HPA HEIGHTS ENHANCES ODDS FOR BELOW-NORMAL TEMPERATURES FROM THE ROCKIES TO THE EAST COAST. ANOMALOUS SNOW COVER IS ALSO EXPECTED TO INCREASE CHANCES FOR BELOW-NORMAL TEMPERATURES ACROSS THE OHIO VALLEY AND CENTRAL APPALACHIANS. ALTHOUGH HIGH ODDS FOR BELOW-NORMAL TEMPERATURES ARE FORECAST FOR MUCH OF THE CENTRAL AND EASTERN CONUS, THE NEGATIVE ANOMALIES ARE EXPECTED TO BE SMALLER DURING THIS PERIOD COMPARED TO THE PREVIOUS WEEK. AN UPPER-LEVEL RIDGE INCREASES CHANCES FOR ABOVE-NORMAL TEMPERATURES ALONG THE WEST COAST. NEAR NORMAL TEMPERATURES ARE FAVORED FOR THE INTERIOR WEST AS AN UPPER-LEVEL TROUGH COULD EXTEND INTO THIS REGION UNDERNEATH THE NORTHEAST PACIFIC RIDGE. TELECONNECTIONS UPON THE POSITIVE 500-HPA HEIGHT ANOMALY CENTER OVER THE NORTHEAST PACIFIC OFFERS A COLDER SOLUTION ACROSS THIS REGION THAN THE GFS AND ECMWF REFORECAST TEMPERATURE TOOLS.

MULTIPLE SHORTWAVE TROUGHS ENHANCE ODDS FOR ABOVE-MEDIAN PRECIPITATION FROM THE SOUTHERN GREAT PLAINS EAST TO THE MID-ATLANTIC. 5-DAY PRECIPITATION TOOLS AMONG THE ENSEMBLE MEANS EXCEED 1 INCH ACROSS THE TENNESSEE VALLEY. ARCTIC AIR WITH A STORM TRACK WELL TO THE SOUTH INCREASE CHANCES FOR BELOW-MEDIAN PRECIPITATION ACROSS THE UPPER MIDWEST. UPSLOPE FLOW TILTS THE ODDS TOWARDS ABOVE-MEDIAN PRECIPITATION FOR THE CENTRAL/SOUTHERN HIGH PLAINS. THE RIDGE ANCHORED OFFSHORE ENHANCES ODDS FOR BELOW-MEDIAN PRECIPITATION ALONG THE WEST COAST, BUT ABOVE-MEDIAN PRECIPITATION IS FAVORED FOR PARTS OF THE ROCKIES AND GREAT BASIN WHERE A SHORTWAVE TROUGH IS EXPECTED TO UNDERCUT THE NORTHEAST PACIFIC RIDGE.

ANOMALOUS SOUTHERLY FLOW INCREASES CHANCES FOR ABOVE-NORMAL TEMPERATURES AND ABOVE-MEDIAN PRECIPITATION ACROSS ALASKA.

FORECAST CONFIDENCE FOR THE 6-10 DAY PERIOD: ABOVE AVERAGE, 4 OUT OF 5, DUE TO GOOD AGREEMENT AMONG THE ENSEMBLE MEANS IN A CONTINUED AMPLIFIED LONGWAVE PATTERN.

8-14 DAY OUTLOOK FOR FEB 24 - MAR 02, 2015

THE 0Z/6Z GFS, 0Z CANADIAN, AND 0Z ECMWF ENSEMBLE MEANS MAINTAIN BELOW-NORMAL500-HPA HEIGHTS FOR MUCH OF THE LOWER 48 BUT INDICATE A SHIFT OF THE NORTHEAST PACIFIC RIDGE TOWARDS THE ALEUTIANS. UNCERTAINTY IN THE TIMING OF THIS POTENTIAL SHIFT IS REFLECTED IN THE LARGE SPREAD AMONG ENSEMBLE MEMBERS ACROSS THE NORTH PACIFIC.

UNCERTAINTY INCREASES FOR THE WEEK-2 TEMPERATURE OUTLOOK DUE TO THE POTENTIAL PATTERN SHIFT ACROSS THE NORTH PACIFIC ALONG WITH DIFFERENCES AMONG THE TEMPERATURE TOOLS. THE EXPECTED PATTERN SHIFT UPSTREAM OVER THE NORTH PACIFIC FAVORS A MODERATION IN TEMPERATURES FOR AT LEAST THE SOUTHEASTERN CONUS BY THE BEGINNING OF MARCH. HOWEVER, ANOMALOUS COLD FORECAST EARLY IN WEEK-2 TILTS THE ODDS TOWARDS BELOW-NORMAL TEMPERATURES ACROSS MUCH OF THE EASTERN CONUS. TEMPERATURE SIGNALS ARE WEAK AMONG MOST TOOLS ACROSS THE WESTERN CONUS. CONTINUITY AND RELATIVE WARMTH EARLY IN WEEK-2 FAVOR ABOVE-NORMAL TEMPERATURES ACROSS CALIFORNIA.

ANOTHER STRONG AREA OF HIGH PRESSURE IS EXPECTED TO BECOME CENTERED OVER THE EAST-CENTRAL CONUS BY DAY 8. THEREFORE, BELOW-MEDIAN PRECIPITATION IS FAVORED FOR THE NORTHERN/CENTRAL GREAT PLAINS AND MIDWEST. PRECIPITATION TOOLS ARE IN GOOD AGREEMENT FEATURING ENHANCED ODDS FOR ABOVE-MEDIAN PRECIPITATION ACROSS PARTS OF THE SOUTHWEST AND ALONG THE GULF COAST CLOSE TO A MEAN FRONTAL BOUNDARY DURING WEEK-2. A SLIGHT TILT IN THE ODDS FOR ABOVE-MEDIAN PRECIPITATION ALONG THE MID-ATLANTIC COAST IS BASED ON THE POTENTIAL FOR 500-HPA HEIGHTS TO RISE ACROSS THE SOUTHEAST LATER IN WEEK-2 WHICH WOULD BRING THE STORM TRACK BACK TO THE NORTH. BELOW-MEDIAN PRECIPITATION IS FAVORED FOR THE WEST COAST, ALTHOUGH PROBABILITIES ARE MODEST DUE TO UNCERTAINTY UPSTREAM OVER THE NORTH PACIFIC.

THE MANUAL 500-HPA HEIGHT BLEND INDICATES NEARLY ZONAL FLOW ACROSS ALASKA WHICH IS EXPECTED TO MAINTAIN A MILD TEMPERATURE PATTERN. THE PRECIPITATION TOOLS GENERALLY INDICATE THE HIGHEST ODDS FOR ABOVE MEDIAN PRECIPITATION ACROSS INTERIOR AREAS.

FORECAST CONFIDENCE FOR THE 8-14 DAY PERIOD IS: BELOW AVERAGE, 2 OUT OF 5, DUE TO LARGE SPREAD AMONG THE 0Z GFS AND 0Z ECMWF ENSEMBLE MEMBERS WITH THE POSITION OF THE RIDGE ACROSS THE NORTH PACIFIC AND DIFFERENCES AMONG THE TEMPERATURE TOOLS ACROSS THE CONUS. "
Analogs to Current Conditions
Now let us take a detailed look at the "Analogs" which NOAA provides related to the 5 day period centered on 3 days ago and the 7 day period centered on 4 days ago. "Analog" means that the weather pattern then resembles the recent weather pattern and was used in some way to predict the 6 - 14 day Outlook.
Here are today's analogs in chronological order although this information is also available with the analog dates listed by the level of correlation. I find the chronological order easier for me to work with. There is a second set of analogs associated with the outlook but I have not been analyzing this second set of information. This first set applies to the 5 and 7 day observed pattern prior to today. The second set which I am not using relates to the forecasted outlook 6 - 10 days out to similar patterns that have occurred in the past during the dates covered by the 6 - 10 Day Outlook. That may also be useful information but they put this set of analogs in the discussion with the other set available by a link so I am assuming that this set of analogs is the most meaningful. On a spot-check basis, I see less overlap between the prior and projected analogs (adjusted for the differential in timing than I would expect), but so far I have not examined that.
Analog

Centered

Day

ENSO

Phase

PDO
AMO
Other Comments
1954 February 8
El Nino
-
+
Tail-end followed by La Nina
1962 February 1
Neutral
-
+
1986 March 2
Neutral
+
-
1995 February 6
El Nino
Neutral
-
Modoki tail-end followed by La Nina
1996 March 12
La Nina
+
-
2003 January 26
El Nino
+
+
Modoki Type I
2007 January 26
El Nino
Neutral
+
Tail-end followed later in year by La Nina
2007 January 27
El Nino
-
+
Tail-end followed later in year by La Nina
Generally, the analogs are indicating El Nino but are very inconsistent including the phases of the PDO and AMO. Four of the five El Nino analogs are dates that are at the tail end of an El Nino. Two of the five are Modokis. This reduces my confidence in the 6 - 14 Day Outlook. But NOAA is thinking there will be change in the pattern and the analogs are consistent with that thought.
Back to the Current Situation:
Sometimes it is useful to take a look at the location of the Jet Stream or Jet Streams.
And sometimes the forecast is revealing. Below is the forecast out five days. Both the current view and 5 day forecast show the enormous trough created allowing cold air to enter the Midwest and Northeast.
To see it in animation, click here.
This longer animation shows how the jet stream is crossing the Pacific and when it reaches the U.S. West Coast is going every which way. One can imagine that attempting to forecast this 6 - 14 days out is quite challenging.
And below is another view which highlights the surface highs and the lows re air pressure on Day 3. You can see how the counter-clockwise Aleutian Low is funneling warm wet air towards the Alaskan Panhandle and the Lower 48 Northwest. The RRR is clearly evident and robust.
And here is Day 6
It is starting to look a bit different. Perhaps over the next couple of weeks the weather patterns over the Lower 48 will be more muted. NOAA discusses this in Week 2 of their 6 - 14 Day Outlook.
El Niño Discussion
Now let us look at the latest NOAA Hovmoellers.
NOAA was late posting or I was early this morning so I was concerned that they might be on vacation today. It is Presidents Day but also they might have been having a Weather Day.
The Monday ENSO is compiled from information gathered during the week. They put it together in a convenient format but that report is not the only source of that information so I started to prepare my own ENSO Report but soon the NOAA ENSO Report was posted. So I am using mainly that report but I am also presenting two graphics that I retrieved from the source. One is in the NOAA ENSO Report and a slightly different version of the other is also in the NOAA ENSO Report but I am presenting these two as I think they will auto-update every couple of days. When I retrieve a graphic from a PDF file it is static and will not auto-update.
First let us look at the Subsurface temperatures in the Equatorial Pacific.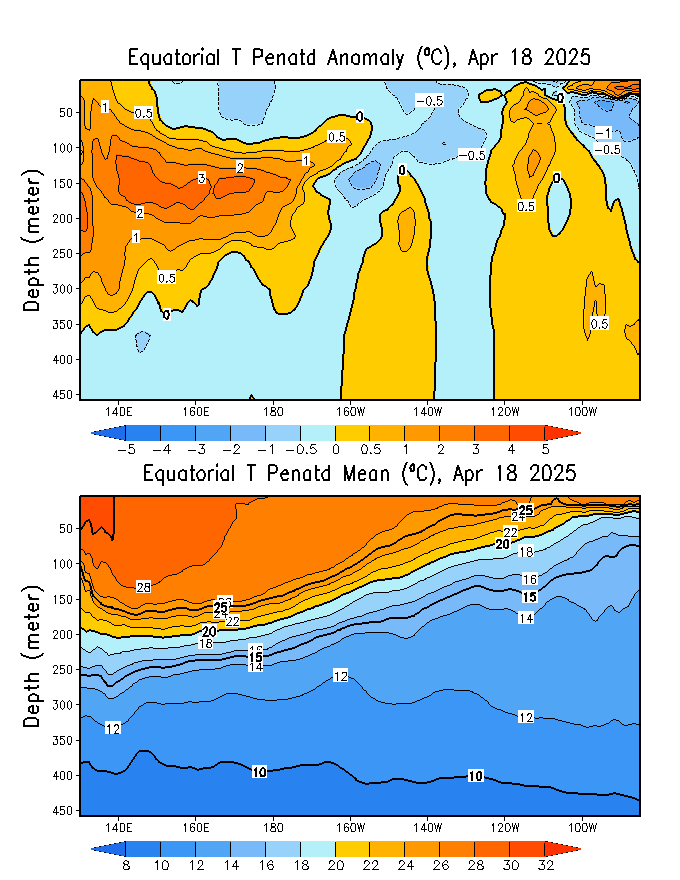 The top graphic shows the temperature anomalies by depth. That red area may be the location of the current Kelvin wave. The second graphic shows the thermocline i.e. the dividing line between the warmer water and the cooler water. As you can see the thermocline has not flattened over towards Ecuador the signature of an El Nino. There is no traditional/canonical El Nino.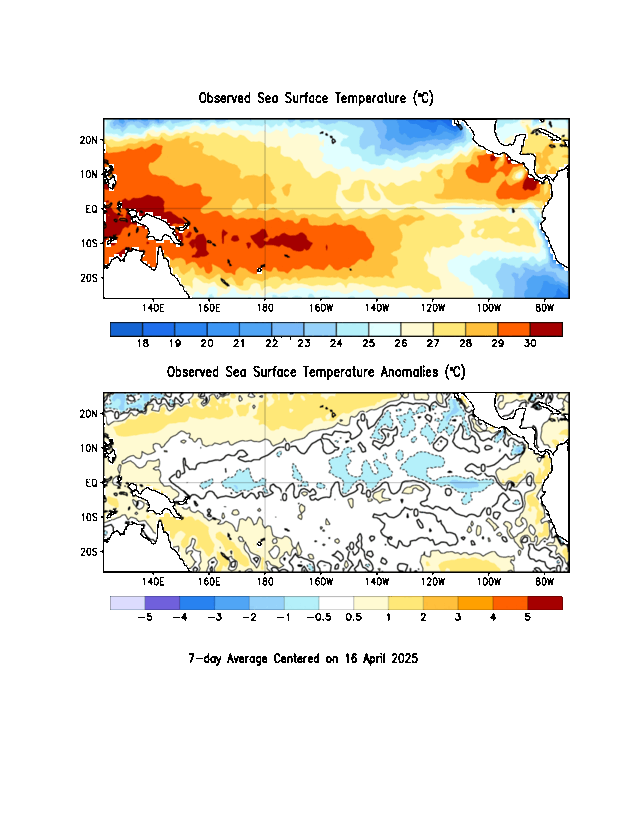 Here you can see the actual surface temperatures and the anomalies. Please excuse the blank lines. I could have done something to remove them but then these graphics would not auto-update. In prior editions of my report I have used graphics from the PDF version of the NOAA ENSO report and they do not auto-update but these will I think. It is done sporadically. In the bottom graphic the information along the Equator is what shows up in the Hovmoeller I present later. This actually provides a lot more information. There is not much warm water in the Nino 3.4 area along the Equator. But there is warm water north of the equator. The really warm water remains over by the Date Line.
And one more but one I took from todays ENSO report so I was able to clip it and remove the extra white space. It will not auto-update.
This basically shows the pattern of cloudiness. Clouds block outgoing long wave radiation. So in this graphic, the shades of blue signify more clouds, shades of red mean less clouds. The blues have been moving to the east but not quickly enough and preceded by shades of red. It seems to be another case of too little too late. More information on OLR and some interesting graphics can be found here.
I had hoped that we might be able to stop looking at these Hovmoellers this winter if I concluded that it really is a done deal....ImagiNiño: end of story. But I tend to think that we will have to go through this analysis until at least February 19 when the next NOAA Seasonal Outlook is released. More than likely we will be tracking ENSO for a long time as what might not be happening this winter may happen next winter which begins later this year. Winters in the Northern Hemisphere have their onset late in one calendar year and extend into the next.
There are many graphics that NOAA provides every Monday but I focus on a subset of the information provided and today I thought I would again start with what probably is the most important one that I call the Kelvin Wave graphic but it is really the Upper Ocean Heat Anomaly along the Equator which is caused in many cases primarily by Kelvin Waves.
There is not much change since last week. I do not have a real scientific basis for saying this but I think that this Kelvin wave will play out to the west of the recent Kelvin waves and have less impact. You can compare them from top to bottom and draw your own conclusions. Remember this graphic is showing anomalies.
Now let us look at the Sea Surface Temperatures
Again there is some change since last week as you can see even less warm water along the Equator. Actually it is a cool water anomaly now. You can also see the impact west of the Date Line of the new downwelling Kelvin wave. It has not moved much. Earlier I presented a more extensive graphic that showed the current situation on the Equator but also from 20N to 20S latitude.
Of most interest to NOAA is 120 W to 170 W as that is where the ONI Index is measured. More information can be found here. If you look at the color coding in the above Hovmoeller they are looking for shades where the redder the better re conditions being El Nino but so far it is just showing shades of tan and brown i.e.. marginal especially when averaged over the entire area of interest. But that explains why we have a situation where some of the factors are in place for an El Nino but so far it is marginal at best and fading fast.
And now the low-level wind anomalies.
This shows not much change from last week. We still see the strong wind anomaly west of the Date Line. The Southern Oscillation Index (SOI) was very strong three weeks ago and had some ability to revitalize the "ImagiNiño". But this week it is clearly consistent with ENSO Neutral. You can find the daily and 30 and 90 day averages here. The 30 day average of -11.29 is consistent with El Nino conditions (a 30 day average of -8.0 or more negative is considered to be consistent with El Nino conditions) but the 30 average is as low as it is due to four days of very low SOI readings three weeks ago which most likely was due to local conditions at either Tahiti or Darwin Australia. Today's reading of +2.20 is consistent with ENSO neutral conditions. The SOI fluctuates based on local weather conditions in Tahiti and Darwin Australia so one week of data let alone four days is not sufficient to draw any conclusions but it impacts the Hovmoellers and the computer models. The 90 day average is currently -7.35 which is not sufficiently negative to be considered consistent with El Nino conditions but it is not off by much. All of this is like a broken record repeating: "almost an El Nino but not quite and possibly not a traditional version".
10 Feb 2015 -2.50

11 Feb 2015 -12.6

12 Feb 2015 -12.1

13 Feb 2015 -2.10

14 Feb 2015 2.7

15 Feb 2015 4.1

16 Feb 2015 2.2
And finally the latest model results released by NOAA on February 16, 2015.
This graphic is a modified version of the graphic that appears on Page II of this Report. It is modified by NOAA to be consistent with the maps on the right which can be found here. Those maps have been processed to adjust for the observed skill of the models. I probably could do a better job with triangles but just by eyeballing this chart it looks like it is showing an ONI reading of about 0.6 to 0.7 forecast through the Spring. If that was your only criteria, this would be considered a marginal El Nino but the other factors have not fallen into place. And this model does not attempt to classify the type of El Nino which is very important in terms of weather impacts. Notice the model is forecasting higher ONI levels as we move into the summer. It is difficult to read the maps to the right but the upper left map is the forecast for March/April/May and it looks more like a Modoki Type II than a traditional El Nino to me. The further out maps do look like an El Nino. Are we going to have a traditional El Nino next year?
Below is another graphic that confirms that we are not in a traditional El Nino but perhaps a borderline El Nino Modoki. The top graphic shows surface temperatures and wind direction and speed conditions 10 degrees north to 10 degrees south of the Equator and this is one of the most up to date sources of information available. The bottom graphic shows anomalies.The bottom graphic shows the deviation from average conditions. You can see many things in this graphic. First of all you can see the pockets of warm water which are in some cases greater than 1C above average and in other cases below 0.5C above average conditions. West of 170W in the Nino 4 area you have warm water on the Equator which is consistent with a Modoki Type II. Looking between 170W and 120W on the Equator, you see an area where the anomaly is under 0.5C. And you also see an area above 0.5C which has increased in size. In the Nino 1+2 Area over by Ecuador, one can see a positive anomaly i.e.colder water. This area of colder water has expanded both above and below the equator. That does not figure in to the ONI calculation but determines the type of El Nino that we have and the impact it has on weather. Also the anomaly analysis of the wind anomalies generally point to the west which is the opposite of what you would expect with a traditional El Nino. Not shown here but the warm water off the Northwest Coast of the U.S. is also consistent with a Modoki Type II.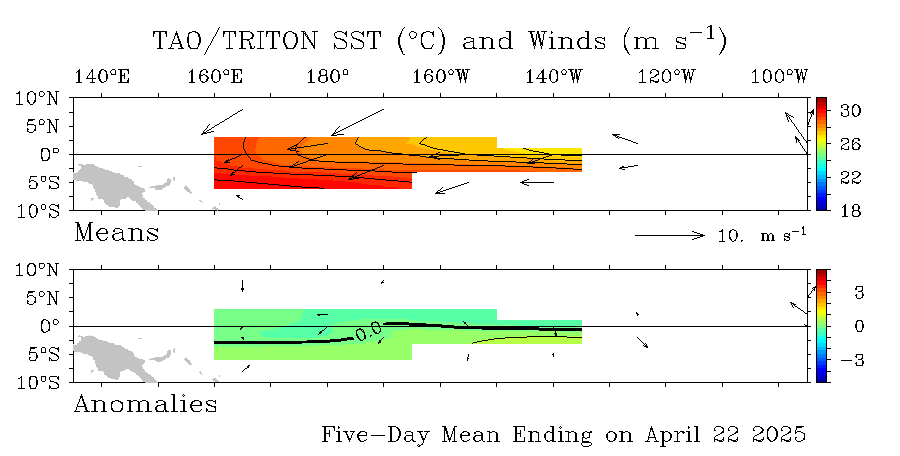 This from Australia
Tropical Pacific Ocean remains ENSO-neutral

Issued on 17 February 2015

Sea surface temperatures across the tropical Pacific Ocean are neutral, having eased away from near El Niño levels over the past two months. However several models suggest some renewed warming may occur beyond May.

The majority of El Niño–Southern Oscillation (ENSO) indicators are currently within neutral bounds. Including temperatures at and beneath the surface of the eastern tropical Pacific Ocean; cloudiness near the Date Line; trade wind strength; and tropical rainfall patterns. In contrast, the Southern Oscillation Index (SOI) is negative, though predominantly due to regional tropical weather patterns rather than broadscale shifts in pressure. It is likely the SOI will rise again in the coming week. It is typical for ENSO events to decay during the late summer to early autumn period, consistent with the recent shift away from near El Niño conditions.

Model outlooks made in the first quarter of the year tend to be less reliable than those made at other times. That said, all international models surveyed by the Bureau indicate tropical Pacific sea surface temperatures are likely to remain warm, but within the neutral range, until at least May. Beyond that time, outlooks favour warm-neutral or El Niño-like ocean temperatures.

Next update expected on 3 March 2015
Pulling it All Together. .
So this continues to look to me like a warm event that is not a full fledged El Nino and is not a traditional El Nino. So the expected impacts are different than the expected impacts from a traditional El Nino. Whatever this pattern is, it is not very different from ENSO Neutral. I am still thinking the Japanese sized this up from the start and that this is really more like a Modoki than a traditional El Nino and that weather patterns are shifted some number of degrees further west (or possibly rotated) than would be the case for a traditional El Nino which is why the weather where I live is more typical of a La Nina than an El Nino. This has been the case since the PDO went into its Negative Phase in 1998/1999 which is why a possible change to PDO Positive is so very important.
I do not see a traditional El Nino of any significant strength likely to happen this winter although a "near" El Nino appeared in January to be making its presence known to a limited extent but mainly outside of the U.S. That no longer appears to be the case in February. It remains a very complicated situation mostly because of the at least temporary shift of the configuration of the Pacific with respect to the location of warm and cold water to a configuration which is called PDO Positive (+) combined with the Blocking Ridge off the West Coast.
An El Nino Watch for next year might be in order as there remains a lot of warm water but usually it takes a few years for that to built up sufficient for another warm event to get under way. ENSO neutral is where the models are headed and I suspect that they have it correct.
Click Here for the Econointersect Weather and Climate Page II where you will find:
A more complete set of NOAA and other agency graphics (including international agencies) that auto update. So this includes both short term- and seasonal "updates". It will ALWAYS be up to date even if my commentary on the graphics is not. I update my commentary when it seems necessary and certainly every Monday but some of these graphics auto update every six hours.
Economic and other Impacts of major weather events. Not sure there is any other place to obtain this information consistently other than very specialized subscription services.
Information on Climate Cycles both those which are fairly short term i.e. less than a decade in duration and multi-decadal cycles.
Economic and other Impacts of those Climate Cycles which are referred to by the IPCC as Internal Variability as opposed to secular Climate Change which is always in the same direction. Again I am not sure if there is another source for this information where it is pulled together in one place as I have.
Click Here for Page III which deals with Global Warming.
Information on Anthropogenic Global Warming science i.e. the secular change in our climate that overlays both short-term weather and historical climate cycles as well as black swan events like volcanic eruptions. I prefer to call this Global Warming as it is the warming that triggers the other changes.
Economic and other Impacts of Global Warming. The IPCC AR5 WG2 attempts to describe and quantify these and I have some excerpts from their report. Over time I will go beyond their report.
Click here for a list of Sig Silber's Weather Posts
>>>>> Scroll down to view and make comments <<<<<<
Make a Comment
Econintersect

wants your comments, data and opinion on the articles posted. You can also comment using Facebook directly using he comment block below.
---