posted on 02 February 2015
Written by Sig Silber
NOAA backs away from El Nino at least for February and the groundhog sees his shadow in the South and West more than the North and East suggesting it is a toss up between which forecasting service is least reliable. Seattle was on the one foot line about to win the Super Bowl with probably the best runner in the game so they decided to throw a pass. Hopefully this report is more coherent than the World around us. The Aleutian Low is forecast to retrograde west which certainly will impact the weather in Siberia and Alaska. It may have other implications and may be an early indicator of Spring.
This is my weekly Weather and Climate Update Report. A more compete report can be found here in what I call Page II of my Weekly Report.
On Saturday, NOAA updated the February Outlook from the Early Outlook issued on January 15, 2015.
Here is the prior Early Outlook for Temperature in February.
Here is the updated Temperature Outlook Issued Saturday January 31.
That is a big change in two weeks.
And here is the Early February 2015 Precipitation Outlook issued on January 15, 2015.
And here is the updated February Precipitation Outlook Issued on January 31, 2015
Where is the El Nino? Did the NOAA Graphics Department omit it by mistake?
Let us take a look at some excerpts from the new discussion from NOAA associated with the February Outlook Update.
30-DAY OUTLOOK DISCUSSION FOR FEBRUARY 2015

THE UPDATED OUTLOOK FOR FEBRUARY 2015 IS SIGNIFICANTLY DIFFERENT FROM THE PREVIOUS 0.5-MONTH LEAD OUTLOOK ISSUED ON JANUARY 15. THIS IS DUE TO LARGE DIFFERENCES BETWEEN THE VARIOUS DYNAMICAL MODEL INPUTS, AND THE CONTINUING UNCERTAINTY REGARDING POSSIBLE ENSO IMPACTS.

THE TEMPERATURE OUTLOOK FOR FEBRUARY 2015 PREDICTS ENHANCED CHANCES OF ABOVE-NORMAL MEAN TEMPERATURES FOR THE NORTHERN HALF OF THE GREAT PLAINS, AND ALL AREAS WEST OF THE CONTINENTAL DIVIDE, WITH PROBABILITIES FOR RELATIVE WARMTH EXCEEDING 50-PERCENT IN THE GREAT BASIN. ABOVE-NORMAL MEAN TEMPERATURES ARE ALSO FAVORED ALONG THE ALASKA COAST FROM PRINCE WILLIAM SOUND IN SOUTH-CENTRAL ALASKA TO KETCHIKAN IN THE FAR SOUTHERN PANHANDLE. MOST OF THE MODELS AND TOOLS SUPPORT THESE AREAS. WITH THE MOST RECENT MODEL GUIDANCE FOR THE REMAINDER OF ALASKA CONFLICTING WITH THE AVAILABLE GUIDANCE FROM TWO WEEKS AGO, IT WAS NECESSARY TO CHANGE THE ALASKA TEMPERATURE OUTLOOK SIGNIFICANTLY, FROM ENHANCED ODDS OF ABOVE-NORMAL TEMPERATURES TO EQUAL CHANCES (EC). THERE ARE ENHANCED ODDS OF BELOW-NORMAL TEMPERATURES FOR MUCH OF THE EASTERN THIRD OF THE CONUS. THIS PREDICTION IS ALSO WELL SUPPORTED BY MOST TOOLS, AND IS CONSISTENT WITH THE IDEA OF A PERSISTENT, LARGE-SCALE TROUGH DOMINATING THE MID-TROPOSPHERIC CIRCULATION IN THE EAST. THE PREVIOUSLY ISSUED AREAS OF FAVORED BELOW-NORMAL TEMPERATURES (SOUTHERN PLAINS) AND ABOVE-NORMAL TEMPERATURES (FLORIDA) HAVE BEEN REMOVED IN FAVOR OF EC, DUE TO WEAK AND/OR CONFLICTING SIGNALS AMONG THE MODELS.

THE PRECIPITATION OUTLOOK FOR FEBRUARY 2015 FAVORS ABOVE-MEDIAN PRECIPITATION ALONG THE ALASKA COAST FROM ABOUT PRINCE WILLIAM SOUND TO KETCHIKAN, AND ALONG THE PACIFIC NORTHWEST COAST AS FAR SOUTH AS NORTHWESTERN CALIFORNIA. ABOVE-MEDIAN PRECIPITATION IS ALSO FAVORED ACROSS A PORTION OF THE SOUTHEASTERN CONUS. THERE IS NEARLY UNANIMOUS AGREEMENT AMONG THE VARIOUS CLIMATE MODELS FOR THE FIRST AREA MENTIONED. WHILE THE SECOND AREA (SOUTHEASTERN CONUS) DOES HAVE SOME OBJECTIVE SUPPORT, IT ALSO COINCIDES WITH THE PREDICTED SOUTHERN PORTION OF THE EASTERN CONUS TROUGH, ON AVERAGE, AND IS THE MOST LIKELY LOCATION TO RECEIVE PRECIPITATION. THE AREA OF FAVORED ABOVE-MEDIAN PRECIPITATION FROM SOUTHERN CALIFORNIA EASTWARD TO THE SOUTHERN GREAT PLAINS WITH THE PREVIOUS OUTLOOK WAS REMOVED DUE TO WEAK AND/OR CONFLICTING INDICATIONS AMONG THE LATEST MODEL GUIDANCE. THE SAME IS TRUE FOR THE AREA OF FAVORED BELOW-MEDIAN PRECIPITATION OVER THE INTERIOR NORTHWEST AND NORTHERN ROCKIES.
Notice no discussion of Sea Surface Temperatures (SST), ONI, SOI, Easterlies and the other trappings associated with the ImagiNiño.
Groundhog Day Report
I may have clipped off a little bit of the top of the below graphic so you may have some trouble confirming the time this was "frozen" as it is a graphic that would normally auto-update and I think I might have been an hour early (but that is when I woke up during the night) and I realize that while Punxsutawney Phil might like 8 a.m., other groundhogs across the nation wait a bit for more earth rotation before they come up and make that important weather pronouncement. You can adjust for that as we are today in a progressive/zonal pattern so where you live the clouds may have moved a tad further east. Overall this map provides a pretty good idea of what your groundhogs experienced this morning. A lot of groundhogs saw their shadow. Those who slept in and were late to make their assessment might have drawn a different conclusion as the clouds in the East moved east briskly. Personally, I think most of the groundhogs got it backwards as winter is I believe closer to being over in the West than it is in the East and closer to being over in the South than in the North. The groundhogs work pro bono.
Short-term Outlook
Let us take a look at the 8 - 14 day outlook that was issued today February 2, 2015. It will auto-update every day so it will be changing day by day (and thus be up to date whenever you elect to read this report) but my comments may become out of sync with the map since my comments do not auto-update.
Here is the 8 - 14 Day Temperature Outlook.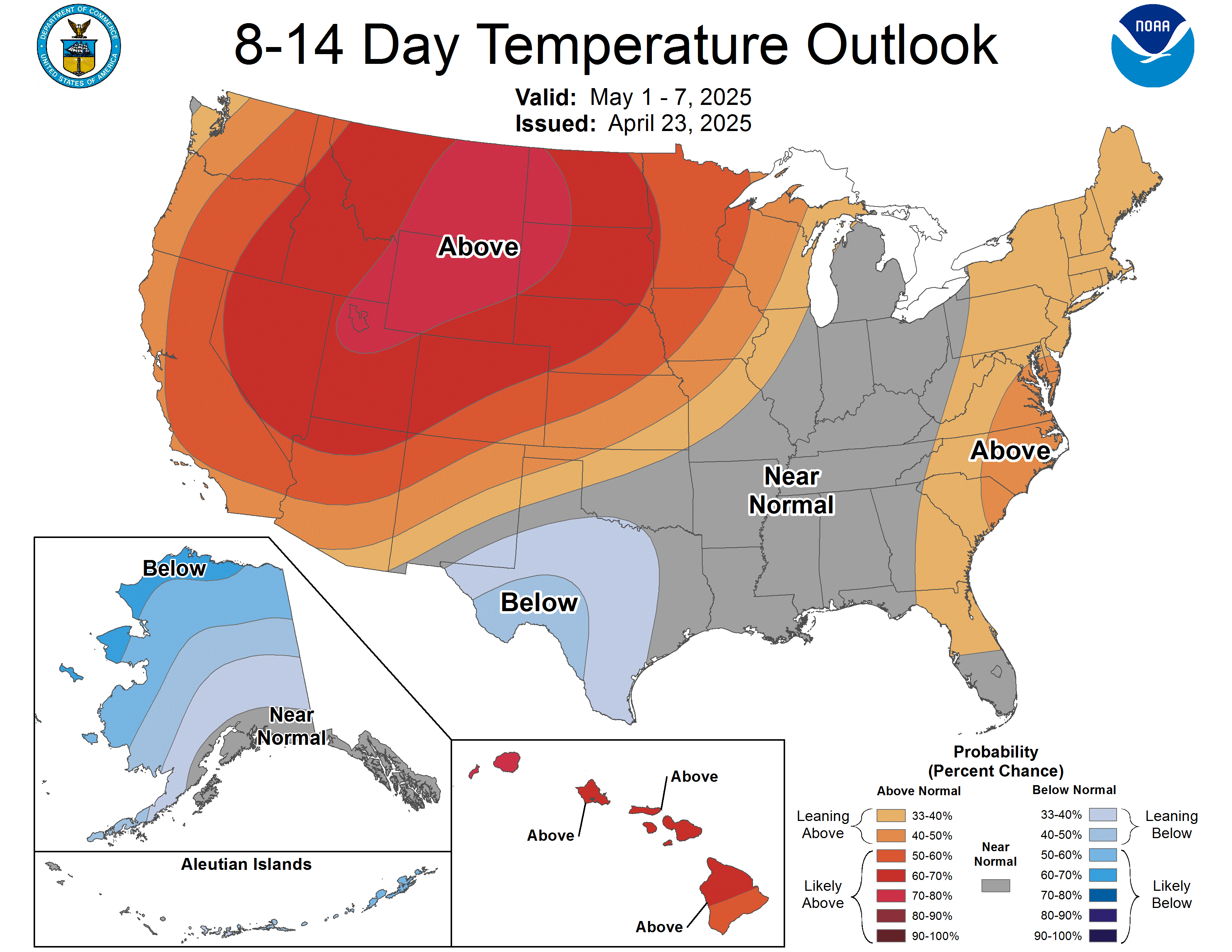 I am only showing the "second week" namely the day 8 -14 outlook. The first week together with much additional information on current weather patterns and near-term forecasts can be found in Part II of my report, but 8 - 14 days covers most of the 6 - 14 day period.
The 8 - 14 Day Temperature Outlook is consistent with the Monthly Outlook but more intense.
Here is the 8 - 14 Day Precipitation Outlook.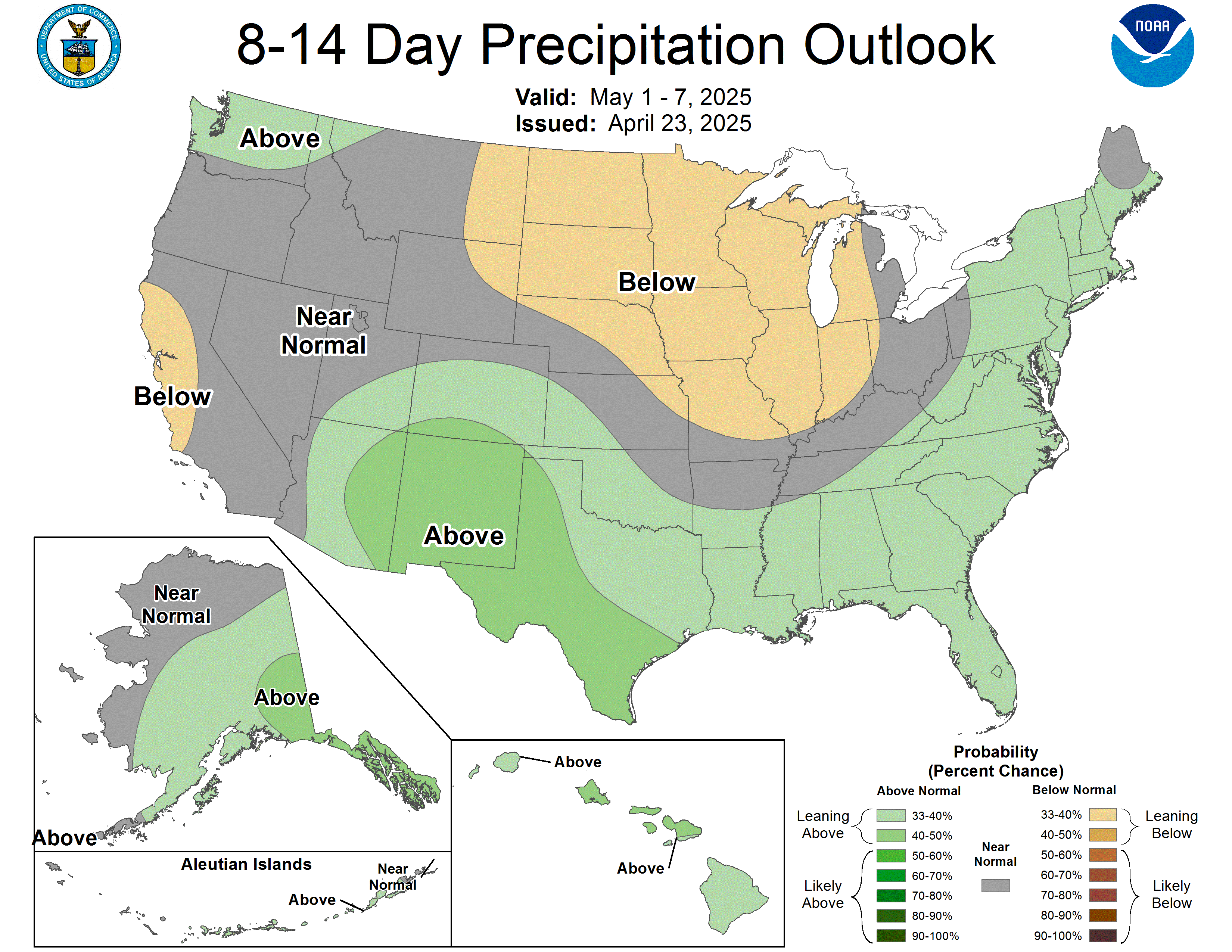 The Precipitation Outlook for the first half of February does not appear to be developing according to the February Outlook. It is only part of the month but February is a short month. The February Outlook issued on Saturday dropped El Nino in favor of a more neutral stance re ENSO but this 8 - 14 Day Outlook looks more like a La Nina pattern. More on that when I discuss the analogs.
And now excerpts from the NOAA discussion covering the February 2, 2015 6 - 14 Day Outlook. Some of the highlighted areas reflect the earlier discussion of the Aleutian Low.
"6-10 DAY OUTLOOK FOR FEB 08 - 12 2015

TODAY'S ENSEMBLE MEAN AND DETERMINISTIC SOLUTIONS ARE IN GENERALLY GOOD AGREEMENT ON THE MEAN 500-HPA CIRCULATION PATTERN FORECAST OVER MOST OF THE NORTH AMERICA DOMAIN FOR THE 6-10 DAY PERIOD. A LARGE AMPLITUDE RIDGE IS PREDICTED OVER FAR EASTERN SIBERIA, WITH A DEEP TROUGH DOWNSTREAM OVER ALASKA. A LOWER AMPLITUDE RIDGE IS EXPECTED OVER THE FAR WESTERN CONUS, WITH SOME DYNAMICAL SOLUTIONS FORECASTING A WEAK TROUGH OVER THE DESERT SOUTHWEST OR NORTHWEST MEXICO. THE AREA OF GREATER UNCERTAINTY TODAY IS THE EASTERN CONUS, WHERE MODELS FAVOR A TROUGH, BUT THERE IS SIGNIFICANT UNCERTAINTY AS TO THE ANTICIPATED DEPTH AND LOCATION OF THIS FEATURE. THE 00Z DETERMINISTIC ECMWF AND THE 00Z ECMWF ENSEMBLE MEAN SOLUTIONS PREDICT THE DEEPEST TROUGH, WITH THE MEAN AXIS NEAR THE EAST COAST. THE 06Z DETERMINISTIC GFS AND THE 06Z GFS ENSEMBLE MEAN PREDICT DEEP TROUGHS WELL OFF THE EAST COAST (CENTERED BETWEEN 60W-70W LONGITUDE), WHILE THE 00Z GFS ENSEMBLE MEAN HAS THE FLATTEST HEIGHT PATTERN AMONG THE VARIOUS MODELS OVER THE EASTERN CONUS (WITH ITS TROUGH ALSO OFFSHORE). THE SPAGHETTI DIAGRAMS GENERALLY INDICATE LOW TO MODERATE SPREAD OVER THE SOUTHERN CONUS, WITH THE 00Z AND 06Z GFS ENSEMBLE RUNS AND THE GFS SUPER-ENSEMBLE MEAN DEPICTING THE GREATER DISPERSION AMONG INDIVIDUAL ENSEMBLE MEMBERS.

THE TROUGHS PREDICTED OVER ALASKA AND THE EASTERN CONUS, AND NORTHERLY OR NORTHEASTERLY ANOMALOUS FLOW SUPPORT ENHANCED ODDS FOR BELOW-NORMAL MEAN TEMPERATURES ACROSS MUCH OF THOSE AREAS. ABOVE-NORMAL 500-HPA HEIGHTS ASSOCIATED WITH THE RIDGE ANTICIPATED OVER THE WESTERN AND CENTRAL CONUS FAVORS ABOVE-NORMAL TEMPERATURES FROM THE WEST COAST EASTWARD TO NEAR THE MISSISSIPPI RIVER.

NORTHERLY ANOMALOUS FLOW OVER MUCH OF ALASKA FAVORS BELOW-MEDIAN PRECIPITATION, WHILE MOST OF THE SOUTHERN CONUS IS ALSO FAVORED TO RECEIVE BELOW-MEDIAN PRECIPITATION LARGELY DUE TO BROAD-SCALE SUBSIDENCE ASSOCIATED WITH THE PREDICTED 500-HPA RIDGE. ONE EXCEPTION IS THOUGHT TO BE THE SOUTHERN HIGH PLAINS AND ADJACENT SOUTHERN ROCKIES, IN ADVANCE OF A FORECAST WEAK TROUGH. ODDS ARE ENHANCED FOR ABOVE-MEDIAN PRECIPITATION ACROSS THE ALASKA PANHANDLE, AND MOST OF THE NORTHERN THIRD OF THE CONUS AS FAR SOUTH AS CENTRAL CALIFORNIA IN THE WEST AND VIRGINIA IN THE EAST. THIS IS DUE PRIMARILY TO THE EXPECTATION OF MOIST, SOUTH-SOUTHWESTERLY FLOW AND/OR THE ANTICIPATED PRESENCE OF THE MEAN STORM TRACK.

FORECAST CONFIDENCE FOR THE 6-10 DAY PERIOD: ABOVE AVERAGE, 4 OUT OF 5, DUE TO GOOD AGREEMENT AMONG THE MODELS, OFFSET BY GREATER UNCERTAINTY IN THE EASTERN CONUS.

8-14 DAY OUTLOOK FOR FEB 10 - 16 2015

TODAY'S ENSEMBLE MEAN AND DETERMINISTIC SOLUTIONS ARE IN GENERALLY GOOD AGREEMENT ON THE MEAN 500-HPA CIRCULATION PATTERN FORECAST OVER MOST OF THE NORTH AMERICA DOMAIN FOR THE WEEK 2 PERIOD. THE HIGH LATITUDE RIDGE/TROUGH COUPLET NOTED ABOVE FOR THE 6-10 DAY FORECAST PERIOD (RIDGE IN EASTERN SIBERIA AND TROUGH IN ALASKA) IS FORECAST TO RETROGRADE SOMEWHAT, RESULTING IN THE TROUGH SHIFTING FROM CENTRAL TO WESTERN ALASKA. OVER EASTERN NORTH AMERICA, ALL MODELS ARE PREDICTING AN AMPLIFIED TROUGH, BUT THERE IS STILL CONSIDERABLE DISAGREEMENT ON ITS PREDICTED LOCATION. THE GFS-BASED MODELS ANTICIPATE THE MEAN TROUGH AXIS MOSTLY OFF THE EAST COAST, WHILE THE 00Z ECMWF AND CANADIAN ENSEMBLE MEANS DEPICT THE TROUGH AXIS FARTHER WEST, OVER THE EASTERN CONUS. THE LATTER SOLUTIONS APPEAR TO BE MOVING IN THE DIRECTION OF CARVING OUT A TROUGH OVER THE CENTRAL CONUS.

THE EXPECTED TEMPERATURE AND PRECIPITATION ANOMALY PATTERNS FOR WEEK 2 ARE SIMILAR TO THOSE PREDICTED FOR DAYS 6-10, WITH SEVERAL ALTERATIONS. TO BE CONSISTENT WITH THE RETROGRESSION THAT IS FORECAST AT HIGH LATITUDES, THE SURFACE FIELDS WERE ALSO SHIFTED A BIT WEST OR NORTHWEST. TO ACCOUNT FOR THE POSSIBILITY OF A TROUGH DIGGING ACROSS THE NORTH-CENTRAL CONUS (AS HINTED AT BY THE ECMWF/CANADIAN MODELS), THE EXPECTED AREA OF ABOVE-NORMAL TEMPERATURES WAS DISPLACED SLIGHTLY TO THE WEST, AND THE PROBABILITIES FOR WARMTH ACROSS THIS REGION WERE REDUCED.

FORECAST CONFIDENCE FOR THE 8-14 DAY PERIOD IS: NEAR AVERAGE, 3 OUT OF 5, DUE TO GOOD OVERALL AGREEMENT AMONG THE MODELS, BUT OFFSET BY THE UNCERTAINTY REGARDING THE PLACEMENT OF THE EASTERN CONUS TROUGH."
Analogs to Current Conditions
Now let us take a detailed look at the "Analogs" which NOAA provides related to the 5 day period centered on 3 days ago and the 7 day period centered on 4 days ago. "Analog" means that the weather pattern then resembles the recent weather pattern and was used in some way to predict the 6 - 14 day Outlook.
Here are today's analogs in chronological order although this information is also available with the analog dates listed by the level of correlation. I find the chronological order easier for me to work with. There is a second set of analogs associated with the outlook but I have not been analyzing this second set of information. This first set applies to the 5 and 7 day observed pattern prior to today. The second set which I am not using relates to the forecasted outlook 6 - 10 days out to similar patterns that have occurred in the past during the dates covered by the 6 - 10 Day Outlook. That may also be useful information but they put this set of analogs in the discussion with the other set available by a link so I am assuming that this set of analogs is the most meaningful. On a spot-check basis, I see less overlap between the prior and projected analogs (adjusted for the differential in timing than I would expect), but so far I have not examined that.
Analog

Centered

Day

ENSO

Phase

PDO
AMO
Other Comments
1956 January 13
La Nina
-
+
1957 January 17
La Nina
-
+
1959 January 16
El Nino
-
+
Questionable that this was an El Nino
1959 January 17
El Nino
-
+
Questionable that this was an El Nino
1963 January 29
Neutral
-
+
1980 January 29
Neutral
-
-
2003 January 18
El Nino
+
+
Modoki Type I
2005 January 17
El Nino
+
+
Modoki Type II
2005 January 18
El Nino
+
+
Modoki Type II
Generally, the analogs are indicating ENSO Neutral or El Nino Modoki conditions. AMO Positive seems to be a dominant theme and that is associated with a tendency for the storm track to be further north than usual.
Back to the Current Situation:
Sometimes it is useful to take a look at the location of the Jet Stream or Jet Streams. You can see how the ridge of high pressure off the West Coast is currently still forcing the Jet Stream inland and then creating a large trough in the center of the Lower 48.
And sometimes the forecast is revealing. Below is the forecast out five days. It shows how how the weather pattern has been shifted to the north not south as is the case with a traditional El Nino.
To see it in animation, click here.
This longer animation shows how the jet stream is crossing the Pacific and when it reaches the U.S. West Coast is going every which way. One can imagine that attempting to forecast this 6 - 14 days out is quite challenging.
And below is another view which highlights the surface highs and the lows re air pressure on Day 3. You can see how the counter-clockwise Aleutian Low is funneling warm wet air towards the Alaskan Panhandle and the Lower 48 Northwest.
And here is Day 6
The Aleutian Low forecast out six days is again quite strong. But the RRR is clearly evident. It is a split Aleutian Low which we discussed last week. It is very spread out and incoherent.
El Niño Discussion
Now let us look at the latest NOAA Hovmoellers. I had hoped that this might be the last week that we will need to look at the Hovmoellers this winter if I concluded that it really is a done deal....ImagiNiño: end of story. But I tend to think that we will have to go through this analysis until at least February 19 when the next NOAA Seasonal Outlook is released.
There are many graphics that NOAA provides every Monday but I focus on a subset of the information provided and today I thought I would again start with what probably is the most important one that I call the Kelvin Wave graphic but it is really the Upper Ocean Heat Anomaly along the Equator which is caused in many cases primarily by Kelvin Waves.
There is again quite a bit of change since last week. The upwelling phase now even more clearly shows a cooling anomaly as it moves east. The next downwelling Kelvin Wave has now been declared and its existence presumably impacts the forecast models. But history tells us that El Nino events develop prior to Christmas which is how they got their name. An ONI greater than 0.5 in March and April is interesting but not necessarily as significant as an ONI greater than 0.5 in December. I do not have a real scientific basis for saying this but I think that this Kelvin wave will play out to the west of the recent Kelvin waves and have less impact.
Now let us look at the Sea Surface Temperatures
Again there is some change since last week as you can see even less warm water along the Equator. Overall there is not much new information in this graphic although you see the impact of the new downwelling Kelvin wave.
Of most interest to NOAA is 120 W to 170 W as that is where the ONI Index is measured. More information can be found here. If you look at the color coding in the above Hovmoeller they are looking for shades where the redder the better re conditions being El Nino but so far it is just showing shades of tan and brown i.e. marginal especially when averaged over the entire area of interest. But that explains why we have a situation where some of the factors are in place for an El Nino but so far it is marginal at best and fading fast.
And now the low-level wind anomalies.
This shows a lot of change from last week. The Southern Oscillation Index (SOI) was very strong last week and had some ability to revitalize the "ImagiNiño". But this week it was clearly consistent with ENSO Neutral. You can find the daily and 30 and 90 day averages here. The 30 day average of -9.2 is consistent with El Nino conditions (a 30 day average of -8.0 or more negative is considered to be consistent with El Nino conditions). Today's reading of -4.9 is consistent with ENSO neutral conditions. The SOI fluctuates based on local weather conditions in Tahiti and Darwin Australia so one week of data is not sufficient to draw any conclusions but it impacts the Hovmoellers and the computer models.
27 Jan 2014 -13.09

28 Jan 2014 -5.08

29 Jan 2015 +0.6

30 Jan 2015 -0.6

31 Jan 2015 -3.7

1 Feb 2015 -4.4

2 Feb 2015 -4.9
And finally the latest model results released by NOAA on February 2, 2015.
This graphic is a modified version of the graphic that appears on Page II of this Report. It is modified by NOAA to be consistent with the maps on the right which can be found here. Those maps have been processed to adjust for the observed skill of the models. As you can see, January was a downer for this El Nino. You have to love computer models. I was Manager of Operations Research for the major division of a Fortune 500 Corporation so I know the good and bad and the ugly about computer models and this model is about as ugly as they get. It is curious that NOAA has a model that shows February to have increasing El Nino characteristics just as they release their February Outlook where they take El Nino totally out of their Outlook. Can you spell DYSFUNCTIONAL? How much money do you have to spend to build a model that tracks Kelvin Waves when all you need to do is look at the Hovmoeller?
Below is another graphic that confirms that we are not in a traditional El Nino but perhaps a borderline El Nino Modoki. The top graphic shows conditions along the Equator, 10 degrees north to 10 degrees south of the Equator and this is one of the most up to date sources of information available. The top graphic shows surface temperatures and wind direction and speed. The bottom graphic shows anomalies.The bottom graphic shows the deviation from average conditions. You can see two things in that graphic. First of all you can see the pockets of warm water which are in some cases greater than 1C above average and in other cases below 0.5C above average conditions. Looking between 170W and 120W on the Equator, you see a area where the anomaly is under 0.5C which has shrunk somewhat since last week. And you also see an area above 0.5C which has increased in size. In the Nino 1+2 Area over by Ecuador, one can see a positive anomaly. That does not figure in to the ONI calculation but determines the type of El Nino that we have and the impact it has on weather. Also the anomaly analysis of the winds generally point to the West except for the last few weeks around the Date Line (180 degrees Longitude) which to me is another indication that this might be more like a Modoki than a canonical/traditional El Nino. Last week, those westerly anomalies extended quite a bit further west which suggested to me that the ONI readings would increase in the near term which they have. That impact of the strong SOI part of last week has eased so it is less of a factor. It must be very frustrating for the forecasters when some of the factors necessary for an El Nino are in place but not all of them and there are many different varieties of El Nino and La Nina and these varieties impact World Weather differently.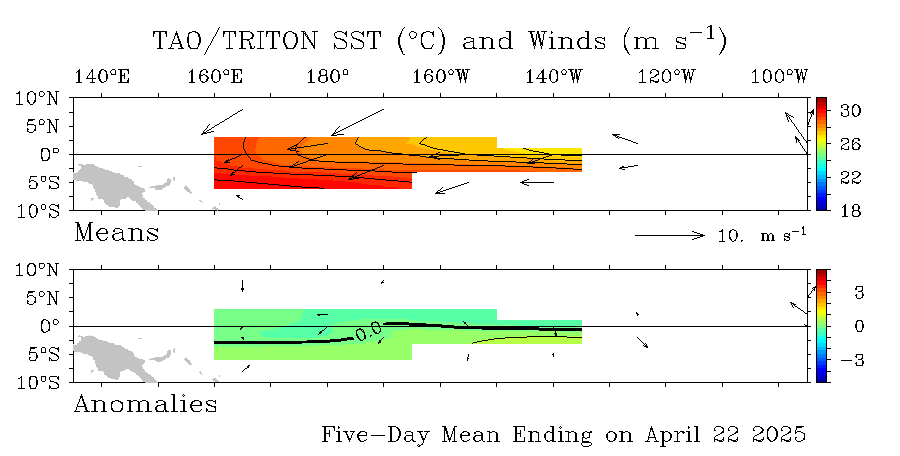 Pulling it All Together. .
So this continues to look to me like a warm event that is not a full fledged El Nino and is not a traditional El Nino. So the expected impacts are different than the expected impacts from a traditional El Nino. Whatever this pattern is, it is not very different from ENSO Neutral. I am still thinking the Japanese sized this up from the start and that this is really more like a Modoki than a traditional El Nino and that weather patterns are shifted some number of degrees further west (or possibly rotated) than would be the case for a traditional El Nino which is why the weather where I live is more typical of a La Nina than an El Nino. This has been the case since the PDO went into its Negative Phase which is why a possible change to PDO Positive is so very important. I will be discussing this in some detail in my Weather and Climate Report next week.
I do not see a traditional El Nino of any significant strength likely to happen this winter although a "near" El Nino appeared in January to be making its presence known to a limited extent but mainly outside of the U.S. That no longer appears to be the case in February. It remains a very complicated situation mostly because of the at least temporary shift of the configuration of the Pacific with respect to the location of warm and cold water to a configuration which is called PDO Positive (+) combined with the Blocking Ridge off the West Coast.
An El Nino Watch for next year might be in order as there remains a lot of warm water but usually it takes a few years for that to built up sufficient for another warm event to get under way. ENSO neutral is where the models are headed and I suspect that they have it correct.
Click Here for the Econointersect Weather and Climate Page (which I call Page II) where you will find:
NOAA and other agency graphics (including international agencies) that auto update. So this includes both short term- and seasonal "updates". It will ALWAYS be up to date even if my commentary on the graphics is not. I update my commentary when it seems necessary and certainly every Monday but some of these graphics auto update every six hours.
Economic and other Impacts of major weather events. Not sure there is any other place to obtain this information consistently other than very specialized subscription services.
Information on Climate Cycles both those which are fairly short term i.e. less than a decade in duration and multi-decadal cycles.
Economic and other Impacts of those Climate Cycles which are referred to by the IPCC as Internal Variability as opposed to secular Climate Change which is always in the same direction. Again I am not sure if there is another source for this information where it is pulled together in one place as I have.
Information on Anthropogenic Global Warming science i.e. the secular change in our climate that overlays both short term weather and historical climate cycles as well as black swan events like volcanic eruptions. I prefer to call this Global Warming as it is the warming that triggers the other changes.
Economic and other Impacts of Global Warming. The IPCC AR5 WG2 attempts to describe and quantify these and I have some excerpts from their report. Over time I will go beyond their report.
For now this is all in one article which may be a little difficult to navigate but that will soon change and there will be two links: one to the weather and climate information and a second link to the Global Warming information.
Click here for a list of Sig Silber's Weather Posts
>>>>> Scroll down to view and make comments <<<<<<
Make a Comment
Econintersect

wants your comments, data and opinion on the articles posted. You can also comment using Facebook directly using he comment block below.
---