posted on 20 January 2015
Written by Sig Silber
The NOAA Seasonal Outlook is a retraction of sorts as far as their ImagiNiño is concerned. But surprisingly, some computer models are showing more confidence in the ImagiNiño. It could be that the major problem with these models is that they have the wrong year in mind and next year may be the El Nino Year. Or it could be the models are confused by the Positive PDO. Or perhaps they are correct. The biggest news perhaps is the strength of the Pacific Decadal Oscillation (PDO). A few months of high values of this index do not signify a climate shift but if this really is a change in sign of the PDO, which measures the spacial distribution of surface temperatures in the Pacific not the surface temperature of the Pacific, the pattern of our weather in the U.S. and around the World could be impacted for a number of decades. So this is potentially far more significant than the fate of one warm event. The Ridiculously Resilient Ridge (RRR) demonstrates its resilience.
This is my weekly Weather and Climate Update Report. A more compete report can be found here in what I call Page II of my Weekly Report.
The new Seasonal Outlook was issued on January 15, 2015. The long-range maps which are in Part II perhaps are of more interest than the outlook for the next three months. It seems that NOAA is now being forced to focus on the PDO and other weather cycles rather than ENSO as their "advertised" El Nino flunked out so to speak. I wish all those involved with climate planning paid more attention to lower frequency ocean and atmospheric cycles and did not get mesmerized by ENSO and Climate Change. There appears to be a significant knowledge gap among those dealing with climate issues.
Here is the prior Temperature Outlook for February, March, April 2015
And here is the newly issued February, March, April Temperature Outlook
The major difference is the removal of colder than climatology from the Southeast, Mid-Atlantic, and the warmer than climatology previously projected for New England.
Here is the prior Precipitation Outlook for February, March, April 2015
And here is the newly Issued Precipitation Outlook for February, March and April 2015.
The major difference is to the Eastern Half of CONUS with a muting of the North to South variation in precipitation relative to climatology.
Here is the Early Update Temperature Outlook for February 2015.
It looks like the three-month Temperature Outlook except for Florida which is projected to be warmer in February. This suggests that Florida will be cooler in March and April if the "EC" assessment in the three-month outlook which calls for the temperature anomaly in Florida to be "EC" is to be achieved. This is a good way to use the current month to figure out what the next two months should be like if the three-month outlook is to occur as projected.
Here is the Early Update Precipitation Outlook for February 2015.
It is identical to the three-month Outlook which is based on the assumption that we are having a weak El Nino. The problem is there is not likely to be an El Nino, even a weak one, during these months and as a "near" El Nino, it may be of the Modoki Type II variety. That does not appear to be of any concern to NOAA.
Now let us take a look at the discussion which I have reorganized a bit mostly to remove a lot of redundancy.
February Outlook Including Ocean Conditions
30-DAY OUTLOOK DISCUSSION FOR FEBRUARY 2015  

THE FEBRUARY 2015 OUTLOOK REFLECTS A FAIRLY HIGH AMOUNT OF UNCERTAINTY, GIVEN SIGNIFICANT DIFFERENCES AMONG VARIOUS CLIMATE MODELS, AND THE CONTINUED LACK OF A ROBUST ATMOSPHERIC RESPONSE TO THE NEAR- TO ABOVE-AVERAGE EQUATORIAL PACIFIC SSTS.

DURING THE PAST 4 WEEKS, EQUATORIAL SEA-SURFACE TEMPERATURES (SST) WERE ABOVE-AVERAGE ACROSS MOST OF THE PACIFIC, THOUGH THE ANOMALIES HAVE RECENTLY WEAKENED. THE LATEST WEEKLY NINO 3.4 INDEX IS +0.4 C. [ Editor's note: this would not even be El Nino Conditions] POSITIVE SUBSURFACE TEMPERATURE ANOMALIES HAVE PERSISTED ACROSS MOST OF THE CENTRAL AND EASTERN EQUATORIAL PACIFIC SINCE MID-NOVEMBER, TO A DEPTH OF 50-100 METERS. WHILE OCEANIC INDICATORS FAVOR AN EL NINO, ATMOSPHERIC INDICATORS CONTINUE TO FAVOR ENSO-NEUTRAL CONDITIONS. DURING THE PAST 30-DAYS, ENHANCED CONVECTION AND PRECIPITATION HAS BEEN OBSERVED OVER INDONESIA, THE PHILIPPINES, NORTHERN AUSTRALIA, AND THE WESTERN PACIFIC. SUPPRESSED CONVECTION AND PRECIPITATION WAS OBSERVED NEAR THE DATE LINE. LOW-LEVEL (850-HPA) WINDS WERE NEAR-AVERAGE ACROSS MOST OF THE EQUATORIAL PACIFIC. THE CONVECTION AND LOW-LEVEL WIND PATTERNS ARE NOT CONSISTENT WITH AN EL NINO. COLLECTIVELY, THE OCEANIC AND ATMOSPHERIC INDICATORS SUPPORT THE CONTINUATION OF ENSO-NEUTRAL CONDITIONS. THIS CONTINUED LACK OF COUPLING BETWEEN THE OCEAN AND ATMOSPHERE SUGGESTS THAT THE WINDOW OF OPPORTUNITY FOR A WEAK WARM EVENT IS RAPIDLY NARROWING. THERE IS AN APPROXIMATELY 50-60 PERCENT CHANCE OF EL NINO CONDITIONS DURING THE NEXT TWO MONTHS [Editor's Note: this seems to conflict with recent model results but the newly issued model results suggest the issue is still in doubt], AFTER WHICH ENSO-NEUTRAL IS FAVORED.

---

This raises important questions

Two forecast misses (I am assuming this El Nino forecast will go down as a miss) within five years. Do the computer models being used have sufficient skill? To me it is a very interesting question because I could tell from looking at the graphics and each week describing in my report what I saw that the computer models were not functioning properly.
What really is going on? It was time for an El Nino. The warm water was in place. One wonders why an El Nino did not happen. This is a separate question from why NOAA (and many others) seems to have gotten it wrong while Australia and Japan got it right.  Japan may have gotten it the most correct and called it as starting as a traditional El Nino and morphing into a Modoki. Not sure if they specified that it was a Modoki Type II, but that is what it looks like to me to the extent that it is an El Nino.  From the NOAA Discussion: "to 0.0 C  in the NINO 1- 2 REGION".  That is the signature of a Modoki and the Warm Water off the Pacific Coast is consistent with a Modoki Type II. Also from the NOAA Discussion: "+0.8 C in the NINO 4 REGION".  Again that is the signature of a Modoki Type II. The differential impacts of the various kinds of El Niños are discussed in Part II of this Report re a paper by Chunzai Wang and Xin Wang. That paper can also be found here.  The work of Chunzai Wang and Xin Wang was performed at the NOAA Atlantic Oceanographic and Meteorological Laboratory Miami, Florida and the Cooperative Institute for Marine and Atmospheric Studies University of Miami, Miami, Florida so NOAA should be familiar with their work. BTW I am not attempting to diagnose this current warm event but to me it does seen to have characteristics of an event that started as if it was a canonical/traditional El Nino and now to me at least looks more like a Modoki Type II.  If you look at the DJF graphics below you can see why they would have different convection patterns for the U.S. and elsewhere. So that is why it is important. The bottom graphic to the far right in my opinion should have been a factor that was considered in the just released Seasonal Forecast.

In theory I should be able to figure this out by considering the weather patterns in the Philippines.  But unfortunately I do not have sufficient skill to do that and the impacts of El Nino are felt there after a delay so it is difficult to sort it out at least for me. At this point that patterns does not seem to fit perfectly with a Modoki Type II but I may not be interpreting things correctly and we have the additional variable of a Positive PDO. It is easy to find the Philippines in the below graphic. They are east of Vietnam which is very easy to spot.

---

THE MONTHLY PACIFIC DECADAL OSCILLATION (PDO) INDEX FOR DECEMBER 2014 IS +2.51, WHICH IS THE HIGHEST DECEMBER VALUE OF RECORD (SINCE 1900). THE 2014 OND [October, November, December] MEAN INDEX VALUE OF +1.91 IS THE HIGHEST OND PDO INDEX SINCE 1936. REGRESSIONS OF FEBRUARY TEMPERATURE ON DECEMBER PDO VALUES SUPPORT A RELATIVELY COLD PATTERN FOR MUCH OF THE CONUS EAST OF THE ROCKIES. THE MADDEN JULIAN OSCILLATION IS CURRENTLY ACTIVE, WITH THE ENHANCED CONVECTIVE PHASE CENTERED OVER THE WESTERN PACIFIC, AND SUPPRESSED CONVECTIVE PHASES OVER THE INDIAN OCEAN AND IN THE WEST-CENTRAL PACIFIC NEAR THE DATE LINE. DURING THE NEXT TWO WEEKS, THE ENHANCED PHASE OF THE MJO IS PREDICTED TO SHIFT EASTWARD INTO THE WESTERN HEMISPHERE, AND DECREASE IN AMPLITUDE. LAGGED COMPOSITES ON THE MJO FAVOR A COOLING DOWN FOR MUCH OF THE CONUS DURING WEEK 2. IT IS DIFFICULT TO SAY HOW MUCH OF A ROLE THE MJO MAY PLAY IN INFLUENCING U.S. CLIMATE IN FEBRUARY.

CFS AND ECMWF DYNAMICAL MODEL GUIDANCE FOR THE WEEK 3 AND WEEK 4 PERIODS DEPICT A MODERATING TREND IN SURFACE TEMPERATURES ACROSS THE CENTRAL AND EASTERN CONUS. THESE MODELS ARE ALSO VERY PERSISTENT IN PREDICTING ABOVE-AVERAGE MEAN TEMPERATURES ACROSS THE WESTERN CONUS AND ALASKA. AN ASSORTMENT OF CLIMATE MODELS FOR FEBRUARY 2015 PREDICT A FAIRLY WIDE RANGE OF POSSIBLE OUTCOMES. THE NATIONAL MULTI-MODEL ENSEMBLE (NMME) AND THE INTERNATIONAL MULTI-MODEL ENSEMBLE  (IMME) FORECAST ENHANCED CHANCES OF ABOVE-AVERAGE MEAN TEMPERATURES IN ALASKA, THE WESTERN CONUS, AND TO A MODEST DEGREE, PARTS OF THE SOUTHEAST. THEY ALSO ANTICIPATE ENHANCED CHANCES OF BELOW-AVERAGE MEAN TEMPERATURES IN PARTS OF TEXAS. THE INDIVIDUAL MODEL INPUTS TO THE NMME ALL AGREE ON THE PREDICTED RELATIVE WARMTH IN ALASKA, AND WITH ONE EXCEPTION, THEY ALSO AGREE ON THE WARMTH OVER THE WESTERN CONUS. HOWEVER, FOR REMAINING AREAS OF THE CONUS, TEMPERATURE SIGNALS AMONG THE VARIOUS MODELS ARE EITHER WEAK OR CONFLICTING, SUGGESTING LITTLE PREDICTIVE SIGNAL FOR TEMPERATURE ANOMALIES. THE OFFICIAL  FEBRUARY 2015 TEMPERATURE OUTLOOK THEREFORE FAVORS ABOVE-AVERAGE TEMPERATURES IN ALASKA, THE WESTERN CONUS, AND FLORIDA, AND BELOW-AVERAGE TEMPERATURES IN TEXAS.

FOR PRECIPITATION, THE NMME, IMME, AND CFS PREDICT ENHANCED ODDS OF ABOVE-MEDIAN PRECIPITATION FROM SOUTHERN CALIFORNIA EASTWARD ACROSS THE SOUTHWEST, SOUTHERN ROCKIES, AND SOUTHERN GREAT PLAINS, WITH THE HIGHER PROBABILITIES IN NEW MEXICO AND TEXAS. THESE SAME MODELS ALSO ANTICIPATE ELEVATED ODDS OF BELOW-MEDIAN PRECIPITATION ACROSS PARTS OF THE PACIFIC NORTHWEST AND NORTHERN ROCKIES. THESE PREDICTED CLIMATE ANOMALIES HAVE REASONABLE SUPPORT FROM A MAJORITY OF THE CLIMATE MODELS WHICH CONSTITUTE THE NMME. SOME MODELS ALSO FORECAST A TILT IN THE ODDS TOWARD DRYNESS NEAR THE GREAT LAKES/OHIO VALLEY REGION, AND WETNESS ALONG THE SOUTH-CENTRAL AND SOUTHEASTERN ALASKA COAST, BUT THEY APPEAR TO BE EITHER TOO WEAK OR DISAGREE SUBSTANTIALLY IN PREDICTED LOCATION TO BE USED RELIABLY. THE OFFICIAL FEBRUARY 2015 PRECIPITATION OUTLOOK THEREFORE FAVORS ABOVE-MEDIAN PRECIPITATION FROM SOUTHERN CALIFORNIA EASTWARD TO TEXAS, AND BELOW-MEDIAN PRECIPITATION IN THE PACIFIC NORTHWEST AND NORTHERN ROCKIES.
Three Month Outlook
THE TEMPERATURE OUTLOOK FOR FEBRUARY-APRIL (FMA) 2015 INDICATES ELEVATED CHANCES OF ABOVE NORMAL MEAN TEMPERATURES ACROSS ALASKA AND THE WESTERN LOWER 48 STATES. INCREASED ODDS FOR BELOW NORMAL MEAN TEMPERATURES ARE INDICATED OVER PORTIONS OF THE CENTRAL GREAT PLAINS, THE SOUTHERN GREAT PLAINS, AND THE LOWER MISSISSIPPI RIVER VALLEY.

THE FMA 2015 PRECIPITATION OUTLOOK INDICATES ELEVATED ODDS FOR ABOVE MEDIAN PRECIPITATION OVER THE SOUTHWEST AND WESTERN PORTIONS OF THE GREAT PLAINS, AS WELL AS OVER SOUTHERN, COASTAL ALASKA. CHANCES FOR BELOW MEDIAN PRECIPITATION ARE ELEVATED OVER THE PACIFIC NORTHWEST. INCREASED UNCERTAINTY AND A REDUCED ROLE OF AN ENSO WARM EVENT OVER THE LOWER 48 STATES PROMPTED A REMOVAL OF AREAS OF ENHANCED ODDS FOR ABOVE MEDIAN PRECIPITATION OVER THE SOUTHEAST AND BELOW MEDIAN PRECIPITATION OVER THE GREAT LAKES AND OHIO VALLEY.
Longer-term (14 Month) Outlook
PROGNOSTIC DISCUSSION OF OUTLOOKS - FMA 2015 TO FMA 2016

TEMPERATURE

THE FMA 2015 OUTLOOK REFLECTS LESS CERTAINTY FOR IMPACTS ASSOCIATED WITH AN ENSO WARM EVENT THAN LAST MONTH. ENHANCED PROBABILITIES FOR BELOW AVERAGE TEMPERATURES ARE INDICATED OVER THE CENTRAL AND SOUTHERN GREAT PLAINS, AND LOWER MISSISSIPPI VALLEY. REGRESSIONS OF TEMPERATURE ONTO THE PDO INDEX AND A WEAKNESS IN THE TEMPERATURE FORECAST FIELD FROM THE NMME AND IMME SUPPORT A SLIGHT EXPANSION OF ENHANCED ODDS OF BELOW NORMAL TEMPERATURES OVER THE CENTRAL PLAINS. UNCERTAINTY ACROSS THE NORTHEAST PROMPTED THE REMOVAL OF THE AREA OF ENHANCED ODDS FOR ABOVE AVERAGE TEMPERATURES. OVER ALASKA, MODELS INDICATE STRONGLY ABOVE AVERAGE TEMPERATURES, CONSISTENT WITH REGRESSIONS OF TEMPERATURE  ON THE PDO INDEX, ABOVE AVERAGE SSTS OVER THE BERING SEA AND GULF OF ALASKA, AND REDUCED SEA ICE COVERAGE ALREADY OBSERVED.

FOR LEADS 2 AND 3 (MAM AND AMJ 2015), ODDS FOR ABOVE AVERAGE TEMPERATURES WERE INCREASED OVER THE NORTHERN GREAT PLAINS, ALIGNING WITH PDO BASED REGRESSIONS AND DYNAMICAL MODEL OUTPUT.  DURING AMJ, THE SIGNAL FOR BELOW AVERAGE TEMPERATURES ALONG THE RIO GRANDE WAS REMOVED DUE TO INCREASED UNCERTAINTY IN THE MODELS AND DECREASED RELEVANCE OF TEMPERATURE IMPACTS FROM EL NINO DUE TO INCREASED UNCERTAINTY IN THE ATMOSPHERIC RESPONSE TO ENSO AND DECREASING SIGNAL IN TEMPERATURE PATTERNS OVER THE CONUS THROUGH THE SPRING.

THROUGH THE SUMMER MONTHS, THE FORECASTS ALIGN WITH THE CPC CON, WITH AN AREA OF EC OVER THE CENTER OF THE CONUS. IN THIS REGION, THERE ARE WEAK SIGNALS FROM THE CON AND CORRELATIONS WITH THE PDO INDEX ARE WEAK.  

THROUGH NEXT FALL, THE CPC CON IS HEAVILY FAVORED, WHICH EMPHASIZES TRENDS, AND ALS THE CA-SST. UNCERTAINTY ABOUT THE PHASE OF ENSO NEXT WINTER PRECLUDES THE ABILITY TO USE THAT AS A SUBSTANTIAL PREDICTOR FOR NEXT WINTER.  TRENDS IN TEMPERATURE AND SEA ICE COVERAGE FAVOR ENHANCED ODDS FOR ABOVE AVERAGE TEMPERATURES THROUGHOUT THE FALL AND WINTER ACROSS NORTHERN ALASKA.  

PRECIPITATION

AS WITH TEMPERATURE, THERE IS LESS CERTAINTY ABOUT THE IMPACTS FROM THE ENSO SYSTEM, SO SOME CHANGES ARE INTRODUCED INTO THE OUTLOOKS. THIS INCREASED UNCERTAINTY GOING FORWARD LEADS TO MORE SPREAD OVER THE EASTERN CONUS, AND THE AREAS INDICATING ENHANCED ODDS OF EITHER ABOVE MEDIAN OR BELOW MEDIAN PRECIPITATION ARE NO LONGER INCLUDED IN THE FMA 2015 OUTLOOK. ODDS FOR ABOVE MEDIAN PRECIPITATION OVER NORTHERN CALIFORNIA AND NEVADA ARE REDUCED, SO EQUAL CHANCES IS INDICATED ACROSS THOSE REGIONS. PDO BASED REGRESSIONS OF PRECIPITATION FAVOR A SLIGHT EXPANSION OF ENHANCED ODDS FOR ABOVE MEDIAN PRECIPITATION OVER THE CENTRAL GREAT PLAINS, WHICH ALSO PROMPTED A SLIGHT TRIMMING ON THE EASTWARD SIDE OF THE AREA OF BELOW MEDIAN PRECIPITATION OVER THE PACIFIC NORTHWEST. A POSITIVE PDO CORRELATES WITH ABOVE MEDIAN PRECIPITATION OVER THE SOUTHERN COASTAL PORTIONS OF ALASKA. IMME GUIDANCE SUPPORTS THAT AS WELL, SO IT WAS INCLUDED IN THE OUTLOOK, ALBEIT A SMALLER AREA THAN THE OUTLOOK ISSUED LAST MONTH.

THROUGH THE SPRING AND EARLY PORTIONS OF THE SUMMER, THE STRONGEST SIGNAL IN THE MODELS AND REGRESSION TOOLS IS FOR ENHANCED ODDS OF ABOVE MEDIAN PRECIPITATION OVER THE SOUTHWEST. THE OUTLOOK THERE IS HIGHLY UNCERTAIN, ESPECIALLY DURING THE APRIL-MAY-JUNE, A CLIMATOLOGICALLY DRY TIME OF YEAR ACROSS THAT REGION.

TRENDS IN PARTS OF THE SOUTHEAST CONUS INDICATE ELEVATED CHANCES FOR BELOW-MEDIAN PRECIPITATION AMOUNTS IN DJF AND JFM 2015-16.
Short-term Outlook
Let us now take a look at the 8 - 14 day outlook that was issued today January 19, 2015. It will auto-update every day so it will be changing day by day (and thus be up to date whenever you elect to read this report) but my comments may become out of sync with the map since my comments do not auto-update.
I am only showing the "second week" namely the day 8 -14 outlook. The first week together with much additional information on current weather patterns and near-term forecasts can be found in Part II of my report, but 8 - 14 days covers most of the 6 - 14 day period.
Here is the February Temperature Outlook issued on January 15, 2015. It also is a repeat of a map shown earlier.
And here is the 8 - 14 Day Temperature Outlook.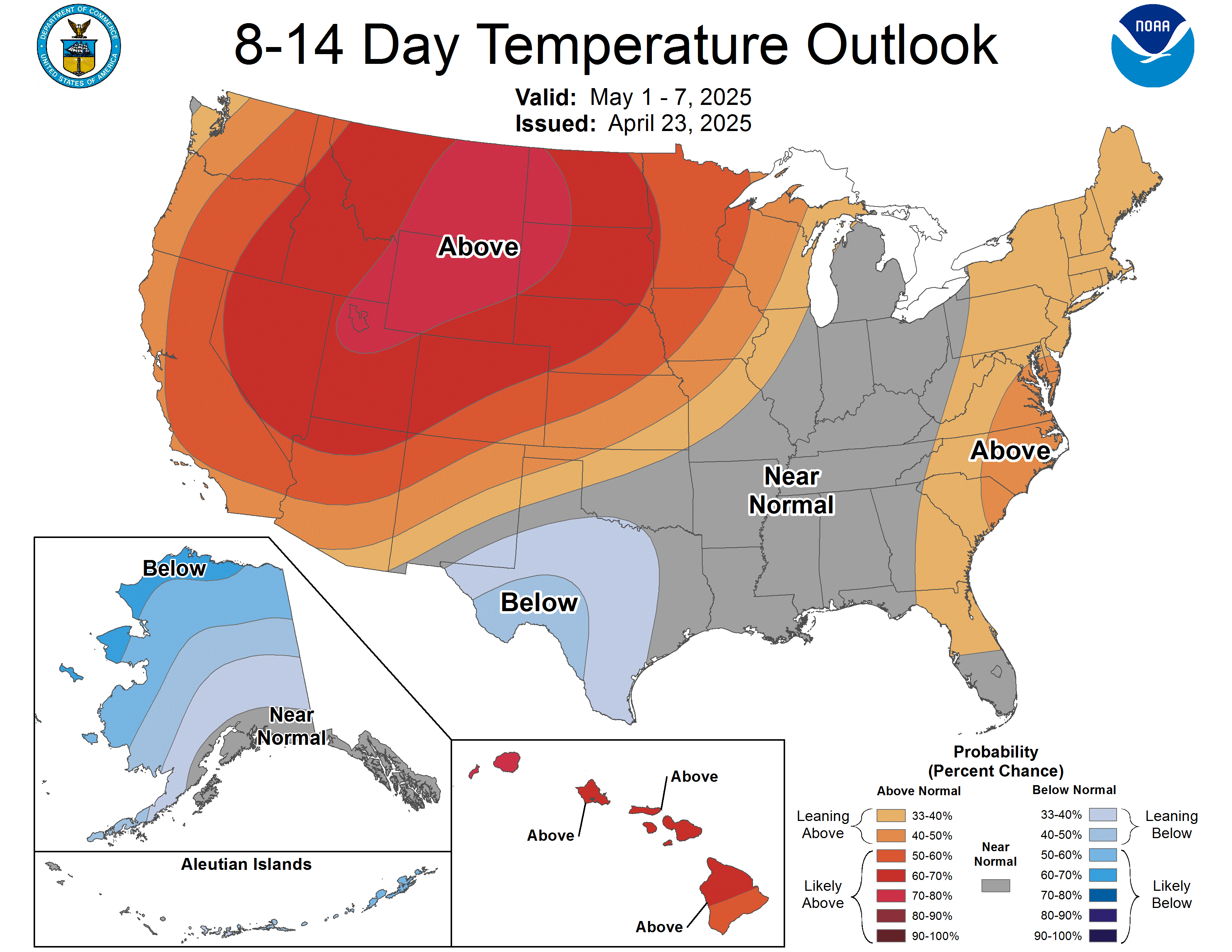 The cold intrusion from the North projected for the end of January and the first part of February is not consistent with the full month February Temperature Outlook.
And here is the updated February 2015 Precipitation Outlook issued on January 15, 2015.  This is a repeat of a map shown earlier.
And here is the 8 - 14 Day Precipitation Outlook.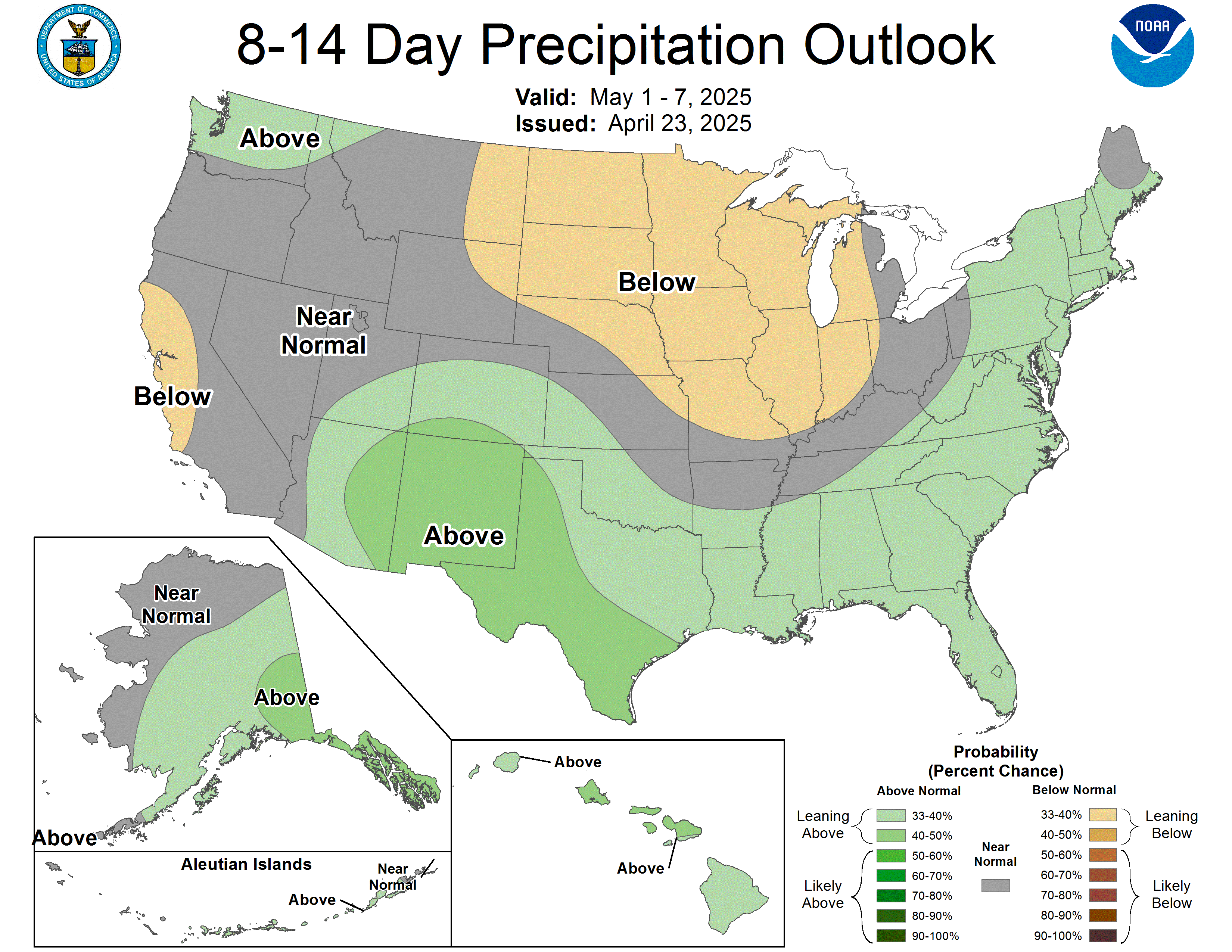 The Precipitation Outlook for the end of January and the beginning of February does not appear to be developing according to the February Outlook. This may well be related to the continuation of the high-pressure ridge off the West Coast which is not supposed to be there during El Nino Conditions. Of course the real problem is there is no El Nino and to the extent there is a near El Nino, it is possibly of the Modoki Type II variety. That is why the weather forecasting models are providing forecasts that are not consistent with what one would expect with a Traditional El Nino. I have been wrestling with that by looking at the analogs.
It is interesting that in general, the shorter-term forecasts do not rely on external assumptions the way the longer-term forecasts do. So the 6 - 14 Day Outlook should not be impacted by assumptions made by NOAA relative to El Nino conditions. Short-term forecasts are based on initial conditions and do not need external assumptions to step through the future...although they can creep in in ways that may not be obvious. External assumptions play a much larger role in longer-term forecasts. NOAA seems to be gradually removing the El Nino from their seasonal forecasts and instead placing more emphasis on the now Positive PDO. If that assumption proves to be correct, it will increase the chances that the 14 month forecasts will be correct. For some very strange reason, NOAA does not recognize the impact the AMO has on U.S. weather. That of course reduces the accuracy of their forecasts.
And now excerpts from the NOAA discussion covering the January 19, 2015  6 - 14 Day Outlook.
"6-10 DAY OUTLOOK FOR JAN 25 - 29 2015

TODAY'S MODELS ARE IN VERY GOOD AGREEMENT ON THE 500-HPA CIRCULATION PATTERN  FORECAST OVER NORTH AMERICA. ALL MODELS FORECAST A TROUGH OVER THE ALEUTIANS, A  RIDGE FROM ALASKA DOWN TO THE SOUTHWEST CONUS, AND A LARGE AMPLIFIED TROUGH  OVER THE EASTERN HALF OF THE CONUS. THE FORECAST WESTERN RIDGE AND EASTERN  TROUGH HAVE BEEN CONSISTENTLY FORECAST FOR SEVERAL DAYS, SO THERE IS HIGH  CONFIDENCE IN THE FORECAST OF THE PATTERN. SINCE RECENT GFS AND ECMWF ENSEMBLE  MEAN FORECASTS HAVE BEEN IN AGREEMENT FOR THE PAST SEVERAL DAYS, AND BECAUSE  THEY HAVE BEEN MORE SKILLFUL IN RECENT MONTHS THAN THE CANADIAN ENSEMBLE, THEY WERE FAVORED IN TODAY'S MANUAL 500-HPA BLEND. 

WITH AN ANOMALOUSLY DEEP TROUGH CENTERED OVER THE EASTERN CONUS, AND LOW-LEVEL  WINDS FORECAST TO TRANSPORT COLD AIR DIRECTLY FROM CENTRAL CANADA, BELOW NORMAL  TEMPERATURES ARE FAVORED IN THE EASTERN U.S. A HIGHLY ANOMALOUS RIDGE AND SOUTHERLY LOW LEVEL FLOW HIGHLY FAVORS ABOVE NORMAL TEMPERATURES FOR THE WESTERN HALF OF THE CONUS, ESPECIALLY OVER CALIFORNIA, THE CENTRAL GREAT BASIN, AND THE SOUTHWEST. THE ANOMALOUS RIDGE FORECAST IN THE WEST IS ANTICIPATED TO EXTEND INTO ALASKA, INCREASING THE LIKELIHOOD OF ABOVE NORMAL TEMPERATURES THERE.

THE STRONG RIDGE FORECAST IN THE WESTERN CONUS IS EXPECTED TO KEEP THE STORM  TRACK FARTHER NORTH THAN NORMAL, FAVORING BELOW-MEDIAN PRECIPITATION FOR THE  WEST COAST, SOUTHERN PLAINS, AND SOUTHEAST. SOME STORM ACTIVITY IS EXPECTED TO  COME ONSHORE IN THE ALASKAN PANHANDLE, INCREASING THE CHANCES FOR ABOVE MEDIAN  PRECIPITATION THERE. THE STORM ACTIVITY IS EXPECTED TO MOVE SOUTHEAST AND BE  ENTRAINED INTO THE DEEP TROUGH OVER THE EASTERN U.S., FAVORING ABOVE MEDIAN  PRECIPITATION ACROSS THE NORTHERN PLAINS, GREAT LAKES REGION, AND NORTHEAST.

FORECAST CONFIDENCE FOR THE 6-10 DAY PERIOD: WELL ABOVE AVERAGE, 5 OUT OF 5,  DUE TO VERY GOOD AGREEMENT AMONG THE MODELS AND TOOLS, AND A PERSISTENT, HIGHLY AMPLIFIED PATTERN.

 8-14 DAY OUTLOOK FOR JAN 27 - FEB 02, 2015 

DURING THE WEEK-2 PERIOD, THE 500-HPA PATTERN IS EXPECTED TO BE VERY SIMILAR TO THAT OF THE 6-10 DAY PERIOD. THE TEMPERATURE AND PRECIPITATION FORECASTS ARE ALSO VERY SIMILAR, WITH A FEW DIFFERENCES NOTED. THE UNCERTAINTY IN THE 500-HPA PATTERN FORECAST OVER ALASKA IS RELATIVELY LARGE, CAUSING DISAGREEMENT IN THE TEMPERATURE FORECASTS FROM THE MODELS AND TOOLS, FAVORING NEAR NORMAL TEMPERATURES OVER MOST OF ALASKA. THE PRECIPITATION FORECAST IN ALASKA IS ALSO FAIRLY UNCERTAIN, BUT MORE MODELS AND TOOLS ARE FAVORING BELOW MEDIAN  PRECIPITATION DUE TO ANOMALOUS RIDGING AND MAINLY CONTINENTAL LOW LEVEL FLOW  FROM INTERIOR CANADA. ANOMALOUS TROUGHING IS PREDICTED BY SOME OF TODAY'S  MODELS IN THE GULF OF ALASKA, WHICH IS EXPECTED TO BRING SOME STORM ACTIVITY  ONSHORE IN THE PACIFIC NORTHWEST, FAVORING ABOVE MEDIAN PRECIPITATION THERE. ANY STORM ACTIVITY IN THE GREAT LAKES AND NORTHEAST IS FORECAST TO DECREASE, LEADING TO INCREASED CHANCES FOR NEAR MEDIAN PRECIPITATION THERE.

FORECAST CONFIDENCE FOR THE 8-14 DAY PERIOD IS: WELL ABOVE AVERAGE, 5 OUT OF 5, DUE TO VERY GOOD AGREEMENT AMONG THE MODELS AND TOOLS, AND A PERSISTENT, HIGHLY AMPLIFIED PATTERN."
They may or may not be correct but they have a high level of confidence.
Analogs to Current Conditions
Now let us take a more detailed look at the "Analogs" which NOAA provides related to the 5 day period centered on 3 days ago and the 7 day period centered on 4 days ago. "Analog" means that the weather pattern then resembles the recent weather pattern and was used in some way to predict the 6 - 14 day Outlook.
Here are today's analogs in chronological order although this information is also available with the analog dates listed by the level of correlation. I find the chronological order easier for me to work with. There is a second set of analogs associated with the outlook but I have not been analyzing this second set of information. This first set applies to 5 and 7 day observed pattern prior to today. The second set which I am not using relates the outlook to prior similar patterns. That may also be useful information but they put this set of analogs in the discussion with the other set available by a link so I am assuming that this set of analogs is the most meaningful. 
Analog

Centered

Day

ENSO

Phase

PDO
AMO
Other Comments
1952 January 30
El Nino
-
+
Traditional El Nino
1953 January 20
El Nino
-
+
 
1953 January 21
El Nino
-
+
 
1983 December 31
La Nina
+
-
 
1984 January 1
La Nina
+
-
 
1986 January 21
Neutral
+
-
 
1997 January 29
Neutral
+
Neutral
Very powerful El Nino that summer
1997 January 30
Neutral
+
Neutral
Very powerful El Nino that summer
That is quite a collection of different weather conditions and yet NOAA gives their 6 - 14 Day Outlook a level of confidence of 5 out of 5. I am impressed. Also when I see a 1907 date in an analog that gets my attention as the El Nino which occurred later that year was one of the most powerful El Ninos ever and was followed by a subsequent change in the phase of the PDO. So this story is getting very interesting.  I have not read this article yet but I am providing this reference since my first choice would require you to pay a $35 fee for access. Since publishing my report I had a chance to read that article and it is very good as I thought would be the case given the authors. The only problem is that some other articles cover prior climate shifts as well.
Back to the Present:
Sometimes it is useful to take a look at the location of the Jet Stream or Jet Streams. You can see how the ridge of high pressure off the West Coast is currently still forcing the Jet Stream inland and then creating a large trough in the center of the Lower 48.
And sometimes the forecast is revealing. Below is the forecast out five days.
To see it in animation, click here. At the time this article was published, the animation shows a tendency for there again to be a Southern Branch of the Polar Jet Stream in addition to the usual Northern Branch. A southern stream can bring storms further south than usual. But you can see how the situation is becoming more zonal which should reduce the cold air intrusions from Canada.
This longer animation shows how the jet stream is crossing the Pacific and when it reaches the U.S. West Coast is going every which way. One can imagine that attempting to forecast this 6 - 14 days out is quite challenging.
And below is a another view which highlights the highs and the lows re air pressure on Day 6.
This appears to show that the ridge of high pressure will in six days still be sitting off the West Coast but further south than recently and extending inland (Modoki Type II?). The Aleutian Low has become a monster. I may discuss the causes of and implications of this next week.
A quick way of assessing the intensity of a high or low pressure area is simply to observe the distance between the isobar lines. When they are coiled tightly, this signifies a strong high or low. So you can see that this high is not that strong.  But the winds in highs in the Northern Hemisphere are clockwise and lows are counterclockwise so you can see the channel that is created at the surface which corresponds with the jet stream in this case providing the path of lest resistance for storm systems. They should soon be directed into Canada hardly what you would expect with El Niño.
El Niño Discussion
Now let us look at the latest NOAA Hovmoellers. Perhaps this will be the last week that we will need to look at the Hovmoellers this winter if I conclude that it really is a done deal....ImagiNiño: end of story. But I tend to think that this is just the beginning of the story with many more chapters to follow.
There are many graphics that NOAA provides every Monday but I focus on a subset of the information provided and today I thought I would start with what probably is the most important one that I call the Kelvin Wave graphic but it is really the Upper Ocean Heat Anomaly along the Equator which is caused in many cases primarily by Kelvin Waves.
There is again quite a bit of change since last week. The most recent Kevin Wave is no longer a factor. The upwelling phase now clearly shows a cooling anomaly as it moves east. The next Kelvin Wave has not yet become a factor in the near term but it may be close to being declared and may be showing up in the forecast models as predicting a summer El Nino i.e. a 2015/2016 El Nino rather than a 2014/2015 El Nino which has been the primary focus of NOAA.
Now let us look at the Sea Surface Temperatures
Again there is some change since last week as you can see even less warm water along the Equator.
Of most interest to NOAA is 120 W to 170 W as that is where the ONI Index is measured. More information can be found here. If you look at the color coding in the above Hovmoller they are looking for shades where the redder the better re conditions being El Nino but so far it is just showing shades of tan and brown i.e. marginal especially when averaged over the entire area of interest. But that explains why we have a situation where some of the factors are in place for an El Nino but so far it is marginal at best and fading fast.
And now the low-level wind anomalies.
This shows quite a bit of change from last week. I am confused by this chart because I know it was prepared three days ago and the Easterlies have only relaxed during the most recent three days. So I am not sure what to make of it. The Southern Oscillation Index (SOI) has not at all been cooperating early this week to preserve let alone reinvigorate the "ImagiNiño". Starting on Saturday the situation changed and the SOI is now constructive with respect to keeping this "near" El Nino alive. You can find the daily and 30 and 90 day averages here. The 30 day average of -7.2 is getting close to being marginal for El Nino conditions (a 30 day average of -8.0 or more negative is considered to be consistent with El Nino conditions). Today's reading is -43.8 which is an amazingly strong reading. You can see the impact of this in one of the above Hovmoellers and in the TAO/Triton graphic further down in this Report. 
  13 Jan 2014  +4.39

 14 Jan 2014   +2.78

 15 Jan 2015   +8.44

 16 Jan 2015   +2.36

17 Jan 2015   -10.03

18 Jan 2015   -29.72

19 Jan 2015   -43.8
And finally the latest model results released by NOAA on January 19, 2015.
This graphic is a modified version of the graphic that appears on Page II of this Report. It is modified by NOAA to be consistent with the maps on the right which can be found here. Those maps have been processed to adjust for the observed skill of the models. As you can see, December was the peak of this El Nino and January which is now shown as a solid line (actual rather than projected) is clearly sub-El Nino on the ONI scale. But now all of a sudden the mean estimate is right on the borderline of a marginal El Nino. the most curious aspect as has been the case for months is the way the model estimates rise into summer. That is unusual which is why I have suggested in the past that we may be talking about a two-year event here with the real El Nino happening next year...just thinking out loud.
It gets confusing because of the at least temporary shift in the configuration of warm and cool water in the Pacific into what is called the PDO Positive Phase. The NOAA long-term (14 months) of Seasonal Outlook maps can be found in Page II of this Report. The newly released maps are not as easy to interpret as the prior issues of the Seasonal Outlook. One might conclude that NOAA is suggesting that things will change with respect to temperature after May but that may simply be a seasonal pattern. With respect to precipitation, the change now seems to be in July which is hard to understand but I will not try to explain why as it is not that important. We can not really blame NOAA at this point since changes in the phase of ocean cycles do not occur very often so the amount of data they have to sort this out is limited. Also what looks like an El Nino also impacts the PDO. My problem with NOAA is that they are not factoring in the Atlantic sufficiently and are not as conversant with the various flavors of El Nino as those on the other side of the Pacific Ocean.
Here is another graphic that confirms that we are not in an El Nino but which is a lot more interesting this week than it was last week. The top graphic shows conditions along the Equator, 10 degrees north to 10 degrees south of the Equator and this is one of the most up to date sources of information available. The top graphic shows surface temperatures and wind direction and speed. The bottom graphic shows anomalies.The bottom graphic shows the deviation from average conditions. You can see two things in that graphic. First of all you can see the pockets of warm water which are in some cases greater than 1C above average and in other cases below 0.5C above average conditions. Looking between 170W and 120W on the Equator, you see a larger area where the anomaly is under 0.5C than you see an area above 0.5C. Also the anomaly analysis of the winds generally point to the West except around the Date Line (180 degrees Longitude) which to me is another indication that this might be more like a Modoki than a canonical/traditional El Nino. It must be very frustrating for the forecasters when some of the factors necessary for an El Nino are in place but not all of them and there are many different varieties of El Nino and La Nina and these varieties impact World Weather differently.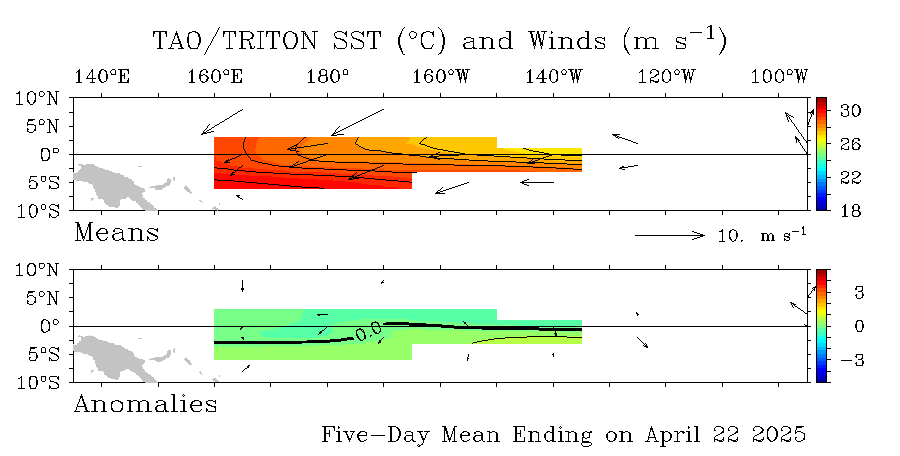 Pulling it All Together. .
So this continues to look to me like a warm event that is not a full fledged El Nino this year but which may last longer than NOAA thinks and have different impacts than they think also. So far that has certainly been the case. We shall see if that continues. I am still thinking the Japanese sized this up from the start and that this is really more like a Modoki than a traditional El Nino and that weather patterns are shifted some number of degrees further west than would be the case for a traditional El Nino which is why the weather where I live is more typical of a La Nina than an El Nino. This has been the case since the PDO went into its Negative Phase which is why a possible change to PDO Positive is so very important. In the U.S. Southwest, there have been many significant legal battles over water some of which have made it all the way to the U.S. Supreme Court and I am certain that PDO Negative and AMO Positive has been the reason for the droughts which have brought on the legal conflicts. Ocean Cycles are very important.
The Australians have consistently been skeptical that this would develop into an El Nino of any strength. Australia has their own model which updates every two weeks.
Notice the criteria for achieving El Nino or La Nina status are different than that used by most others. And curiously, the view from Australia with respect to the development of an El Nino this year has until now been pretty much more subdued than the view from the U.S.  Their new report is even more subdued.
Tropical Pacific Ocean moves from El Niño to neutral

Issued on 20 January 2015

Since late 2014, most ENSO indicators have eased back from borderline El Niño levels. As the natural seasonal cycle of ENSO is now entering the decay phase, and models indicate a low chance of an immediate return to El Niño levels, neutral conditions are considered the most likely scenario through into autumn.

Central tropical Pacific Ocean surface temperatures have fallen by around half a degree from their peak of 1.1 °C above average in late November. Likewise, the Southern Oscillation Index has weakened to values more consistent with neutral conditions, while recent cloud patterns show little El Niño signature. As all models surveyed by the Bureau favour a continuation of these neutral conditions in the coming months, the immediate threat of El Niño onset appears passed for the 2014–15 cycle. Hence the ENSO Tracker has been reset to NEUTRAL. The Tracker will remain at NEUTRAL unless observations and model outlooks indicate a heightened risk of either La Niña or El Niño developing later this year.

Next update expected on 3 February 2015
I do not see a traditional El Nino of any significant strength likely to happen this winter although a "near" El Nino appears to be making its presence known to a limited extent but mainly outside of the U.S. It appears to be a very complicated situation mostly because of the at least temporary shift of the configuration of the Pacific with respect to the location of warm and cold water to a configuration which is called PDO Positive (+) combined with the Blocking Ridge off the West Coast.
An El Nino Watch for next year might be in order as there remains a lot of warm water but usually it takes a few years for that to built up sufficient for another warm event to get under way.
Climate Change News
This should be of interest.
Marine defaunation: Animal loss in the global ocean

Douglas J. McCauley1,*,    Malin L. Pinsky2,    Stephen R. Palumbi3,    James A. Estes4,    Francis H. Joyce1,    Robert R. Warner1

BACKGROUND

Comparing patterns of terrestrial and marine defaunation helps to place human impacts on marine fauna in context and to navigate toward recovery. Defauna­tion began in earnest tens of thousands of years later in the oceans than it did on land. Although defaunation has been less severe in the oceans than on land, our effects on marine animals are increasing in pace and impact. Humans have caused few complete extinctions in the sea, but we are responsible for many ecological, commercial, and local extinctions. Despite our late start, humans have already powerfully changed virtually all major marine ecosystems.

ADVANCES

Humans have profoundly decreased the abundance of both large (e.g., whales) and small (e.g., anchovies) marine fauna. Such declines can generate waves of ecological change that travel both up and down ma­rine food webs and can alter ocean ecosystem functioning. Human harvesters have also been a major force of evolutionary change in the oceans and have reshaped the genetic structure of marine animal populations. Climate change threatens to accelerate marine defaunation over the next century. The high mobility of many marine animals offers some increased, though limited, capacity for marine species to respond to climate stress, but it also exposes many species to increased risk from other stressors. Because humans are intensely reliant on ocean ecosystems for food and other ecosystem services, we are deeply affected by all of these forecasted changes.

Three lessons emerge when comparing the marine and terrestrial defaunation experiences: (i) today's low rates of marine extinction may be the prelude to a major extinction pulse, similar to that observed on land during the industrial revolution, as the footprint of human ocean use widens; (ii) effectively slowing ocean defaunation requires both protected areas and careful management of the intervening ocean matrix; and (iii) the terrestrial experience and current trends in ocean use suggest that habitat destruction is likely to become an increasingly dominant threat to ocean wildlife over the next 150 years.

OUTLOOK

Wildlife populations in the oceans have been badly damaged by human activity. Nevertheless, marine fauna generally are in better condition than terrestrial fauna: Fewer marine animal extinctions have occurred; many geographic ranges have shrunk less; and numerous ocean ecosystems remain more wild than terrestrial ecosystems. Consequently, meaningful rehabilitation of affected marine animal populations remains within the reach of managers. Human dependency on marine wildlife and the linked fate of marine and terrestrial fauna necessitate that we act quickly to slow the advance of marine defaunation.

The marine defaunation experience is much less advanced, even though humans have been harvesting ocean wildlife for thousands of years. The recent industrialization of this harvest, however, initiated an era of intense marine wildlife declines. If left unmanaged, we predict that marine habitat alteration, along with climate change (colored bar: IPCC warming), will exacerbate marine defaunation.
Click Here for the Econointersect Weather and Climate Page (which I call Page II) where you will find:
NOAA and other agency graphics (including international agencies) that auto update. So this includes both short term- and seasonal "updates". It will ALWAYS be up to date even if my commentary on the graphics is not. I update my commentary when it seems necessary and certainly every Monday but some of these graphics auto update every six hours.
Economic and other Impacts of major weather events. Not sure there is any other place to obtain this information consistently other than very specialized subscription services.
Information on Climate Cycles both those which are fairly short term i.e. less than a decade in duration and multi-decadal cycles.
Economic and other Impacts of those Climate Cycles which are referred to by the IPCC as Internal Variability as opposed to secular Climate Change which is always in the same direction. Again I am not sure if there is another source for this information where it is pulled together in one place as I have.
Information on Anthropogenic Global Warming science i.e. the secular change in our climate that overlays both short term weather and historical climate cycles as well as black swan events like volcanic eruptions. I prefer to call this Global Warming as it is the warming that triggers the other changes.
Economic and other Impacts of Global Warming. The IPCC AR5 WG2 attempts to describe and quantify these and I have some excerpts from their report. Over time I will go beyond their report.
For now this is all in one article which may be a little difficult to navigate but that will soon change and there will be two links: one to the weather and climate information and a second link to the Global Warming information.
Click here for a list of Sig Silber's Weather Posts
>>>>> Scroll down to view and make comments <<<<<<
Make a Comment
Econintersect

wants your comments, data and opinion on the articles posted. You can also comment using Facebook directly using he comment block below.
---