posted on 06 January 2015
Written by Sig Silber
NOAA has updated their January Outlook. This is routine. The Early Outlook is issued with the Seasonal Outlook on the Third Thursday of each month and is then updated on the last day of the month. The update in this case is not a major change from the prior Early Outlook. El Nino continues to fade and NOAA refuses to acknowledge that other than by now making excuses for it. Their forecast was not incorrect but the atmospheric circulation pattern did not respond correctly. The predicted convection pattern with a reduction in the Easterlies along the Equator has not occurred. Also what some call the Ridiculously Resilient Ridge (RRR), common during La Nina Conditions, formed and storms are being sent north rather than entering the Lower 48 States further south. At some point, reality will set in or the Winter will be over.
A more compete report can be found here. This is a summary report.
Let us start with excerpts from the update of the January Outlook which was issued on December 31, 2014.
30-DAY OUTLOOK DISCUSSION FOR JANUARY 2015

THE JANUARY 2015 OUTLOOK CONTINUES TO REFLECT A HIGH AMOUNT OF UNCERTAINTY DUE TO THE POSSIBLE IMPACTS OF ENSO. A PATTERN CHANGE FROM WHAT HAS BEEN OBSERVED FOR MUCH OF DECEMBER IS INDICATED IN MANY OF THE DYNAMICAL AND STATISTICAL TOOLS IN THE TEMPERATURE AND PRECIPITATION PATTERNS ACROSS THE CONUS. THE PATTERN CHANGE, ESPECIALLY IN TEMPERATURES, WAS INDICATED IN THE HALF-MONTH LEAD OUTLOOKS, SO THE UPDATED OUTLOOKS ARE NOT SIGNIFICANTLY DIFFERENT FROM THOSE.

THE MEDIUM RANGE FORECASTS (THROUGH DAY 14) DEPICT COLDER THAN NORMAL TEMPERATURES ACROSS THE NORTHERN TIER OF THE COUNTRY. THIS IS IN CONTRAST TO THE TYPICAL EL-NINO RESPONSE. GIVEN THE LACK OF CLEAR ENSO TELECONNECTIONS IN THE MIDLATITUDES, MUCH OF OUTLOOK IS BASED ON DYNAMICAL MODEL OUTPUT AND SOME STATISTICAL TOOLS. THE NAO AND AO ARE LIKELY TO BE POSITIVE FOR THE FIRST HALF OF THE MONTH, LIMITING THE POTENTIAL FOR COLD AIR TO PENETRATE INTO THE DEEP SOUTH AND HAVING SOME CORRELATION WITH DRY CONDITIONS OVER NORTHERN CALIFORNIA.

THE TEMPERATURE OUTLOOK HAS BEEN MODIFIED TO REDUCE THE COVERAGE OF AREAS WHERE BELOW NORMAL TEMPERATURES ARE FAVORED ACROSS THE CENTRAL GREAT PLAINS, WHILE EXPANDING THE COVERAGE OF WHERE BELOW NORMAL TEMPERATURES ARE FAVORED OVER THE GREAT LAKES AND INTO THE NORTHEAST. A POSITIVE AO AND NAO ALSO FAVORS ABOVE NORMAL TEMPERATURES OVER THE SOUTHEAST, AS DO MANY OF THE DYNAMICAL MODELS.

THE PRECIPITATION OUTLOOK WAS CHANGED SLIGHTLY, TO INCLUDE AN ENHANCEMENT OF PROBABILITIES FOR ABOVE MEDIAN PRECIPITATION OVER PORTIONS OF THE TENNESSEE AND LOWER MISSISSIPPI VALLEYS DUE TO HEAVY RAINS EXPECTED EARLY IN THE MONTH. ODDS FOR ABOVE MEDIAN PRECIPITATION OVER NORTHERN CALIFORNIA HAVE BEEN REDUCED DUE TO THE FORECAST FOR A POSITIVE AO, DYNAMICAL MODEL GUIDANCE FROM SUCCESSIVE RUNS OF THE CFS, GFS, AND EUROPEAN CENTER, AND THE CONTINUING LACK OF ATMOSPHERIC RESPONSE TO SST ANOMALIES OVER THE CENTRAL PACIFIC. A SMALL REDUCTION IN COVERAGE OF THE BELOW MEDIAN PRECIPITATION OVER THE NORTHERN INTERMOUNTAIN WEST IS SUPPORTED BY MEDIUM RANGE AND MONTHLY TIME SCALE OUTPUT FROM THE DYNAMICAL MODELS.
Short-term Outlook
Now let us take a look at the 8 - 14 day outlook that was issued today January 5, 2015. It will auto-update every day so it will be changing day by day (and thus be up to date whenever you elect to read this report) but my comments may become out of sync with the map since my comments do not auto-update.
I am only showing the "second week" namely the day 8 -14 outlook. The first week together with much additional information on current weather patterns and near-term forecasts can be found in Part II of my report, but 8 - 14 days covers most of the 6 - 14 day period.
Here is the 8 - 14 Day Temperature Outlook.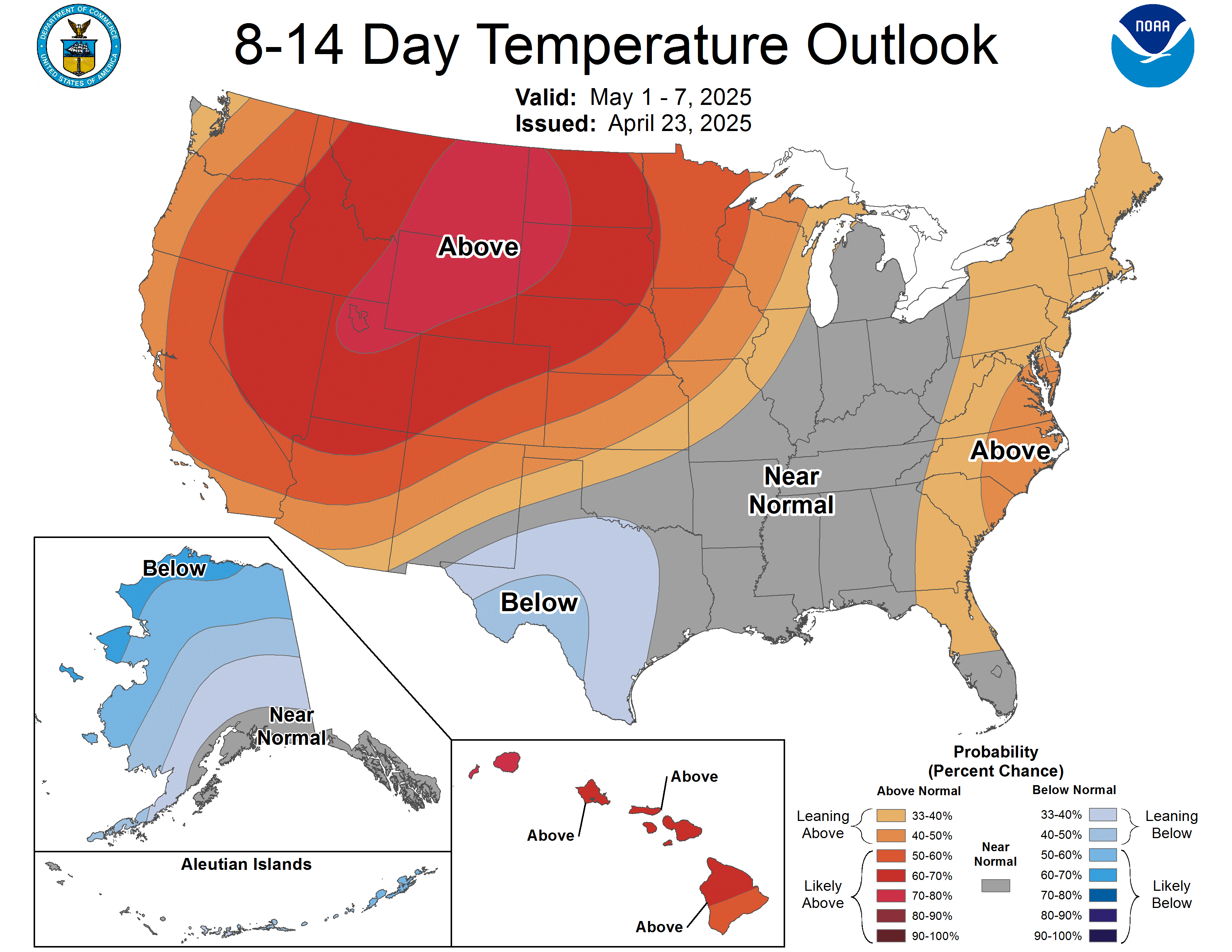 And here is the updated January Temperature Outlook issued on December 31, 2014.
The cold intrusion from the North projected in the January Outlook issued just five days may have been focused on the very early part of the month. .
And here is the 8 - 14 Day Precipitation Outlook.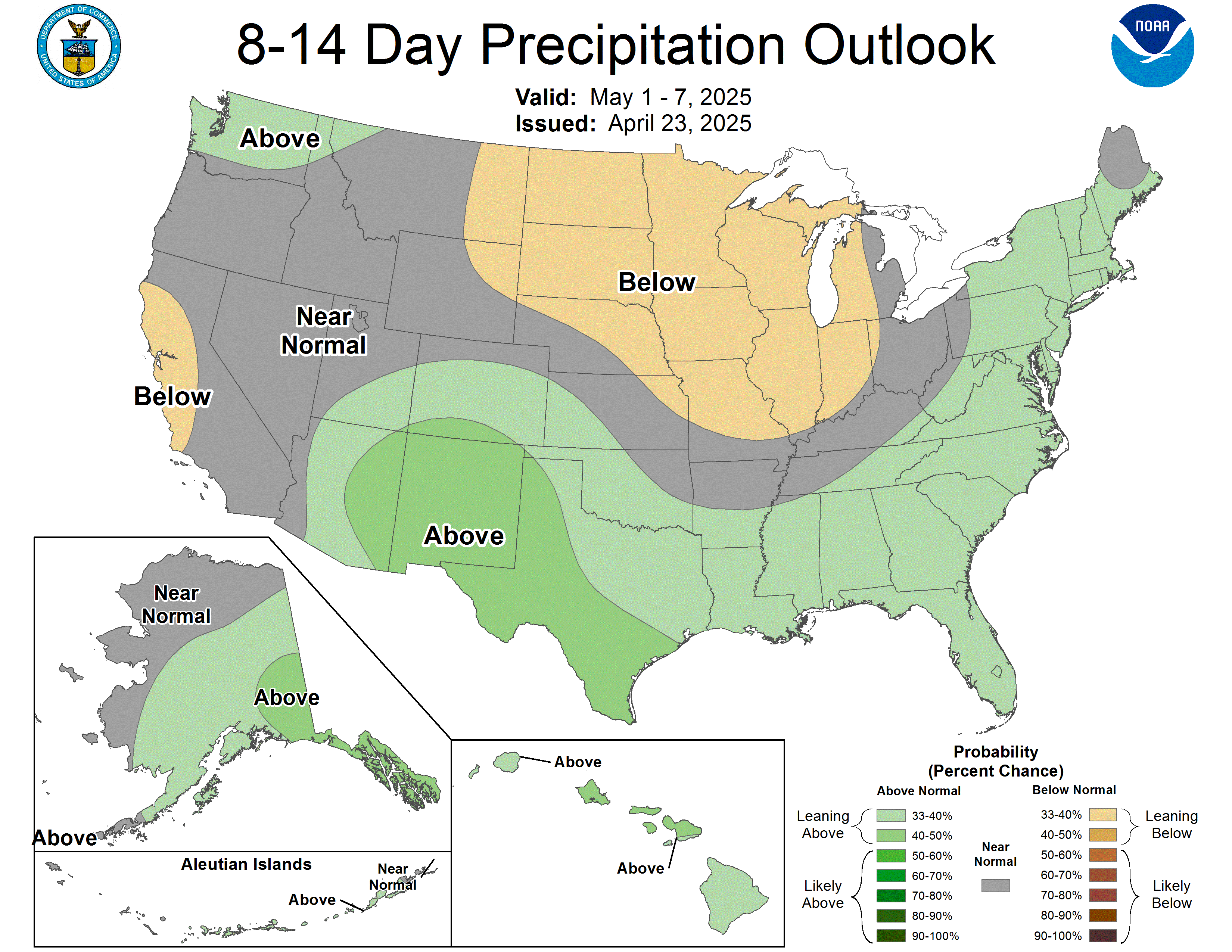 And here is the updated January 2015 Precipitation Outlook issued on December 31, 2014.
The first part of January looks to be a lot different than the full month outlook issued just five days ago. This may well be related to the continuation of the high pressure ridge off the West Coast which is not supposed to be there during El Nino Conditions.
And excerpts from the NOAA discussion covering the January 5, 2015 6 - 14 Day Outlook.
"6-10 DAY OUTLOOK FOR JAN 11 - 15 2015

THERE IS FAIR AGREEMENT AMONG TODAY'S MODEL SOLUTIONS ON THE EXPECTED 500-HPA HEIGHT PATTERN FOR THE 6-10 DAY PERIOD OVER NORTH AMERICA. A STRONG 500-HPA CLOSED LOW IS PREDICTED OVER THE PACIFIC OCEAN SOUTH OF THE ALEUTIANS. RIDGING IS FORECAST DOWNSTREAM OF THIS FEATURE ALONG MUCH OF THE WEST COAST OF NORTH AMERICA. FARTHER TO THE EAST, A LOW-AMPLITUDE TROUGH IS PREDICTED OVER THE EAST-CENTRAL CONUS. ENSEMBLE SPREAD IS RELATIVELY HIGH OVER THE SOUTHWESTERN CONUS AS SOME ENSEMBLE MEMBERS (INCLUDING THE DETERMINISTIC 12Z GFS) INDICATE THE POTENTIAL FOR A SOUTHERN STREAM TROUGH TO UNDERCUT THE RIDGE PREDICTED OVER WESTERN NORTH AMERICA. THE OFFICIAL 500-HPA MANUAL HEIGHT BLEND IS COMPOSED PRIMARILY OF THE ENSEMBLE MEAN SOLUTIONS BASED ON CONSIDERATIONS OF RECENT SKILL AND ON ANALOG CORRELATIONS, WHICH MEASURE HOW CLOSELY THE FORECAST PATTERN MATCHES CASES THAT HAVE OCCURRED IN THE PAST. THIS MANUAL 500-HPA HEIGHT BLEND INDICATES POSITIVE HEIGHT ANOMALIES OVER MOST OF THE FORECAST DOMAIN.

ABOVE-NORMAL TEMPERATURES ARE FAVORED FOR ALASKA AND THE WESTERN CONUS UNDERNEATH PREDICTED RIDGING. THERE ARE ENHANCED PROBABILITIES OF BELOW-NORMAL TEMPERATURES FOR MUCH OF THE CENTER OF THE COUNTRY IN ASSOCIATION WITH A TROUGH PREDICTED OVER THE EAST-CENTRAL CONUS. ABOVE-NORMAL TEMPERATURE PROBABILITIES ARE ELEVATED FOR FLORIDA CONSISTENT WITH CALIBRATED TEMPERATURES FROM THE GEFS AND BIAS CORRECTED TEMPERATURES FROM THE ECMWF ENSEMBLES.

RIDGING ALONG THE WEST COAST INCREASES CHANCES FOR BELOW-MEDIAN PRECIPITATION AMOUNTS FOR THE WESTERN CONUS. CHANCES FOR ABOVE-MEDIAN PRECIPITATION ARE ENHANCED FOR MOST OF ALASKA AHEAD OF THE CLOSED 500-HPA LOW PREDICTED SOUTH OF THE ALEUTIANS. ABOVE-MEDIAN PRECIPITATION IS FAVORED FOR THE SOUTHEASTERN CONUS CONSISTENT WITH PRECIPITATION AMOUNTS FORECAST BY THE ECMWF AND GEFS ENSEMBLE MEMBERS. CONVERSELY, BELOW-MEDIAN PRECIPITATION IS FAVORED FARTHER TO THE NORTH FOR MUCH OF THE NORTHERN PLAINS AND GREAT LAKES AS SURFACE HIGH PRESSURE IS PREDICTED TO DOMINATE MUCH OF THE REGION.

FORECAST CONFIDENCE FOR THE 6-10 DAY PERIOD: AVERAGE, 3 OUT OF 5 DUE TO FAIR MODEL AGREEMENT.

8-14 DAY OUTLOOK FOR JAN 13 - 19 2015

TODAY'S MODELS ARE IN RELATIVELY POOR AGREEMENT ON THE MEAN 500-HPA HEIGHTS WITHIN THE 8-14 DAY PERIOD. THE MODELS GENERALLY AGREE IN PREDICTING TROUGHS OVER THE ALEUTIANS AND OVER EASTERN CANADA AND A RIDGE OVER WESTERN NORTH AMERICA FROM THE NORTHWESTERN CONUS NORTHWARD TO ALASKA. HOWEVER, MODELS DIFFER GREATLY ON THE DETAILS OF THESE FEATURES. THE ECMWF AND CANADIAN ENSEMBLE MEANS ARE GENERALLY MUCH WEAKER WITH THE TROUGH PREDICTED OVER EASTERN CANADA AND PREDICT SIGNIFICANTLY HIGHER HEIGHTS OVER MUCH OF THE NORTH-CENTRAL AND NORTHEASTERN CONUS RELATIVE TO THE GFS. IN ADDITION, THE ECMWF ENSEMBLE MEAN FORECASTS THE PACIFIC JET TO BE CLOSER TO THE WEST COAST OF THE CONUS RELATIVE TO THE GEFS. UNCERTAINTY AND MODEL SPREAD ARE ALSO HIGH OVER THE SOUTHERN TIER OF THE CONUS AS MODELS ARE HAVING DIFFICULTY RESOLVING THE POTENTIAL FOR SOUTHERN STREAM ENERGY TO UNDERCUT THE RIDGE PREDICTED OVER WESTERN NORTH AMERICA. CONSISTENCY AMONG SUCCESSIVE RUNS OF THE DETERMINISTIC GFS IS POOR TODAY. AS A RESULT, TODAY'S WEEK TWO MANUAL HEIGHT BLEND IS BASED PRIMARILY ON THE ENSEMBLE MEAN SOLUTIONS. THE GREATEST WEIGHT WAS GIVEN TO TODAY'S 0Z ECMWF ENSEMBLE MEAN DUE PRIMARILY TO CONSIDERATIONS OF RECENT SKILL.

ABOVE-NORMAL TEMPERATURES ARE FAVORED FOR MUCH OF ALASKA AND THE WESTERN CONUS DUE TO PREDICTED RIDGING. ENHANCED PROBABILITIES OF NEAR-NORMAL TEMPERATURES ARE INDICATED FOR MUCH OF THE EASTERN CONUS IN ASSOCIATION WITH A LOW-AMPLITUDE TROUGH PREDICTED OVER EASTERN NORTH AMERICA.

CALIBRATED PRECIPITATION FORECASTS FROM THE GEFS AND PRECIPITATION ESTIMATES FROM THE ECMWF SUGGEST AN INCREASED LIKELIHOOD FOR BELOW-MEDIAN PRECIPITATION AMOUNTS OVER MUCH OF THE NORTHERN TIER OF THE CONUS FROM THE ROCKIES EASTWARD TO THE NORTHEASTERN CONUS. NEAR- TO ABOVE-MEDIAN PRECIPITATION IS FAVORED ALONG THE SOUTHERN TIER OF THE CONUS DUE TO THE POTENTIAL FOR SHORTWAVE TROUGHS TO DEVELOP ALONG THE SOUTHERN STREAM. NEAR- TO ABOVE-MEDIAN PRECIPITATION PROBABILITIES ARE ALSO ENHANCED ALONG THE WEST COAST OF THE CONUS AS PRECIPITATION ESTIMATES FROM THE ECMWF ENSEMBLE MEMBERS HAVE TRENDED WETTER RELATIVE TO YESTERDAY. ABOVE-MEDIAN PRECIPITATION IS FAVORED FOR MUCH OF ALASKA AHEAD OF A TROUGH PREDICTED OVER THE ALEUTIANS.

FORECAST CONFIDENCE FOR THE 8-14 DAY PERIOD IS: BELOW AVERAGE, 2 OUT OF 5, DUE TO RELATIVELY POOR MODEL AGREEMENT."
Analogs to Current Conditions
Now let us take a more detailed look at the "Analogs" which NOAA provides related to the 5 day period centered on 3 days ago and the 7 day period centered on 4 days ago. "Analog" means that the weather pattern then resembles the recent weather pattern and was used in some way to predict the 6 - 14 day Outlook.
What are they telling us today?
Analog

Centered

Day

ENSO

Phase

PDO
AMO
Other Comments
1962 December 23
Neutral
-
-
1962 December 24
Neutral
-
-
1963 January 18
Neutral
-
-
1983 December 16
La Nina
+
-
1983 December 17
La Nina
+
-
1984 January 15
La Nina
+
-
1984 January 17
La Nina
+
-
1990 December 31
Neutral
-
-
1998 December 19
La Nina
-
+
Very Long Strong La Nina
Today there are nine distinct analogs (one is repeated in the 3 day and 4 day analysis). Of the nine, five are associated with prior La Nina situations and four with prior ENSO Neutral situations. That is very strange when NOAA is promoting an El Nino.
Sometimes it is useful to take a look at the location of the Jet Stream or Jet Streams. You can see how the ridge of high pressure off the West Coast is currently forcing the Jet Stream inland and then creating a large trough in the center of the Lower 48.
And sometimes the forecast is revealing. Below is the forecast out five days. It looks a lot more progressive than the pattern today and you can see the southern branch really impacting the Southeast and actually it seems to be merging with the Northern Branch. .
To see it in animation, click here. At the time this article was published, the animation shows a tendency for there again to be a Southern Branch of the Polar Jet Stream in addition to the usual Northern Branch. A southern stream can bring storms further south than usual.
And below is a another view which highlights the highs and the lows re air pressure on Day 6.
This appears to show that the ridge of high pressure will in six days still be sitting off the West Coast. A quick way of assessing the intensity is simply to observe the distance between the isobar lines. When they are coiled tightly, this signifies a strong high or low. So you can see that this high is not that strong. However when you look at the jet stream you can see that our weather is being directed north over this high pressure ridge. Thus what is "claimed" to be an El Nino type pattern is behaving more like a La Nina type pattern and this is showing up in the analogs. Also highs are clockwise and lows are counterclockwise so you can see the channel that is created at the surface which corresponds with the jet stream in this case providing the path of lest resistance for storm systems. They are being sent north.
Computer models have the ability to predict these conditions but the graphics I present reflect either current conditions or the predicted conditions and make it fairly easy to interpret the implications of what the current readings and the computer models imply for our weather. Professional meteorologists look at much more information that I present here and know more than I do but they are also skilled at converting their knowledge into graphics that a lay person can understand. So that is what I attempt to do in my weekly report with the ultimate goal of being able to translate the weather and climate into economic impacts. There is a learning curve here.
This longer animation shows how the jet stream is crossing the Pacific and when it reaches the U.S. West Coast is going every which way. One can imagine that attempting to forecast this 6 - 14 days out is quite challenging.
El Nino Discussion
Now let us look at the latest NOAA Hovmoellers.
There are many graphics that NOAA provides every Monday but I focus on three and today I thought I would start with what probably is the most important one that I call the Kelvin Wave graphic but it is really the Upper Ocean Heat Anomaly along the Equator which is caused in many cases primarily by Kelvin Waves.
There is quite a bit of change since last week. This Kevin Wave has not moved further east very much which you can tell by the almost vertical edge to the dark tan area over by 90W. In fact it has retreated. Remember, the bottom of the graphic is current conditions so you can see the position of the Kelvin Wave on a daily basis. It is most likely that this graphic is up to date as of last Friday. You can actually read (I print and use a ruler) the amount of the impact of this Kevin wave along the Equator by looking at how many degrees of latitude are impacted by the darker shades along the bottom of the graphic. It is much less this week than last week. In fact there is almost no impact.
On the other hand, you can actually now see what appears to be the next Kelvin Wave but it will not impact things this winter but this Spring. It is a bit too soon to be able to look at this graphic and make a judgment on the strength of the next Kelvin wave. But it is starting very far west.
Now let us look at the Sea Surface Temperatures
Again there is significant change since last week as you can see less warm water along the Equator. At 110W one sees what might be the playing out of what had been a fairly consistent patch of warm water. Also right off the coast of Ecuador you see that little patch of blue. Overall it probably no longer records as El Nino Conditions although I do not have access to a daily value of the ONI. The color coding is not very refined in this graphic as it is in units of 0.5 with the threshold for El Nino Conditions using just the ONI is 0.5. So my best guess is about 0.4 to 0.5. We will see a better estimate in the fourth graphic that I present.
Of most interest to NOAA is 170 W to 120 W as that is where the ONI Index is measured. More information can be found here. If you look at the color coding in the above Hovmoller they are looking for shades where the redder the better re conditions being El Nino but so far it is just showing shades of tan and brown i.e. marginal especially when averaged over the entire area of interest. But that explains why we have a situation where some of the factors are in place for an El Nino but so far it is marginal at best and fading fast.
And now the low-level wind anomalies.
This shows quite a bit of change from last week. This type of graphic often is most revealing when read from the bottom up because the bottom is the most recent readings (probably as of last Friday). The NOAA ENSO update is issued first thing Monday morning each week. So it is not strange that it is based on Friday data. In recent weeks, the "reddish" area has been much reduced and there is more "blue" including over towards Ecuador. You do see a westerly wind burst way off to the left which is consistent with the probable new Kelvin wave that was shown earlier but that is in another part of the Pacific. But in the area of most interest with respect to the near-term development of an El Nino, we have stronger rather than weaker Easterlies.
The Southern Oscillation Index (SOI) was cooperating at the beginning of this week but that changed after two days. You can find the daily and 30 and 90 day averages here. It seems that the SOI is fluctuating on a weekly basis from strongly negative to barely negative. With the SOI there is always a cause and effect issue. Is the SOI a cause of or a result of warm water being to the east? The SOI is an imperfect index as the two reference points are not on the Equator. The 30 day average of -6.9 is close but not quite even marginal for El Nino conditions (a 30 day average of -8.0 or more negative is considered to be consistent with El Nino conditions) and --6.9 is not very suggestive of El Nino conditions becoming more robust. Today's reading is -2.21 which is more favorable for an El Nino than yesterday but not sufficient to be constructive. The week as a whole was not constructive.
30 Dec 2014 -10.80

31 Dec 2014 -10.48

1 Jan 2015 -5.04

2 Jan 2015 +3.21

3 Jan 2015 +0.8

4 Jan 2015 -0.47

5 Jan 2015 -2.21
And finally the latest model results released by NOAA and these are as of Saturday January 3.
This graphic is a modified version of the graphic that appears on Page II of this Report. It is modified by NOAA to be consistent with the maps on the right which can be found here. Those maps have been processed to adjust for the observed skill of the models. As you can see, December was the peak of this El Nino and January is already sub-El Nino on the ONI scale and future months look even less like an El Nino. The correct term for the current situation is ENSO Neutral on the warm side. There is for anyone with normal vision absolutely no prediction of El Nino in this graphic. Although these models are not reliable further out, there are signs that this warm event will last beyond the April/May timeframe that is suggested by the recently released NOAA Seasonal Outlook maps which can be found in Page II of this Report. Those maps cover the NOAA Outlook for 14 months. It is a little difficult to read the above graphic as they have data points that represent three month averages and then a data point for December and another for January. It is not clear to me if those two monthly data points are intended to represent points in time or monthly averages. The solid black line which represents the actual daily numbers is only completed through about Mid-December. So from there on it is forecasted data. It does not matter very much as you can see that the ONI has peaked and it is declining.
Here is another graphic that confirms that we are not in an El Nino. I probably should have divided this graphic into two pieces and only showed the bottom piece but I got lazy and perhaps the two together are more useful anyway. The top graphic shows conditions along the Equator, 10 degrees north to 10 degrees south of the Equator and this is one of the most up-to-date sources of information available. The top graphic shows surface temperatures and wind direction and speed. The bottom graphic shows anomalies.The bottom graphic shows the deviation from average conditions. You can see two things in that graphic. First of all you can see the pockets of warm water which are in some cases greater than 1C above average and in other cases below 0.5C above average conditions. The difference between this graphic and the Hovmoeller earlier is that the Hovmoeller only showed conditions on the Equator or very close to the equator while this shows conditions a bit above and a bit below the equator. You can also see the wind anomalies which are Easterly whereas in an El Nino the Easterlies are supposed to relax and be less strong. This graphic shows them to be stronger than usual which coincides with the SOI readings.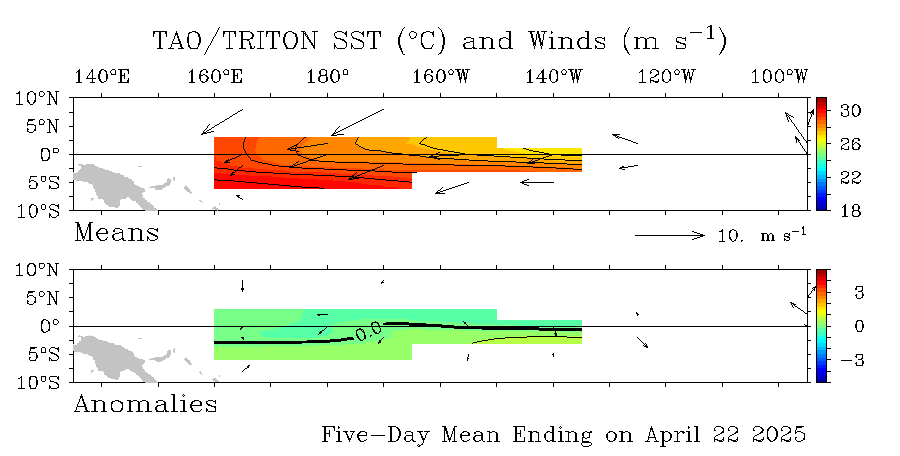 As an aside you can see what is called the "cold tongue" where the current coming up from Antarctica is redirected out to sea as it runs into Peru.
You can read more about it here courtesy of Wikipedia.
It all fits together.
So this continues to look to me like a warm event that is not a full fledged El Nino this year but which may last longer than NOAA thinks but have different impacts than they think also. So far that has certainly been the case. We shall see if that continues. I am still thinking the Japanese sized this up from the start and that this is really more like a Modoki than a traditional El Nino and that weather patterns are shifted some number of degrees further west than would be the case for a traditional El Nino. The Australians have consistently been skeptical that this would develop into an El Nino of any strength.
I do not see a traditional El Nino of any significant strength likely to happen this winter although a "near" El Nino appears to be making its presence known but mainly outside of the U.S. It appears to be a very complicated situation mostly because of the at least temporary shift of the configuration of the Pacific with respect to the location of warm and cold water to a configuration which is called PDO Positive (+) combined with the Blocking Ridge off the West Coast.
Global Warming Update
I thought this was an interesting article. It relates past episodes of sudden Global Warming to the current one.
I thought you could click on that graphic and it would enlarge but as I am testing it that does not seem to work so if you want a larger version simply go to the full article that I have linked above and I know you can click on that and it will enlarge. It kind of puts things in perspective. It also shows how stable the temperature has been for the past 10,000 years. Perhaps we have gotten complacent and drawn a conclusion that climate is stationary. That may indeed be ideal but over geologic time has not been the case. It may not even be ideal since as far as I can tell, no one has defined "ideal" with respect to world climate. One might argue that since people live in places with very different climates there may not be an ideal climate. If there was, would not everyone want to live there? I loved it in the Cloud Forests of Costa Rica and my life partner could not stand the humidity. So we live in New Mexico where high humidity is rarely an issue.
Click Here for the Econointersect Weather and Climate Page (which I call Page II) where you will find:
NOAA and other agency graphics (including international agencies) that auto update. So this includes both short term- and seasonal "updates". It will ALWAYS be up to date even if my commentary on the graphics is not. I update my commentary when it seems necessary and certainly every Monday but some of these graphics auto update every six hours.
Economic and other Impacts of major weather events. Not sure there is any other place to obtain this information consistently other than very specialized subscription services.
Information on Climate Cycles both those which are fairly short term i.e. less than a decade in duration and multi-decadal cycles.
Economic and other Impacts of those Climate Cycles which are referred to by the IPCC as Internal Variability as opposed to secular Climate Change which is always in the same direction. Again I am not sure if there is another source for this information where it is pulled together in one place as I have.
Information on Anthropogenic Global Warming science i.e. the secular change in our climate that overlays both short term weather and historical climate cycles as well as black swan events like volcanic eruptions. I prefer to call this Global Warming as it is the warming that triggers the other changes.
Economic and other Impacts of Global Warming. The IPCC AR5 WG2 attempts to describe and quantify these and I have some excerpts from their report. Over time I will go beyond their report.
For now this is all in one article which may be a little difficult to navigate but that will soon change and there will be two links: one to the weather and climate information and a second link to the Global Warming information.
Click here for a list of Sig Silber's Weather Posts
>>>>> Scroll down to view and make comments <<<<<<
Make a Comment
Econintersect

wants your comments, data and opinion on the articles posted. As the internet is a "war zone" of trolls, hackers and spammers -

Econintersect

must balance its defences against ease of commenting. We have joined with Livefyre to manage our comment streams.

To comment, using Livefyre just click the "Sign In" button at the top-left corner of the comment box below. You can create a commenting account using your favorite social network such as Twitter, Facebook, Google+, LinkedIn or Open ID - or open a Livefyre account using your email address.



You can also comment using Facebook directly using he comment block below.
---