posted on 29 December 2014
Written by Sig Silber
El Nino is fading. If this El Nino does not happen, as I believe will be the case, it will be perhaps the second time in about five years or less that this has happened calling into question the assumed ability to predict ENSO two years in advance. When you think about it, if ENSO is close to being a five-year cycle with perhaps a sequence of El Nino, Neutral, Neutral, La Nina, Neutral, Neutral, repeat the sequence, one wonders why true El Nino's have become scarcer than hen's teeth. More on that in a subsequent report. For the next couple of weeks the dominant feature of our weather will be the strong temperature gradient from north to south in the Lower 48 which is forecast to be quite robust.
Short-term Outlook
Let us take a look at the 8 - 14 day outlook that was issued today December 29, 2014. It will auto-update every day so it will be changing day by day (and thus be up to date whenever you elect to read this report) but my comments may become out of sync with the map since my comments do not auto-update.
I am only showing the "second week" namely the day 8 -14 outlook. The first week together with much additional information on current weather patterns and near-term forecasts can be found in Part II of my report but 8 - 14 days covers most of the 6 - 14 day period.
Here is the 8 - 14 Day Temperature Outlook issued today December 29, 2014.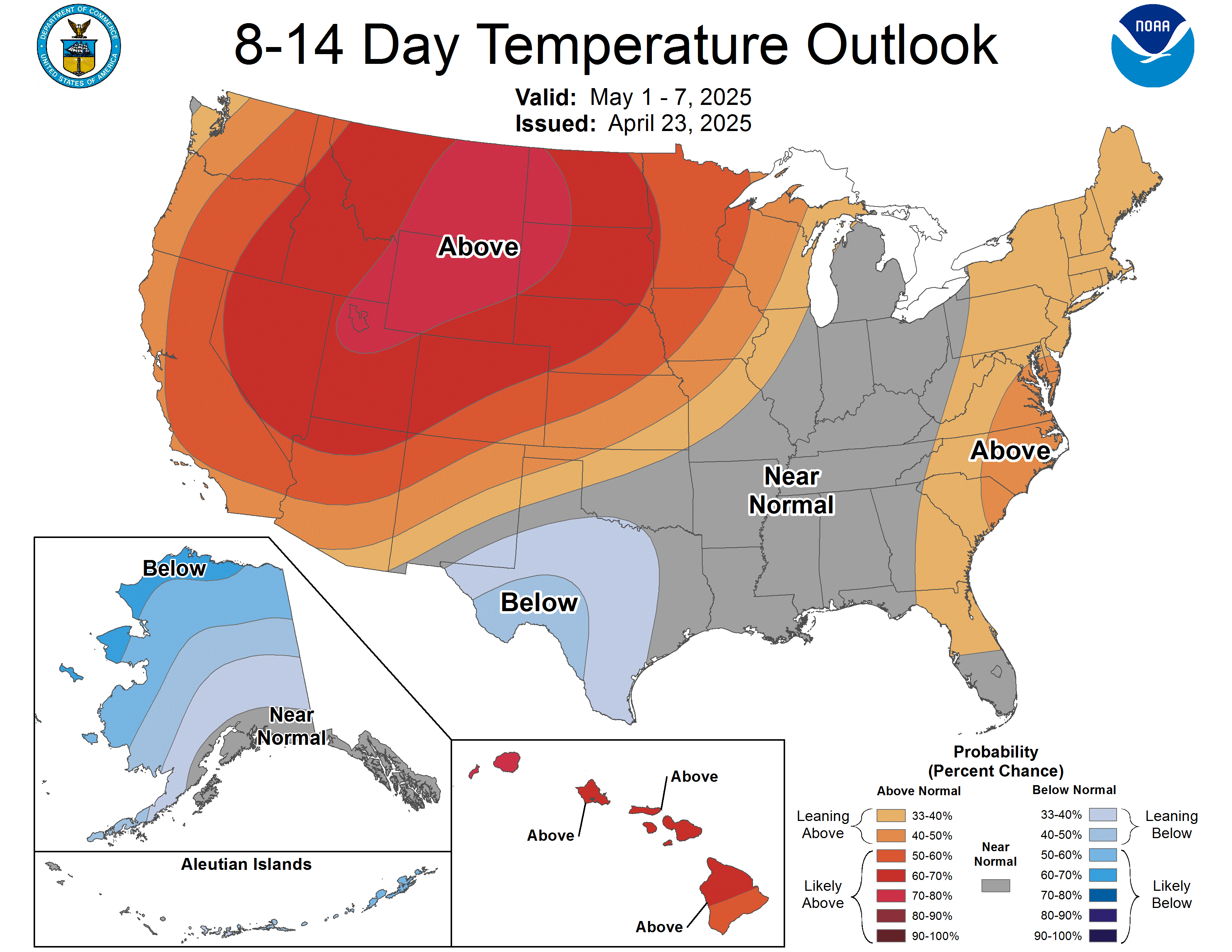 And here is the early January Temperature Outlook issued on December 18.
As you can see, the beginning of January looks to be much colder than projected in the Early Outlook for January.
And here is the 8 - 14 Day Precipitation Outlook issued today December 29.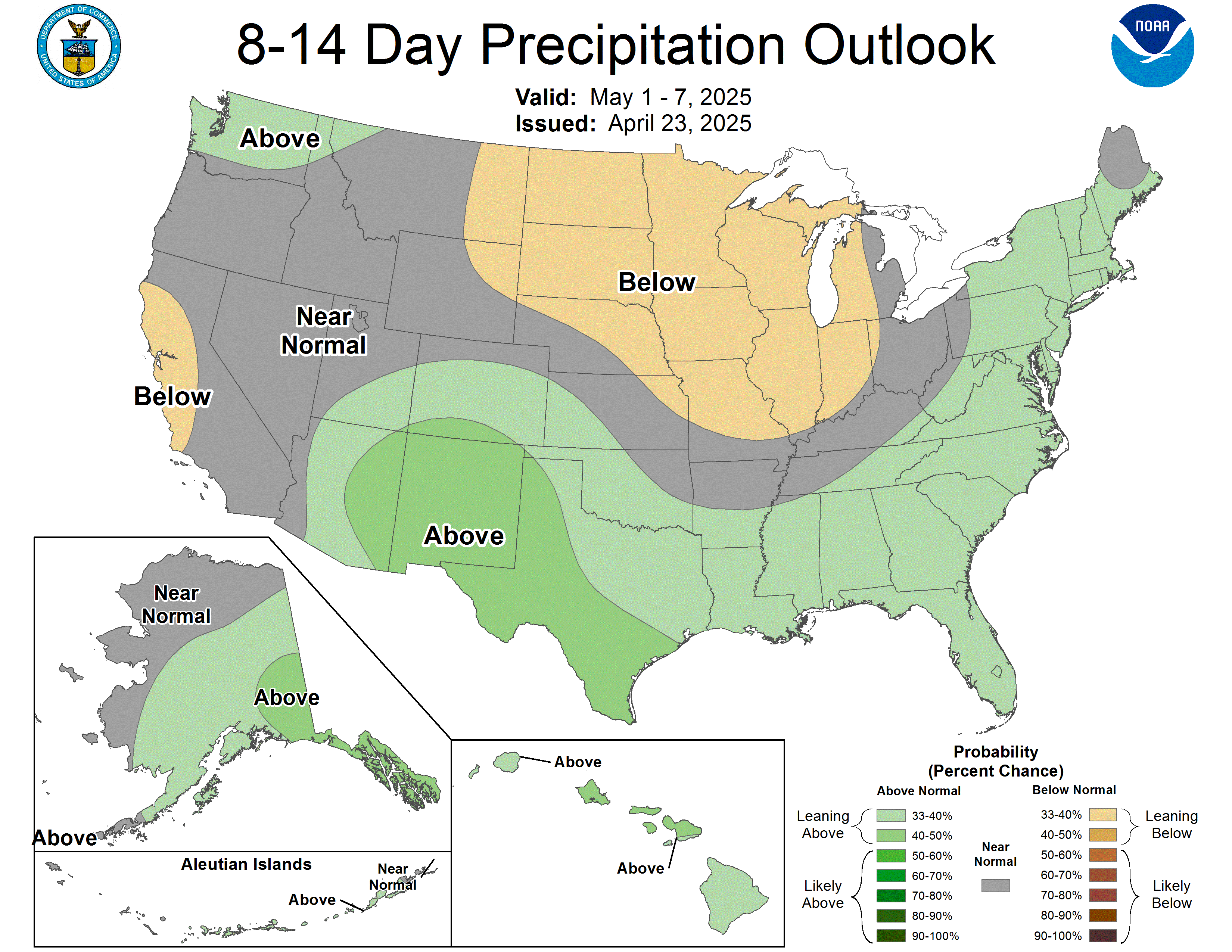 And here is the Early January Precipitation Outlook issued on December 18, 2014.
The beginning of January is looking to have a very different pattern than the Early Outlook for January.
And excerpts from the NOAA discussion covering the December 29 6 - 14 Day Outlook.
"6-10 DAY OUTLOOK FOR JAN 04 - 08 2015

TODAY'S ENSEMBLE MEAN SOLUTIONS ARE IN GOOD AGREEMENT ON THE EXPECTED 500-HPA HEIGHT PATTERN FOR THE 6-10 DAY PERIOD OVER NORTH AMERICA. MODELS FORECAST A STRONG RIDGE OVER NORTHERN ALASKA THAT WILL HELP PUSH COLD, ARCTIC AIR INTO A TROUGH FORECAST OVER THE THE GREAT LAKES. MEANWHILE ABOVE-NORMAL 500-HPA HEIGHTS ARE FORECAST TO STAY ANCHORED OVER THE SOUTHEASTERN CONUS, LEADING TO AN EXPECTED SHARP GRADIENT IN TEMPERATURES BETWEEN THE NORTH CENTRAL AND SOUTHEASTERN CONUS. THE MODELS ARE HAVING DIFFICULTY ON THE 500-HPA CIRCULATION OVER THE WESTERN CONUS, WITH THE ECMWF TENDING TOWARDS HIGHER HEIGHTS AND A STRONGER RIDGE THAN THE GFS OR CANADIAN ENSEMBLES. ALL MODELS HAVE A STRONG PACIFIC JET, FLATTENING THE RIDGE OVER THE WESTERN CONUS AND PREVENTING PHASING OF A WEAK RIDGE FORECAST OVER THE WESTERN CONUS WITH THE RIDGE OVER ALASKA.

ANOMALOUS NORTHERLY FLOW OVER CENTRAL CANADA IS EXPECTED TO ENHANCE CHANCES FOR BELOW-NORMAL TEMPERATURES IN THE CENTRAL AND EASTERN CONUS. ABOVE-NORMAL 500-HPA HEIGHTS EXPECTED OVER THE SOUTHEASTERN CONUS AND OVER THE WEST COAST WILL LIKELY LIMIT SOUTHERN EXTENT OF COLD AIR IN THOSE AREAS. ABOVE-NORMAL TEMPERATURES ARE FAVORED FOR WESTERN ALASKA UNDER THE 500-HPA RIDGE, WITH BELOW-NORMAL TEMPERATURES FAVORED IN SOUTHEASTERN ALASKA AND THE PANHANDLE UNDER EXPECTED NORTHERLY UPPER-LEVEL FLOW TO THE EAST OF THE RIDGE.

MODELS PREDICT AN ACTIVE PACIFIC JET ENHANCING CHANCES OF ABOVE-MEDIAN PRECIPITATION AMOUNTS FROM PARTS OF THE PACIFIC NORTHWEST, TO THE NORTHERN ROCKIES AND NORTHERN GREAT PLAINS. TO THE SOUTH OF THE JET, BELOW-MEDIAN PRECIPITATION AMOUNTS ARE FAVORED NEAR AND TO THE EAST OF THE RIDGE PREDICTED OVER THE WESTERN CONUS. THERE ARE HINTS OF SOME ENERGY IN A WEAK SOUTHERN STREAM SYSTEM PUSHING INTO THE SOUTHEASTERN CONUS, WHICH, COMBINED WITH EXPECTED SHARP TEMPERATURE GRADIENTS, INCREASES CHANCES FOR ABOVE-MEDIAN PRECIPITATION IN MUCH OF THE EASTERN THIRD OF THE CONUS. THE STRONG RIDGE EXPECTED OVER ALASKA FAVORS BELOW-MEDIAN PRECIPITATION FOR ALMOST THE ENTIRE STATE.

FORECAST CONFIDENCE FOR THE 6-10 DAY PERIOD: ABOUT AVERAGE, 3 OUT OF 5 DUE TO THE EXPECTED SHARP TEMPERATURE GRADIENT WITHIN THE CONUS OFFSETTING RELATIVE GOOD MODEL AGREEMENT.

8-14 DAY OUTLOOK FOR JAN 06 - 12 2015

THERE CONTINUES TO BE GOOD AGREEMENT AMONG MODELS FOR A STRONG RIDGE OVER ALASKA AND A TROUGH OVER EAST-CENTRAL CANADA, ENABLING COLD ARCTIC AIR TO FILTER INTO CENTRAL CANADA AND PARTS OF THE NORTHERN CONUS. AN ENHANCED PACIFIC JET AND FORECAST ABOVE-NORMAL 500-HPA HEIGHTS OVER THE SOUTHEAST IS EXPECTED TO LIMIT THE SOUTHERN EXTENT OF THE ARCTIC AIR IN THE CONUS. THE EXPECTED SHARP TEMPERATURE GRADIENT WILL MAKE TEMPERATURE CONDITIONS DIFFICULT TO PREDICT WITHIN THE 8-14 DAY PERIOD FOR MUCH OF THE CONUS. LIKEWISE, THE PRECIPITATION FORECAST WILL DEPEND ON THE MEAN POSITION OF THE FRONTAL BOUNDARY ON THE SOUTHERN EDGE OF THE COLD AIR WHICH IS DIFFICULT TO DETERMINE FROM THE MODEL ENSEMBLES AT THIS TIME. SO IN SPITE OF RELATIVELY GOOD AGREEMENT AMONG MODELS, THE FORECAST CONFIDENCE IS RELATIVELY LOW FOR A 8-14 DAY OUTLOOK.

ANTICIPATED ABOVE NORMAL HEIGHTS AND STRONG ZONAL FLOW ARE EXPECTED TO ENHANCE CHANCES FOR ABOVE-MEDIAN TEMPERATURES IN THE SOUTHERN CONUS, WHILE COLD AIR ASSOCIATED WITH THE NORTHERLY 500-HPA FLOW OVER CANADA FAVORS BELOW-NORMAL TEMPERATURES IN MUCH OF THE NORTHERN CONUS. TEMPERATURE CONDITIONS IN ALASKA ARE EXPECTED TO BE SIMILAR TO THE 6-10 DAY PERIOD.

THE PREDICTED ACTIVE PACIFIC JET SHOULD ENHANCE CHANCES FOR ABOVE-MEDIAN PRECIPITATION AMOUNTS OVER THE PACIFIC NORTHWEST THROUGH TO THE NORTHERN GREAT PLAINS. PREDICTED CONDITIONS CONTINUE TO FAVOR ABOVE-MEDIAN PRECIPITATION AMOUNTS FOR THE MUCH OF THE SOUTHEASTERN AND EAST-CENTRAL CONUS ALONG AN EXPECTED MEAN FRONTAL BOUNDARY. THE PERSISTENT RIDGE EXPECTED OVER ALASKA FAVORS BELOW-MEDIAN PRECIPITATION FOR ALMOST THE ENTIRE STATE.

FORECAST CONFIDENCE FOR THE 8-14 DAY PERIOD IS: BELOW AVERAGE, 2 OUT OF 5, DUE TO EXPECTED UNCERTAIN SOUTHERLY EXTENT OF FRONTAL BOUNDARIES SEPARATING EXPECTED UNSEASONABLY COLD AND DRY AIR TO THE NORTH OF THE CONUS AND WARMER AIR TO THE SOUTH. "
Analogs to Current Conditions
Now let us take a more detailed look at the "Analogs" which NOAA provides related to the 5 day period centered on 3 days ago and the 7 day period centered on 4 days ago. "Analog" means that the weather pattern then resembles the recent weather pattern and was used in some way to predict the 6 - 14 day Outlook.
What are they telling us today?
Analog

Centered

Day

ENSO

Phase

PDO
AMO
Other Comments
1961, December 10
Neutral
-
+
1962, January 11
Neutral
-
+
1963, January 12
Neutral
-
+
1972, December 8
El Nino
-
-
1974, January 1
La Nina
-
-
1978, December 31
Neutral
-
-
1979, January 2
Neutral
-
-
1983, December 19
La Nina
+
-
1983, December 20
La Nina
+
-
1998, December 18
La Nina
+
-
Four of the ten analogs today are dates associated with prior weather patterns that occurred during a La Nina. Five are dates associated with prior weather patterns that were ENSO Neutral. And only one analog is a date during which an El Nino was later declared. What does that tell us? Eight of the analogs were associated with weather patterns that occurred when the AMO was Negative (-). That may be related to the predicted strong temperature gradient. .
Sometimes it is useful to take a look at the location of the Jet Stream or Jet Streams. You can see how the ridge of high pressure off the West Coast is forcing the Jet Stream inland and then creating a large trough in the center of the Lower 48.
And sometimes the forecast is revealing. Below is the forecast out five days. It looks a lot more progressive than the pattern today and you can see the southern branch impacting the Southeast. .
To see it in animation, click here. At the time this article was published, the animation shows a tendency for there again to be a Southern Branch of the Polar Jet Stream in addition to the usual Northern Branch. A southern stream can bring storms further south than usual. But I think you can see the impact of the high pressure ridge off the West Coast which is blocking storms from entering the Southwest directly from the Pacific but routing them inland further north and then sending them south where they turn to the east. This probably wrings out a lot of the moisture before these storms impact the southwest.
This longer animation shows how the jet stream is crossing the Pacific and when it reaches the U.S. West Coast is going every which way. One can imagine that attempting to forecast this 6 - 14 days out is quite challenging.
El Nino Discussion
Now let us look at the latest NOAA Hovmoellers.
First Sea Surface Temperatures
Not much change since last week but you can see how the warm water has been moving west rather than east. At 140W one sees what might be the beginning of a patch of cooler water. Also right off the coast of Ecuador you see that little patch of blue. Overall it may no longer even record as El Nino Conditions although I do not have access to a daily value of the ONI. The color coding is not very refined in this graphic as it is in units of 0.5 with the threshold for El Nino Conditions using just the ONI is 0.5. So my best guess is about 0.6 to 0.7. We will see a better estimate in the fourth graphic that I present.
Of most interest to NOAA is 120 W to 170 W as that is where the ONI Index is measured. More information can be found here. If you look at the color coding in the above Hovmoller they are looking for shades where the redder the better re conditions being El Nino but so far it is just showing shades of tan and brown i.e. marginal especially when averaged over the entire area of interest. But that explains why we have a situation where some of the factors are in place for an El Nino but so far it is marginal at best.
And now the low-level wind anomalies.
Not a lot of change from last week. This type of graphic often is most revealing when read from the bottom up because the bottom is the most recent readings (probably as of last Friday). The NOAA ENSO update is issued first thing Monday morning each week. So it is not strange that it is based on Friday data. In recent weeks, the "reddish" area has been much reduced and there is more "blue" including over towards Ecuador.
The Southern Oscillation Index (SOI) was cooperating in the extreme at the beginning of this week but that changed in the middle of the week. You can find the daily and 30 and 90 day averages here. It seems that the SOI is fluctuating on a weekly basis from strongly negative to barely negative. With the SOI there is always a cause and effect issue. Is the SOI a cause of or a result of warm water being to the east? The SOI is an imperfect index as the two reference points are not on the Equator. The 30 day average of -7.6 is close but not quite even marginal for El Nino conditions (a 30 day average of -8.0 or more negative is considered to be consistent with El Nino conditions) and -7.6 is not very suggestive of El Nino conditions becoming more robust. Today's reading is -3.06 which is more favorable for an El Nino than yesterday but not sufficient to be constructive. The week as a whole was constructive but there is no consistency.
23 Dec 2014 -37.16

24 Dec 2014 -38.56

25 Dec 2014 -16.97

26 Dec 2014 -1.19

27 Dec 2014 +2.80

28 Dec 2014 -1.77

29 Dec 2014 -3.06
And then the third part of the equation (there are more than three but I focus on three): Kelvin Waves.
Not much change from last week and this Kevin Wave has not moved further east very much which you can tell by the almost vertical edge to the dark tan area over by 90W. Remember, the bottom of the graphic is current conditions so you can see the position of the Kelvin Wave on a daily basis. It is most likely that this graphic is up to date as of last Friday. The potential next Kelvin Wave does not appear to have moved further east. So it does not look like this El Nino will receive reinforcements from another Kelvin Wave this winter. The upwelling phase although not particular strong will however gradually diminish the ONI readings and that process is underway and is reflected in the next graphic. People are impressed by computer models but for most purposes, even a lay person can figure things out for the short term simply by looking at the data especially when presented in graphical form. So the near-term projections in the next next graphic are not a mystery.
This graphic is a modified version of the graphic that appears on Page II of this Report. It is modified by NOAA to be consistent with the maps on the right which can be found here. Those maps have been processed to adjust for the observed skill of the models. As you can see, December was the peak of this El Nino and January is already sub-El Nino on the ONI scale. Although these models are not reliable further out, there are signs that this warm event will last beyond the April/May timeframe that is suggested by the recently released NOAA Seasonal Outlook maps which can be found in Page II of this Report. Those maps cover the NOAA Outlook for 14 months. It is a little difficult to read the above graphic as they have data points that represent three month averages and then a data point for December and another for January. It is not clear to me if those two monthly data points are intended to represent points in time or monthly averages. The solid black line which represents the actual daily numbers is only completed through about Mid-December. So from there on it is forecasted data. It does not matter very much as you can see that the ONI has peaked and it is declining. You can see that in what I call the Kelvin Wave Hovmoeller which is really the upper-ocean temperature anomaly. I call it the Kelvin Wave graphic because the Kelvin Waves are mostly what that graphic shows.
So this continues to look to me like a warm event that is not a full fledged El Nino this year but which may last longer than NOAA thinks but have different impacts than they think also. We shall see. I am still thinking the Japanese sized this up from the start and that this is really more like a Modoki than a traditional El Nino and that weather patterns will be shifted some number of degrees further west than would be the case for a traditional El Nino. The Australians have consistently been skeptical that this would develop into an El Nino of any strength.
I do not see a traditional El Nino of any significant strength likely to happen this winter although a "near" El Nino appears to be making its presence known. It appears to be a very complicated situation mostly because of the at least temporary shift of the configuration of the Pacific with respect to the location of warm and cold water to a configuration which is called PDO Positive (+) combined with the Blocking Ridge off the West Coast.
Click Here for the Econointersect Weather and Climate Page (which I call Page II) where you will find:
NOAA and other agency graphics (including international agencies) that auto update. So this includes both short term- and seasonal "updates". It will ALWAYS be up to date even if my commentary on the graphics is not. I update my commentary when it seems necessary and certainly every Monday but some of these graphics auto update every six hours.
Economic and other Impacts of major weather events. Not sure there is any other place to obtain this information consistently other than very specialized subscription services.
Information on Climate Cycles both those which are fairly short term i.e. less than a decade in duration and multi-decadal cycles.
Economic and other Impacts of those Climate Cycles which are referred to by the IPCC as Internal Variability as opposed to secular Climate Change which is always in the same direction. Again I am not sure if there is another source for this information where it is pulled together in one place as I have.
Information on Anthropogenic Global Warming science i.e. the secular change in our climate that overlays both short term weather and historical climate cycles as well as black swan events like volcanic eruptions. I prefer to call this Global Warming as it is the warming that triggers the other changes.
Economic and other Impacts of Global Warming. The IPCC AR5 WG2 attempts to describe and quantify these and I have some excerpts from their report. Over time I will go beyond their report.
For now this is all in one article which may be a little difficult to navigate but that will soon change and there will be two links: one to the weather and climate information and a second link to the Global Warming information.
Click here for a list of Sig Silber's Weather Posts
>>>>> Scroll down to view and make comments <<<<<<
Make a Comment
Econintersect

wants your comments, data and opinion on the articles posted. You can also comment using Facebook directly using he comment block below.
---