posted on 20 October 2019
by Reverse Engineer, Doomstead Diner
Discuss this Video and Article at the Collapse Wake-Up Call Table inside the Diner
Another dose of Gonzo journalism from the Great North.
Across the Collapse Blogosphere, you'll repeatedly run into the acronym "SHTF". There's even at least two blogs titled with the acronym, SHTF Plan & SHTF Blog . I'm sure there are others, but those two make it into the Top 15 of "Survivalist" Blogs. Here on the Diner on an economic level we often discuss "SHTF Day". It's the day the ATMs go down or the liquidity dries up in the ovenright interbank lending market or the stock market drops 5000 points in a day, that sort of thing.
---
Please share this article - Go to very top of page, right hand side, for social media buttons.
---
Total MAYHEM ensues after such an event of course, which would be a watershed and marker as we move inexorably down the Collapse Highway. The Stock Market crash of 1929 was such an event, and for those of you interested in comparison of what occured 90 years ago to the week to today, this is a good documentary recently produced (there are of course many of them).
A single SHTF Day may or may not occur along the road here, and it may or may not be proximally an economic event, though whatever does set things off for a faster ride down the Roller Coaster Hill has as its underpinning economics. It might be somebody pitching a Nuke at somebody else they have disagreements with; it may be a 9.0 shaker sending half of Los Angeles into the Pacific Ocean; it might be the entire grid of the FSoA being knocked out by one disgruntled teenage Hacker living in mom's basement, WTF knows there what the trigger might be?
On the Geopolitical level though, this week,for the Anglo-American Empire on both sides of the Pond, this can be described as nothing less than SHTF Week. Two Kabuki theaters are playing themselves out, one in Parliament in Jolly Old England, the other here in the FSoA in CONgress. Boris Johnson (BoJo) tried to ramrod his latest tweaks to the Brexit Deal through Parliament, and like Theresa May before him, it got pretty well shot down. So Parliament is once again swimming in a pool of deep shit, and the coming week before the All Hallow's Eve deadline to exit the EU stage left should be quite the hoot. Don't miss the updates on this clusterfuck here Inside the Diner.
Not to be outdone by the Brits, the Clown-in-Chief and his Minions are staging a Clown Show that is non-pareil in Amerikan History, by more measures than even I thought imaginable. I mean, I've been following the antics of The Donald since I was a Freshman at Columbia and always knew (and repeatedly said here on the Diner) that he was a Train Wreck waiting to happen, and happen it did this week.
It is of course something of a slow-motion train wreck, and this whole Kabuki has numerous acts to follow this week's opening salvo. El Trumpo had a "meltdown" in his most recent meeting with Pelosicrat, Repugnants are jumping ship all over the place due to his withdrawal of troops from Syria and abandonment of the Kurds, and most entertaining of all, Rudolf the Red-Faced ex-Mayor of the Big Apple is currently under investigation by both the FBI and the SDNY for innumerable transgressions and obviously thoroughly illegal activities with respect to Ukraine-gate.
Beyond THAT, Rudy-Kazooty has now gone DESAPARECIDO, and dropped off the face of the Earth with no appearances on FAUX Newz and no Tweets either, for I think about the last 72 hours! I have speculated inside the Diner that he may have gone the way of Jimmy Hoffa, although I don't think he is buried under the Astroturf at Giant Stadium. He may be wearing Cement Galoshes though and doing some Deep Diving at the bottom of the East River. lol.
He may turn up here at some point, but if ever there was a "Smoking Gun" in a corruption investigation, Rudi is IT in this one. Just as John Mitchell was the Smoking Gun in the original "-gate" conspiracy of Watergate, Giulani is the same kind of lynchpin here, connecting Trumpovetsky to the various other lower level money conduits from Mother Russia into the Trump campaign, and also more than likely his various failing biznesses which need the constant infusion of debt to keep running. Make no mistake about it, El Trumpo is PWNED by Vlad the Impaler, and when he no longer proves to be an asset but rather a liability, Putin will cut him loose too.
So, as we move forward into the NEXT week of Kabuki here on this side of the pond, the main question for the week is, "Where's Rudi?"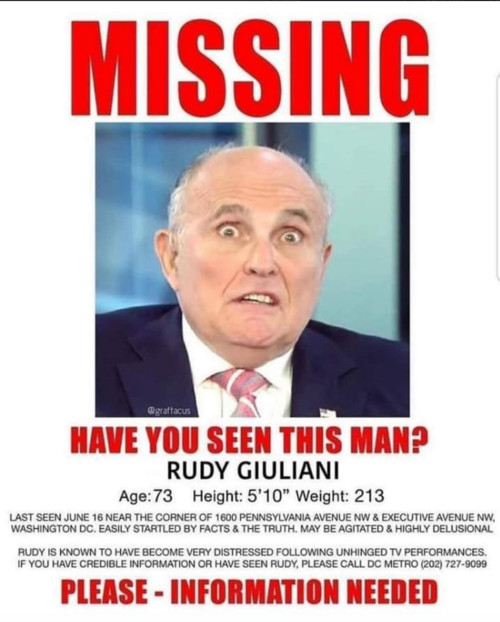 ---
Published on The Doomstead Diner 20 October 2019.
---
.
include("/home/aleta/public_html/files/ad_openx.htm"); ?>
Click here for Historical Opinion Post Listing
Make a Comment
Econintersect

wants your comments, data and opinion on the articles posted. You can also comment using Facebook directly using he comment block below.
---
Facebook Comment