posted on 22 June 2019
by Reverse Engineer, Doomstead Diner
Doomstead Diner Special 21June 2019
Diners are always concerned with topics relating to the SUN☼, which provides the ENERGY for all life on Earth. When the Sun☼ finally does burn itself out a few 100 Million years into the future, the species Homo Sap and all the other life forms inhabiting this rock hurtling through space will all finally go EXTINCT, if they don't before then if other calamities overtake them. SUN☼ as a result is the acronym for our 501c3 non-profit corporation, the Sustaining Universal Needs Foundation.
---
Please share this article - Go to very top of page, right hand side, for social media buttons.
---
Also as a result, our most recent convocation was held down in Rexburg, Idaho in 2017, where we camped out in a Sun Baked Farmer's Field to observe the Total Eclipse of the Sun☼ as it passed along the Path of Totality. For me, it was a transformative experience, trancendental and spiritual. I had never witnessed that 2 minutes of time that comes rarely to any given spot on the earth. I have travelled extensively through my life, but never was I at the right place at the right time to witness this. For man prior to folks like Copernicus and Galileo, this must have been an even more powerful experience. I at least knew what was coming and when it would come, to the second thanks to modern astronomical equipment. You can read the full article on the Total Eclipse of the Sun Adventure HERE.
A Total Eclipse only comes rarely, but other cosmic phenomena happen every year like clockwork here on the Big Blue Marble, and those are the Summer & Winter Solstice and the Vernal & Autmunal Equinoxes. These events have been observed and recorded in some way at least as far back as there is writing we can still find, and further back than that in the case of some structures built by various cultures to mark the passing. Here is a more detailed history of these events, for those interested in delving more deeply into the topic:
We had our last Celebration and Feast back in February, for the 7th Anniversary of covering the Collapse of Industrial Civilization here on the Doomstead Diner. We are OVERDUE for another celebration!
The Summer Solstice is a traditional time for celebrations, particularly amongst the pagan cultures of the Middle Ages.. Since if we don't go Extinct we look likely to be living in a pre-Industrial stlye culture, now seems like a good time to be resurrecting and practicing these traditions again.
For this feast, the Main Menu which I am cooking up is a Prix Fixe menu, no choices there but it's FREE!
That's because you just get to look at it, you don't actually get to EAT it unless you follow the recipes at home and cook it up for yourself. The recipes though are a great value, no paywall and no ads either!
Since the Solstice falls on a Friday (at least on this side of the Dateline) and we traditionally eat Fish on Fridays here on the Diner our Main Course will be a Fish Dish. For this I chose my favorite Swimming Fish (as opposed to Shellfish), Alaska Salmon! :) Nice fresh CoHo Salmon I got ON SALE at 3 Bears for $9.99/lb. The preparation for this one is Grilled Mediterranean Salmon, on a new Bugout Cooking apparatus I picked up, also ON SALE at 3 Bears.
Our Starter for the Feast is Cream of Wild Mushroom & Garlic Soup, with lots of Garlic to fend off the Zombies. A hearty and filling soup full of lots of FAT, it's really a meal in itself most of the time, just maybe with a little Garlic Bread to dip in it. This is a FEAST though, and you are supposed to conspicuously consume food and overeat at all feasts. We are unlikely to be able to do this after SHTF Day arrives, so stuff your pie hole now while you still can and the cornucopia is still on the shelves at the Food Superstores.
For the Side Dish, we are having an Asparagus & Mushroom Casserole, my favorite Veggie and of course Fungi are a real favorite of mine along with garlic, so you see it twice in the Prix Fixe menu.
Diners and Guests are welcome to bring their own dishes to the Feast to enjoy a Potlach style celbration of the Gift Economy, where we all share our favorite foods together. It can be your own recipe or just a favorite from restaurants or what Granma made when you were a kid, and you don't have to do a Video either although a Food Porn Pic would be good. You can also bring your favorite Wine, Beer or Spirits, as well as Medicinal Plants. Another Fungi variety, Magic Mushrooms are a good choice here. eth
The Celebration will be ongoing all week inside the Diner on the Diner Anniversary Party Board, and all are welcome to attend, you don't need to be a regular patron of the Diner to enjoy the meal with us. We can all discuss Collapse while enjoying dinner, and hopefully not too many fights will break out over the dinner table this week. lol.
Before we look in detail at our Menu for the Celebration, let's look back in history at what they actually ATE in the Middle Ages at these things:
So Diners can plan on what dishes they will bring to the FEAST, here is what the Cooking Zone kitchen is whipping up for Conspicuous Consumption on Friday, June 21st:
Doomstead Diner Menu Prix Fixe
Summer Solstice 2019
Price: FREE!
---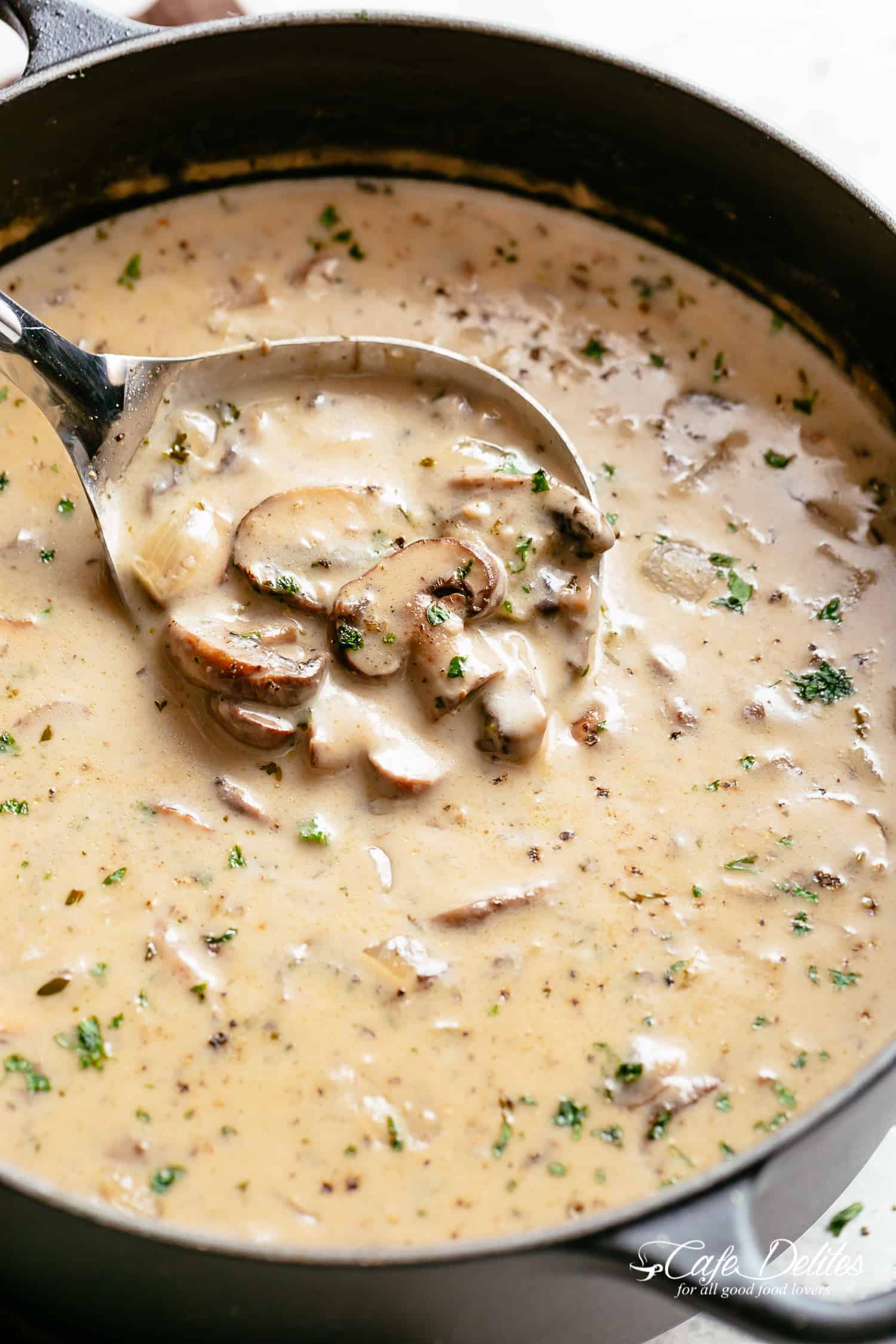 Starter: Cream of Wild Mushroom &
Garlic Soup infused with Tarragon & Rosemary
A delicious blend of flavors and textures
from an Original RE Recipe
---
Side Dish: Asparagus & Mushroom Alfredo Casserole
A marriage made in heaven between al dente Asparagus spears and butter sauteed Crimini mushrooms in a fresh Alfredo sauce topped with seasoned bread crumbs
from an Original RE recipe
---
Main Course: Mediterranean Grilled Alaska Coho Salmon with Kalamatta Olives, Tomatoes, Artichoke Hearts, Hearts of Palm and Feta Cheese
Grilled to moist perfection with crispy skin on Bugout Cooking Apparatus
from an Original RE recipe
---
Beverage: Cheap White Wine
Purchased originally by RE from the ON SALE rack at 3 Bears Liquor Store
(you are
to bring a more expensive bottle of wine to share. Red is OK too, even though it's a fish dish.)
.
.
---
*Note: Photos above are Googled facsimiles. You have to wait until Friday for the actual photos and videos, which are better.
---
Remember, you don't have to actually cook up a dish, you can just pick a favorite and Google up a representative Food Porn pic to share at the dinner table as we discuss the ongoing Collapse of Industrial Civilization!
Note: The above illustrative photos are not the actual dishes prepared by Chef RE for this Celebration. To view those and discuss with us the Collapse of Industrial Civilization, join us Inside the Diner.
Eat well in Collapse! See you at the Festival!
RE
1AM on The Last Great Frontier of Alaska
Land of the Midnight Sun
The View from My Back Porch
.
include("/home/aleta/public_html/files/ad_openx.htm"); ?>
Click here for Historical Opinion Post Listing
Make a Comment
Econintersect

wants your comments, data and opinion on the articles posted. You can also comment using Facebook directly using he comment block below.
---
Facebook Comment