posted on 13 November 2017
Written by Rick Ackerman, Rick's Picks
Fed Hoping for 'Bad' Inflation News
Bloomberg News has been drum-rolling Wednesday' scheduled release of CPI (Consumer Price Index) data, since a report suggesting inflation has remained subdued will complicate the Fed's task of convincing the world more tightening is urgently needed.
---
Please share this article - Go to very top of page, right hand side, for social media buttons.
---
Yellen & Co. gave up pretending inflation was a big problem a few months ago, ostensibly because the only place this has seemed to be true - to an appalling degree - is in the real estate and stock markets.
More recently, even with the Fed's benighted lackeys in the news media blaring increasingly shrill warnings that inflation is about to return with a vengeance, no one seems panicked. Maybe it's because American workers haven't gotten a real pay raise in forty years. You can bet they're not cheering for more tightening.
Meanwhile, bond markets have been acting as though higher administered rates are certain. But if October's CPI number comes in at 1.7% as expected - or, heaven forbid, a little lower - look for the Fed to amp up its warnings about how a supposed global economic boom is going to touch off an inflation spiral.
We'll believe it when workers start asking for, and getting, big pay raises. Until then, we should continue to regard each 25-basis-point hike by the Fed as another trigger-pull in a game of Russian roulette. Sooner or later, tightening is going to have its effect on the quadrillion dollar derivatives bubble - a cosmic-size juggernaut of potential deflation that someday will put the central banks' awesomeness in a more sober perspective.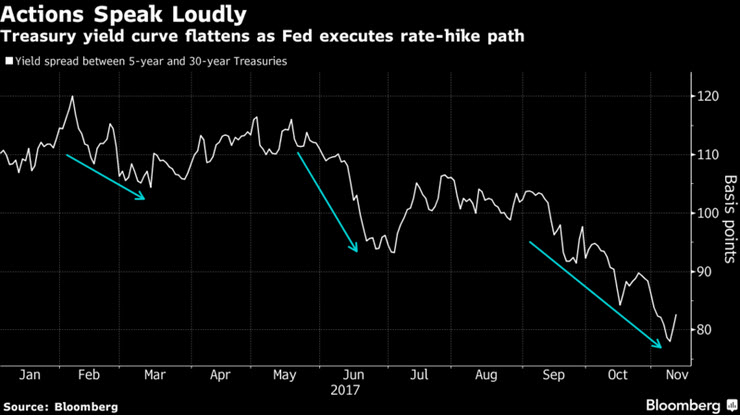 ---
Click here for a free two-week trial that will give you access to all of Rick's daily touts and intraday alerts, plus admission to a 24/7 chat room that draws great traders from around the world.
---
>>>>> Scroll down to view and make comments <<<<<<
Click here for Historical Opinion Post Listing
Make a Comment
Econintersect

wants your comments, data and opinion on the articles posted. You can also comment using Facebook directly using he comment block below.
---