posted on 10 September 2017
Written by Rick Ackerman, Rick's Picks
Equifax joined the pantheon of corporate douche bags last week with the admission that detailed consumer information for more than half of adult Americans had been stolen from its data bank. That's right: full names, Social Security numbers, birth dates, addresses and even driver's license numbers. Enough information to keep the hacker community in clover for a hundred years.
---
Please share this article - Go to very top of page, right hand side, for social media buttons.
---
The potential consequences were not lost on traders, who buried EFX shares on Friday, sending them down $25, or 17%, in the blink of an eye. However, the interesting thing about this from a technical standpoint is that the pummeling the stock received did not breach a single 'external' low on the weekly chart for more than the past six months.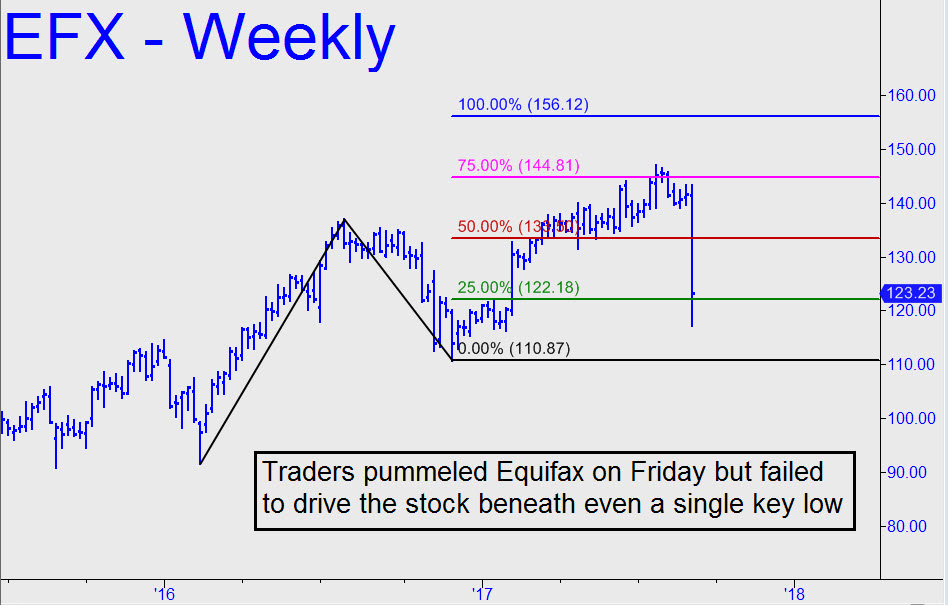 Chalk it up to Wall Street's cynical calculation that Equifax will merely have its wrist slapped for allowing the biggest cyberbreach in the history of civilization. In the past, fines levied on the likes of Target and Adobe for similar malfeasance, albeit on a far lesser scale, have been ridiculously small.
If you're hopping-assed mad and inclined to write your Congressman to demand that Equifax be dealt with harshly, don't waste your breath. When white collar crime and corruption are endemic, as they are now in the U.S., and the bad guys have overwhelmed the rule of law, there are no criminals, only victims. Equifax will no more be "made to pay" than a thousand corporate criminals who have evaded justice since the days of Enron.
Realize that, in the end, it was Martha Stewart who went to prison, a victim of prosecutors whose laziness and ineptitude will continue to limit them to only the easiest targets.
---
If you are not a subscriber, click here for a free two-week trial that will allow you to enter the Rick's Picks chat room, where great traders from around the world swap ideas 24/7.
---
>>>>> Scroll down to view and make comments <<<<<<
Click here for Historical Opinion Post Listing
Make a Comment
Econintersect

wants your comments, data and opinion on the articles posted. You can also comment using Facebook directly using he comment block below.
---