posted on 20 September 2016
Written by Walter Antoniotti, textbooksfree.org
A condition of job polarization has decreased the career opportunities for average academically educational l High School l graduates most of whom are not academically oriented. Secondary schools must find out what these students do want to do. See Educating the Class of 2034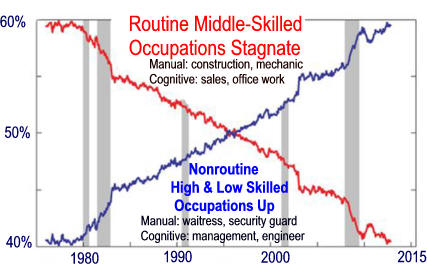 The Bureau of Labor Statistics reports 545,000 jobswere added in the the two years ended in the middle of 2012 in what it quaintly calls "food services and drinking places." That is about 30% of the net increase in employment (1.84 million) between July 2010 and July 2012.
See World Changed and Good Jobs Disappeared, U.S. Economic Normality 1945-2015, and Educating the Class of 2034
Presidential Candidate Solutions
HC Wants Workforce Skills and Job Training - Every American should be able to learn the skills they need to compete and succeed. Source. Clinton updated her presidential platform to more boldly address affordability in higher education. Her updated proposal would grant tuition-free access to public universities for families with annual incomes less than $85,000.
DT Wants to Renegotiate Free Trade To Bring Back Assembly Jobs from China and Mexico, Japan and elsewhere. See Free Trade Solution or Problem?
---
Author's Note: We Have a 'No Jobs' Problem!
"...the idea that you can just have better training and then there are all these jobs, all these places where there are shortages and we just need the trained people is fundamentally an
evasion." ... " The core problem is that there aren't enough jobs. If you help some people, you could help them get the jobs, but then someone else won't get the jobs." Lawrence Summers, The Future of Work (2015)
---
Good News Well-Being is More Important Than Income
Our society's stability has allowed U.S. productivity consistently increased which is a key to individual well-being. Think how the public safety net has increased since the 1930's and the success of the federal children's bureau. Who wants to give up SS and Medicare? Why do some always want to cut the other guys government benefits. Think economic distress in Russia, Europe, and even Japan and Germany.

Scientific achievements have continuously added to citizen well-being. Think public health, smart phones, streaming audio-video, Gillette Stadium ... See Health Problems Solved

Personal Income which is a function of nature and nurture has increased continuously if not always rapidly. Think Russia, China, and Europe's really slow recovery from the Great Recession.
Source: Is The Country In Trouble?
---
Author's Note: Were it not for safety net created over the last 100 years the problem associated would displacement of worker would rank with those created by the great farm migration to the cities that began 150 years ago.
>>>>> Scroll down to view and make comments <<<<<<
Click here for Historical Opinion Post Listing
Make a Comment
Econintersect

wants your comments, data and opinion on the articles posted. You can also comment using Facebook directly using he comment block below.
---