posted on 22 July 2016
Written by John Lounsbury
In 1969, in a paper entitled "The Optimum Quantity of Money", Milton Friedman wrote a parable about dropping money from helicopters for people to pick up off the ground. The idea is that to increase economic activity and create inflation in an economy running at less than capacity, an effective tool is direct transfer payments to the people.
Let us suppose now that one day a helicopter flies over this community and drops an additional $1,000 in bills from the sky, which is, of course, hastily collected by members of the community. Let us suppose further that everyone is convinced that this is a unique event which will never be repeated."
This has widely been interpreted as suggesting actions of two types:
Fiscal stimulus by increasing deficit spending by collecting fewer tax dollars; and

Monetary stimulus via central bank purchase of assets from banks paid for by increase in excess reserves.
In the first case the sovereign debt is increased (now or in future obligations) by the amount of the stimulus. Two specific examples from recent history are the G.W. Bush tax rebates of 2001 and 2008; and the Obama reduction of employee FICA payments 2009-2012.
In the second case examples are the QE (quantitative easing) programs implemented by Fed Chair Ben Bernanke 2008-2013, and since copied by other banks, most notably the Bank of England and the European Central Bank. (Note: Bernanke was not the first central banker to use QE - the Bank of Japan started QE programs in 2001.)
It's Not 'Free Money'
Friedman argued that, since the cost of producing fiat money was negligible, money could be produced at any rate below that which would produce undesired levels of inflation. This can be paraphrased as an argument that money should be free to the extent that it was not created in excess of economic need.
But the two types of money 'creation' described in the section above was not produced at negligible cost:
The tax cuts or rebates created current deficits or deficits against future obligations. It may be argued that federal debts need never be paid, but, as things are run today, they do create an obligation to pay interest. So that money is not free.

The QE money credited against bank excess reserves simply replaced the value of the assets added to the Fed balance sheet. So there was little expense by an accounting standard, but there was, in fact, no money created - simply asset transfers.
QE for Main Street
There have many speculations about the desirability of somehow having central banks provide money directly to the citizen or businesses. Most central banks are organized in a way that prohibits such an action DIRECTLY.
But, though not much discussed, the European Central Bank (ECB) has opened a program which is a move in that direction, although not direct in a single step.
The program is called the TLTRO (targeted longer-term refinancing operations) program. This has a relationship to QE in that the ECB provides credit to banks when they extend loans to the real economy, but is different than QE because these credits are only for new loans, and not for the sale of existing credit assets to the central bank.
These TLTRO credits can be specified for specific target areas in the economy, such as mortgages, auto loans or general consumer credit.
The banks find using these credits to be attractive because the ECB can offer the money at a discounted rate, making the profit margins for the banks greater than for other similar loans.
But This Is Not Helicopter Money
No, this is not helicopter money as described. But Eric Lonergan pointed out a couple of days ago that it is only a nudge away from helicopter money. The following step can get it closer:
The ECB can provide credit to the banks at a sufficiently negative rate that the banks could extend free credit. Say, for example, that the credit from the ECB was at a rate of -5%. Then a loan on which the borrower pays no interest is making 5% return for the bank, paid for by the ECB.
But this is Still Not Helicopter Money
If you say this is still not helicopter money, you are right - because it needs to be repaid. So it is merely money free to use for the term of the loan and then is taken out of the economy.
But one more step gets us there.
If the loans are perpetual then we have completed the helicopter drop.
True Helicopter Money is Being Discussed
You think that is absurd? Maybe not. Ben Bernanke was just in Tokyo discussing how perpetual bonds might become part of the arsenal of the Bank of Japan. This discussion is, of course, considered as means for Japan to spend more than it collects in taxes without increasing "marketable" debt. The BoJ funds deficits by issuing perpetual bonds at zero interest and retains ownership of the "securities".
Will Helicopter Money Come to the Eurozone?
How soon will the final step to helicopter money for the real economy arrive in Europe? Cannot tell at this point, but the machinery has been set up. And Europe certainly is becoming acclimated to negative interest rates. Central bankers are talking - and eventually they often act on their words. One big hurdle has been passed for sure - negative interest rates are entrenched. All that is needed is perpetual bonds.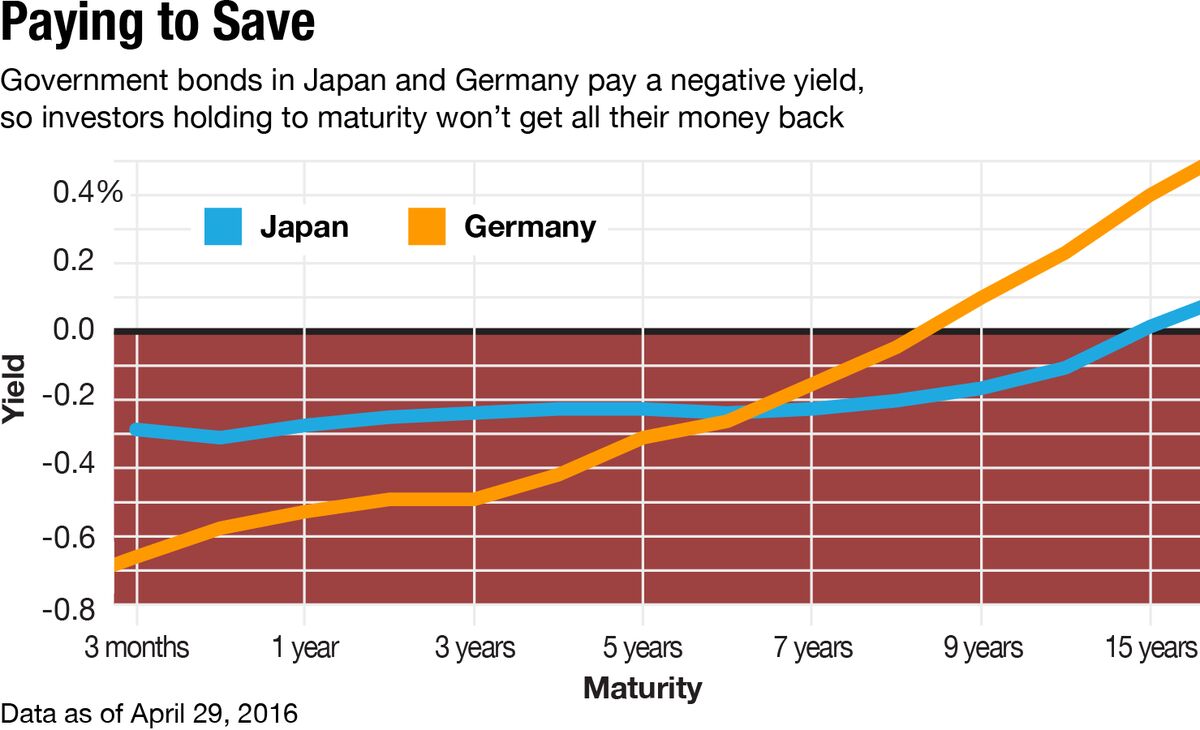 Conclusion
It is not inconceivable that a successful program could involve all of the mechanisms we have covered. Some perpetual bonds, more in no interest loans which are redeemed when the economy is stronger or inflation needs some brakes and some traditional government securities which are needed for financial system liquidity.
Whatever parts of these possibilities are realized, there is no question the future will be quite interesting. As if it were not already more interesting than we really need for our own comfort.
>>>>> Scroll down to view and make comments <<<<<<
Click here for Historical Opinion Post Listing
Make a Comment
Econintersect

wants your comments, data and opinion on the articles posted. You can also comment using Facebook directly using he comment block below.
---