posted on 24 April 2016
by Lee Adler, Wall Street Examiner
The Federal Government posts a reconciliation of the previous month's tax receipts by detailed line item on the 8th business day of the following month.
It's useful to parse excise taxes because they are based on unit volume, not total sales, and because their calendar effects are less severe due to the twice monthly payment schedule. Notably, gross miscellaneous excise tax collections were down by 2.2% covering the mid month February-March period while gas and aviation fuel tax collections rose.
The Federal Highway Trust fund taxes collected on gasoline rose by 4.8% in March after rising by 8.9% in February. Lower gasoline prices are inducing increased consumption. Americans are driving more as they spend their gas savings on... wait for it... gas, among other things, but not booze and cigarettes. Weekly data from the US EIA shows gasoline consumption up nearly 8% on an annual basis as of the week ended April 8.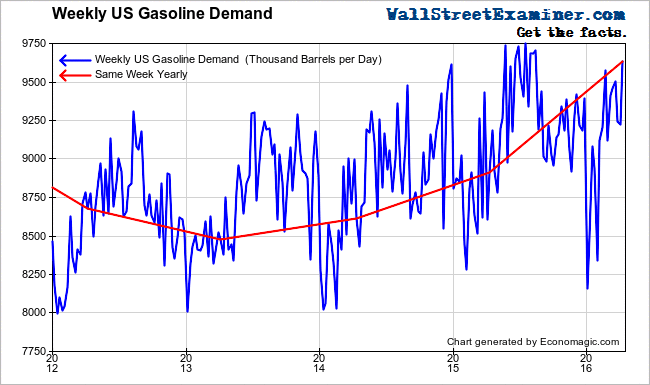 Liquidity moves markets!
Click here to learn how you can follow the money.
As an aside, I wrote in the weekly Pro Trader Federal Revenue Report back on March 13:
Without getting into an in depth supply/demand analysis, if oil prices haven't bottomed already, the fact of falling supply and rising demand supports higher prices. With Goldman and the other managers of public sentiment widely calling for lower oil prices, no doubt they are doing the opposite of what they are recommending [that the public should do, taking the other side of their recommended trade], in recognition of the supply/demand fundamentals.

We should also recognize that one of the key properties of oil as a commodity is that it is a money substitute, even more so than gold is, for the biggest leveraged speculators and investors in the world. With the ECB and BoJ going increasingly insane, the move back into oil as a money substitute looms as another reason supporting a reversal.
Aviation fuel related excise tax collections also rose in February-March. They were up by 4.1%.
Miscellaneous excise taxes, essentially sin taxes covering alcohol and tobacco, fell by 2.2% versus March 2015 after falling by 2.4% in the prior month. While gas and aviation fuel taxes show increased consumption, the drop in sin taxes suggest that the US economy is sinking into recession. Either that, or US consumers of these products have suddenly become more health conscious.
>>>>> Scroll down to view and make comments <<<<<<
Click here for Historical Opinion Post Listing
Make a Comment
Econintersect

wants your comments, data and opinion on the articles posted. You can also comment using Facebook directly using he comment block below.
---