posted on 16 September 2017
Written by Peter Krauth, Money Morning
Article of the Week from Money Morning
The price of silver has been looking extremely bullish the past two weeks. But patience in buying may provide larger returns than jumping in now.
After hovering near the $17 level from Aug. 17 to Aug. 25, silver prices pushed all the way to a five-month high a week ago. Between Friday, Sept. 1, and Friday, Sept. 8, the metal climbed 1.7% to $18.12 - the highest settlement since April 19.
---
Please share this article - Go to very top of page, right hand side, for social media buttons.
---
That was 6.1% above the 200-day moving average of $17.08, which has served as a sort of resistance level. By surpassing $17.08, silver looks poised to go higher.
But first, I expect we'll see the price of silver retreat from here in the short term. A pullback following a 14.4% rally in just two months would be healthy at this juncture.
In fact, I think we have already seen a start to this move, as a possible bounce for the U.S. dollar may be in the cards. The U.S. Dollar Index (DXY) - which tracks the dollar against other currencies like the yen and the euro - is already up from 91.35 to 92.07 today (Tuesday, Sept. 12).
A strong contrarian signal has emerged suggesting the dollar could be due for a near-term rally. If that happens, the silver price could face some temporary headwinds before resuming its climb higher (I'll show you my exact silver price prediction in just a moment).
Let's look at some of the technical indicators pointing to a possible short-term price consolidation, as well as the indicators suggesting silver's long-term bull market has plenty more life.
First, let's recap silver's rally to five-month highs last week…
Silver Price Adds 1.7% Last Week (Sept. 1-8)
After closing at $17.82 on Friday, Sept. 1, silver climbed higher on Tuesday, Sept. 5, after the Labor Day holiday and North Korea's hydrogen bomb test. The test was reportedly the most powerful yet, which sent investors piling into safe-haven silver. The metal added 0.7% on the day to close at $17.94.
Silver started Wednesday off mostly flat, as the DXY traded in the 92.25 range. But the price of silver trended lower from there, eventually settling at $17.91 for a 0.2% loss.
Here's a closer look at the dollar's action last week…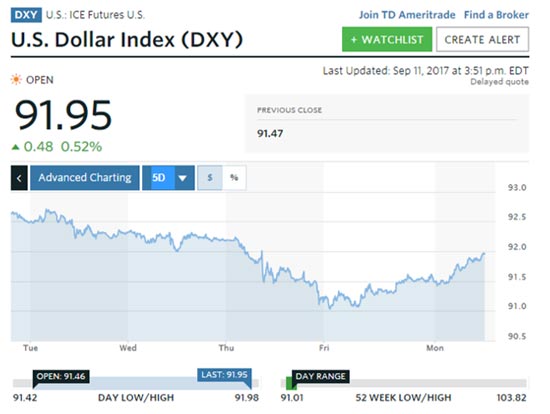 Then, silver prices sharply rebounded on Thursday. The DXY sank from 92.25 to a midday low of 91.50, which pushed silver above the $18 mark by midday. Prices rallied 1.2% to $18.12 by the close for the highest settlement since April 19.
On Friday, Sept. 8, the silver price opened higher at $18.16 as the dollar fell toward the 91 level. But a DXY relief rally boosted it back to 91.50, which pulled silver lower throughout the day. The price of silver managed to close at $18.12 - the same close as the previous session. That marked a weekly gain of 1.7%.
Yesterday (Monday, Sept. 11), silver prices fell as the dollar kept climbing to flirt with the 92 level. The metal started the day sharply lower at $17.72 and eventually recovered to $17.90 by the close. However, that was still a 1.2% decline from Friday's settlement.
The silver price today increased slightly from yesterday's loss, up 0.1% and trading at $17.92.
As you can see, the price of silver is already down 1.1% this week from last Friday's five-month high. Given that it's seen a 16.6% rally from the 2017 low of $15.37 on July 7, I wouldn't be surprised if silver continues a bit lower from here.
But a brief pullback from here would be healthy for the metal and would likely set silver prices up for a continued run higher through the end of the year.
Here's my silver price prediction for the rest of 2017…
This Is How Much Higher the Silver Price Could Go in 2017
I expect silver to reach its 2016 high of $20.70 before the year ends. While that's a strong 15.5% gain in just over three months, the metal likely won't reach that target without a short-term retreat first.
And I think near-term silver prices could remain below $18 for two reasons…
First, as you can see in the chart below, the metal's 16.6% rally over the last two months came quickly - perhaps too quickly…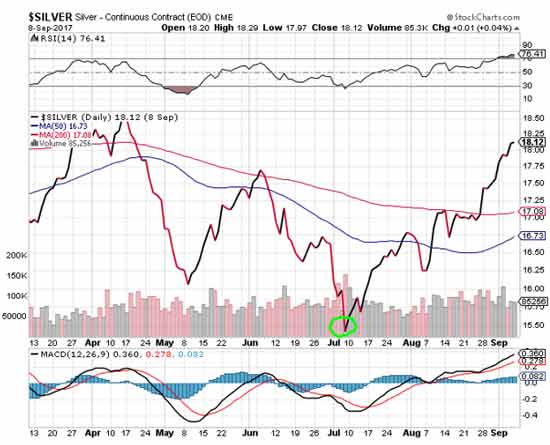 These gains now need to be digested, which inevitably means some day-to-day volatility.
Second, the dollar has become quite oversold and is due now for a counter-trend rally.
The DXY's drop from 103 at the start of the year to its recent test of 91 was a huge 11.6% drop for any currency, but even more so for the world's de facto reserve. Its fall from 93.55 on Aug. 22 to the 91 level on Friday looks like a capitulation sell-off - an indicator that everyone who plans to sell their dollar futures have already done so. These usually indicate a rebound will soon happen.
And the dollar has been doing just that. After flirting with the 91 level on Friday, the DXY is already back up to 92.07 today. This could be the start of the relief rally.
Also consider that, according to the latest Commitment of Traders (COT) reports, speculators on U.S. dollar futures are very bearish. In fact, they're at their most bearish since 2014. That's a bullish contrarian signal the dollar could bounce higher from here.
I would not be surprised to see the DXY rally to 94 or even 96 before falling again…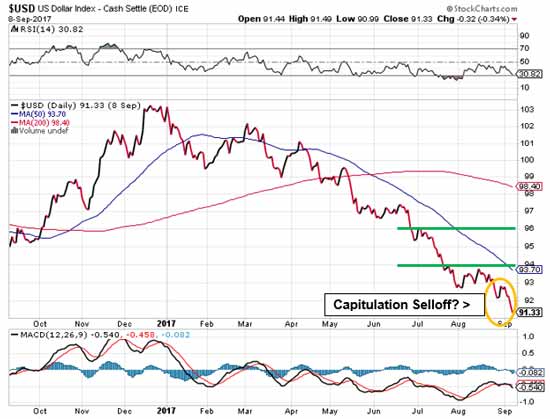 If that plays out, I'd expect silver to pull back and test $17 from above, which is also near its 200-day moving average of $17.08.
But silver's 50-day moving average of $16.73 has turned up, and the 200-day average has flattened to just start heading higher. Those are both bullish indicators that the metal, while possibly overbought in the near term, has much farther to climb in the next three-and-a-half months.
Once the correction is over, look for the silver price to rebound back to $17.75. Afterward, I expect it to climb to $18.50 - a 3.2% gain from today's price of $17.92 - by the end of this fall.
Beyond that, I still think there's enough "juice" in silver to take it back to its 2016 high of $20.50 before the start of 2018.
>>>>> Scroll down to view and make comments <<<<<<
Click here for Historical Metals Post Listing
Make a Comment
Econintersect

wants your comments, data and opinion on the articles posted. You can also comment using Facebook directly using he comment block below.
---