posted on 13 August 2017
by Peter Krauth, Money Morning
Special Report from Money Morning
Precious metals were doing their job last week, as global security tensions are on the rise.
The short-term peak and then consolidation for the price of gold that I expected last week seems to have come and already gone.
---
Please share this article - Go to very top of page, right hand side, for social media buttons.
---
From July 28 until Aug. 3, gold prices plateaued at about $1,268 an ounce, then corrected the next day to the tune of $13. And that only lasted about three more trading days.
It's showing another decent rally now, even as the dollar has shown some resilience. In morning trading, the price of gold today (Friday) was up marginally to $1,286. In the afternoon the price jumped to $1,297 ans closed the session at $1,295.
Of course, we have Donald Trump and Kim Jong Un rattling their sabres to thank for higher gold prices.
It's been a tit-for-tat series of back-and-forth threats, and gold has reacted as expected: gold up, stocks down.
But I think that even if the situation quiets over the coming days and weeks, gold could still be poised to shine.
Here's a closer look at how the price of gold has been trending this week, plus where I see the precious metal heading from here…
Why the Price of Gold Is Up 2.2% This Week
Gold ended the last trading week on Friday, Aug. 4, on a sour note, with sellers getting the upper hand. That day, the U.S. Dollar Index (DXY) rose around 8:00 a.m., then rallied hard from 92.80 to 93.70 over the next two hours. Gold traders sold wholesale, pushing gold prices from $1,267 at 8:00 a.m. way down to $1,256 by 10:00 a.m. The little strength gold had left pulled it back slightly higher to close at $1,258.
That set the stage for Monday, Aug. 7, when gold opened at $1,256 and moved mostly sideways on little actionable news. The DXY remained stable on Monday as well. So by the end of New York trading, gold had managed to gain only $1 to close at $1,257.
Tuesday held more action as the dollar rallied in the morning. Gold had been rising in early morning trading, reaching as high as $1,264 by 7:00 a.m. But by 10:00 a.m. as the dollar rallied, pulling the DXY from 93.30 to 93.70 at 11:00 a.m., gold started to sell off. It lost $11 to reach $1,253 by 11:00 a.m. But the DXY gave up about half its gains, and gold buyers stepped back in, bidding it back up to $1,261 by end of day.
Here's a look at the dollar's action over the last five trading days…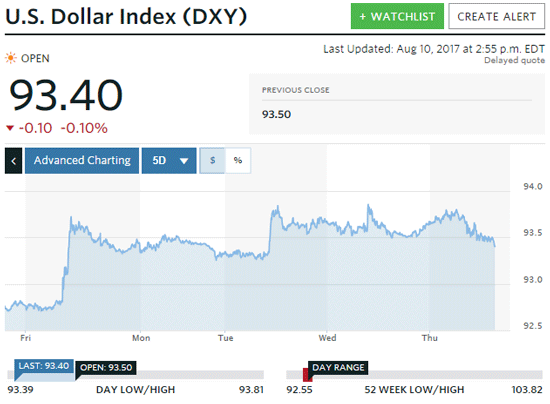 On Wednesday, it was all about "fire and fury like the world has never seen", as President Donald Trump warned North Korea against its hostile threats. Gold prices had been gaining overnight and in early morning trading, managing to open at $1,269, then gapping higher to $1,275 at 9:00 a.m. as reports of Trump's comments emerged. Here's how that looked…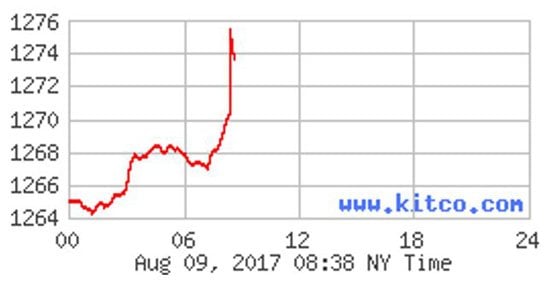 And after a brief retreat, the price of gold headed higher to close at $1,277.
On Thursday, global stock indices followed through in a big way on Tuesday's selling, with the S&P 500 losing nearly 1.5% and the Dow nearly 1%, while the VIX shot up an astounding 44% in one day. Gold delivered in spades, rising overnight and early morning to open at $1,282. It peaked at 10:00 a.m. near $1,287, then settled back to end the day a touch lower at $1,286.
Now that we've examined this past week's moves, here's what's next for the price of gold in 2017…
Where the Price of Gold Is Headed from Here
Now that gold's gotten a major boost thanks to high geopolitical tensions, what's its next move?
Well, first consider that gold's 200-day moving average has just flattened out and ticked up slightly. On a longer-term basis, this suggests gold's resuming its bull after correcting in the second half of 2016.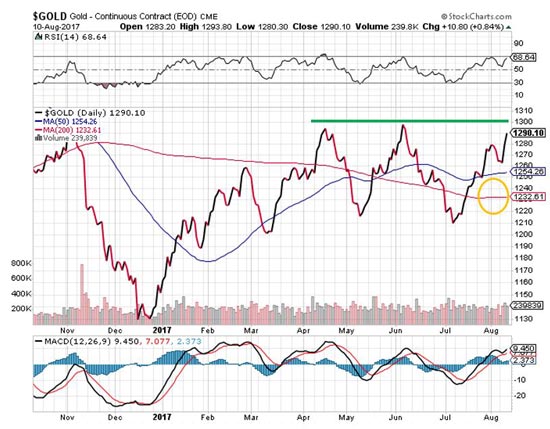 The other point of note is that both the RSI and MACD momentum indicators are confirming gold's recent rise, and both have room to head higher.
I think the real test from here will be $1,300. Gold approached that level twice this year, in April and again in June, and both times reversed. Will the third time be the charm? We'll have to wait and see. But if the recent stock sell-off snowballs, and given this is a strong season for gold, my bet would be $1,300 soon becomes support rather than overhead resistance.
Consider that "Bond King" Jeffrey Gundlach recently tweeted that he was bullish on gold and continued to be bearish on stocks as well as U.S. Treasuries. He's been a long-term bull on this precious metal, calling it a bargain relative to stocks.
As well, the World Gold Council just said in its second-quarter report that bar and coin investment in Q2 was up 13% year over year, and jewellery demand, especially from India, pushed Q2 gains up 8%.
So overall gold's looking pretty robust. Let's keep a close eye on $1,300 for clues to gold's next move.
>>>>> Scroll down to view and make comments <<<<<<
Click here for Historical Metals Post Listing
Make a Comment
Econintersect

wants your comments, data and opinion on the articles posted. You can also comment using Facebook directly using he comment block below.
---