posted on 10 July 2017
by Peter Krauth, Money Morning
Money Morning Article of the Week
Price of Silver Won't Stay at These 15-Month Lows for Long
It seems the price of silver has been spiraling out of control lately, down 13.2% from its $17.71 peak on June 6. This morning (July 10), it traded 1.3% lower at $15.37 - the lowest since prices closed at $15.38 on April 8, 2016, over 15 months ago.
---
Please share this article - Go to very top of page, right hand side for social media buttons.
---
The metal took an undeserved punch in the gut last Friday, July 7, when silver prices fell 2.3% following the stronger-than-expected June jobs report.
But the even bigger news for the silver price last week may not be its latest weakness, but rather a flash crash on Thursday evening around 7:00 p.m.
Some are calling the event a "market glitch," but experts are blaming high-frequency trading by computer algorithms, whereby selling feeds on itself at lightning speed. And sadly, these events are becoming increasingly common.
You'll note this flash crash was significant, pulling silver down 8.7% very briefly from around $16.10 to $14.70. Although silver recovered quickly, it may have set the tone for Friday's session alongside the jobs report.
All of this begs the question of whether or not silver prices are at a bottom yet. Judging by certain technical indicators, we may be near a bottom now, and I think the metal will rally higher as demand from one of the world's biggest silver markets continues to explode.
Before I tell you more about my bullish silver price prediction, here's a recap of late last week's performance…
Price of Silver Posts 6.5% Weekly Loss Following July 6 Flash Crash
Picking up where my last silver update left off, silver opened on Thursday, July 6, at $15.97. That was higher than Wednesday's close of $15.84. But a morning surge in the U.S. Dollar Index (DXY), from 96.16 quickly up to 96.50, kept the silver price lower throughout most of the day. It still managed to settle 0.6% higher, at $15.93, than the previous close.
However, the biggest action didn't happen until around 7:00 p.m. on Thursday night, when silver experienced an 8.7% flash crash.
The red line in this chart shows the dramatic 8.7% decline…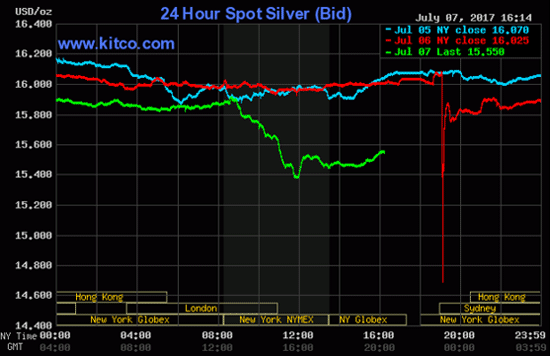 And on Friday, July 7, as the stock market rallied after the U.S. Department of Labor reported 222,000 jobs were added last month, precious metals suffered. Silver opened lower at $15.90 and sold off to $15.39 in morning trading.
From there, it managed to attract a little buying, which pulled it back up to $15.57 by the week's close. With that, the silver price posted a 2.3% loss on the day and 6.5% loss on the week (June 30 - July 7).
Trending: The Ultimate Guide to Silver and Gold Investing - Free Report
The losses have continued this week as the silver price today (Monday, July 10) fell 1.3% to a 15-month low of $15.37 this morning. With that, it's clear investors are nervous about silver's long-term potential as they continue to engage in profit-taking.
But if we examine the silver market from technical and demand perspectives - the latter regarding the world's largest silver-importing nation - you can easily argue that prices are poised for a rebound.
In fact, I could see the price of silver rebounding 43.1% from its current level to $22, and these charts support my bold and bullish forecast…
Why I Expect the Silver Price to Gain 43.1% to $22 by the End of 2017
Looking at this silver price chart going back to the December 2016 low of $15.75, we can see that the price has seen an intraday level below that at $15.43…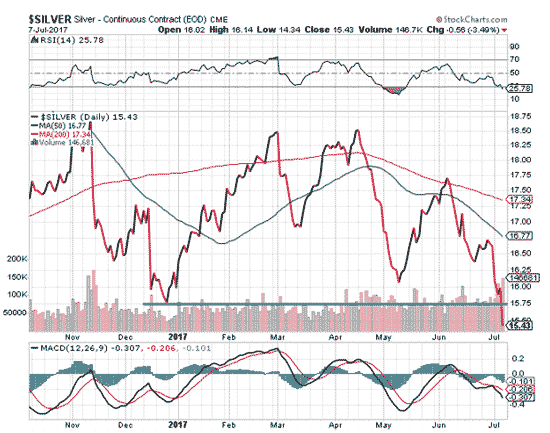 Interestingly, the Relative Strength Index (RSI) - a measurement of the speed and change in silver price movements, shown in the top portion of the chart - is currently at 25.78. That's well below where it was at the December low, right as silver began a strong three-month rally.
Silver stocks, as represented by the Global X Silver Miners exchange-traded fund (NYSE Arca: SIL), have also sold off pretty significantly, as you can see below…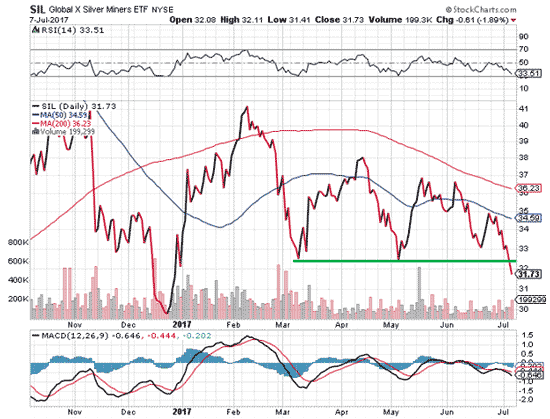 If SIL can't bounce back from here at $31.73, the next low would be below $30 where it bottomed in late December. After reaching that level, I think a rebound would certainly be in order given the pattern of rebounds and sell-offs since March.
Also, data from behavioral finance researcher sentimenTrader shows a big improvement in smart money hedgers' positions. These are the traders who are considered more experienced or informed than your average retail investor.
New data from the Commitment of Traders (CoT) shows they've reduced their silver short position by about 20% - a bullish indication that they may start taking long positions on silver prices. Additionally, sentimenTrader's proprietary contrary indicator, Optix, shows we're near a good entry point to buy silver.

Meanwhile, as Westerners are selling hand over fist, India - the largest importer of silver in the world - is showing its love for silver imports…
Silver imports into the Asian country exploded in May, with silver imports up a stunning 1,900% to 1,473 tons from 73 tons in May 2016. Furthermore, those 1,473 tons were up 140% from the 606 tons imported in April.
Given that silver has closed below its previous significant low of late December, and that the RSI has dropped well below 30, sentiment could well have reached low enough levels to allow for a reversal and rally.
If that plays out, look for silver to first target the 50-day moving average at $16.75 - up 9% from today's $15.37 level. Then, expect it to aim for the 200-day moving average near $17.25 - up 12.2% from today.
But I'm most bullish on silver over the longer term. By the end of 2017, I could see the silver price reaching as high as $22. That would be a big 43.1% rally from today's price.
The Bottom Line: Silver prices have plunged dramatically over the last month, down 13.2% from their June 6 peak. The losing streak continued last week as the metal lost 6.5% following a strong June jobs report and unexpected flash crash. But silver price patterns since December 2016 indicate we could very well be nearing a bottom, which would allow for silver to see a big rebound this year. That's why I expect a rebound as big as 43.1% to $22 per ounce by the end of the year.
>>>>> Scroll down to view and make comments <<<<<<
Click here for Historical Metals Post Listing
Make a Comment
Econintersect

wants your comments, data and opinion on the articles posted. You can also comment using Facebook directly using he comment block below.
---