posted on 06 March 2017
by Peter Krauth, Money Morning
Money Morning Article of the Week
Gold had a loss last week about 2.4%, but our long-term gold price forecast sees prices rising 14% this year.
Gold prices have been resilient in the face of bearish market forces this week, and I see that resilience continuing this year.
You'd think the Dow Jones hitting 21,000 would be enough to drag the price of gold back below the $1,200 level. If not, then maybe a rallying U.S. dollar might have done so.
But that hasn't been the case, as gold prices have been holding up well in the face of these factors.
The surging stock market comes on the heels of Trump's promised tax cuts to boost the economy. The Fed's talking up the odds of a March rate hike, and that's reflected in a stronger dollar. And the long-term gold price has remained strong, up 8.4% since the Fed's last rate hike on Dec. 14.
---
Note from Money Morning - Don't Miss: Our Complimentary Guide to Gold Investing in 2017
---
So what's going on? Well, it seems the gold market senses inflation. If the economy improves, prices will rise. The Fed is also gaining some confidence that inflation is coming back.
In addition to these economic factors, there's one technical gold price factor we're watching closely. In fact, this is the primary influence behind our gold price prediction of a 14% gain by the end of the year.
First, here's why the price of gold tumbled lower this week…
Why Gold Prices Fell 2.4% This Past Week
After closing at $1,257 on Friday, Feb. 24, the gold price opened lower on Monday, Feb. 27, at $1,255 due to wild swings in the dollar. Gold retreated lower that afternoon to close at $1,252 for a 0.4% loss from the Friday close.
Tuesday brought nearly the same kind of action in both gold and the dollar. The price of gold peaked near midday trading then backtracked 0.3% to close at $1,248.
The real action happened on Wednesday after Trump delivered his speech to Congress. His address sent the dollar toward 101.5 for the first time since mid-January.
Here's how the dollar rally looked from late Tuesday into Wednesday…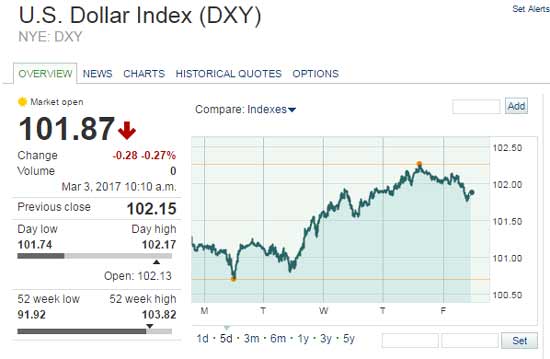 Naturally, that hurt gold prices for most of the day. But the gold price ended the day at $1,249 for a slight 0.1% gain. This surprised investors since both the dollar and Dow Jones notched record highs.
On Thursday, March 2, gold sellers got the upper hand as they took their cue from a rising dollar, which reached 102.15 by midday. Gold, which had opened at $1,239, was losing the battle, trading down 1.3% at $1,233 by the close of trading.
---
Note from Money Morning - Gold Price Forecast: 6 Reasons Why Prices Will Post Seismic Gains in the Coming Years
---
As of this morning, the gold price today (Friday, March 3) is down 0.5% to $1,227. That puts the price of gold on track for a weekly loss of 2.4%.
The soaring dollar and unprecedented stock market rally have weighed down gold prices this week. Those two factors could continue to dominate the short-term picture.
But I'm convinced the long-term picture for gold prices is much more bullish. That's because one of the most important technical indicators for gold points to a 14% gain by the end of 2017.
Now let's look at our gold price target for the end of the year…
Our 2017 Gold Price Forecast Shows 14% Upside Potential
After a searing start to the year, I told you last week that gold may be due for a rest before continuing higher.
I also said we could see gold "test" its 200-day moving average, which could act as resistance…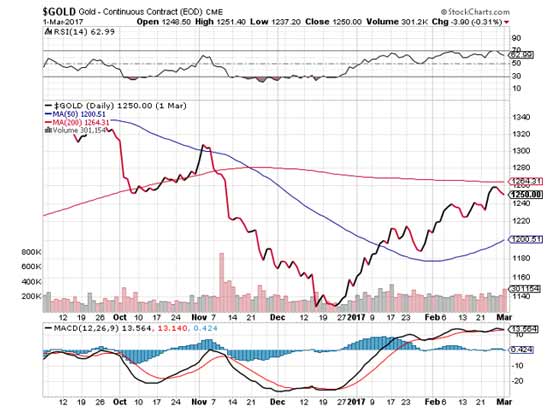 As you can see from the red line denoting the 200-day moving average, it looks like it just tested that level this week. So, what's next?
Gold could correct further, especially if the market continues to price in a strong likelihood of a March rate hike.
In fact, four U.S. Federal Reserve presidents gave speeches on Tuesday talking up a rate hike. And that boosted the odds of a March increase, doubling in a day to 68.8%.
Of course, this sent the dollar surging while serving as a short-term detriment to the gold price.
With a rate hike looking increasingly likely at the March 15 Fed meeting, gold prices could remain under pressure until the effects of it wear off.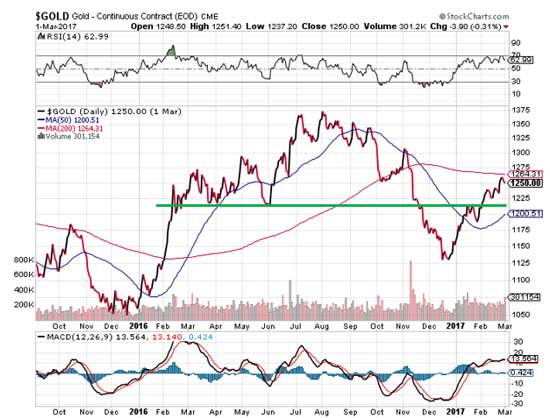 With the RSI and MACD momentum indicators also stalling, I could see the price of gold drop back to the $1,215 level. That level has acted as resistance and support several times since early 2016.
Now that gold's basically met my first target of $1,265 in Q1, I think the debt ceiling will be a big issue to watch. By this summer, we could see somewhat of a replay of the 2011 debt debacle, which was a major contributor to gold reaching its all-time high of $1,900. Could this be foreshadowing?
Only time will tell, but I still see $1,400 or better in gold before this year is out. That would represent a 14% rise from today's price of $1,227.
---
Note from the author: A completely unique gold play is forming in the markets. And it's so rare that it's only the third time in 20 years that it's happened. If you get in now, you could see a share of upwards of $13 billion in cash windfalls. Read more.
---
>>>>> Scroll down to view and make comments <<<<<<
Click here for Historical Metals Post Listing
Make a Comment
Econintersect

wants your comments, data and opinion on the articles posted. You can also comment using Facebook directly using he comment block below.
---