posted on 26 December 2016
by Peter Krauth, Money Morning
Special Article from Money Morning
In my last update, I talked about gold's reaction to the Fed rate hike. The rate hike (though nearly unanimously expected) caused the dollar to rally, thereby weighing on gold.
That led to even further negative sentiment, pulling gold down a further $30 per ounce from $1,160 to the $1,130 range. The price of gold Friday was up slightly (0.27%), but it is still trading near $1,132.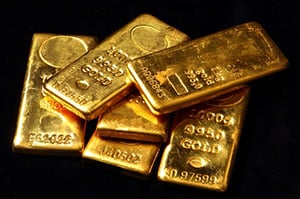 In the past week, gold prices tested the $1,126 to $1,129 range at least five times and bounced back each time.
It's very possible that sentiment has now become sufficiently negative. Many who bought in at the summer highs have either become distraught or have already sold.
Meanwhile, the U.S. markets have powered higher, along with oil and the dollar. That's sucked away plenty of hot money from the gold trade. But some of these sectors have become so overbought, they could soon be facing a sharp reversal.
That would almost certainly prompt investors to turn to the ultimate safe haven: gold. Here's how gold prices have been trending and where I see them heading from here…
Price of Gold Today Rebounds Slightly
The price of gold ended the previous trading week with a bout of strength, despite some outsized volatility. It opened on Friday, Dec. 16, at $1,133, but it soon sold off to $1,128 by 11:00 a.m. It would rebound all the way to $1,139 by noon. From there, it pulled back to end the week at $1,135.
Strength returned on Monday. In overnight trading, gold had already run up, then opened at $1,139 by 8:00 a.m. That was mostly maintained, with gold closing only a dollar lower at $1.138.
But Tuesday brought on a serious bout of weakness as the U.S. Dollar Index (DXY) ran up to 103.65 intraday, a level not seen since late 2002. That tanked gold, which opened at $1,129 and bottomed at $1,127 by 10:00 a.m. It recouped slightly to close the day at $1,132.
Wednesday saw a stronger open, but that fizzled. Gold started out at $1,135 but by late morning sold off somewhat, then eventually closed at $1,131.
That then bled into Thursday, as gold opened for NY trading at $1,128, before hitting $1,130 by early afternoon.
The price of gold today is mostly flat, with the precious metal maintaining the $1,132 level in morning trading.
Now that we've looked at how the price of gold today is trending, here's where I see gold heading from here…
Where Gold Prices Are Headed in 2017
As we move into the last trading week of the year, I'd like to point out some signs indicating what gold prices might do next.
We can't deny that sentiment is bad and that technically, gold looks challenged. By several measures, including the RSI and MACD, gold's momentum is weak.
But at the same time, gold's current price is at a level that has previously led to price congestion, but also provided some support.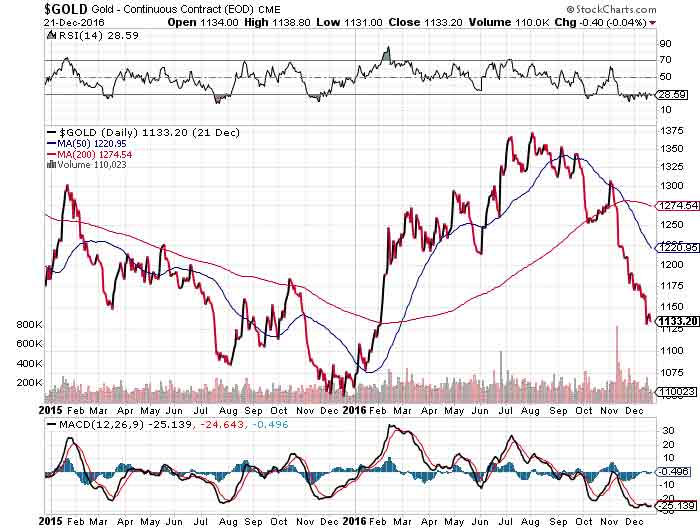 So maybe gold's corrective phase is behind us.
What I do know is that some of the major gold-share ETFs are hinting at this. According to Jason Goepfert of sentimentrader.com, the VanEck Vectors Junior Gold Miners ETF (NYSE Arca: GDXJ) was the most-hated ETF on Monday, Dec. 19. That's according to Jason's proprietary Optimism Index.
Meanwhile, Tom Kendall of ICBC Standard Bank in the UK, says the U.S. Treasury is facing hundreds of billions in higher annual interest payments on its debt, with five- to seven-year Treasuries now sporting 80 basis points in higher yields since August. And as we approach the end of Q1, the debt ceiling will become a major topic as the need to push beyond $20 trillion becomes unavoidable.
With a new president bent on stimulating the economy through tax cuts and massive spending, along with a number of overbought markets, 2017 could turn out to be a strong year for gold. I expect we could see $1,400 gold in the latter part of next year.
Hold onto your hats.
>>>>> Scroll down to view and make comments <<<<<<
Click here for Historical Metals Post Listing
Make a Comment
Econintersect

wants your comments, data and opinion on the articles posted. You can also comment using Facebook directly using he comment block below.
---