posted on 28 November 2016
by Peter Krauth, Money Morning
Special Report from Money Morning
Silver prices today are up 1.6% in afternoon trading to $16.57, but some investors are still discouraged about the recent movement from silver.
Silver prices dropped last week, bringing the three-week loss to 11%. Despite the three-week skid, silver is still up almost 20% year to date.
What's been driving silver lower in the last few weeks? One of the most obvious culprits has to be the U.S dollar. The widely followed U.S. Dollar Index (DXY) has soared 5% in a short time.
That in itself is enough to push silver prices quickly lower. But there are other contributing factors. Anticipation of a pending Fed rate hike at its upcoming December FOMC meeting is likely floating the DXY. But simultaneously we've been getting the "Trump effect." His promised tax cuts and massive infrastructure spending have sent the markets to new highs.
Silver naturally competes with these other asset classes, and right now they're stealing investors' attention. But soaring yields in long-term bonds, together with bigger deficits (inevitable due to big infrastructure spending), are signaling much higher inflation.
When that reality begins to sink in, investors will quickly flock to silver and bid it up to new heights. And that time may be sooner than you think.
How Silver Prices Today Are Trending
Silver prices have been mostly flat in the last week. Silver prices started out trading on Monday, Nov. 21, at $16.65 and closed at $16.56.
---
The Essential Guide to Buying Gold & Silver
In our report, you'll find…
The four best types of physical gold and silver to own

The five best silver and gold exchange-traded funds (ETFs) to invest in right now, two of which have surged a combined 69% this year

The four most reputable metals dealers to purchase gold and silver from
Get our Money Morning guide to gold and silver investing right here, free of charge.
---
Overnight trading took silver a bit higher to $16.82, but it opened on Tuesday 22 November at $16.74, then drifted lower to close at $16.62.
Meanwhile, the DXY had also been drifting sideways. But early on Wednesday, the DXY rallied in short order from 101 to 101.8, then on to 102.5 by the early morning on Thursday.
The effect on silver prices was predictable. On Wednesday morning, it quickly dropped from $16.65 to $16.23, recuperated slightly, and drifted sideways.
By midday Friday, the precious metal had regained $16.51, the same price it closed at on Friday to end the holiday week. Silver prices today are rebounding again, up to $16.57 in afternoon trading.
And here's where I expect the price of silver to trade from here as we head into 2017…
Where Silver Prices in 2017 Are Headed
I continue to think that the under-owned precious metal is tremendously undervalued. For many of the same reasons I expect gold to head much higher in the new year, I expect silver prices to do the same.
Like I pointed out above, soaring longer-term yields, a build-out of infrastructure in the United States, and the impending debt ceiling debate are all likely to feed the flames for higher silver prices.
Technically, I admit, the silver price has been misbehaving. But it has held up somewhat better than gold in the last several weeks.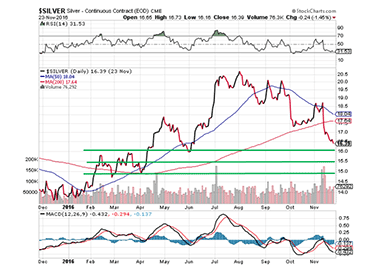 You can clearly see that silver has broken down below both its 50-day and 200-day moving averages. But unlike gold, silver has still not established a "death cross," whereby the 50-day crosses downward over the 200-day.
Based on previous support and resistance levels, silver prices could bottom near $16. If silver breaks below, then the next support comes in around $15.50, then $15.00 after that.
Still, I expect fears of higher inflation to come back with a vengeance. The massive bond sell-off of the past few months, coupled with Trump's huge infrastructure spending promises to "make America great again," are all but sure to kick-start inflation.
Silver climbing back to the mid-$20 level could easily be in the cards within six to nine months.
---
Author's Note: Timing is everything when it comes to making money in markets - and this new, free service we created puts timing on your side…
Follow Money Morning on Facebook and Twitter.
---
>>>>> Scroll down to view and make comments <<<<<<
Click here for Historical Metals Post Listing
Make a Comment
Econintersect

wants your comments, data and opinion on the articles posted. You can also comment using Facebook directly using he comment block below.
---