posted on 25 November 2016
by Peter Krauth, Money Morning
Special Report from Money Morning
It's been a challenging week for silver investors, given the post-election drop and ongoing weakness in the price of silver.
Here's what I mean…
On Nov. 10, silver prices closed at $18.58. Now the price of silver trades nearly $2 lower at $16.65.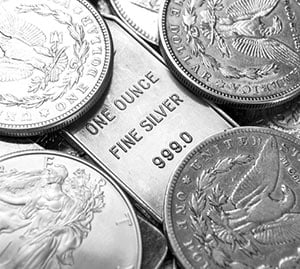 I think what's happened is twofold. The first is that markets, long-term bonds, and the U.S. dollar are all up post-election. That has attracted investors away from precious metals, sending prices lower. The second driver is simply a correction phase for silver prices that is playing itself out.
After peaking at $20.28 in late July, the price of silver has been in a correction/consolidation phase that so far has lasted roughly three-and-a-half months. In that time, silver is down by 22%.
So what does it all mean for this high-potential precious metal? Well, at least one indicator is pointing to a possible near-term bottom. And that could mean markedly higher silver prices in the new year…
How the Price of Silver Is Trending Now
The Essential Guide to Buying Gold & Silver
In our new 2016 report, you'll find…
The four best types of physical gold and silver to own

The five best silver and gold exchange-traded funds (ETFs) to invest in right now, two of which have surged a combined 69% this year

The four most reputable metals dealers to purchase gold and silver from
Get our Money Morning guide to gold and silver investing right here, free of charge.
After its precipitous price drop late last week, silver continued to struggle last week.
Silver started out on Monday, Nov. 14, at $17.22, then dropped to $16.71 by 11:00 a.m. It quickly reversed and began clawing back to close at $16.85.
The next two days saw a relatively tight consolidation sideways, with silver prices trading between $16.90 and $17.20.
But by midday Thursday, it had succumbed to a powerful U.S. dollar. By 3:00 p.m. that day, silver was trading at $16.62 and barely closed higher at $16.64.
Then Friday brought further weakness as the U.S. dollar ran to nearly 14-year highs. Silver was trading down to $16.59 by late afternoon.
Silver prices today are up slightly, 0.45%, to $16.63.
Meanwhile, here's how the U.S. dollar was acting last week, as long-term bonds continued to sell off and a December rate hike became all but an outright promise from the Fed's Yellen.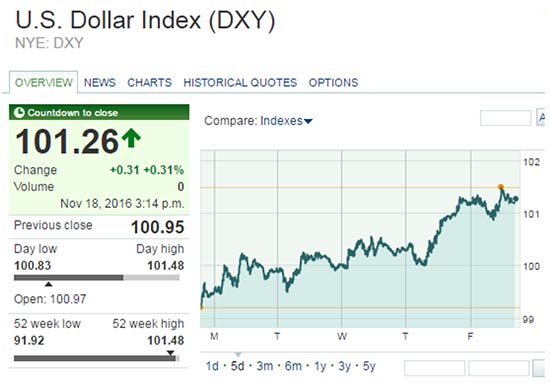 Here's what that means for the price of silver and where we can expect the precious metal to head from here…
Our Newest Price Target for Silver
So what's next for silver? Technically, it hasn't been acting well.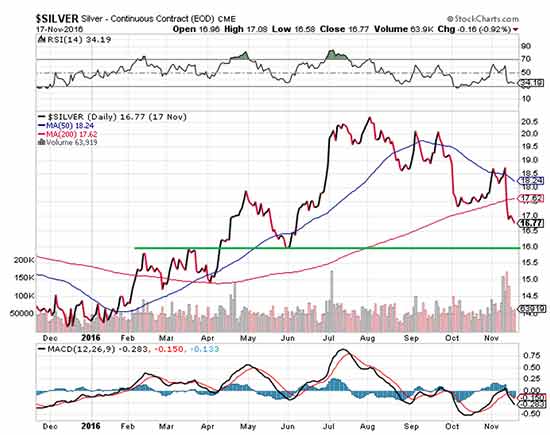 We can see that it has clearly dropped below its 50-day moving average, and its 200-day moving average has failed as support. However, at this point, odds are good that the $16 level, which was resistance in February and March, then support in late May, will act as support once again.
Looking at the RSI and MACD, it seems downward momentum could be close to playing itself out.
But another indicator to watch is the gold/silver ratio.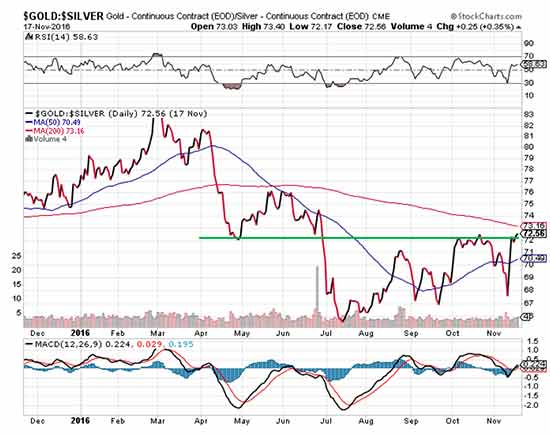 The current level, which indicates that it takes nearly 73 silver ounces to buy one gold ounce, is where we've witnessed support and resistance previously.
If gold bases at current levels, then silver prices could be poised to jump. It's possible the gold/silver ratio will get a little more extreme, but I think we could see it top shortly. That would mean a decent bounce from near current levels, possibly taking silver quickly back to its 200-day moving average at $17.50.
If the ratio returns to the low it hit in July, at current gold prices, that would mean silver trading at $18.60, which is no stretch given it was there just a few weeks ago.
With a bit of luck, that will happen by year's end.
>>>>> Scroll down to view and make comments <<<<<<
Click here for Historical Metals Post Listing
Make a Comment
Econintersect

wants your comments, data and opinion on the articles posted. You can also comment using Facebook directly using he comment block below.
---