posted on 19 October 2016
by Peter Krauth, Money Morning
Special Report from Money Morning
Silver prices today are up slightly, which is good news for the metal which has been stuck on a virtual treadmill for the past week and a half.
The price of silver today is up 0.26% to $17.53 per ounce.
Two weeks ago, both silver and gold had strong sell-offs, and they've been trending sideways since. Silver continues to move sideways in search of a catalyst for either higher or lower levels.
In fact, silver likely needs more time to work off the strong bullish sentiment that was built up in the first half of this year. And that could take a while…
You see, bullish sentiment is stretched on the fund management side as well as with retail investors. Typically, these both work as contrarian signals for the near-term direction of silver prices.
Technical signals are also pointing to more consolidation and perhaps even weaker prices before the bull rally resumes.
Next Up: Our Newest Gold Price Prediction Indicates Triple-Digit Returns by 2020
With that in mind, here's how silver prices are trending. Plus, here's what's next for silver prices today…
How Silver Prices Today Are Trending
Silver prices began trading last week on a strong note. The price of silver closed the previous Friday at $17.53, but opened last Monday at $17.71. That rally was short-lived and silver closed the day at $17.61.
Early morning trading on Tuesday saw a quick spike to $17.77 at 3 a.m. Then selling overwhelmed buying and the silver quickly dropped to $17.49. From there, it moved lower on balance to close out the day at $17.43.
Wednesday provided little reaction from silver to the Fed's September meeting minutes. The price of silver started out at $17.42 and traded mostly sideways to close at $17.45.
By Thursday's open, silver had returned to $17.53. It sold off again throughout the day and closed at $17.46.
Shortly after Friday's open, silver dropped (gold did, too, around the same time) momentarily to $17.30, then rebounded to $17.55. But that was also short lived. As it fought a strengthening dollar, silver travelled mainly sideways through the day to the $17.40 mark.
All of this took place with a strengthening (read challenging) U.S. dollar. The U.S. Dollar Index made a seven-month high, reaching 98. Despite a small retreat on Thursday, it regained 98 again on Friday afternoon.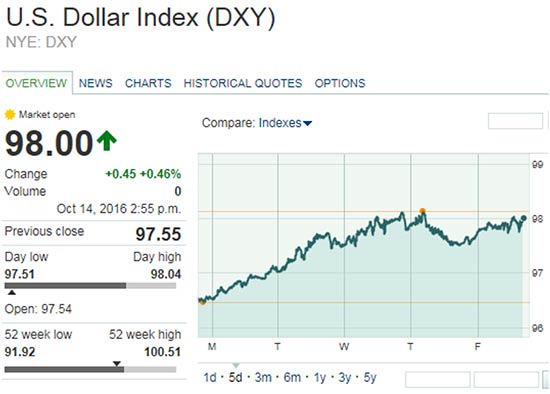 With silver prices today rebounding slightly, investors are wondering if another rally is in store.
What's Next for Silver Prices in 2016
So what's next for silver prices today and before the end of the year?
My sense is that there is still a fair bit of overly bullish sentiment to be worked off, and the same can be said for gold.
The latest Commitment of Traders report shows "smart money" silver hedgers are still net short about 78,000 futures contracts. That's a high level that remains a contrarian sign. What's more, seasonality for the silver price is also slightly negative on average for the month of October.
If we look at the technical picture for silver prices today, it provides similar clues.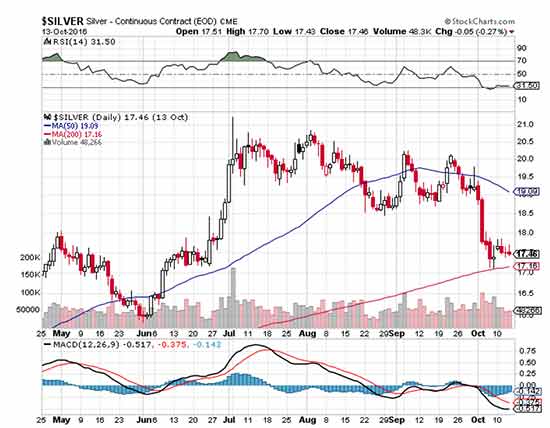 Silver's recent sizeable sell-off has pulled it down to the 200-day moving average, but so far it has managed to hold above. That could continue to provide support. But if momentum should drag it down further, I think we could see the $16 level as the most likely target.
Remember, the U.S. dollar has been rallying as most other assets have been correcting. Oil has been one of the few exceptions. If the DXY plows higher, silver's path of least resistance will be lower.
Despite the pullback, I remain bullish on silver prices today. I still think we could get a year-end rally pulling silver up into the neighborhood of $22 per ounce.
Profit from Gold Now: Most investors don't know the best way to actually profit from gold. That's why we created our complete guide to gold investing - free of charge. Read here…
>>>>> Scroll down to view and make comments <<<<<<
Click here for Historical Metals Post Listing
Make a Comment
Econintersect

wants your comments, data and opinion on the articles posted. You can also comment using Facebook directly using he comment block below.
---