posted on 29 September 2016
by Peter Krauth, Money Morning
Article of the Week from Money Morning
Thanks to the Fed, silver prices rallied last week and breached the $20 mark once again.
When the FOMC decided not raise rates, it accomplished a few things temporarily. Stocks rallied. Bonds rallied. Oil rallied. Silver prices rallied. And the dollar tanked, right on cue.
The S&P 500, Dow Jones Industrials, and the Nasdaq were all up dramatically on Wednesday (post-Fed) and Thursday. But on Friday, the hangover began to set in, with the major indices selling off.
The Essential Guide to Buying Gold & Silver
In our new 2016 report, you'll find...
The four best types of physical gold and silver to own

The five best silver and gold exchange-traded funds (ETFs) to invest in right now, two of which have surged a combined 69% this year

The four most reputable metals dealers to purchase gold and silver from
---
Get our Money Morning guide to gold and silver investing right here, free of charge.
---
The price of silver followed nearly exactly the same pattern, benefitting from dollar weakness, but then falling when the dollar regained strength Friday. Silver prices Monday were down 0.5% in morning trading to $19.68 and has fallen further to close at $19.14 today (Thursday)..
It was an exciting week, but precious metals and the markets may now be looking farther ahead to the next possible rate hike before the year is out.
Here's a look back at how silver prices moved last week, plus where I see the price of silver per ounce heading from here...
Why Silver Prices Were So Volatile Last Week
Silver prices started out strong on Monday last week. Silver opened at $19.10, likely anticipating the Fed would not raise rates. Silver prices traded mostly sideways during the day and closed $19.12.
Tuesday was another slow day. Silver prices began trading at $19.13 and exhibited little volatility, closing at $19.20.
---
Don't Miss: Are you doing everything you can to grow your retirement "nest egg"? You can start today with our top 5 money-making investment reports - they're absolutely free...
---
But the volatility came very early the next day. The U.S. Dollar Index (DXY) surged overnight and into the early morning, peaking near 96.40. But it quickly sold off and got pushed further down when official news came of the Fed's delayed rate hike. The price of silver rose to $19.40 before the open, hit $19.47 by 8:00 a.m., then $19.61 by 10:00 a.m. When the official statement from the Fed was released, silver prices popped higher to $19.72. Silver kept climbing into the close, reaching $19.81.
For its part, the DXY dropped that whole day, bottoming on Thursday around 95.07. That's a huge swing downward that lit a fire under silver prices. Silver rose in early morning trading and opened at $19.80. It then twice touched the psychological ceiling of $20, but it couldn't maintain that level. Silver closed Thursday at $19.84.
On Friday, silver backed off a little further, thanks mainly to dollar strength. Silver opened at $19.87 before falling to $19.65 by late afternoon.
Here's the DXY action of the past trading week.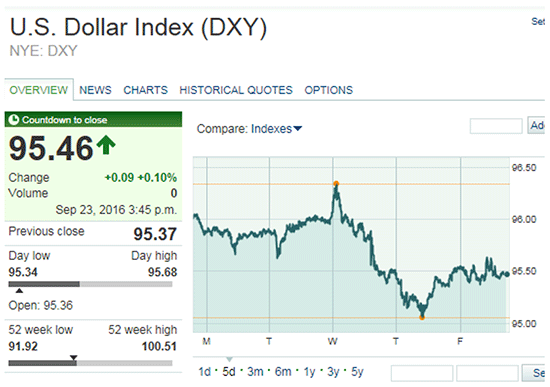 So where are silver prices headed next? Here's what I see moving silver prices for the rest of the year...
Where Silver Prices Are Headed Now
Thanks mostly to the Fed, silver prices once again have strong momentum. We can see that when we look at how the metal closed above its 50-day moving average last week.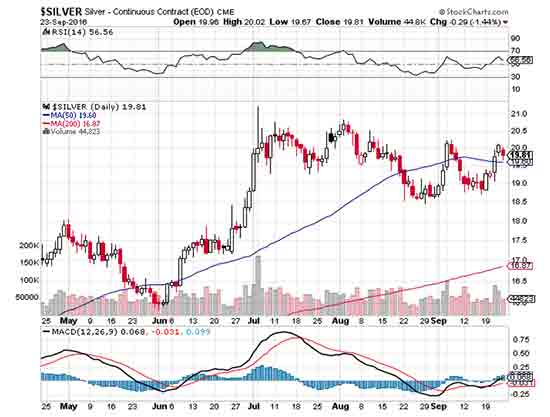 If silver doesn't take out its last high near $20, then I think we'll see it drop back below its 50-day moving average around $19.60. From there, we may retest the low of its recent range around $18.50. So far we are almost halfway there at $19.14.
The silver price action at the end of last week has shown a gold/silver ratio that's bottomed (at least temporarily) at 67. I think we could see it head back to around 69 before it reverses again. Today (Thursday) it traded above 69.4 several times and closed at 69.3.
Meanwhile, Commitment of Traders (COT) reports show smart-money hedgers hold a large short position near their recent 20-year record high. That's an ongoing contrarian sign that silver remains somewhat overbought and needs more time to work off that condition.
My sense is that the market will begin looking forward at the data the Fed may be using to decide on its next rate hike, possibly in December.
Nonetheless, conditions remain sufficiently bullish to sustain higher silver prices, pulling them up to the $22 level over the next three months.
>>>>> Scroll down to view and make comments <<<<<<
Click here for Historical Metals Post Listing
Make a Comment
Econintersect

wants your comments, data and opinion on the articles posted. You can also comment using Facebook directly using he comment block below.
---