posted on 06 August 2016
Written by Michael Clark
In a thoughtful article, Andrew McElroy asks: "IS SILVER TOPPING LIKE 2011"?
The short answer is: NO. Silver is not topping. I have pictures to prove it, of course.
(click to enlarge)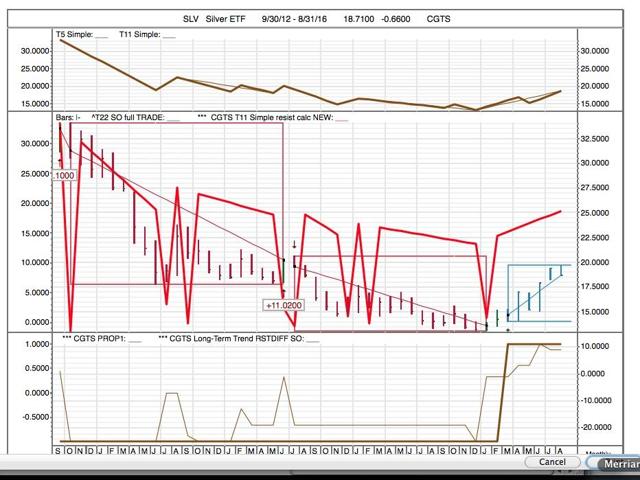 The first picture, a monthly chart, focuses on the stair-stepping picture of our T11 RSTD indicator, which is a 'breathing' indicator, showing the almost always alternating 'breaths' of BUYERS AND THEN SELLERS. Clear declines are obvious in this indicator. The 'breaths' of the SELLERS are longer and stronger than the 'breaths' of the BUYERS until the current rally. The BUYER BREATHS are simple points, or even non-existent until March of 2016.
The bottom pane shows the 'pulse' of the issue (light brown line), asleep until December 2015. It's companion (dark brown line) is the LONG-TERM TREND line, turning up in February 2016.
The next picture compares the so-called top in 2011 and today. Clearly, not the same -- not similar.
(click to enlarge)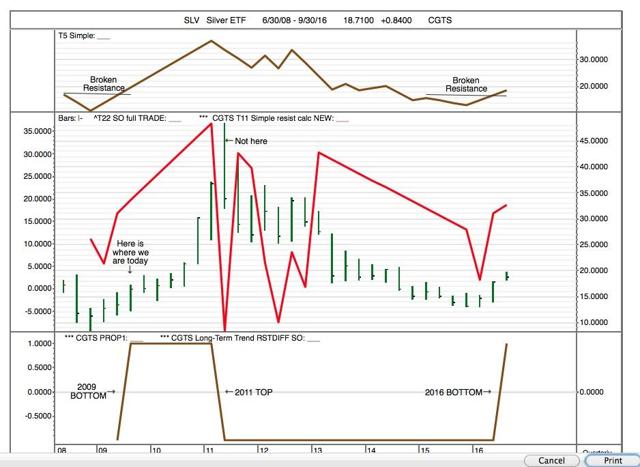 We are actually, today, at the bottom, not the top, of a move, a bullish move that will last 2-3 more years. You can read in my archived articles if you wish to understand my claims of 18-year cycles in gold bull and bear markets.
One last picture, a comparison of silver (NYSEARCA:SLV) and the US Dollar (NYSEARCA:UUP). Silver is rising; the Dollar is falling. They still need to change place, silver on top, the Dollar below, as was the case in 2011.
(click to enlarge)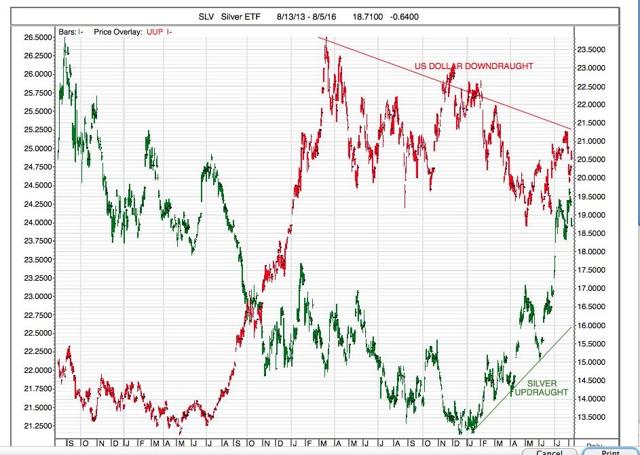 Silver is NOT topping. Get ready to buy more SLV, AG, CDE and PAAS.
>>>>> Scroll down to view and make comments <<<<<<
Click here for Historical Metals Post Listing
Make a Comment
Econintersect

wants your comments, data and opinion on the articles posted. You can also comment using Facebook directly using he comment block below.
---