posted on 19 September 2017
by Staff Reports Money Morning, Money Morning
Money Morning Article of the Week
-- this post authored by D.R. Barton, Jr.
I've been saying - constantly - that traders and investors should keep a bullish bias; that it's the key to making big, consistent profits.
And I'll say it again: This market is going to continue going up.
---
Please share this article - Go to very top of page, right hand side, for social media buttons.
---
There's no mystery as to why. I've got a simple, straightforward interpretation of what the market is telling us, and it just makes good sense (and, for the folks following along, good money).
Last week, we saw new all-time closing highs in the S&P 500 four times - and we did it all over again on Monday, opening to record highs.
---
In Stealth Profits Trader, we've ridden this bullish trend to another 200% win in our Best Buy Inc. (NYSE: BBY) calls. That was our 36th triple-digit win of 2017, and it was perfectly indicative of the kinds of gains this market's giving those who know which way the wind is blowing.
---
Now, I hear a lot from readers asking what they should do with all their profits. But there's a question I get even more, from folks who are clearly anxious about a good thing being perhaps a little too good…
"What's next?"
Well, let me show you - and tell you how I know…
I'm Confident in the Bull Because I've Seen the Bear
Nothing happens in a vacuum; there's no effect without a cause, even if it's hard to tell what that cause is (although in the markets, when you've got good technical data, it isn't).
The same is absolutely true of markets; they simply don't make big drops from all-time highs like those we've been seeing off and on for months now.
Bear markets almost always come after some prolonged time is taken for a top to form.
In fact, back in March, I conveyed the same sentiment because of what I was seeing in the markets.
Some context: You may recall when Trump's and the Republican Congress' healthcare reform push became a debacle.
And starting on Monday, March 20, the Dow went down eight trading days in a row for the first time since 2011.
Despite the fact that the overall drop was small (-1.6%), the pundits were making it sound like financial Armageddon was coming.
CNN Money's Fear & Greed Index, which tracks seven measures of market sentiment, showed fear was more than "creeping in" around the edges - it was practically breaking down the door. (Yesterday, the index was "extreme greed" green.)
What I wrote then is just as true now.
Trader/investor psychology leads to rounded tops. Modest drops followed by failed retests of old highs is the pattern that we've seen over and over again, especial in modern-day markets.
And here, of course, are some beautiful charts to support the concept.
First, here's the chart of the S&P 500 over the past five years. With a few notable exceptions in the past two years, you'll notice a trend: up.
That is, higher highs.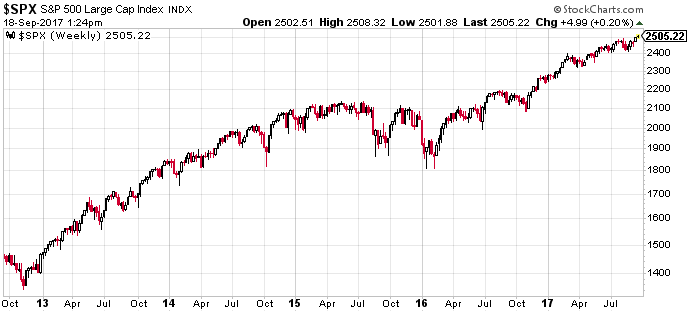 Now let's have a look at the market action around the bursting of the dot-com bubble. As you'll see, it looks very, very different.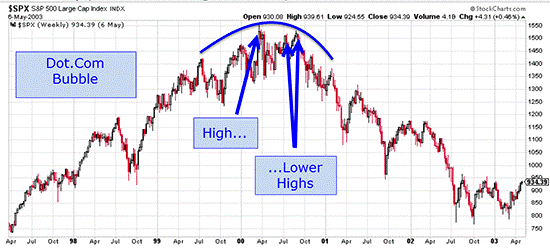 It's important to note that after the S&P 500 made a new all-time high in March 2000, we didn't even get a 10% drop from that high until around six months later!
And now here's the real estate/debt bubble chart: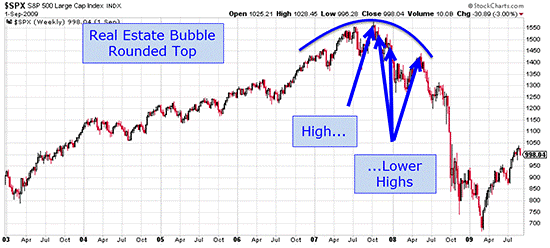 Here again, it took three months to get a 10% correction from the all-time high made in October.
You'd have to be pretty well asleep at the switch for these corrections to have had any chance of sneaking up on you. Markets just don't correct from all-time highs, and they generally don't do it overnight, either. Rounded tops are very recognizable phenomena.
---
The Bottom Line: Don't worry. Keep your eyes open, of course, but there really is no sign that this market is about to turn anytime soon. And when you see a rounded top start to form, you'll have plenty of time to pivot.
---
>>>>> Scroll down to view and make comments <<<<<<
Click here for Historical Investing Post Listing
Make a Comment
Econintersect

wants your comments, data and opinion on the articles posted. You can also comment using Facebook directly using he comment block below.
---