posted on 16 January 2017
Written by Lance Roberts, Clarity Financial
Data Analysis Of The Market & Sectors For Traders
---
S&P 500 Tear Sheet
Thank you for your recent suggestions, while not all requests are possible to fulfill due to data limitations, I do appreciate the input. Large images of the graphic below later in article.
Update: Request to color code extremes in measures is in progress.
If you have any suggestions or additions you would like to see, send me an email.
Click on any graphic below for larger image.
---
Sector Analysis
Comments
Well, once again, it was "Almost Dow 20,000." But once again the week finished shy of that lofty goal and the mainstream media had to put the hats and party favors back into their lockers for another week.
For the week, the S&P Index finished the week lower by 0.1% or -2.34 points. It was a literal bloodbath as investors ran for cover. (Once again: #SarcasmAlert)
Again, I have little doubt, at this juncture, there will be concerted effort to strike Dow 20,000 before the month is over. However, despite it being a "milestone" victory, and something for the media to cheer about, it has relatively little meaning with respect to portfolio and risk management.
Speaking of portfolio management, I wanted to repost the video from last week in case you missed it.
"The video below shows the historical "rotation" of sectors over the last 3-years. As you will notice sectors have consistently "swarmed" in a clockwise rotation going from strongly outperforming the S&P 500 index to strongly underperforming. If you watch to the end of the video you will see the post-presidential election anomaly form."
I have notated on the Sector Rotation model below, the early stages of the reversion process of the extreme bifurcation between sectors below. Notice interest rate sensitive sectors and Financial's are beginning to trade momentum.
This rotation is likely very early in its movement. As noted above, while RISK bullishness has reached extremes, SAFETY has been completely disregarded. Reversions tend to be rapid.
While Financials have continued to outperform the S&P overall, the sector strength has weakened. Small and Mid-cap stocks remain strong at the moment, while Energy, Materials, and Industrials have also begun to weaken.
As shown below, Technology improved last week as the major technology players (FANG stocks) pushed the broad index higher. Discretionary also picked up the pace but is still lagging the index as a whole. Industrials, Materials, Energy, Staples, Financials, and Utilities stagnated last week, while Health Care picked up performance.
(Note: I have changed the sector and major market analysis charts to a 50/200 DMA crossover signal and embedded an overbought/sold indicator.)
The table below shows thoughts on specific actions related to the current market environment. (These are not recommendations or solicitations to take any action. This is for informational purposes only related to market extremes and contrarian positioning within portfolios. Use at your own risk and peril.)
Six weeks ago, as suggested, we hedged our long-equity positions with deeply out-of-favor sectors of the market (Bonds, REIT's, Staples, Utilities) which have continued to perform well in reducing overall portfolio volatility risk.
As I have been warning over the last couple of months, the stronger dollar and the rise in rates should not be dismissed.
Everything is currently pointing to this being a very late stage advance, so profit taking, hedging, and rebalancing remains strongly advised.
---
THE REAL 401k PLAN MANAGER
The Real 401k Plan Manager - A Conservative Strategy For Long-Term Investors
---
There are 4-steps to allocation changes based on 25% reduction increments. As noted in the chart above a 100% allocation level is equal to 60% stocks. I never advocate being 100% out of the market as it is far too difficult to reverse course when the market changes from a negative to a positive trend. Emotions keep us from taking the correct action.
Less Than One Week To Inauguration
This week is another holiday-shortened trading week, with the awaited inauguration of President-elect Donald Trump on Friday. The markets have continued to mostly tread sideways since the beginning of the year as uncertainty around the new President's potential actions weigh on risk-taking.
As I stated last week:
"With buy signals on all three indicators registered currently, any corrections are likely to be somewhat limited back to the rising short to intermediate-term moving average. This would suggest a correction back to 2200 would likely be a "buyable" trading level. As noted in the chart above, the current extension above the moving average will likely be corrected in fairly short order and we can use that correction to rebalance allocation models for the beginning of this year."
As noted in the main body of this week's missive, the current extremes on many fronts suggest investment risk remains elevated which is why I have not increased the allocation model to 100% as of yet. This is also why I have suggested over the last couple of weeks to use this current advance, and extension, as an opportunity to clean up portfolios. (Use guidelines noted previously.)
Tighten up stop-loss levels to current support levels for each position.

Hedge portfolios against major market declines.

Take profits in positions that have been big winners

Sell laggards and losers

Raise cash and rebalance portfolios to target weightings.
If we can get a correction that resolves the overbought, extended and excessively bullish backdrop to the markets currently, I WILL increase the allocation model to 100%. For now, we will wait and let the markets tell us what it wants to do next.
If you need help after reading the alert; don't hesitate to contact me.
---
Current 401-k Allocation Model
The 401k plan allocation plan below follows the K.I.S.S. principal. By keeping the allocation extremely simplified it allows for better control of the allocation and a closer tracking to the benchmark objective over time. (If you want to make it more complicated you can, however, statistics show that simply adding more funds does not increase performance to any great degree.)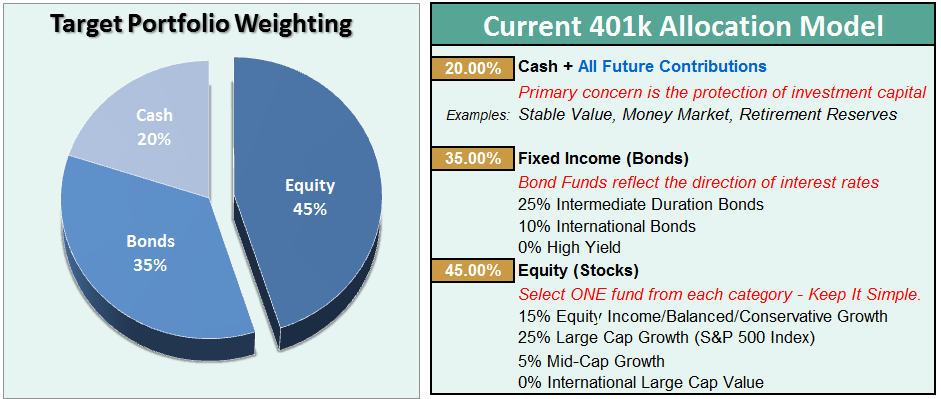 401k Choice Matching List
The list below shows sample 401k plan funds for each major category. In reality, the majority of funds all track their indices fairly closely. Therefore, if you don't see your exact fund listed, look for a fund that is similar in nature.
>>>>> Scroll down to view and make comments <<<<<<
Click here for Historical Investing Post Listing
Make a Comment
Econintersect

wants your comments, data and opinion on the articles posted. You can also comment using Facebook directly using he comment block below.
---