posted on 07 December 2016
by Lance Roberts, Clarity Financial
The Real 401k Plan Manager - A Conservative Strategy For Long-Term Investors
---
There are 4-steps to allocation changes based on 25% reduction increments. As noted in the chart above a 100% allocation level is equal to 60% stocks. I never advocate being 100% out of the market as it is far too difficult to reverse course when the market changes from a negative to a positive trend. Emotions keep us from taking the correct action.
More Optimistic
As discussed over the last couple of weeks, the markets not only reversed the breakdown, and rallied to new highs, as expected previously, investor confidence has exploded since the election.
That's the good news.
However, this rally is likely done for the moment and we need to wait for a bit of rebalancing before increasing target exposures heading into the new year.
Use the rally from last week to clean up portfolios as detailed in November 4th missive.
The big risk in the near-term is when the markets come to grips with the rise in rates, simultaneously with a stronger dollar, which will quickly erode earnings in an already over-valued market. IF the Fed hikes rates in December, we could well see another January swoon as we saw this year as much of the backdrop is still extremely weak.
The lower allocations to "risk" in portfolios has lowered volatility and kept principal safe over the last several months. With the election now past us, we can start making decisions about the "seasonally strong" period of the year.
However, as noted in the chart above, we have now triggered a secondary "sell" signal that keeps us on alert in the short-term. If the markets can continue to maintain some strength this should be reversed by the end of the year.
If you need help after reading the alert; don't hesitate to contact me.
---
Current 401-k Allocation Model
The 401k plan allocation plan below follows the K.I.S.S. principal. By keeping the allocation extremely simplified it allows for better control of the allocation and a closer tracking to the benchmark objective over time. (If you want to make it more complicated you can, however, statistics show that simply adding more funds does not increase performance to any great degree.)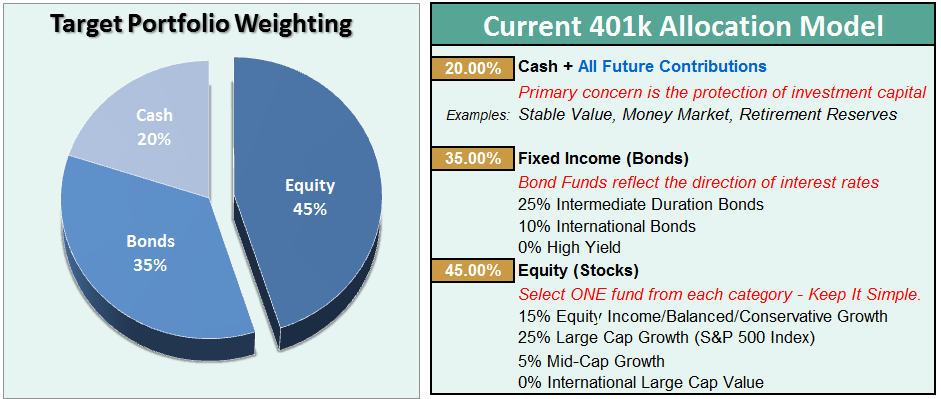 401k Choice Matching List
The list below shows sample 401k plan funds for each major category. In reality, the majority of funds all track their indices fairly closely. Therefore, if you don't see your exact fund listed, look for a fund that is similar in nature.
>>>>> Scroll down to view and make comments <<<<<<
Click here for Historical Investing Post Listing
Make a Comment
Econintersect

wants your comments, data and opinion on the articles posted. You can also comment using Facebook directly using he comment block below.
---