posted on 16 November 2016
Written by Jim Welsh
Macro Tides Technical Review Week of 14 November 2016
After the Cubs won their first World Series since 1908 there may have been some who still doubted. After last week's election, there can no longer be any doubt. There has been a Disturbance in the Force. The Cubs dispelled the curse of the goat and now, according to some, there is a donkey (ass) about to occupy the White House, even though his party's symbol is an elephant.
The Republican Elephant was introduced by cartoonist Thomas Nash in Harpers Weekly in 1874.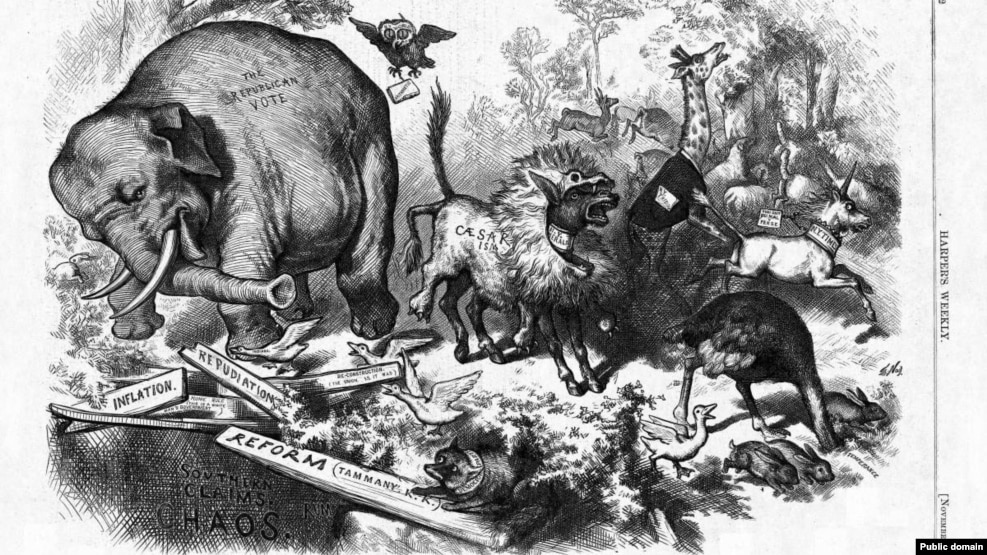 Outlook and Positioning Rotation
In less than 12 hours on November 9, the economic Trump glass went from half empty to half full. Forgotten were the concerns about Trump's anti-trade position through tariffs and the rewriting of prior trade pacts. Instead, the focus shifted to cuts in corporate and individual tax rates and a roll back in the burden of regulation, which has stifled the growth in small company start-ups and the overall economy.
Overnight, the consensus shifted from more of the same status quo, to faster GDP growth from lower taxes and increased infrastructure spending, which is expected to lead to higher inflation and interest rates. Some have gone so far as to compare Trump with the ascendency of Ronald Reagan and the boom in the economy that followed Reagan's election. It was surprising to me how quickly this new view was so widely embraced, which naturally makes me skeptical. Let's think about this.
Interest rates peaked at historically high levels eight months after Reagan took office in January 1981. The Federal funds rate topped out just over 20% while the yield on the 10-year Treasury bond was over 15.0%. With rates so high, few consumers could afford to buy a new car or a house, even if they had a decent job. Sky high rates created a groundswell of pent-up demand that was unleashed when interest rates began falling. Now, after 8 years of historically low rates, there is no pent-up demand to be unleashed.
In 1982, the debt to GDP ratio in the U.S. was 165%, meaning there was $1.65 of debt for each $1.00 of GDP. Today, there is $3.30 of debt for every $1.00 of GDP. Total government debt has mushroomed from $9 trillion in 2008 to $19 trillion and is on its way to $28 trillion according to the Congressional Budget Office. Trump's plan to cut taxes and spend more on infrastructure could add another $5 trillion of debt, according to analysis by the Committee for Responsible Government. I have no doubt it will modestly lift economic growth for a short period of time in late 2017 and 2018. But the longer term impact could prove disastrous.
Those who expect a Reagan like boom with GDP growth reaching 4% to 5% are too optimistic and underestimating the drag from excessive debt. The impact of fiscal stimulus is not going to goose the economy as much as seems expected in the short term. Donald Trump will be sworn in as the 45th President of the US on January 20, 2017. With the Republicans in control of both houses, it is assumed that tax cuts for individuals and corporations will be passed quickly. Even if they may make the cuts retroactive to January 1, worker's net pay probably won't increase before April 1. Just as consumers didn't rush out and spend their gasoline savings in 2014 and 2015, they are likely to spend some, save some, and pay down debt with what's left over from the tax cut.
Congress will pass an increase in infrastructure spending, but it will be many months before it begins to lift growth. As was shown after the passage of Troubled Asset Relief Program (TARP) in October 2008, there weren't as many shovel ready projects as expected. A fair amount of engineering work must be done and environmental hurdles must be overcome before bridges can be repaired or rebuilt. This takes time and will delay any real economic impact until the last half of 2017, if not into 2018.
In coming months, the economy is likely to show signs of slowing before the impact of lower taxes, higher government spending, and less regulation kick in.
As discussed in the November issue of Macro Tides, I expected auto sales to soften in coming months as lenders raise lending standards and used car prices fall. On November 9, the day after the election, GM announced it was shutting down one of the shifts that build the Chevrolet Cruze. In Ohio, 1,200 jobs will be terminated, with 800 more jobs eliminated in Michigan. I wonder who those 2,000 workers would have voted for had the announcement had been made on November 8, while the polls were open.
In the aftermath of the election, the 10-year Treasury yield has jumped from 1.77% to 2.25%, which has lifted mortgage rates by almost 0.5% in less than a week. This will have a dampening effect on housing in coming months. The dollar has rallied 3.1% since November 4 which represents another headwind for US multi-national companies and exports.
With Trump's surprise win, large corporations will wait to see if there will be a lower tax passed for the repatriation of overseas profits, before finalizing their 2017 budgets. In general, companies large and small will be disposed to wait until there is more clarity on the reduction in regulations that may affect them.
Each of these factors will contribute to a slowing in the economy in coming months that might lead disappointed investors who bought the consensus story line, to unwind some of their newly acquired zeal for financial, industrial, and small cap stocks.
Since the election, there has been a significant rotation out of bonds and income producing equities in anticipation of higher inflation and higher interest rates. The increase in rates is not a surprise. This is from the September 19 WTR.
"I think the 10-year yield is headed for 1.85% - 1.90%. Longer term, a test of the long term green down trend line, which connects the highs in 2007, 2013, and 2015 near 2.0%, is coming. As you can see, the 10-year yield has already broken out of the downtrend on the Major Trend Indicator, which suggests the path of least resistance is up."
Click on any chart below for enlargement.
What is a bit surprising is how quickly and easily the yield blew through the green downtrend line and the psychological resistance of 2.0%. Today, the 10-year yield traded up to 2.27%, before closing at 2.22%. This is in the middle of the black horizontal lines that define the next level of resistance, which should offer an opportunity for stability.
The Yield ROC is oversold and sentiment has become overly negative. If I'm correct, and the economy shows signs of slowing before year end, yields can come down. Even though the Fed will increase the Fed funds rate at its December meeting, they are likely to wait for a number of months to ascertain the economic impact of any changes the Republicans adopt.
A few weeks ago, Janet Yellen said she was willing to allow inflation to exceed the Fed's 2.0% target for a period of time. Although inflation is likely to nudge higher in the first quarter of 2017, I'm not convinced it will quickly surge. With the Fed willing to be patient, the bond market may be ahead of the actual inflation we're likely to experience in the first half of 2017 and the pace of Fed rate hikes.
Wage growth has picked up, but so far, companies have been willing to absorb the higher labor costs. One sign that inflation is truly taking hold will come if companies begin to announce price increases in order to protect profit margins.
Some economists have been forecasting the second coming of inflation or hyperinflation since 2010 and have been dead wrong. Before jumping on the inflation is here bandwagon, it would be wise to remember that the global economy is still plagued by excess capacity and weak growth. The role of positioning is one factor that can't be known with certainty but could cause the yield to rise more rapidly.
In May 2013, then-Fed Chair Ben Bernanke commented that the Fed might begin to taper its purchases of Treasury bonds. In less than 6 weeks, the yield on the 10-year Treasury bond soared from 1.9% to 2.75%. His comment caught the bond market offside. With too many investors long, the unwinding was severe, even though the Fed never followed through on Bernanke's comment, nor did the economy or inflation pick up. Unbalanced positioning is a risk in the bond market and other markets as well. If too many institutional investors decide to rotate out of bonds or shorten their duration, the 10-year yield could spike up to 2.75%, just as it did in 2013.
The Dollar has also benefited from an unwinding of positions in the Euro and emerging market currencies and has rallied back to what could prove important resistance. Today, the Dollar reached 100.22, just below the prior highs of 100.39 and 100.51, and above my target of 99.50. The rally in the Dollar can carry above 100.51, as it finishes the rally that began at the May low. A close above 101.50 would likely indicate that I'm wrong and support higher prices in coming months.
Gold
Since peaking at $1338.30 in the early morning hours of November 9, Gold plummeted to a low of $1211.00 today. From its peak on July 6 at $1377.50, gold fell to $1248.20 on October 7, a decline of $129.30. An equal decline from $1338.30 would target a low of $1209.00.
The correction that began in July followed a rally of $331.30 from $1046.20 last December. A 50% retracement of that rally from the July 6 high of $1377.50 would bring gold down to $1211.85.
These calculations suggest that gold is near at least a good trading low and potentially an intermediate low that could be followed by a rally above $1400.00 in 2017. The percent of gold bulls, which exceeded 90% back in June, is now down to less than 10%. Last week's decline accelerated after a couple of well known investors turned negative on gold.
Even if gold is not destined to rally as I expect, pattern analysis and sentiment indicate that a multiweek rally is coming.
Stock Market - Dueling Sectors and Bifurcation
After the election, the rush out of bonds, dividend paying stocks, and big blue chip technology stocks and rotation into banks, industrials, and small caps was the most extreme rotation in such a short period of time I've ever seen. For the week, the number of issues that made a new 52 week high rose to 394 on the NYSE, but the number of issues that posted a new 52 week low surged o 331. Much of this was due to the high number of bond funds trading on the NYSE, but the new highs and lows on the Nasdaq Composite were extreme as well - 530 highs, 271 lows. The dichotomy between the favored sectors and the unwanted can be seen in how the Financial ETF (XLF) and the Utilities ETF (XLU) have traded since early July.
Sooner or later the sectors that have gone vertical will experience some profit taking. The question is whether the sectors that have been sold will bounce or decline further, while the new leaders take a breather. If the out of favor sectors bounce, any correction should be more of a sideways churn than an outright decline exceeding 3%. In the short run this is the more likely scenario.
The real test will come when economic data shows the economy slowing in the fourth quarter, and that third quarter GDP was less than the 2.9% first reported. A close below 2119 in the S&P would be negative. In the next few days, I expect the S&P to surpass its prior all-time high of 2193 as some big name tech stocks (Amazon, Google, Facebook) bounce.
As discussed last week, the NYSE TRIN measures the relative amount of buying pressure in advancing stocks compared to the amount of selling pressure in declining stocks. When buying and selling pressure is balanced, the TRIN is 1.00. The market is often near a short term trading low when the 10-day moving average rises above 1.40 (green horizontal line), which it did in August 2015 and January of this year.
Intermediate trading lows are more likely when the 40-day average (red moving avg.) of TRIN climbs above 1.20 (red horizontal line). As you can see, the 10-day moving average of TRIN at Friday's close was 0.827, nowhere near 1.40, and the 40-day average was 0.931. After today, the 10-day was .776 and the 40- day TRIN was 0.912.
These extremely low levels are another reflection of the bifurcation within the market, as the strong stocks experience much higher volume than low volume bond funds
Tactical S&P Sector Rotation Portfolio Model: Relative Strength Ranking
The Major Trend Indicator is positioned to post a lower high if the S&P makes a modest new high. If this occurs, the market could set up a shorting opportunity in early 2017. Trading could revert back to the choppy narrow range trading that dominated from mid-July until early October, as the rotation process sorts itself out. In order for the S&P to break out, it will require more participation than what has occurred since the election. Despite what has been a dynamic rally in the DJIA, Russell 2000, financial and industrial stocks, the percent of stocks above their 200-day average has only climbed from 47% on November 4 to 56% Monday, November 14.
In a conference call on the morning of November 9, I suggested that the Industrials and the Russell 2000 could benefit from the excitement about infrastructure spending and the perception that a pick-up in U.S. economic growth would benefit domestic small cap stocks. After Financials, those two sectors showed more improvement in relative strength than any other sector last week.
Disclosure
The S&P 500 Index is a broad-based measurement of changes in stock market conditions based on the average performance of 500 widely held common stocks. All indices, S&P 500, Russell 2000, and Nasdaq 100, are unmanaged and investors cannot invest directly into an index.
>>>>> Scroll down to view and make comments <<<<<<
Click here for Historical Investing Post Listing
Make a Comment
Econintersect

wants your comments, data and opinion on the articles posted. You can also comment using Facebook directly using he comment block below.
---