posted on 19 October 2016
by Tom Gentile
Money Morning Article of the Week
We recently looked at two ways to make money when interest rates go up - one way offers the potential for unlimited gains, the second gets you pricey, quality shares with a fraction of the risk.
These are both really powerful moneymakers, especially in the rising-rate environment I'm expecting by the end of 2016.
Now here's the thing - you can take both of these trades, combine them, and get rock-solid protection against just about anything that would hurt share prices.
You get open upside on the stock, too.
Traders call this a "collar," and it's as powerful to use as it is easy…
This Is a Really Potent Protective "Cocktail"
To make this trade, you combine covered call options on a stock you already own with an at- or out-of-the-money put on the same stock.
Like so:


Now, here's where the "collar" comes in.
Don't Miss: This is your ticket to bigger and better returns… and it won't cost you a penny. What are you waiting for? Read more…
A collar trade is formed when you already own the stock and buy at-the-money or slightly out-of-the-money puts while selling slightly out-of-the-money call options at the same time on the same order ticket.
Both the put and call options must have the same expiration month and must have the same number of contracts.
This is ideal to use when you want to significantly lower your risk against falling prices but are still "conservatively bullish." And the best part is that you shouldn't need to exit the trade early because there's very little risk - in some cases, zero.
It's easy, but it's versatile, too. There are a couple of different scenarios when it's to your advantage to make this trade.
When to Play the Collar Trade
Now, you can use this strategy when you want to buy stock, and it's also great to use after a run-up in price of any stock you already own.
Not only does it give you the chance to lock in your profits - it also doesn't require you to sell your stock first. That way you can leave yourself open to more upside gains while having that stock positioned to protect you against any depreciation in price.
Collar trades typically work best over a longer period of time (between one and two years), but they can work in the short term, too. The reason they tend to work better in the long term, though, is that you have more time for the stock to move higher, thus giving you higher yields.
But, like I said, you can do this in the short term. Here's a look at a quick collar trade using October week three options:

Here, you're buying the October $58 put for $1.45 and selling the October $59 call for $1.01, so you're now only out $44 per contract (-$1.45 + $1.01 = -$0.44 x 100 shares = $44).
Now, keep in mind that this is really a protection play; your maximum reward is considerable, but limited. This won't net you insane returns, but your downside risk is somewhere between slim and none.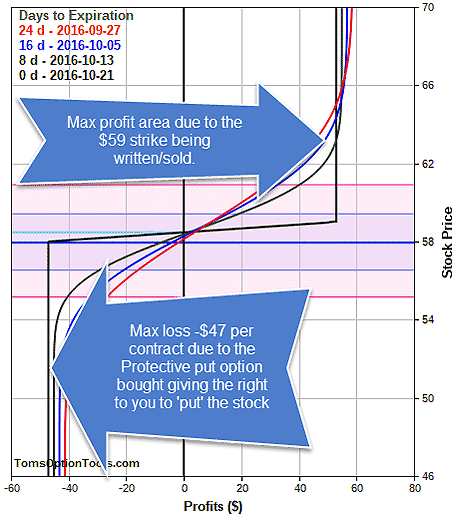 In a sense, you're helping pay for the cost of the insurance from the married put by buying-to-open the put option in case the stock drops. You're selling-to-open the call option (ideally for about the same price as the put) in order to offset the two. This basically gives you insurance on a stock that barely cost you any extra out-of-pocket cash to begin with.
If you're not a fan of capping your upside profit potential, especially after a nice surge in your stock price, you can always "opt out" of writing the calls and just go with the protective put insurance.
Just remember that the collar trade is your best consideration for having the stock market pay for most, if not all, of your portfolio's "insurance."
This Is the Best "Retirement Stock" of 2016… And the good news is, it's trading for "pennies." But it won't be for long… its revenue is set to surge 4,709%. Learn the details of this $5 stock today while it's still "on sale." Read more…
>>>>> Scroll down to view and make comments <<<<<<
Click here for Historical Investing Post Listing
Make a Comment
Econintersect

wants your comments, data and opinion on the articles posted. You can also comment using Facebook directly using he comment block below.
---