posted on 20 September 2016
Written by Lance Roberts, Clarity Financial
The Real 401k Plan Manager - A Conservative Strategy For Long-Term Investors
---
NOTE: I have redesigned the 401k plan manager to accurately reflect the changes in the allocation model over time. I have overlaid the actual model changes on top of the indicators to reflect the timing of the changes relative to the signals.
There are 4-steps to allocation changes based on 25% reduction increments. As noted in the chart above a 100% allocation level is equal to 60% stocks. I never advocate being 100% out of the market as it is far too difficult to reverse course when the market changes from a negative to a positive trend. Emotions keep us from taking the correct action.
Got Volatility?
This past week certainly got investors attention. After a month of doing "nothing," the "something" evolved to a whipsaw of emotions all week.
Don't worry. It's probably not over yet.
Over the past several weeks, I have continued to suggest reviewing portfolios, reducing risk, rebalancing and preparing for "whatever comes next." That advice paid off this week by increasing cash allocations and reducing volatility in portfolios. If you haven't done anything yet, I would continue to suggest on any bounce early next week take some action to clean up allocations by:
Tightening up stop-loss levels to current support levels for each position.

Taking profits in positions that have been big winners

Sell laggards and losers

Raise cash and rebalance portfolios to target weightings.
As I stated last week, we are on the lookout for one of two outcomes of the current pullback/correction:
If the market pulls back to support and confirms the recent breakout is indeed a continuation of the bullish long-term trend, we can begin to increase equity risk exposure in portfolios. (This is what has happened so far.)

If the recent breakout turns out to be a "head fake," the reduction of "risk" protects the portfolio against any substantial decline. (This remains a possibility into next week.)
In the chart above, the first "warning" signal has been triggered which suggest more weakness in the week ahead. Furthermore, I noted a couple of weeks ago that the deviation above the short-term moving average could not, and would not last long. That has now happened.
See, technical analysis is completely full of ****.
Very likely, depending on what happens over the next week, we will be able to make a determination as to what actions to take next. The markets are currently waiting, once again, for the next Fed meeting to get confirmation the Fed will NOT raise rates before the election.
The two biggest risks to the markets in the short-term are the Fed and the election. Once we clear those two hurdles we should have a much clearer view into the end of the year.
No one knows for sure where markets are headed in the next week, much less the next month, quarter, year, or five years. What we do know is that not managing risk in portfolios to hedge against something going wrong is far more detrimental to the achievement of long-term investment goals due to the inability to recover the "time" lost getting back to even.
If you need help after reading the alert; don't hesitate to contact me.
---
Current 401-k Allocation Model
The 401k plan allocation plan below follows the K.I.S.S. principal. By keeping the allocation extremely simplified it allows for better control of the allocation and a closer tracking to the benchmark objective over time. (If you want to make it more complicated you can, however, statistics show that simply adding more funds does not increase performance to any great degree.)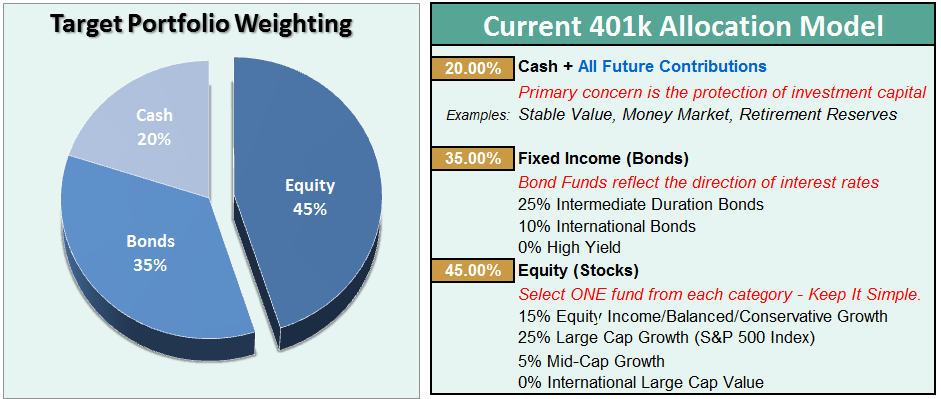 401k Choice Matching List
The list below shows sample 401k plan funds for each major category. In reality, the majority of funds all track their indices fairly closely. Therefore, if you don't see your exact fund listed, look for a fund that is similar in nature.
>>>>> Scroll down to view and make comments <<<<<<
Click here for Historical Investing Post Listing
Make a Comment
Econintersect

wants your comments, data and opinion on the articles posted. As the internet is a "war zone" of trolls, hackers and spammers -

Econintersect

must balance its defences against ease of commenting. We have joined with Livefyre to manage our comment streams.

To comment, using Livefyre just click the "Sign In" button at the top-left corner of the comment box below. You can create a commenting account using your favorite social network such as Twitter, Facebook, Google+, LinkedIn or Open ID - or open a Livefyre account using your email address.



You can also comment using Facebook directly using he comment block below.
---