posted on 24 August 2016
Written by Lance Roberts, Clarity Financial
The Real 401k Plan Manager - A Conservative Strategy For Long-Term Investors
---
NOTE: I have redesigned the 401k plan manager to accurately reflect the changes in the allocation model over time. I have overlaid the actual model changes on top of the indicators to reflect the timing of the changes relative to the signals.
There are 4-steps to allocation changes based on 25% reduction increments. As noted in the chart above a 100% allocation level is equal to 60% stocks. I never advocate being 100% out of the market as it is far too difficult to reverse course when the market changes from a negative to a positive trend. Emotions keep us from taking the correct action.
Waiting On Godot
It seems as of late that we have continued to wait on an event that seems as if it will never come. Such is the trial of money management and a disciplined approach to investing over the pull of emotional biases.
Sometimes, it seems, we get the "feeling" that we should do "something." Yet, as I try and detail here in this missive often, sometimes the best way to do "something" is to actually do "nothing." Such is the case now.
With bullish biases running near extremes, the risk of "doing something" greatly outweighs the potential reward of "doing nothing."
As discussed at length in the above missive, we certainly want to prepare ourselves to increase equity exposure in portfolios, however, we must patiently wait for the right conditions to apply those increases. Furthermore, while waiting for the relaxation of prices to make more prudent entries, it also enables investors to bypass potential "head fakes" of market actions.
Continue to do "something" by managing the inherent risk in your portfolio by:
Reviewing the allocation model adjustments below

Identifying the next course of actions in your 401k-plan

Waiting to make adjustments until technical conditions improve.

Changing allocations to target levels when conditions are right.
If you need help after reading the alert; don't hesitate to contact me.
Current 401-k Allocation Model
The 401k plan allocation plan below follows the K.I.S.S. principal. By keeping the allocation extremely simplified it allows for better control of the allocation and a closer tracking to the benchmark objective over time. (If you want to make it more complicated you can, however, statistics show that simply adding more funds does not increase performance to any great degree.)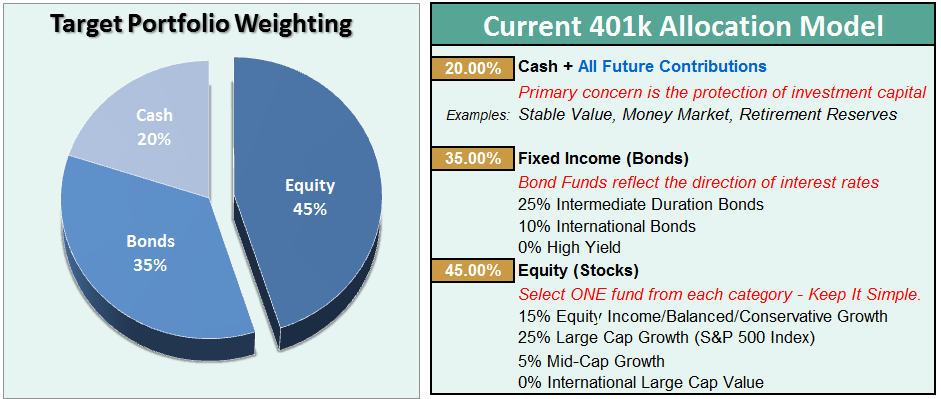 401k Choice Matching List
The list below shows sample 401k plan funds for each major category. In reality, the majority of funds all track their indices fairly closely. Therefore, if you don't see your exact fund listed, look for a fund that is similar in nature.
>>>>> Scroll down to view and make comments <<<<<<
Click here for Historical Investing Post Listing
Make a Comment
Econintersect

wants your comments, data and opinion on the articles posted. You can also comment using Facebook directly using he comment block below.
---