posted on 17 July 2016
Written by Lance Roberts, Clarity Financial
Adjusting The Model
Okay, with the analysis above, let's now set up the necessary adjustments to the model allocation so we are ready to adjust portfolios accordingly during the requisite pullback.
Step 1) Clean Up Your Portfolio
Tighten up stop-loss levels to current support levels for each position.

Hedge portfolios against major market declines.

Take profits in positions that have been big winners

Sell laggards and losers

Raise cash and rebalance portfolios to target weightings.
Step 2) Compare Your Portfolio Allocation To The Model Allocation.
Determine areas requiring new or increased exposure.

Determine how many shares need to be purchased to fill allocation requirements.

Determine cash requirements to make purchases.

Re-examine portfolio to rebalance and raise sufficient cash for requirements.

Determine entry price levels for each new position.

Determine "stop loss" levels for each position.

Determine "sell/profit taking" levels for each position.
(Note: the primary rule of investing that should NEVER be broken is: "Never invest money without knowing where you are going to sell if you are wrong, and if you are right.")
Step 3) Have positions ready to execute accordingly given the proper market set up. In this case, we are looking for a pullback to reduce the extreme overbought condition of the market without violating any major levels of support.
Current & Target ETF Model Allocation
Click To Enlarge
Increasing Weightings In:
Discretionary

HealthCare

Staples

Materials

Industrials

Utilities

Small Cap

Mid Cap

REITs
No Change In Weighting:
Weighting Reductions:
Given the right "set up" to increase equity allocations, begin by "averaging up" in existing holdings in your portfolio to match model allocation and weights. When, and IF, the market confirms the continuation of the "bullish trend," then begin adding new holdings to the model.
As stated repeatedly above, move "stop losses" on all positions up to current critical support levels and maintain a plan for "hedging" portfolio risk should something go wrong.
---
S.A.R.M. Sector Analysis & Weighting
The current risk weighting remains at 50% this week but will increase to 75% given appropriate market conditions.
(Note: This is an equally weighted model example and may differ from discussions of overweighting/underweighting specific sectors or holdings.)
Relative performance of each sector of the model as compared to the S&P 500 is shown below. The table compares each position in the model relative to the benchmark over a 1, 4, 12, 24 and 52-week basis.
Historically speaking, sectors that are leading the markets higher continue to do so in the short-term and vice-versa. The relative improvement or weakness of each sector relative to index over time can show where money is flowing into and out of. Normally, these performance changes signal a change that last several weeks.
The last column is a sector specific "buy/sell" signal which is simply when the short-term weekly moving average has crossed above or below the long-term weekly average. The number of sectors on "buy signals" has improved from just 2 several weeks ago to 19 this past week.
The risk-adjusted equally weighted model has been increased to 75%. However, as stated above, a pullback in the markets is needed before making any changes.
Such an increase will change model allocations to:
20% Cash

35% Bonds

45% in Equities.
As always, this is just a guide, not a recommendation. It is completely OKAY if your current allocation to cash is different based on your personal risk tolerance, time frames, and goals.

For longer-term investors, we still need to see improvement in the fundamental and economic backdrop to support the resumption of a long-term bullish trend. Currently, there is no evidence of that occurring.
---
THE REAL 401k PLAN MANAGER
The Real 401k Plan Manager - A Conservative Strategy For Long-Term Investors
---
NOTE: I have redesigned the 401k plan manager to accurately reflect the changes in the allocation model over time. I have overlaid the actual model changes on top of the indicators to reflect the timing of the changes relative to the signals.
There are 4-steps to allocation changes based on 25% reduction increments. As noted in the chart above a 100% allocation level is equal to 60% stocks. I never advocate being 100% out of the market as it is far too difficult to reverse course when the market changes from a negative to a positive trend. Emotions keep us from taking the correct action.
Market Breaks Out, Waiting To Increase Model
As discussed above, the push of liquidity by global Central Banks is flooding into the U.S. In turn, this has rocketed equity prices higher subsequently breaking out above a 13-month long consolidation process. As I had stated over past weeks:
"With the technical underpinnings still bullishly biased at the moment, we are now in the position to increase equity allocations over the next couple of weeks."
As is always the case, by the time markets makes a significant technical change, prices are generally at an extreme overbought or oversold condition. This is the case currently with the breakout which has created an extreme overbought condition in the short term.
While we certainly want to prepare ourselves to increase equity exposure in portfolios, we must patiently wait for the right conditions to apply those increases. Furthermore, while waiting for the relaxation of prices to make more prudent entries, it also enables investors to bypass potential "head fakes" of market actions.
While historically speaking, buying initial breakouts generally works to the advantage of the investor, there are plenty of precedents where breakouts marked the top of a price trend before the next major decline. Waiting to make prudent adjustments to allocations can help mitigate the risk of a false breakout.
Review the allocation model adjustments below

Identify the next course of actions in your 401k-plan

Wait to make adjustments until technical conditions improve.

Change allocations to target levels when conditions are right.
Patience for one more week.
If you need help after reading the alert; don't hesitate to contact me.
Current 401-k Allocation Model
The 401k plan allocation plan below follows the K.I.S.S. principal. By keeping the allocation extremely simplified it allows for better control of the allocation and a closer tracking to the benchmark objective over time. (If you want to make it more complicated you can, however, statistics show that simply adding more funds does not increase performance to any great degree.)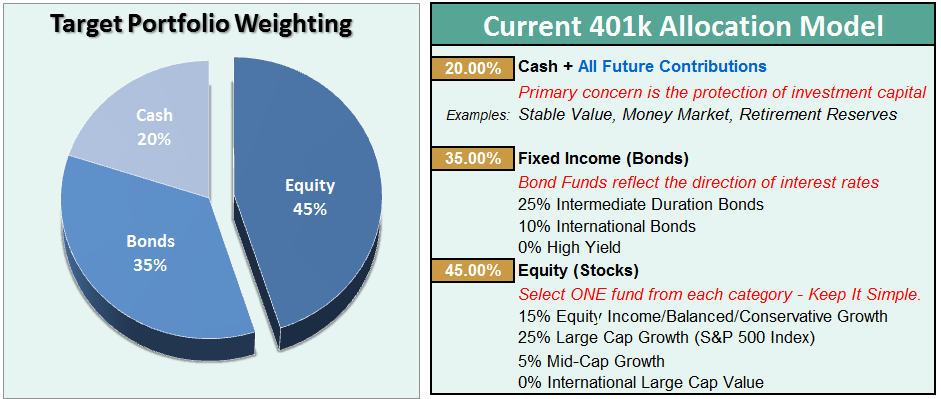 401k Choice Matching List
The list below shows sample 401k plan funds for each major category. In reality, the majority of funds all track their indices fairly closely. Therefore, if you don't see your exact fund listed, look for a fund that is similar in nature.
---
EDITOR'S NOTE: There will be NO article next week as Lance will be traveling.
---
>>>>> Scroll down to view and make comments <<<<<<
Click here for Historical Investing Post Listing
Make a Comment
Econintersect

wants your comments, data and opinion on the articles posted. You can also comment using Facebook directly using he comment block below.
---