posted on 03 June 2016
Written by Michael Clark
Are you tempted to buy Gilead Sciences, (NASDAQ:GILD)? Don't do it. It is still going down. Another "glamor" stock which may attract your attention is Apple Computer (NASDAQ:AAPL), Don't buy that either. But these two "falling angels" may have different futures. We will explain why and what to watch for below.
(click to enlarge)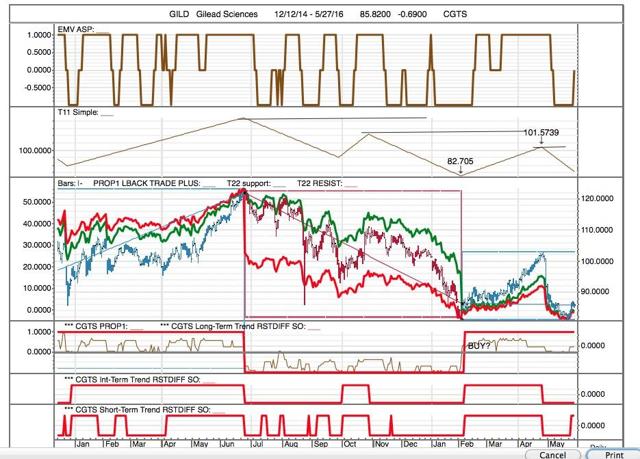 Even though GILD is in a PROP1 BUYZONE rally, third pane up from the bottom, it is NOT a BUY. Look at the Trend Direction in the top pane: lower lows and lower highs. BEAR definition.
When will GILD break back up? When it breaks through upside resistance.
If GILD turned on a dime and broke up through 101.5739 we would respect its rally much more. We will also respect its rally if the current decline stops above 82.705 and turns back up. In the meantime, GILD looks like a trap. Get ready to short GILD when PROP1 collapses back into the SELLZONE or when 82.705 is breached on the downside.
Don't buy Apple Computer yet either. Apple has rallied about 10%. Its short-term trend is up; its intermediate-term trend is up -- two bottom panes of the chart. Its long-term trend is down; and its PROP1 is negative -- still in the SELLZONE. And look at the Trend Direction in the top pane: lower lows, lower highs: BEARISH. Target bor the Bulls: 112.1. Target for the Bears: 91.428. The top pane, EMV at +1 (with PROP1 negative), defines this as a topping formation and Bears could begin buying put options from here.
(click to enlarge)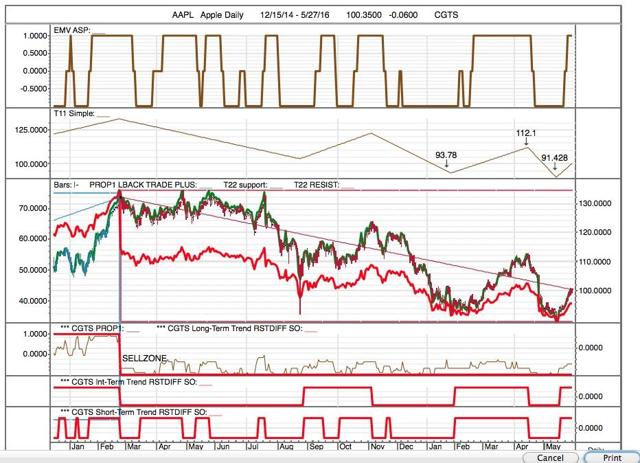 >>>>> Scroll down to view and make comments <<<<<<
Click here for Historical Investing Post Listing
Make a Comment
Econintersect

wants your comments, data and opinion on the articles posted. You can also comment using Facebook directly using he comment block below.
---