posted on 23 December 2015
by Jack Delaney
Money Morning Article of the Week
Scientists call it the "miracle material": it's transparent, 200 times stronger than steel by weight, and one of the best known conductors of heat and electricity. Graphene will soon revolutionize countless industries, from medicine to power transmission - while making early investors unfathomably wealthy. And Dr. Kent Moors has just identified the world's first Graphene IPO, giving you the chance to get in on the ground floor. Click here to find out when this IPO hits, and get access to all of Kent's Oil & Energy Investor research free.
The Twitter stock price was down 3% in mid-afternoon trading Monday and was down 37.89% for the year.
It's a drop that we saw coming, even when Wall Street was sending the Twitter stock price higher in early December...
On Dec. 10, Twitter Inc. (NYSE: TWTR) announced that it would start monetizing logged-out users. When logged-out users click on a tweet that appears in a search engine, for example, they may see ads on the Twitter page for that tweet, according to re/Code.
Wall Street overreacted, driving the TWTR stock price up to an intraday high of $26.25 on the day of the announcement before closing up nearly 7% at $25.91.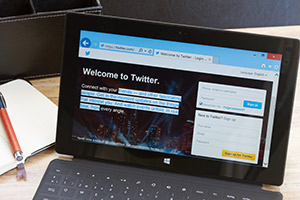 But now the Twitter stock price is correcting itself, and the rest of the trading world is joining us in our bearish Twitter stock price prediction for 2016...
You see, it's important to understand why Twitter monetizing logged-out users isn't as impressive as it sounds. One of Money Morning Defense & Tech Specialist Michael A. Robinson's biggest investing tips is that investors need to separate the signal from the noise when evaluating stocks.
Right now, the noise is that Twitter is adding another source for revenue growth. But the signal is that this isn't a major catalyst for Twitter and it won't lift the Twitter stock price in 2016.
The first sign the Twitter stock price won't improve is that the monetization of logged-out users is just initially for desktop users. As of April 2014, The Wall Street Journal reported that 86% of Twitter users accessed Twitter through a mobile device. That means Twitter will only be monetizing roughly 14% of all logged-out users.
Plus, COO Adam Bain has stated that ads served to logged-out users have only half of the value of ads seen by logged-in users, according to Forbes.
And that's not the only reason the new strategy may not pay off...
Twitter previously reported in its U.S. Securities and Exchange Commission filing that 5% of all accounts on Twitter were fake, according to NBC News.
But Italian security researchers Andrea Stroppa and Carlo De Micheli found that nearly 9% of Twitter accounts were fake in the summer of 2013, according to The Journal.
These fake accounts will not contribute to the monetization of logged-out users. Twitter has not addressed that issue yet.
While these new issues have us bearish on the Twitter stock price, it's not the only reason we see Twitter stock reaching new lows in 2016...
The Twitter Stock Price Has Farther to Drop in 2016
The biggest problem for Twitter is still its slowing monthly active user (MAU) growth...
For Q3 2015, Twitter only increased its MAUs to 320 million from 316 million reported in Q2 2015. A larger increase in MAUs means that advertisers will pay more money to reach Twitter's audience.
Twitter has fallen too far behind to ever catch up to Facebook Inc.'s (Nasdaq: FB) 1.55 billion MAUs. But Twitter is also falling behind Instagram, which reported 400 million MAUs in September.
And CEO Jack Dorsey's current initiatives aren't increasing shareholders' confidence...
Twitter added a new "Moments" feature to the site, which Dorsey aired a 30-second ad for during Game 1 of the 2015 World Series. But the ad didn't connect with audiences as Twitter had hoped. Notable Apple Inc. (Nasdaq: AAPL) blogger John Gruber tweeted that someone should be fired for producing the ad.
You see, the lack of innovation and poor response to projects like "Moments" is justifying shareholders' fears that Dorsey can't handle his dual role as Twitter and Square Inc. (NYSE: SQ) CEO.
Until Dorsey proves that he can build Twitter's MAU base and boost revenue, the Twitter stock price will continue to suffer.
The Bottom Line: The Twitter stock price will continue to plummet in 2016 because CEO Jack Dorsey won't be able to attract more MAUs. Twitter has fallen significantly behind Facebook in MAUs, and it has even fallen behind Instagram. If Dorsey can't find a way to add more users, advertisers will create more campaigns for Facebook and Instagram and less for Twitter, to reach larger audiences.
>>>>> Scroll down to view and make comments <<<<<<
Click here for Historical Investing Post Listing
Make a Comment
Econintersect

wants your comments, data and opinion on the articles posted. You can also comment using Facebook directly using he comment block below.
---