posted on 11 May 2016
The Breakthrough Starshot initiative intends to develop, within a generation, the capability to launch tiny laser-propelled space probes to the nearest star.
The ongoing miniaturization of electronics has made it feasible to create a chip weighing about the same as a paper clip (1 gram, or 0.035 ounces) that could include the communications lasers, cameras, nuclear battery, computer and other devices needed for an interstellar space probe. The "Starchip" would be about the size of a postage stamp.
Many Starchips would be launched at a time, propelled by a 100-gigawatt laser blast from a ground-based light-beamer array. This is about the same amount of energy required to launch a space shuttle. The probes would be accelerated to 20 percent of the speed of light in about two minutes (an acceleration of 60,000 times that of the Earth's gravity). This velocity would get the probe past the orbit of Pluto in three days and to the nearest star in 20 years.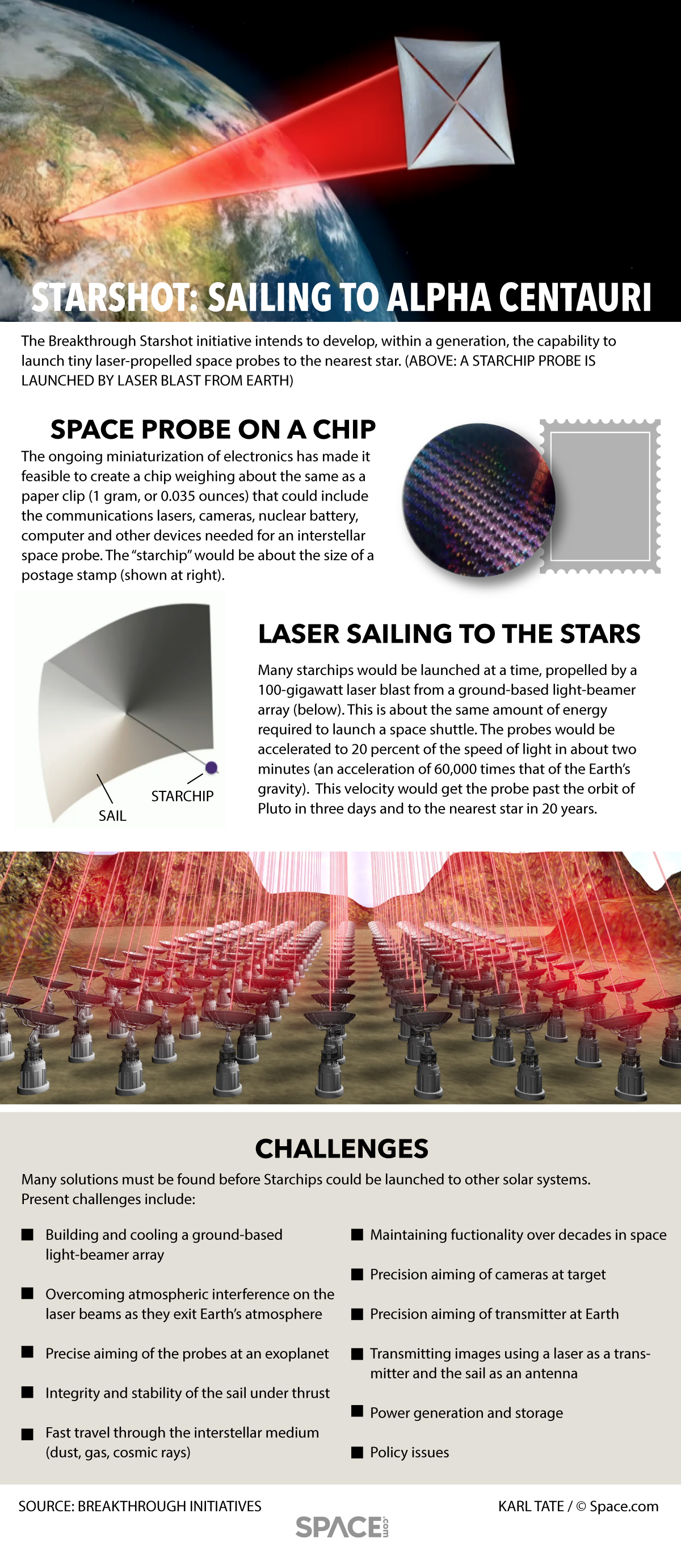 Source: http://www.space.com/32551-breakthrough-starshot-interstellar-spacecraft-infographic.html
Click here for Historical Infographic Post Listing
>>>>> Scroll down to view and make comments <<<<<<
Make a Comment
Econintersect

wants your comments, data and opinion on the articles posted. As the internet is a "war zone" of trolls, hackers and spammers -

Econintersect

must balance its defences against ease of commenting. We have joined with Livefyre to manage our comment streams.

To comment, using Livefyre just click the "Sign In" button at the top-left corner of the comment box below. You can create a commenting account using your favorite social network such as Twitter, Facebook, Google+, LinkedIn or Open ID - or open a Livefyre account using your email address.



You can also comment using Facebook directly using he comment block below.
---