posted on 05 April 2016
The Japan Aerospace Exploration Agency's Hitomi X-ray observatory, also called ASTRO-H, launched into on Feb. 17, 2016 on a mission to study black holes, star explosions and other objects in deep space.
Japanese Astronomy Satellite Hitomi Malfunctions, Generates Debris
The $273 million Hitomi mission suffered a major blow on March 26, 2016, when Hitomi stopped communicating with its operations center.
Ground tracking shows Hitomi broke into several sections before March 26. Radio contact with the probe was lost on that date.

Hitomi was intended to occupy Earth orbit at an altitude of 357 miles (575 kilometers), inclined 31 degrees to the equator. It completes one orbit every 96 minutes, maintaining its attitude toward the target for continuous observations lasting up to several days. Hitomi's four telescopes and two gamma-ray detectors all face the same direction, and were designed for simultaneous observations.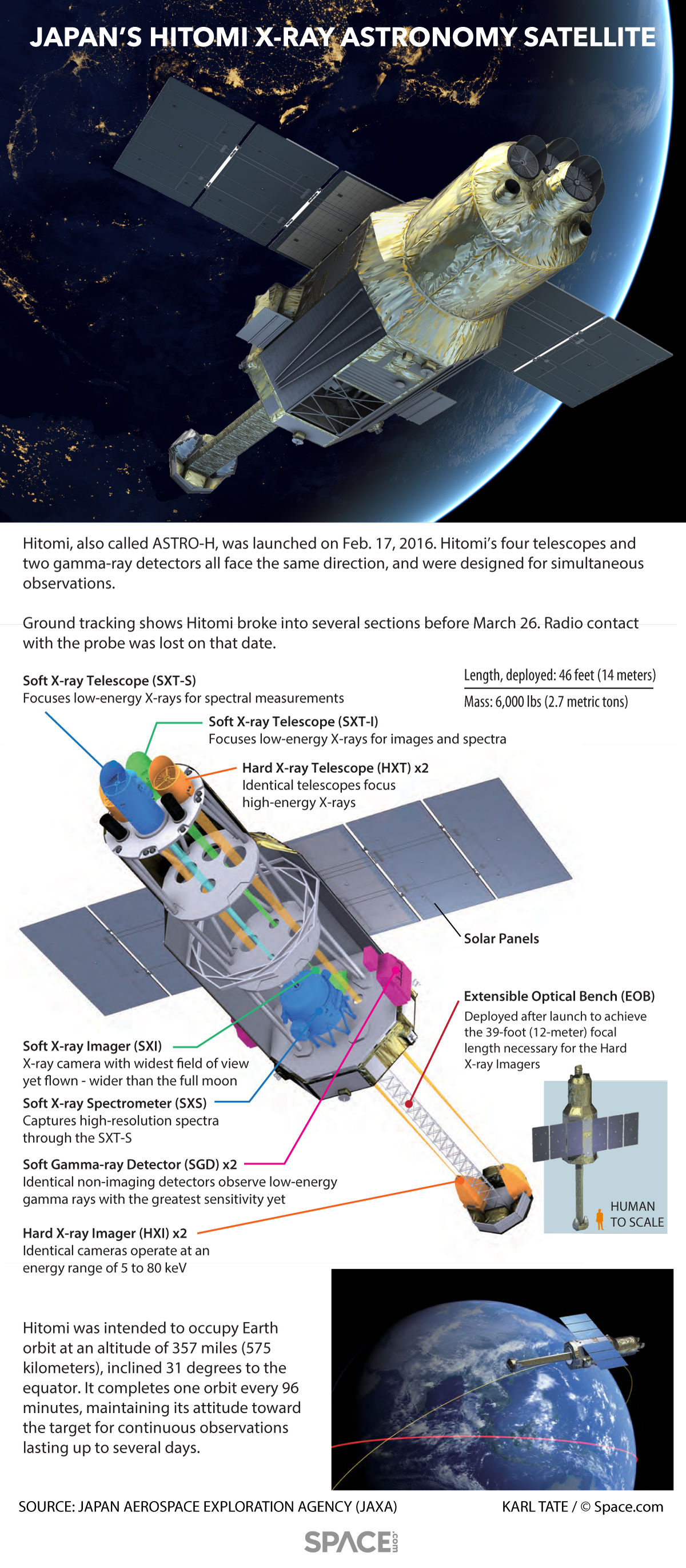 Source SPACE.com: All about our solar system, outer space and exploration.
Source: http://www.space.com/32400-japan-hitomi-xray-astronomy-satellite-infographic.html
Click here for Historical Infographic Post Listing
>>>>> Scroll down to view and make comments <<<<<<
Make a Comment
Econintersect

wants your comments, data and opinion on the articles posted. As the internet is a "war zone" of trolls, hackers and spammers -

Econintersect

must balance its defences against ease of commenting. We have joined with Livefyre to manage our comment streams.

To comment, using Livefyre just click the "Sign In" button at the top-left corner of the comment box below. You can create a commenting account using your favorite social network such as Twitter, Facebook, Google+, LinkedIn or Open ID - or open a Livefyre account using your email address.



You can also comment using Facebook directly using he comment block below.
---