posted on 12 February 2018
Written by Econintersect
Early Bird Headlines 12 February 2018
Econintersect: Here are some of the headlines we found to help you start your day. For more headlines see our afternoon feature for GEI members, What We Read Today, published Monday, Wednesday and Friday, which has many more headlines and a number of article discussions to keep you abreast of what we have found interesting.
---
Please share this article - Go to very top of page, right hand side for social media buttons.
---
​Global
Weakening Dollar and World Trade (The Daily Shot) What's the impact of the US dollar's weakness on world trade? The weakening so far has been associated with increased trade. Further weakening is predicted to increase global trade even further.
U.S.
"The decision to end direct federal support for the ISS in 2025 does not imply that the platform itself will be deorbited at that time - it is possible that industry could continue to operate certain elements or capabilities of the ISS as part of a future commercial platform. NASA will expand international and commercial partnerships over the next seven years in order to ensure continued human access to and presence in low Earth orbit."
Adi lived in America for nearly 40 years. He has a wife who is a US citizen, and four daughters who are also US citizens. He owns several businesses in his adopted hometown of Youngstown, Ohio. A week ago, he was deported.

For more than 20 years, his life has been a legal battle. But with the help of an Ohio congressman, he was able to remain in the US. That all changed when US President Donald Trump took office last year and doubled down on immigration.
Ohio Congressman Tim Ryan describes Adi as a "pillar" of their community, who creates jobs with his multiple businesses and distributes hundreds of turkeys to the poor on Thanksgiving.

For years, the House Democrat has been fighting for Adi to remain in America and it was his efforts that secured consecutive stays of the deportation order.
Trump, GOP at new crossroads on deficit (The Hill) Congressional Republicans who for years breathed fire about fiscal restraint have opened the floodgates to spending, prompting criticism from GOP budget hawks and incredulity from outside groups worried about the nation's spiraling level of debt. Congress sent President Trump a $1.5 trillion tax-cut bill in December, and on Friday approved a massive budget measure that would boost spending over the next decade by $300 billion, giving Republican leaders another legislative victory.
White House to unveil $1.5 trillion infrastructure plan (The Hill) See also next article and Trump unveils infrastructure plan involving only $200bn of federal money (The Guardian). The White House on Monday will unveil its long-awaited $1.5 trillion infrastructure package aimed at overhauling U.S. public works. The plan is structured around four goals: generate $1.5 trillion for an infrastructure proposal, streamline the permitting process down to two years, invest in rural infrastructure projects and advance workforce training.
The Trump administration confirmed a $200 billion direct federal investment for the package, which will be included in the White House's Monday spending blueprint for fiscal 2019.

Half of the federal seed money would go toward an incentive program to match financing from state and local governments investing in rebuilding projects, while a quarter of the appropriations would be used for rural projects in the form of block grants to states so governors may decide where to invest.
The plan is bound to face opposition from congressional Democrats, who have long pressed the federal government's historic role in rebuilding. House Democrats last week released their own infrastructure plan that boasted a $1 trillion direct government spend on an overhaul.
The GOP Infrastructure Plan: Worse Than Nothing? (CounterPunch) The government used to build infrastructure "before the eighties and nineties when bipartisan political elites caused the country to take a neoliberal turn." The author continues:
In 2016, Bernie Sanders proposed to reverse some of neoliberalism's direst consequences. This was not by any means the sole reason for his insurgency's popular appeal, but the fact that it was widely, and justifiably, believed that infrastructure development would figure prominently in the policy proposals of a Sanders administration, and that infrastructure jobs would follow in turn, was certainly a contributing factor.

There are also other, less democratic and generally more dishonest, ways to raise money and disburse funds for infrastructure projects. They involve substituting some or all public monies with private capital.

They by no means eliminate the state's role in infrastructure maintenance and development. They change it - from leading and directing the process to enabling it, creating opportunities for corruption in the process.
EU
UK
Retailers suffer worst footfall and spending for half a decade (City A.M.) Britain's retailers have been dealt another blow at the start of 2018, suffering the worst January for sales and footfall in half a decade. Figures released today by retail experts Springboard show footfall dropped by 1.6% last month, the worst result for January since 2013, with customer numbers on high streets falling by 1.9%. Furthermore, consumer spending declined 1.2%, according to Visa, the first January fall for five years. High street spending slumped by as much as 4%.
Households' Forecast for Next BOE Rate Increase (The Daily Shot) The chart below shows the British households' forecasts for the next rate hike.
Germany​
India
SBI reports Rs2,416 crore loss as bad loans surge (livemint.com) Hat tip to Sanjeev Kulkarni. State Bank of India (SBI), India's biggest lender by assets, on Friday reported a net loss of Rs2,416 crore ($317 million) for the fiscal third quarter after setting aside funds to cover rising bad loans and losses on its bond portfolio. It had reported a net profit of Rs1,582 crore in the September quarter. This was the lender's first quarter under the chairmanship of Rajnish Kumar, who took over in October.
In a post-results teleconference, Kumar said that in addition to provisions related to non-performing assets (NPAs), the bank kept aside Rs3,400 crore as a mark-to-market provision on account of rising bond yields. It also made a Rs700 crore provision for the next round of employee wage hikes.
'It's worse than 1971': border villages stunned by intense 'enemy fire' (The Hindu) Cross-border hostility, something that comes with the territory for the residents of villages located along the India-Pakistan International Border (IB) here since Partition, is now allegedly "worse than it was during the 1971 War".
Solar dispute: US hardens stand against India at WTO (livemint.com) The US on Friday ratcheted up pressure on India, blocking a request from New Delhi that calls for allowing a World Trade Organization (WTO) compliance panel to determine whether India has removed the mandatory domestic content requirements and other restrictive measures imposed on imported solar cells and solar modules, according to people familiar with the development.
On 23 January, India filed a first-time request for establishing what is called a WTO compliance panel to determine whether its measures to do away with the illegal domestic content requirements are in line with the rulings and recommendations issued by the trade body. India's request for the compliance panel came after the US announced trade retaliatory measures against New Delhi in the solar dispute on 20 December 2017 without ascertaining whether India has removed all the restrictive measures on the imported solar cells and solar modules.
North Korea
The U.S. Is Ready to Talk to North Korea, Pence Tells Washington Post (Bloomberg) The U.S. is ready to engage in talks about North Korea's nuclear program even as it maintains pressure on Kim Jong Un's regime, Vice President Mike Pence said, signaling a shift in American policy. Pence and South Korea's President Moon Jae-in agreed to pursue dialogue with North Korea during conversations at the Winter Olympics in Pyeongchang, the Washington Post reported. Pence dubbed the new strategy "maximum pressure and engagement at the same time".
China
Dollar Will Stay Weak If China Has Its Way, Morgan Stanley Says (Bloomberg) As China's currency trades near to its highest level against the greenback since the 2015 devaluation, don't expect the government to engineer a reversal any time soon, according to Morgan Stanley. That's because Chinese policy makers are now embracing a strong yuan as it helps boost consumption and draw inflows, Hans Redeker, London-based global head of foreign-exchange strategy at the U.S. bank, said Tuesday. Thanks to China's position as the world's largest reserves holder and trade partner, that means the dollar's weakness will persist.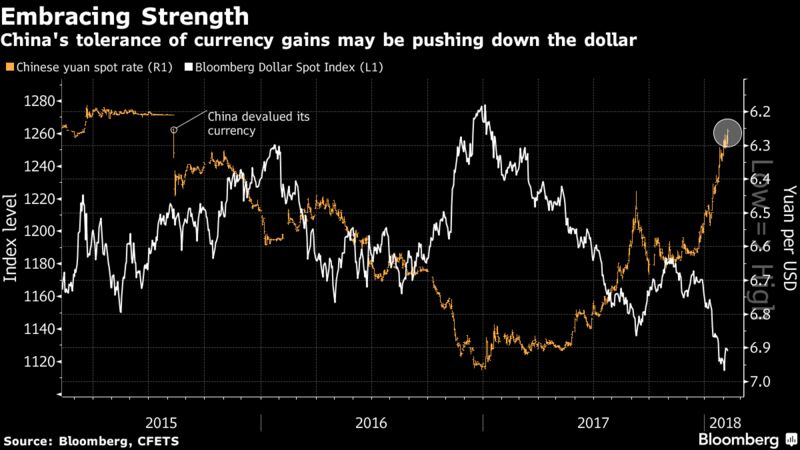 >>>>> Scroll down to view and make comments <<<<<<
Click here for Historical News Post Listing
Make a Comment
Econintersect

wants your comments, data and opinion on the articles posted. You can also comment using Facebook directly using he comment block below.
---
Econintersect Contributors
---
---
---
---
---
| | |
| --- | --- |
| Print this page or create a PDF file of this page | |
---
The growing use of ad blocking software is creating a shortfall in covering our fixed expenses. Please consider a donation to Econintersect to allow continuing output of quality and balanced financial and economic news and analysis.
---
---
---
---
---
---
---
---