posted on 05 February 2018
Written by Econintersect
Early Bird Headlines 05 February 2018
Econintersect: Here are some of the headlines we found to help you start your day. For more headlines see our afternoon feature for GEI members, What We Read Today, published Monday, Wednesday and Friday, which has many more headlines and a number of article discussions to keep you abreast of what we have found interesting.
---
Please share this article - Go to very top of page, right hand side for social media buttons.
---
​Global
U.S.
Polls swing toward GOP, easing fears of midterm disaster (The Hill) Republicans are feeling better about their prospects in the midterm elections, buoyed by recent polls that show their numbers improving. An ebullient President Trump touted the shift in public sentiment reflected in recent polls during a joint Senate-House Republican retreat in West Virginia this week.
A Monmouth University Poll released Wednesday showed that Trump's approval rating had jumped 10 points compared to last month, while the Democratic advantage on the generic ballot had shrunk to 2 percentage points.

A nationwide Monmouth survey in December showed Democrats with a 15-point advantage on the generic ballot.
Eagles win a thrilling Super Bowl LII (NBC Sports) The Eagles have finally won their first Super Bowl in franchise history. The Patriots gained more than 600 yards of the 1,151 offensive yards in the game and Tom Brady broke his own record by passing for 505 yards, but the Eagles came up with a big game ending defensive play and won the game.
Five takeaways from the Nunes surveillance memo (The Hill) The five takeaways:
Both sides think the memo gives them political ammunition
The FBI's Russia investigation started with Papadopoulos
The controversy around FBI agent Peter Strzok is only going to grow
Memo claims that media was used to push the Trump-Russia narrative
The memo names names
Republicans open to releasing Democrats' countermemo (The Hill) Facing mounting political pressure, Republicans are signaling increasing openness to releasing a Democratic rebuttal to a controversial GOP memo made public Friday by the House Intelligence Committee. Republican lawmakers said Friday evening and Saturday morning that they would be willing to consider releasing a memo by Intelligence Committee Democrats, which is still classified after the Republicans on the committee made public a four-page document alleging surveillance abuses by the FBI and Justice Department.
But many have been steadfast in claiming that the Democratic memo would first need to be scoured to ensure that it does not divulge information that could endanger national security or intelligence gathering.
But the memo also does not seem to betray any "sources and methods" - a phrase used by those who like to keep anything classified secret - that have not already been revealed. Indeed, the memo is a reminder that it's always worth scrutinizing government claims about what must be kept secret. In a statement issued on Wednesday, the F.B.I. said that it had "grave concerns about material omissions of fact that fundamentally impact the memo's accuracy." The phrase "grave concerns" raises worries that national security might be harmed. Or was the narrative laid out in the memo just, all around, a story that was incomplete and unfairly causing embarrassment? Sometimes, in those cases, it helps to make more information public - not less.
GOP turns Pelosi's words into weapon for tax law (The Hill) Republicans are putting House Democratic Leader Nancy Pelosi (Calif.) front and center in their messaging as they seek to use their tax-cut law against Democrats in the midterm elections. President Trump, Vice President Pence and GOP lawmakers have repeatedly invoked Pelosi's criticisms of the law, particularly her comments that the $1,000 bonuses companies announced following the tax law are "crumbs." Tying Pelosi to other Democrats is a time-tested strategy for the GOP, which has for years used the California liberal to attack Democratic candidates and paint the party as elitist.
McCain, Coons to introduce new immigration bill that omits wall funding: report (The Hill) Sens. John McCain (R-Ariz.) and Christopher Coons (D-Del.) will introduce immigration legislation on Monday in an effort to reach a budget deal before the federal government's current funding runs out on Friday, The Wall Street Journal reported. The bipartisan piece of legislation provides recipients of the Deferred Action for Childhood Arrivals (DACA) program, commonly known as "Dreamers," an opportunity for citizenship while ordering a study to figure out what border security measures are needed, according to the Journal. DACA aimed to protect from deportation certain immigrants brought to the U.S. illegally when they were children.
Senate aides told the Journal that the plan would provide people who have resided in the U.S. since Dec. 31, 2013, with legal status and a path to citizenship.
U.S. Indices Trends (Bespoke) Bespoke's Trend Analyzer identifies stocks and ETFs that fit your investment needs across sectors and asset classes. The following table shows the analysis for selected indexed ETFs. All are still in an uptrend and 8 of 14 are still well abiove the 50-day moving average. Tree are below the 50-day moving average, and one (iShares Micro-Cap ETF - NYSE:IWC) is significantly below. All 14 ETFs have moved from overbought a week ago to neutral now.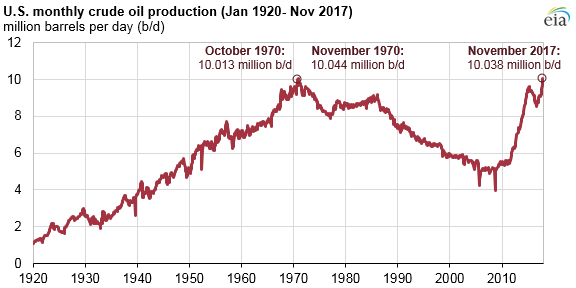 EU
Eurozone Manufacturing is Picking Up (The Daily Shot) The Eurozone manufacturing activity remains near multi-year highs. Price pressures are picking up (which is giving the euro a boost). Is the ECB paying attention? See also next article.
Germany​
The German stock market is set to tumble at the open on Monday as investors react to news that Chancellor Angela Merkel's party and the Social Democrats (SPD) failed to agree to a coalition government on Sunday.
Talks between the parties are now set to drag on.
The German DAX is poised to open almost 167 points lower (1.3%) at 12,618.
Russia
Syrian rebels shot down a Russian warplane and killed its pilot on the ground after he ejected from the plane.
The SU-25 came down in an area of Syria's northern Idlib province that has seen heavy air strikes and fighting between government forces and rebels.
North Korea
China
>>>>> Scroll down to view and make comments <<<<<<
Click here for Historical News Post Listing
Make a Comment
Econintersect

wants your comments, data and opinion on the articles posted. You can also comment using Facebook directly using he comment block below.
---
Econintersect Contributors
---
---
---
---
---
| | |
| --- | --- |
| Print this page or create a PDF file of this page | |
---
The growing use of ad blocking software is creating a shortfall in covering our fixed expenses. Please consider a donation to Econintersect to allow continuing output of quality and balanced financial and economic news and analysis.
---
---
---
---
---
---
---
---