posted on 29 January 2018
Written by Econintersect
Early Bird Headlines 29 January 2018
Econintersect: Here are some of the headlines we found to help you start your day. For more headlines see our afternoon feature for GEI members, What We Read Today, published Monday, Wednesday and Friday, which has many more headlines and a number of article discussions to keep you abreast of what we have found interesting.
---
Please share this article - Go to very top of page, right hand side for social media buttons.
---
​Global
Why a TPP Without the U.S. Is Still a Big Deal (Bloomberg) The Trans-Pacific Partnership is back, even after being spurned by the biggest of its 12 intended members. When President Donald Trump withdrew the U.S. a year ago, the prospects for the trade pact looked bleak. Instead, leaders from Japan's Shinzo Abe to Canada's Justin Trudeau worked through a series of disputes to forge an agreement to keep the framework alive. And while the hope is that the U.S. will return to the fold, the TPP -- with a new, tongue-twister of a name -- will prove an economic and political force in its own right. And one that doesn't include China.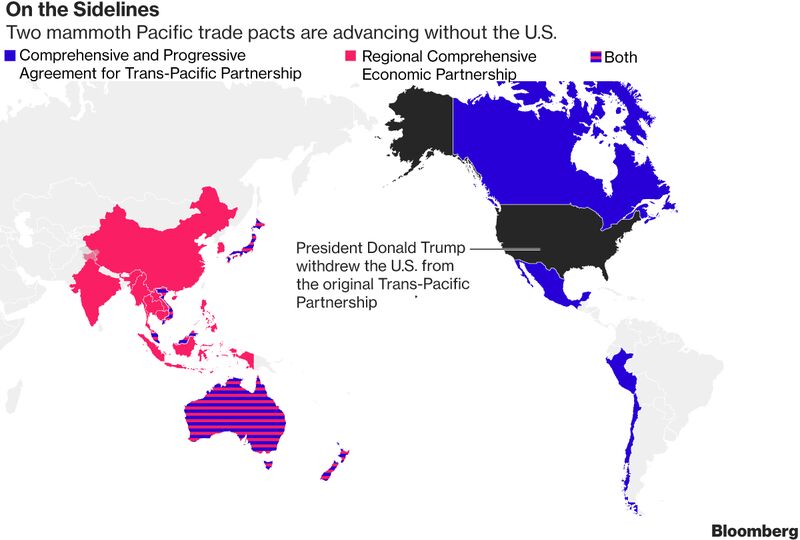 U.S.
Drastically cuts family immigration, the top driver of legal immigration into the United States
Eliminate the Visa Lottery
$25 billion for a border wall
Expediting deportation for people who overstay their visas
From the outset, I've mostly taken a wait-and-see approach to the Russia "collusion" allegations and the Mueller probe. I think I'll take a wait-and-see approach to all of this Strzok-Page-secret-society stuff too. There's just too much theatrics and chest thumping involved. By all means, let's have the appropriate investigations. Let's have some hearings.
... we can say that the year has given the administration's actions a visible shape. "These are not isolated incidents at this point," said Jacob Carter, research scientist for the Center for Science and Democracy at the Union of Concerned Scientists, who has been tracking the administration's attacks against science - at least 65 since the president took office.

"They're happening so often now that there is definitely a pattern starting to emerge. The administration really wants to undermine the role of science and science-based decision making. They're getting the expertise out of the way to further a political agenda."

Carter said these attempts to remove science from government decision-making - ranging from ending a study of the health effects of mountaintop-removal mining to eliminating the words "climate change" from all EPA grants - "have real consequences on peoples' lives. It's about our health and safety. If we don't listen to the best available science, then our lives are at risk."
Flu Season From Hell Keeps Getting Worse (Bloomberg) Children returning to school after the winter holidays appear to be sharing more than just their new toys. They are driving influenza infections to levels not seen since the swine flu pandemic of 2009, public health officials said. By the time this flu season is over, experts said, more than 50,000 Americans will be dead.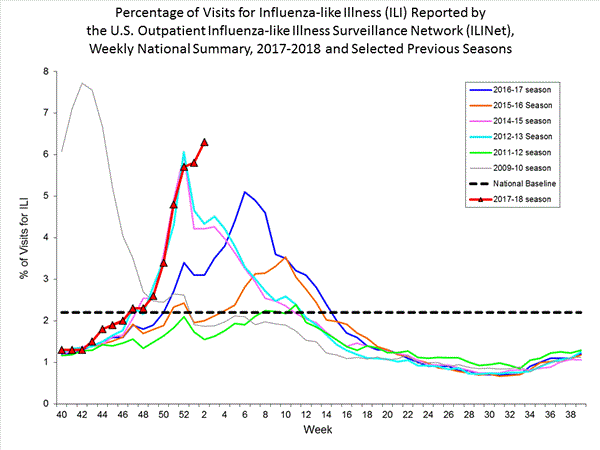 UK
Lord Lansley, the former health secretary, was secretly filmed offering to use his knowledge and connections from within Westminster to provide "intelligence" on Brexit to a Chinese company offering him tens of thousands of pounds.
Peter Lilley, the former deputy Conservative Party leader, was also willing to approach key ministers on the Chinese company's behalf. As part of his pitch for the job he described how he attended two advisory groups with influence over the Brexit ministers, one of which has never previously been revealed.
A third former minister, Andrew Mitchell MP, also appeared happy to give paid Brexit advice to the Chinese company. He charges £6,000 a day and disclosed that he was looking to work up to 10 weeks a year for private clients despite being paid £74,962 as an MP. "My constituents don't mind what I'm paid," he said.
Russia
Navalny had been arrested following his appearance at a rally calling for a boycott of March elections in Russia
Navalny could face 30 days in jail for violating Russian anti-demonstration laws
India
To boost its popularity outside urban areas, Prime Minister Narendra Modi's government may introduce budget measures to boost rural growth.
Greater funding for government crop insurance and increased spending on agricultural infrastructure are possible measures.
Japan
BoJ's Haruhiko Kuroda said inflationary expectations will soon hit the target.
Kuroda said the country has suffered a deflationary mindset.
Japan is considered to now be in full employment.
North Korea
If radical concessions like pulling troops off the peninsula won't work, the U.S. will have to take out Kim's nukes and artillery from the air.
China
Public discussion of a Chinese military invasion of Taiwan has increased of late.
Beijing's launch of a new air corridor over the Taiwan Strait has contributed to those concerns.
Experts say the new flights carry defense implications for Taipei.
Mexico
>>>>> Scroll down to view and make comments <<<<<<
Click here for Historical News Post Listing
Make a Comment
Econintersect

wants your comments, data and opinion on the articles posted. You can also comment using Facebook directly using he comment block below.
---
Econintersect Contributors
---
---
---
---
---
| | |
| --- | --- |
| Print this page or create a PDF file of this page | |
---
The growing use of ad blocking software is creating a shortfall in covering our fixed expenses. Please consider a donation to Econintersect to allow continuing output of quality and balanced financial and economic news and analysis.
---
---
---
---
---
---
---
---