posted on 26 January 2018
Written by Econintersect
This column is normally accessed only through the FREE GEI member newsletter. We are posting this special edition in order that other readers can see what they are missing by not subscribing. Please BECOME A GEI MEMBER and enjoy these thought provoking reports.
---
Please share this article - Go to very top of page, right hand side, for social media buttons.
---
Econintersect: Every day our editors collect the most interesting things they find from around the internet and present a summary "reading list" which will include very brief summaries (and sometimes longer ones) of why each item has gotten our attention. Suggestions from readers for "reading list" items are gratefully reviewed, although sometimes space limits the number included.
This feature is published Monday, Wednesday, and Friday in the late afternoon New York time. For early morning review of headlines see "The Early Bird" published Monday through Friday in the early am at GEI News (membership not required for access to "The Early Bird".).
BECOME A GEI MEMBER - IT's FREE!
Most of this column ("What We Read Today") is available only to GEI members.
To become a GEI Member simply subscribe to our FREE daily newsletter.
Topics today include:​
Minimum Wage Parameters
Scientists discover oldest known modern human fossil outside of Africa
Timeline of Glaciation
The Origin of Us - Fossils of Modern Humans Interbreeding within and outside of Africa
U.S. Is Seen as Better for Growth than China
What Davos thought of Trump's speech
Trump Ordered Mueller Fired, but Backed Off When White House Counsel Threatened to Quit
Mueller Team Has Interviewed Facebook Staff in Russia Probe
Future U.S. Wage Growth
Fierce, deadly flu season still not peaked, CDC says
New Report: Taxpayers Deserve Climate Impact Information for Fossil Fuel Development on Public Lands
Baltimore Judge Tosses Alford Plea, Rebuking Prosecutor
Trial Reveals Widespread Corruption in Baltimore Police Department
Crowd boos as Trump calls media 'fake'
Macron: France Will Shut All Coal-Fired Power Stations by 2021
Spain to block Puigdemont as Catalan president
Turkey to US: Stop YPG support or face 'confrontation'
North Korean ship caught likely violating sanctions, Japan says
North Korea sanctions are strangling this Chinese city
And More
Articles about events, conflicts and disease around the world
U.S.
What Davos thought of Trump's speech (CNN) The consensus was that Trump tailored his "America First" message to the Davos crowd, and toned down his populist rhetoric. But staunch Trump critics were not swayed. Nobel laureate Joseph Stiglitz said:
"It was very much what I expected. They kept it short, because he has a hard time keeping on script."
"Fake news, folks. Fake news. A typical New York Times fake story."
Mueller Team Has Interviewed Facebook Staff in Russia Probe (Wired) Justice's special counsel Robert Mueller and his office have interviewed at least one member of Facebook's team that was associated with President Trump's 2016 presidential campaign, according to a person familiar with the matter.
The interview was part of Mueller's probe into Russian interference in the 2016 election and what role, if any, the Trump campaign played in that interference. Facebook and other social platforms have emerged as a key part of that investigation, not only because the company embedded staff with the San Antonio - based digital team working on Trump's campaign but also because it sold more than 3,000 Facebook and Instagram ads to fake accounts linked to the Russian propaganda group Internet Research Agency. All in, content shared by those accounts reached 126 million Facebook users, including more than 62,000 of whom signed up to attend events organized by those fake accounts.
Fierce, deadly flu season still not peaked, CDC says (CNN) This year's seeminglyunyielding flu season continues to ravage the entire continental United States, as health authorities track additional deaths and hospitalizations -- and there's more of the season left.
Influenza activity continues to be widespread in all states except Hawaii, according to the weekly flu report released Friday by the US Centers for Disease Control and Prevention.

All while, based on the latest data, the flu season has not even peaked yet, said Kristen Nordlund, a spokeswoman for the CDC.
New Report: Taxpayers Deserve Climate Impact Information for Fossil Fuel Development on Public Lands (EcoWatch) A new report released Thursday by The Wilderness Society provides an in-depth look at the significant lifecycle emissions resulting from the development of fossil fuels on U.S. public lands, and the need for the federal government to account for and make available such data to the American public. According to the report, greenhouse gas emissions associated with oil, gas and coal developed on public lands is equivalent to one-fifth or more of total U.S. emissions; meaning if U.S. public lands were a country, it would rank fifth in the world in total emissions behind China, India, the U.S. and Russia. Chase Huntley, energy and climate program director at The Wilderness Society said:
"The U.S. federal government is one of the largest energy asset managers in the world, and yet they are actively keeping their shareholders - American taxpayers - in the dark when it comes to energy development and its associated climate-related risks on our public lands."
France
Macron: France Will Shut All Coal-Fired Power Stations by 2021(EcoWatch) France will shut down all of its coal-fired power plants by 2021, President Emmanuel Macron announced at the World Economic Forum in Davos, Switzerland. The deadline is two years ahead of his predecessor Francois Hollande's goal of shutting down France's coal-powered plants by 2023.
France only produces around 1 percent of its energy from coal-fired stations, as the country is 99 percent dependent on hydrocarbon imports. However, the move from the world's fifth largest economy shows it is determined to be a leader on climate issues and sends a signal to other nations.
Spain
Spain to block Puigdemont as Catalan president (Al Jazeera) Spanish Prime Minister Mariano Rajoy asked the Constitutional Court to block the nomination of former Catalan regional President Carles Puigdemont to resume his post on Friday. The move comes after the Spanish government's Council of Ministers, headed by Rajoy, announced late Thursday night it will attempt to block the nomination. Puigdemont was president of Catalonia's regional government until October, when the parliament declared independence from Spain after a disputed October 1 referendum on secession.
Puigdemont and 12 of his ministers were sacked and charged with various crimes. His former Vice President, Oriol Junqueras of the Catalan Republican Left, remains in prison.
Rajoy called snap regional elections for Catalonia in December after assuming control of the government. The prime minister said new elections would return stability to the region.

Instead, a separatist bloc won an absolute majority.
Turkey
Turkey to US: Stop YPG support or face 'confrontation' (Al Jazeera) Hat tip to Roger Erickson. Is Turkey throwing down a gauntlet? A Turkish official said anyone supporting the YPG militia will become "a target", a warning likely to rile the United States as its forces work alongside the Kurdish armed group on the ground in northern Syria.
Deputy Prime Minister Bekir Bozdag's comments on Thursday came after Turkey threatened to attack the town of Manbij as part of its cross-border operation against the Afrin region, controlled by the Kurdish fighters.

The US has about 2,000 soldiers based in Manbij - about 100km east of Afrin - who work with the YPG in fighting Islamic State of Iraq and the Levant (ISIL, also known as ISIS).
North Korea
North Korean ship caught likely violating sanctions, Japan says(CNN) Photographs taken by a Japanese spy plane show a North Korean tanker likely violating UN sanctions, Japan's Ministry of Foreign Affairs said Wednesday. The images, taken Saturday, show the Rye Song Gang 1 appearing in the dark of night beside a Dominican-flagged ship, the Yuk Tung. The two ships then are seen sailing away from each other after the sun rises on Saturday morning. The ministry said in a statement:
"The (Japanese) government strongly suspect the two engaged offshore delivery which was banned by UN Security Council resolutions."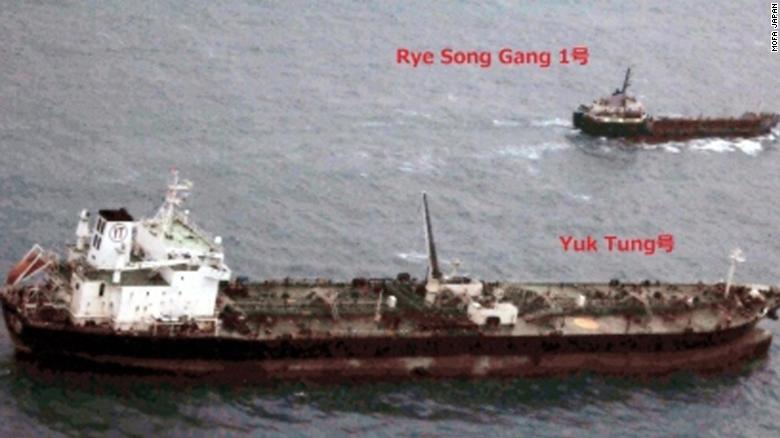 China
North Korea sanctions are strangling this Chinese city (CNN) Empty shops. Failing businesses. And bored North Korean officials drinking their days away. These are the stories being told on the streets of Dandong -- a gritty, frozen city on the banks of the Yalu River, which separates China and North Korea.
For decades, Dandong has been a key trading hub that helped the North Korean regime cash in on China's spectacular economic rise. But now it's suffering as President Trump, alarmed by the rapid development of Kim Jong Un's nuclear weapons program, presses Chinese President Xi Jinping to squeeze North Korea's sources of revenue.
China has yet to fully crack down on the widespread smuggling operations along its porous 880-mile border with North Korea. The North Korean regime is believed to profit from the activities.

In September, CNN witnessed illegal North Korean seafood being sold openly on streets in the city of Hunchun, another town close to the border.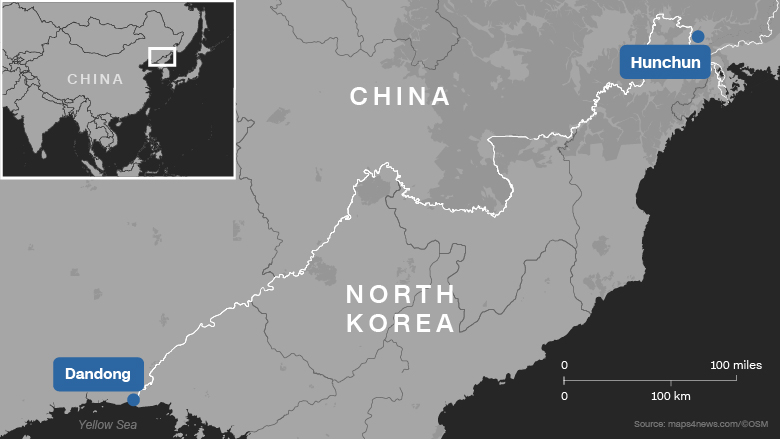 Other Scientific, Health, Political, Economics, and Business Items of Note - plus Miscellanea
Minimum Wage Parameters (Economic Policy Institute) What might have been the history of minimum wage if the policies of the first 30 years of it existence had been continued since then.
The federal minimum wage was established in 1938 to help ensure that regular employment provided a decent quality of life. By making periodic increases in the minimum wage, Congress also guaranteed that the country's lowest-paid workers would share in the benefits of broader improvements in the economy. For the first 30 years of the minimum wage's existence, regular raises allowed the minimum wage to keep pace with growth in economy-wide productivity. But, as the graph shows, since the 1970s Congress has failed to adjust the minimum wage to match the economy's capacity for higher wages - leaving low-wage workers behind.
Scientists discover oldest known modern human fossil outside of Africa (Binghamton University, YouTube) A large international research team, led by Israel Hershkovitz from Tel Aviv University and including Rolf Quam from Binghamton University, State University of New York, has discovered the earliest modern human fossil ever found outside of Africa. The finding suggests that modern humans left the continent at least 50,000 years earlier than previously thought. Homo sapiens in the Middle East (and by geographic proximity, also at least Mediterranean and eastern Europe as well as western Asia) during much of the Illinoian (aka Saalian) Glacial period and all of the Sangamonian (aka Eemian) Interglacial period implies as much as 150,000 years (or even more) proximity of modern man with other homonid species such as Neanderthals and Denisovans. There may be much revision in prehistory of hominids for the last 200,000 years forthcoming. See the next two articles.
Timeline of Glaciation (Wikipedia) Originally, the glacial and interglacial periods of the Quaternary Ice Age were named after characteristic geological features, and these names varied from region to region. It is now more common for researchers to refer to the periods by their marine isotopic stage number.[7] The marine record preserves all the past glaciations; the land-based evidence is less complete because successive glaciations may wipe out evidence of their predecessors.
Ice cores from continental ice accumulations also provide a complete record, but do not go as far back in time as marine data. Pollen data from lakes and bogs as well as loess profiles provided important land-based correlation data.[8] The names system has not been completely filled out since the technical discussion moved to using marine isotopic stage numbers. For example, there are five Pleistocene glacial/interglacial cycles recorded in marine sediments during the last half million years, but only three classic interglacials were originally recognized on land during that period (Mindel, Riss and Würm).[9]
The Origin of Us - Fossils of Modern Humans Interbreeding within and outside of Africa (YouTube) (Econintersect:This will be a future Documentary of the Week.) The of the enduring questions of human origins is when, where and how we "Behaviorally Modern Humans" emerged and why and how we eventually replaced all the other human-like species. This series takes a fresh look at the situation today with a critical examination of the available evidence from multiple sources. Chris Stringer (Natural History Museum, London) leads off with a talk about the Fossil Record of Anatomically Modern Humans, followed by Michael Hammer (Univ of Arizona) on Interbreeding with Archaic Humans in Africa, and Richard "Ed" Green (UC Santa Cruz) on Interbreeding with Archaic Humans outside Africa. Series: "CARTA - Center for Academic Research and Training in Anthropogeny".
>>>>> Scroll down to view and make comments <<<<<<
Click here for Historical News Post Listing
Make a Comment
Econintersect

wants your comments, data and opinion on the articles posted. You can also comment using Facebook directly using he comment block below.
---
Econintersect Contributors
---
---
---
---
---
| | |
| --- | --- |
| Print this page or create a PDF file of this page | |
---
The growing use of ad blocking software is creating a shortfall in covering our fixed expenses. Please consider a donation to Econintersect to allow continuing output of quality and balanced financial and economic news and analysis.
---
---
---
---
---
---
---
---