posted on 18 January 2018
Written by Econintersect
Early Bird Headlines 18 January 2018
Econintersect: Here are some of the headlines we found to help you start your day. For more headlines see our afternoon feature for GEI members, What We Read Today, published Monday, Wednesday and Friday, which has many more headlines and a number of article discussions to keep you abreast of what we have found interesting.
---
Please share this article - Go to very top of page, right hand side for social media buttons.
---
Global
Asian shares nudge higher following US gains; China GDP is coming (CNBC) Stock indexes in Asia on Thursday bounced back from declines in the last session, tracking substantial overnight gains on Wall Street. Investors also awaited a raft of China data due later in the day. (GDP data has been released - see article under China, below.) The dollar index stood at 90.875 at 12:39 p.m. HK/SIN, a touch below Wednesday's close of 90.983. Brent crude futures were at $69.48 at 0103 GMT, up $0.10, or 0.1%, from their last close. U.S. West Texas Intermediate (WTI) crude futures were at $64.15 a barrel, up $0.18, or 0.3%. Spot gold was down 0.2% at $1,324.90 per ounce, as of 0402 GMT. U.S. gold futures for February delivery slipped 1% to $1,325.7 per ounce.
U.S.
Trump's Physical Revealed Serious Heart Concerns, Outside Experts Say (The New York Times) Cardiologists not associated with the White House said Wednesday that President Trump's physical exam revealed serious heart concerns, including very high levels of so-called bad cholesterol, which raises the risk that Mr. Trump could suffer a heart attack while in office.
Dr. Ronny L. Jackson, a rear admiral and the White House physician, said Tuesday in his report on the president's medical condition that Mr. Trump was in "excellent" cardiac health despite having an LDL cholesterol level of 143, well above the desired level of 100 or less.

Dr. Eric Topol, a cardiologist at the Scripps Research Institute, disputed that rosy assessment. He said on Wednesday that the most alarming fact is that the president's LDL levels remain above 140 even though he is taking 10 milligrams of Crestor, a powerful drug that is used to lower cholesterol levels to well below 100.
US border patrol routinely sabotages water left for migrants, report says (The Guardian) Hat tip to Surly1, Doomstead Diner Daily. United States border patrol agents routinely vandalise containers of water and other supplies left in the Arizona desert for migrants, condemning people to die of thirst in baking temperatures, according to two humanitarian groups. In a report published on Wednesday, the Tucson-based groups said the agents committed the alleged sabotage with impunity in an attempt to deter and punish people who illegally cross from Mexico.
Volunteers found water gallons vandalised 415 times, on average twice a week, in an 800 sq mile patch of Sonoran desert south-west of Tucson, from March 2012 to December 2015, the report said. The damage affected 3,586 gallons.

The report also accused border patrol agents of vandalising food and blankets and harassing volunteers in the field.
CES Was Full of Useless Robots and Machines That Don't Work (Daily Beast) This article describes a lot of wonderful technology seen at this year's Consumer Electronic Show (CES) in Las Vegas that work poorly, require more effort to operate than doing a job manually, or simply do not work at all.
UK
"The RBS memo makes shocking reading. It was a step by step guide to fleece RBS customers."
Czech Republic
Czech government resigns as PM fights corruption allegations (The Guardian) The Czech Republic's minority government has resigned, plunging the country into deeper political turmoil, as its recently installed prime minister, Andrej Babiš, fights allegations that he abused an EU subsidy programme a decade ago. Wednesday's resignation - a month after Babiš' appointment - came a day after the government resoundingly lost a vote of confidence it had to win to stay in office. It will continue as a caretaker administration while the Czech president, Miloš Zeman, decides what to do.
Zeman - a populist who has earned notoriety for xenophobic statements - had pledged to reappoint Babiš, a close ally, in the event of Tuesday's confidence vote defeat, which had been widely anticipated.

But that promise may become meaningless because Zeman himself is now in political jeopardy after a worse than expected result in last weekend's presidential election left him facing a nail-biting run-off against liberal opponent Jiř' Drahoš next week.
Turkey
Russia
Trump: Russia Is 'Helping' North Korea (Daily Beast) President Trump on Wednesday accused Russia of violating international sanctions by helping North Korea acquire supplies, according to a new interview with Reuters. Trump told the news agency:
"Russia is not helping us at all with North Korea. What China is helping us with, Russia is denting. In other words, Russia is making up for some of what China is doing."
India
Boost to Indian Bonds From Cut in Extra Borrowing Seen Fleeting (Bloomberg) The 60 percent cut in India's planned additional borrowing brought solace to bond traders, who sent the yield on the benchmark 10-year note down by the most in more than a year. The rally may not endure as the other key factors responsible for the market's worst selloff in 17 years -- accelerating inflation and the supply overhang -- remain, according to ICICI Securities Primary Dealership Ltd. in Mumbai.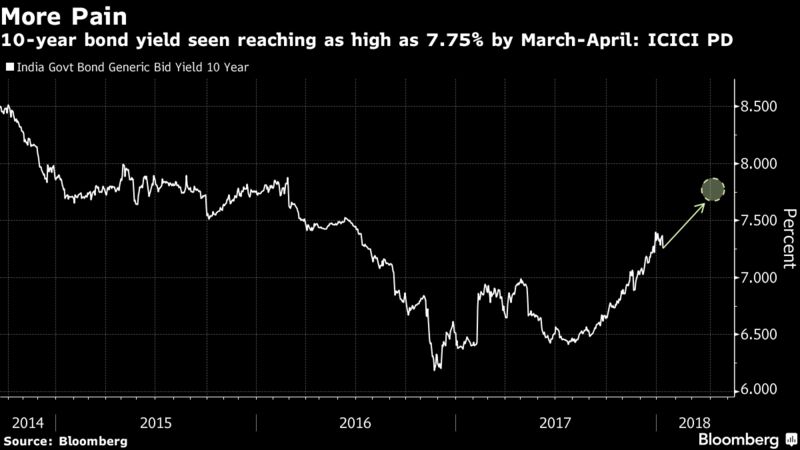 China
Fourth quarter GDP growth was 6.8 percent. The Chinese economy was forecast to have grown 6.7 percent in the fourth quarter from the same period a year ago, and slightly lower than the 6.8 percent in the third quarter, according to a poll of economists by Reuters.
China's Bond Sell-Off Won't Signal a Global Bear Market (Bloomberg) Two-year bonds sold off more than the 10-year securities with a flattening of the yield curve. This is driven more by liquidity and technical issues related to market demand, according to this article, and doesn't reflect recession or inflation expectations.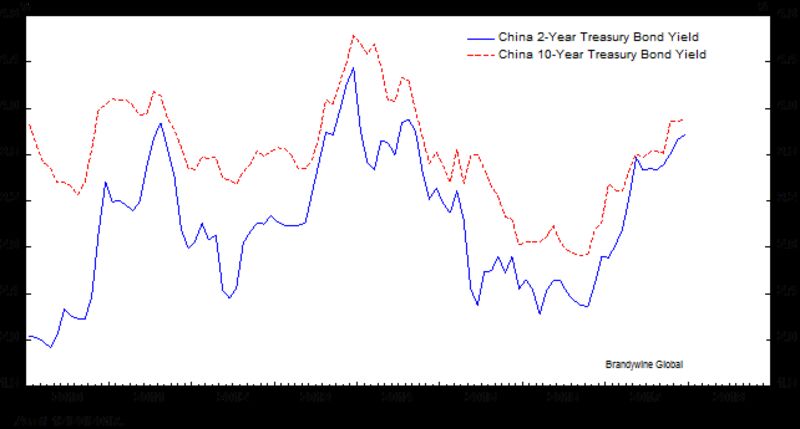 >>>>> Scroll down to view and make comments <<<<<<
Click here for Historical News Post Listing
Make a Comment
Econintersect

wants your comments, data and opinion on the articles posted. You can also comment using Facebook directly using he comment block below.
---
Econintersect Contributors
---
---
---
---
---
| | |
| --- | --- |
| Print this page or create a PDF file of this page | |
---
The growing use of ad blocking software is creating a shortfall in covering our fixed expenses. Please consider a donation to Econintersect to allow continuing output of quality and balanced financial and economic news and analysis.
---
---
---
---
---
---
---
---