posted on 17 January 2018
Written by Econintersect
Early Bird Headlines 17 January 2018
Econintersect: Here are some of the headlines we found to help you start your day. For more headlines see our afternoon feature for GEI members, What We Read Today, published Monday, Wednesday and Friday, which has many more headlines and a number of article discussions to keep you abreast of what we have found interesting.
---
Please share this article - Go to very top of page, right hand side for social media buttons.
---
Global
Researchers find that one person likely drove Bitcoin from $150 to $1,000 (Tech Crunch) Researchers Neil Gandal, JT Hamrick, Tyler Moore, and Tali Oberman have written a fascinating paper on Bitcoin price manipulation. Entitled "Price Manipulation in the Bitcoin Ecosystem" and appearing in the recent issue of the Journal of Monetary Economics the paper describes to what degree the Bitcoin ecosystem is controlled by bad actors. To many it's been obvious that the Bitcoin markets are, at the very least, being manipulated by one or two big players.
"This paper identifies and analyzes the impact of suspicious trading activity on the Mt. Gox Bitcoin currency exchange, in which approximately 600,000 bitcoins (BTC) valued at $188 million were fraudulently acquired."
U.S.
US oil industry set to break record, upend global trade (Reuters) Surging shale production is poised to push U.S. oil output to more than 10 million barrels per day, toppling a record set in 1970 and crossing a threshold few people could have imagined even a decade ago. And this new record, expected within days, likely won't last long. The U.S. government forecasts that the nation's production will climb to 11 million barrels a day by late 2019, a level that would rival Russia, the world's top producer.

The economic and political impacts of soaring U.S. output are breathtaking, cutting the nation's oil imports by a fifth over a decade, providing high-paying jobs in rural communities and lowering consumer prices for domestic gasoline by 37 percent from a 2008 peak.

How Much Money Has Trump Made From His Hotels And Golf Clubs? (International Business Times) Paying Trump properties for event rentals and/or overnight stays were 35 political candidates or political organizations, 16 trade or interest groups, four charities (including one run by Eric Trump), four foreign governments, three religious groups, two companies and one college football team. These bookings amounted to more than $2.6 million in total payments to Trump businesses (not including profits from Mar-a-Lago, the president's Florida golf resort).
This business income benefits the president personally, since he didn't divest from the Trump Organization upon taking office, ignoring recommendations by the Office of Government Ethics and other ethics experts. His sons are managing the day-to-day business operations, but in March, Eric Trump admitted that he talks with his father frequently.
Freedom Caucus chair: GOP leaders don't have votes to avoid shutdown (The Hill) Members of the Freedom Caucus met Tuesday night after GOP leaders pitched a new strategy to pass a stopgap spending bill, which would fund the government through Feb. 16 and be paired with a six-year extension of funding for the Children's Health Insurance Program (CHIP). The plan would also delay ObamaCare's medical device and Cadillac taxes for two years, and the health insurance tax for one year starting in 2019. But Rep. Mark Meadows (R-N.C.), the chairman of the House Freedom Caucus, said late Tuesday night that House GOP leadership did not have the votes to pass a government funding bill.
Drawing the lines on gerrymandering (CBS News) Federal judges this past week ordered a redrawing of the lines between Congressional Districts in North Carolina, while the Supreme Court agreed to hear an appeal of a similar ruling in Texas. And then there's Pennsylvania -- which features a Congressional map that, some critics say, looks like a cartoon. Mo Rocca reviews the issue of gerrymandering:
New California declares "independence" from rest of state (CBS) The state of New California would incorporate most of the state's rural counties, leaving the urban coastal counties to the current state of California. But unlike other separation movements in the past, the state of New California wants to do things by the book, citing Article 4, Section 3 of the U.S. Constitution and working with the state legislature to get it done, similar to the way West Virginia was formed. Econintersect: This map looks like a typical gerrymander. Not only because of the irregular boundaries, but also because the two new states look like a never-Democrat and a never-Republican.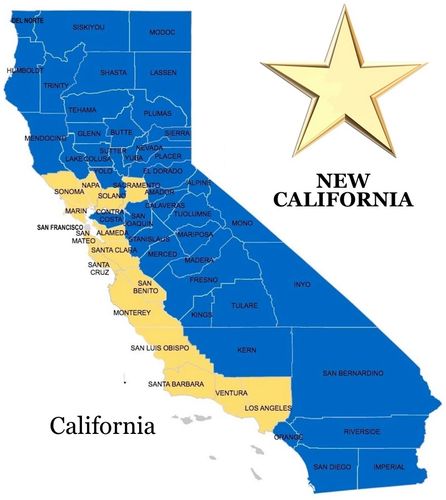 Hawaii missile mess: That was no 'wrong button.' Take a look. (The Washington Post) Pushing the "wrong button" was the explanation provided in an official timeline for that false warning that scared the devil out of people in Hawaii on Saturday morning alerting them to an incoming ballistic missile that never was. "The wrong button was pushed," declared Vern Miyagi, head of the state's emergency management agency. But as The Washington Post's Amy Wang reported, the errant employee actually was working with a drop-down menu on a computer program, from which the official chose the wrong item. On Monday, state officials released an image of that menu, provided to The Post by Hawaii News Now, and it shed some light on why it might be confusing.
UK
The fallen value of the pound following the Brexit vote has been the main driver behind rising prices. But the nature of currency-driven inflation is that it tends to be short-lived and self-correcting. Sterling has been steadily rising since the start of the year, passing $1.38 for the first time since Britain's decision to leave the EU.
Second, with our pay packets not rising as fast as prices, we're feeling progressively poorer as each month rolls by and this inevitably means we'll spend less. Less consumption, in time leads to weaker inflation.
An ageing population limits the size of the global workforce, which by corollary suppresses economic activity. Rising inequality and the growing cohort of self-employed people with limited earning power, means less money to spend. Again, that means less consumption and keeps a lid on inflation over the long term.
Palestine
What's at stake if Trump cuts funding to Palestinians? (CBS News) Across the Middle East, millions of people who depend on UNRWA (U.N. agency for Palestinian refugee families) are bracing for the worst. The expected cut could also add instability to struggling host countries already coping with spillover from other regional crises. UNRWA was established in the wake of the 1948 Mideast war surrounding Israel's creation. The original refugee camps for displaced Palestinians have turned into concrete slums and more than 5 million refugees and their descendants now rely on the agency for services including education, health care and food. The largest populations are in Gaza, the West Bank, Jordan and Lebanon. Suspension of U.S. support would create chaos.
Russia
U.S. Treasury's List of Putin 'Oligarchs' Jolts Russia's Elite Class (Bloomberg) The U.S. Treasury Department is finishing its first official list of "oligarchs" close to President Vladimir Putin's government, setting off a flurry of moves by wealthy Russians to shield their fortunes and reputations. Some people who think they're likely to land on the list have stress-tested the potential impact on their investments, two people with knowledge of the matter said. Others are liquidating holdings, according to their U.S. advisers. Russian businessmen have approached former Treasury and State Department officials with experience in sanctions for help staying off the list.
Afghanistan
North Korea
China
Xi Jinping's debt clampdown has left a trail of dead projects (The Economic Times) Many costly projects have been abandoned after Beijing prioritises fiscal responsibility over growth. Will this finally slow China's investemnt behemoth?
China's Bond Sell-Off Won't Signal a Global Bear Market (Bloomberg) The unrelenting sell-off in China's $9 trillion onshore bond market last year caused deep angst among investors. That performance is far from enticing as the country aims to further open up this market, the world's third largest, through initiatives such as the Bond Connect program. For now, foreign investors account for less than 2 percent of the onshore market, though it is likely to be included in major bond indexes in 2018. If that happens, foreigners' exposure may become mandatory. So does this sell-off signal an investment opportunity? The answer is not yet, but things are starting to look more interesting. But neither is this sell-off the harbinger of a global bond bear market. It is primarily driven by financial deleveraging.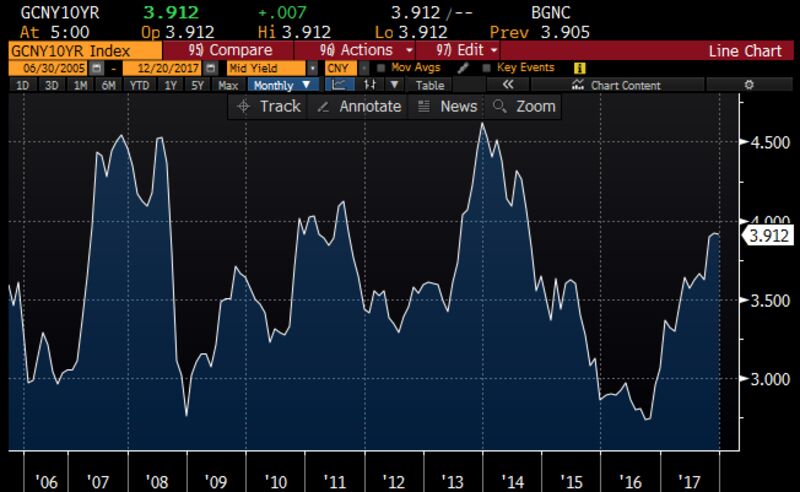 >>>>> Scroll down to view and make comments <<<<<<
Click here for Historical News Post Listing
Make a Comment
Econintersect

wants your comments, data and opinion on the articles posted. You can also comment using Facebook directly using he comment block below.
---
Econintersect Contributors
---
---
---
---
---
| | |
| --- | --- |
| Print this page or create a PDF file of this page | |
---
The growing use of ad blocking software is creating a shortfall in covering our fixed expenses. Please consider a donation to Econintersect to allow continuing output of quality and balanced financial and economic news and analysis.
---
---
---
---
---
---
---
---