posted on 12 January 2018
Written by Econintersect
Early Bird Headlines 12 January 2018
Econintersect: Here are some of the headlines we found to help you start your day. For more headlines see our afternoon feature for GEI members, What We Read Today, published Monday, Wednesday and Friday, which has many more headlines and a number of article discussions to keep you abreast of what we have found interesting.
---
Please share this article - Go to very top of page, right hand side for social media buttons.
---
Global
Asian shares claw back slight gains as euro gains; Fast Retailing jumps 6% (CNBC) Major Asian markets clawed back slight gains on Friday after finishing slightly lower in the last session, with most major indexes in the region tracking the strong lead from Wall Street. The dollar index edged down to trade at 91.835, extending losses seen in the last session. U.S. crude futures retreated 0.3% to trade at $63.61 per barrel after touching a three-year high overnight. Brent crude was steady at $69.25, having scaled the $70 level in the last session. See next article. Spot gold edged up 0.3% to $1,326.68 an ounce by 0318 GMT. Prices rose their highest since Sept. 15, 2017, at $1,327.
Oil Reaches $70 a Barrel for First Time in Three Years (Bloomberg) Oil topped $70 a barrel in London for the first time in three years as production cuts by OPEC and rising demand whittle away a global surplus. Brent crude futures, used in the pricing of more than half the world's oil, rose as much as 1.2% to the highest since Dec. 4, 2014. Prices rallied after the longest stretch of declines in U.S. inventories during winter in a decade.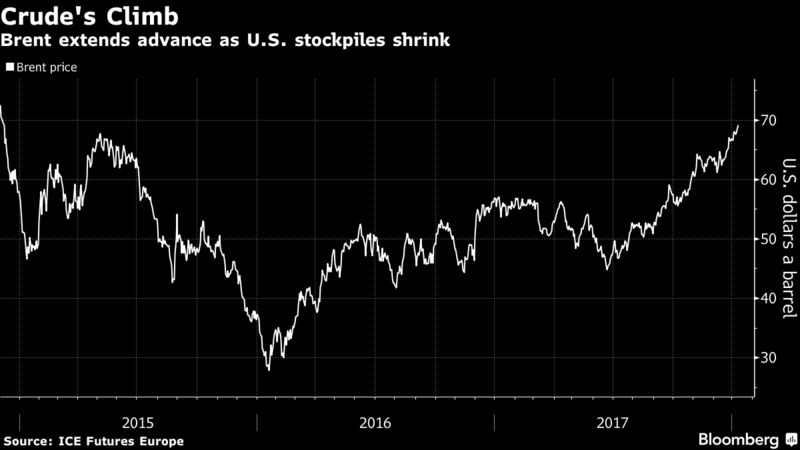 U.S.
The Centers for Medicare and Medicaid Services released guidelines Wednesday allowing states to implement work requirements for Medicaid.
While Medicaid enrollees would have to prove they were employed, in school, or in a job training program, there would also be exemption for the sick, elderly, pregnant women, and caretakers.
This will be the first work requirement in Medicaid's 52-year history.
White House Rejects Bipartisan Senate Immigration Proposal (Bloomberg) The Trump administration rejected a bipartisan Senate proposal to protect young undocumented immigrants from deportation, saying it needed more work. President Donald Trump's congressional liaison Marc Short said the administration is concerned about a number of issues including the amount of protection at the U.S.-Mexico border and family preferences for immigrants. After going to the White House to present the proposal, GOP Senator Lindsey Graham told reporters he hoped the meeting would lead to "a breakthrough" on immigration.
The Minneapolis Fed proposed a set of sweeping rules Wednesday that would increase capital requirements for big banks and tax shadow banks.
The branch's president, Neel Kashkari, has been a vocal critic of major institutions, saying they continue to represent a systemic threat 10 years after the financial crisis.
In the current deregulatory environment, the proposals stand little chance of getting approved.
The transcript of Fusion GPS co-founder Glenn R. Simpson's interview with the Senate Judiciary Committee was released by Sen. Dianne Feinstein (Calif.), the panel's senior Democrat, over the objections of Chairman Charles E. Grassley (R-Iowa).

Feinstein's action comes alongside an effort by Republicans to discredit the dossier as a politically motivated document that the FBI has relied too heavily upon in its investigation.
In Fusion GPS Testimony, More Questions Than Answers (The Real News Network) As President Trump refuses to commit to an interview with Special Counsel Robert Mueller, the long-awaited testimony of Glenn Simpson, founder of the firm behind the Steele dossier, has been released. Independent journalist Marcy Wheeler and Aaron Mate discuss:
What testimony on the Trump dossier adds to the Russia probe (PBS) What does Glenn Simpson's newly released testimony about the Trump-Russia dossier reveal? In a unilateral move, Sen. Dianne Feinstein publicly shared the nearly 11-hour exchange. Judy Woodruff talks with Mark Mazzetti of The New York Times to recap why the Senate Judiciary Committee wanted to talk with Simpson about the Trump dossier and Republican resistance to releasing the transcript.
Weekly Heating Oil Prices (Advisor Perspectives) We've used data based on the Energy Information Administration (EIA), which publishes price data weekly on home heating oil in 38 states by dollar-per-gallon before taxes. Unlike natural gas and electricity, home heating oil is provided by independent retailers. The latest price of home heating oil nationwide is $3.18, up eleven cents from last week and up fifty cents since the beginning of the season. EIA's heating oil data is seasonal - from October through March. Below is a look at the series since its inception in 1990. Econintersect: Heating oil is currently priced 3X what it was from 1993-2003. The CPI from 2003-2017 is up approximately 70%. Obviously heating oil has hit home owners' budgets much harder than many other items. Healthcare per capita has increased about the same amount as fuel oil over the same number of years (2001-2015). [80% real increase is ~300% nominal increase with 70% normalizing inflation.]
North Korea
China on Friday reported a sharp drop in trade with North Korea in 2017
In December, China's imports from North Korea slumped 81.6 percent from a year ago, while exports to the reclusive nation fell 23.4 percent in the same period
China
China's trade surplus with the US hit a record high in 2017 (CNBC) China's 2017 trade surplus with the U.S. was $275.81 billion, the country's customs data showed Friday, according to Reuters. By that data, last year's surplus is a record high, the wire service reported. For comparison, the previous record was a surplus of $260.8 billion in 2015.
Uyghur Muslims: Victims of the World's Largest Ethnic Cleansing. (ExtraNewsfeed) China is carrying out a systematic campaign to ethnically cleanse up to 15 million Uyghur Muslims in Xinjiang, or rather what was East Turkistan until China began occupying and colonizing the region in 1949. When Uyghur Muslims renewed calls for a return to their independence in the 1980s and 90s, a status they enjoyed briefly as a sovereign state in the 1940, then known as the East Turkistan Republic, and as former neighboring Soviet states realized independence, China, fearing a growing separatist movement on its western frontier, began its crackdown on Xinjiang in the late 1990s.
Moreover, China is sparing no effort to eradicate any memory or proof of Uyghur Muslim life. It is truly the stuff of dystopian nightmares, or a reenactment of the worst genocides carried out in the previous century. The handful of personal accounts that trickle out from behind China's total control of the Internet and the media invoke memories of the Communist state's darkest days  -  the period of the "Cultural revolution," when religious people and sites were wiped from the country's landscape.
Australia
A month in, Tesla's SA battery is surpassing expectations (The Conversation) It's just over one month since the Hornsdale power reserve was officially opened in South Australia. The aspect that has generated the most interest is the battery's rapid response time in smoothing out several major energy outages that have occurred since it was installed. Following the early success of the SA model, Victoria has also secured an agreement to get its own Tesla battery built near the town of Stawell.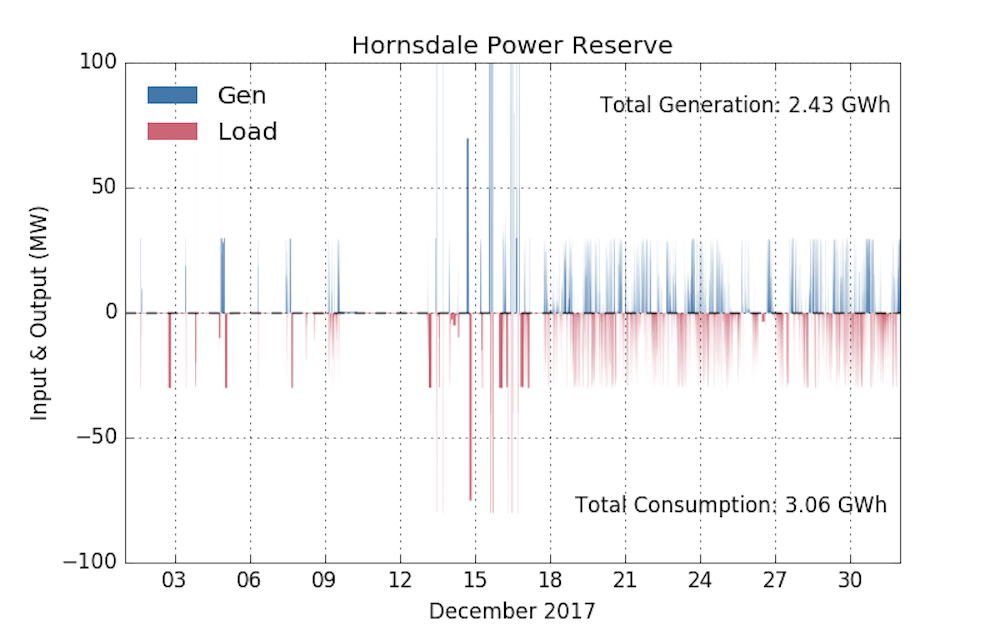 Mexico
Trump told The Wall Street Journal that the United States' southern neighbor could end up funding the proposed structure on its border with the U.S. if the North American Free Trade Agreement gets tweaked. He told the newspaper in an interview:
"They can pay for it indirectly through NAFTA. We make a good deal on NAFTA, and, say, I'm going to take a small percentage of that money and it's going toward the wall. Guess what? Mexico's paying."
>>>>> Scroll down to view and make comments <<<<<<
Click here for Historical News Post Listing
Make a Comment
Econintersect

wants your comments, data and opinion on the articles posted. You can also comment using Facebook directly using he comment block below.
---
Econintersect Contributors
---
---
---
---
---
| | |
| --- | --- |
| Print this page or create a PDF file of this page | |
---
The growing use of ad blocking software is creating a shortfall in covering our fixed expenses. Please consider a donation to Econintersect to allow continuing output of quality and balanced financial and economic news and analysis.
---
---
---
---
---
---
---
---