posted on 07 January 2018
Written by Econintersect
This is a repost of Friday's column which was read only by GEI newsletter subscribers. Columns like this are published every Monday, Wednesday, and Friday afternoons. The link to read the full article is deivered with the daily FREE newsletter listing GEI content on the relevant days.
We are reposting this for all readers so that you can see what you are missing if you are not a newsletter subscriber.
---
Please share this article - Go to very top of page, right hand side, for social media buttons.
---
Econintersect: Every day our editors collect the most interesting things they find from around the internet and present a summary "reading list" which will include very brief summaries (and sometimes longer ones) of why each item has gotten our attention. Suggestions from readers for "reading list" items are gratefully reviewed, although sometimes space limits the number included.
This feature is published Monday, Wednesday, and Friday in the late afternoon New York time. For early morning review of headlines see "The Early Bird" published Monday through Friday in the early am at GEI News (membership not required for access to "The Early Bird".).
BECOME A GEI MEMBER - IT's FREE!
Most of this column ("What We Read Today") is available only to GEI members.
To become a GEI Member simply subscribe to our FREE daily newsletter.
Topics today include:​
Does the Phillips Curve Have Any Use Today?
Monetary Policy for Full Employment and Price Stability
What Would have happened 50 Years After the South Won the Civil War?
Scientists warn we may be creating a 'digital dark age'
Not Much Cash on the Sidelines
The 'CAPE To Saving Rate' Ratio Signals A Terrible 2018 For U.S. Stocks
Ancient DNA discovery reveals previously unknown population of native Americans
Does the US Navy have a strategy beyond hope?
Michael Wolff's Whithering Portrait of President Donald Trump
Three Takaways from Michael Wolff's Book
The Most Frightening Aspect of Trump's Tax Triumph
Comey's original Clinton memo released, cites possible violations
FBI launches new Clinton Foundation investigation
Gallup: Obama, Hillary Clinton remain most admired
Clinton Hits Record Low In Poll With 61 Percent Unpopularity
Why the U.S. Spends So Much More Than Other Nations on Health Care
"It's the prices, stupid."
Refinery Input Surge
The Europe that Was
Stratfor: Iran's leaders face their greatest challenge
USAF: Skies over Iraq and Syria are "treasure trove" for adversary eyes
US suspends security assistance to Pakistan
And More
Articles about events, conflicts and disease around the world
Global
Ancient DNA discovery reveals previously unknown population of native Americans (New Atlas) This latest discovery reveals a distinctive, and previously undiscovered human lineage that surprised researchers, who were expecting to find a genetic profile that matched northern Native American people. The study of this ancient child's DNA (from ca. 11,500 years ago) pointed to an entirely new population of people, separate to those that ultimately spread throughout the rest of North America.
The researchers suggest two possible theories to explain this new lineage. Either two separate groups of people crossed the land bridge into the Americas over 15,000 years ago, or one group crossed, and then split into two entirely independent populations. Closer genetic sequencing suggests the latter outcome is the most likely, but why and how this Ancient Beringian population remained so genetically isolated and distinct for so many subsequent years remains a mystery.
U.S.
Does the US Navy have a strategy beyond hope? (Defense News) Hat tip to Roger Erickson. Worldwide challenges abound. China is effectively moving the U.S. out of the western Pacific positions of influence held since the 1940s - ironically using a fast-growing and ever-more effective naval force modeled on that of the United States. Virtually every country in the region is re-evaluating political and military realities as China's influence grows. Russian sea power is reasserting itself in the Mediterranean, Black and Baltic seas and most disturbingly in the undersea arena, where a growing threat could compromise or destroy the undersea cables upon which the internet relies.
The U.S. Navy begins the new year in crisis. By its own admission many of its ships and aircraft are in poor condition. Training is not where it should be, its ships can't maneuver properly around other ships, and Navy leaders for years have complained the service is overstretched, constantly struggling to meet requirements and falling short in any number of areas. It is by no means clear that new ideas and concepts are being implemented to counter ever-growing military rivals.
[The book is based on] "conversations that took place over a period of eighteen months with the president, with most members of his senior staff - some of whom talked to me dozens of times - and with many people who they in turn spoke to."
The Most Frightening Aspect of Trump's Tax Triumph (The New Yorker) The lies told by powerful men - and the thanks heaped on the most powerful man of all - are the language of a dictatorship.
Comey's original Clinton memo released, cites possible violations (The Hill) Ex-FBI Director James Comey's original statement closing out the probe into Hillary Clinton's use of a private email server was edited by subordinates to remove five separate references to terms like "grossly negligent" and to delete mention of evidence supporting felony and misdemeanor violations, according to copies of the full document. Comey also originally concluded that it was "reasonably likely" that Clinton's insecure private sever was accessed or hacked by hostile actors though there was no evidence to prove it. But that passage was also changed to the weaker "possible", the memos show. See also FBI launches new Clinton Foundation investigation.
Gallup: Obama, Hillary Clinton remain most admired (CNN) Gallup's December poll found 17% of respondents named Obama the man they admired most, a dip from 22% of respondents saying the same last year. President Donald Trump took second place with 14% of respondents citing him when asked, open-ended, to name the man they admired most. Gallup said about one-quarter of respondents could not name a man or woman they admire most, roughly similar to last year's share who offered no opinion in response to the question. The two presidents were the only ones to garner double digit support. Pope Francis took third place with 3% of respondents, and the rest of the top dozen men included politicians, religious figures and billionaires.
Clinton's 16th consecutive year topping the most admired women's poll showed her support dip this time from 12% to 9% of respondents. Former first lady Michelle Obama came in second with 7% of respondents, and the third place finisher at 4% support was Oprah Winfrey. The rest of the list included political figures, British royalty and Beyoncé Knowles. One percent of those surveyed named first lady Melania Trump their most admired woman, bringing her name into the top tier for the first time.
We have previously noted that polls have shown Trump would still beat Clinton in a head-to-head election (and here). While Trump is also facing declining polls, he is at the same level or even higher than Clinton. Clinton posted the lowest polling numbers yet with only 36% popularity and an unfavorable rating of 61%. Polls are showing Trump at 38 percent. While a new poll shows that half of people feel Trump should resign, it is clear that they want Clinton even less - the very same position held by many in the campaign.
Why the U.S. Spends So Much More Than Other Nations on Health Care(The New York Times) Studies point to a simple reason, the prices, not to the amount of care. And lowering prices would upset a lot of people in the health industry. See "It's the prices, stupid." This study found that people in the United States typically use about the same amount of health care as people in other wealthy countries do, but pay a lot more for it.
Refinery Input Surge (The Daily Shot) Refinery inputs hit a record high for this time of the year. This after new records were also set during the summer.
EU
The Europe that Was (imgur) For millennia before 16,000 BC what are now the British Isles and Ireland were part of the continent of Europe.
Iran
Stratfor: Iran's leaders face their greatest challenge (Fabius Maximus) FMhas contributed to GEI. Stratfor describes the Mullahs' greatest challenge: their own people. Originally staged to express economic grievances, the gatherings across Iran have broadened in scope to reject the country's political status quo. However, despite their growth turn toward violence over the weekend, the protests will need to attract support from several different strata of Iranian society if they are to continue growing. Thus far, they do not appear organized enough to turn into a threat big enough to challenge the government.
Russia
Pakistan
US suspends security assistance to Pakistan (Defense News) Hat tip to Roger Erickson. The decision by the U.S. to suspend security assistance to Pakistan could have serious consequences for the American-led fight in Afghanistan, and potentially further strengthen ties between Islamabad and China. State Department Spokeswoman Heather Nauert announced new restrictions on Thursday that cover security assistance above and beyond the $255 million for Pakistani purchases of American military equipment that the administration held up in August, but it was not immediately clear how much money and materiel was being withheld.
Nauert made clear the $255 million was still blocked. The new action targets payments of so-called Coalition Support Funds that the U.S. pays to Pakistan to reimburse it for its counterterrorism operations. Those funds are typically paid later in the year, and already require U.S. certification, so the effect of Thursday's announcement was unclear.

The move comes days after President Donald Trump's New Year's Day tweet that accused Pakistan of playing U.S. leaders for "fools," as well as a growing number of voices from the administration that have complained Pakistan is not doing enough to combat militants targeting U.S. personnel in neighboring Afghanistan.
Other Scientific, Health, Political, Economics, and Business Items of Note - plus Miscellanea
An essential aspect of the critique of the orthodox economics, concerns the fiscal and monetary policy implications that follow from a conception of money based upon a series of fictional stories about barter (Graeber 2011). This mythology includes Locke's use of gold to relieve the spoilage and prejudice constraints, Adam Smith's savage truckers and barterers, the Treasury View's loanable funds model of savings and investment, Milton Friedman's helicopter drops of cash, and the all too common meme that the federal budget should be managed as if it is a household budget1 . The result of this barter narrative is the continued restriction of our most powerful "social technology" (Ingham 2000). Commodity money economics places unnecessary limits on the sovereign currency issuer's ability to fully apply the policy space available to enhance the lives of its citizens.
Scientists warn we may be creating a 'digital dark age' (PCI, MSN) Digital media have much shorter lifespans than older media such as film and paper. Mankind risks the loss of much information over time unless technology advances. But there may be hope. From this article, quoting Kari Kraus, an associate professor in the College of Information Studies at the University of Maryland in College Park and who helps run a project that rescues and resurrects digital relics, including video games and virtual worlds, knows about bit rot, and its close relative "software rot," in which old files, games and other data becomes unusable because no format exists to read and reproduce the information:
"Different storage media have different lifespans," Kraus says. "In our project, we worked a lot with magnetic media like floppy disks and those only have a lifespan of, say, 10 to 14 years. Optical media like DVDs and CD-ROM, I believe have even less. It is going to be a problem across different storage media."

Lauren Young says some researchers see hope in one of the newest technologies: DNA storage. "Basically, researchers have found a way to store data onto DNA, which is a billion-year-old molecule that can store the essence of life," Young explains. "It's pretty incredible that they can do that. It's all synthetically made; it's not genomic DNA."

In this case, storage capacity is measured in petabytes; that is, millions of gigabytes. Science Magazine writes: "A single gram of DNA could, in principle, store every bit of datum ever recorded by humans in a container about the size and weight of a couple of pickup trucks."
Not Much Cash on the Sidelines (The Daily Shot) One of the indicators of potentially higher prices for stocks is money still not invested but readily available ("on the sidelines"). In that regard, Schwab's retail investors' cash holdings are at record low levels.
Surging P/E ratios and plummeting saving rates are hallmarks of bull markets.
During 2017, the U.S. stock market has been blessed by both.
But this blessing could easily turn into a curse in 2018 as P/E ratios cannot forever increase and personal saving rates cannot forever decrease.
As 2017 draws to a close, the ratio between the two has again reached euphoric highs indicating troubles ahead in 2018 for the U.S. economy and the stock market.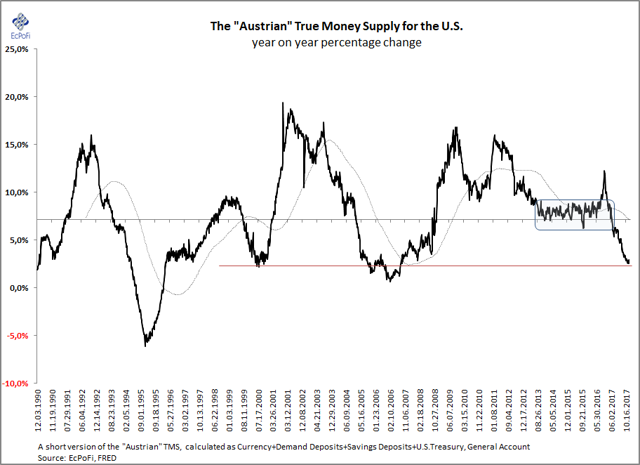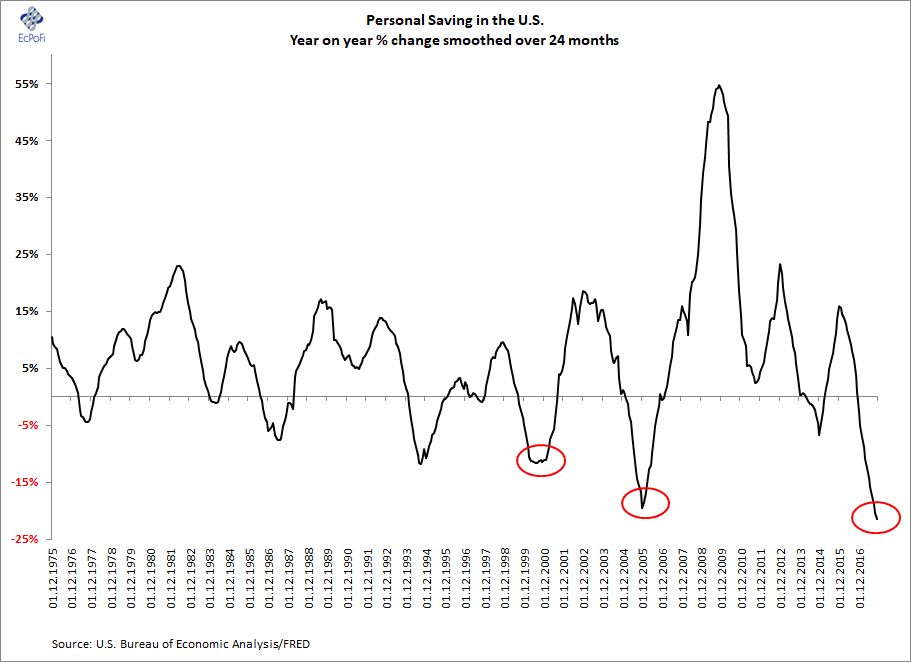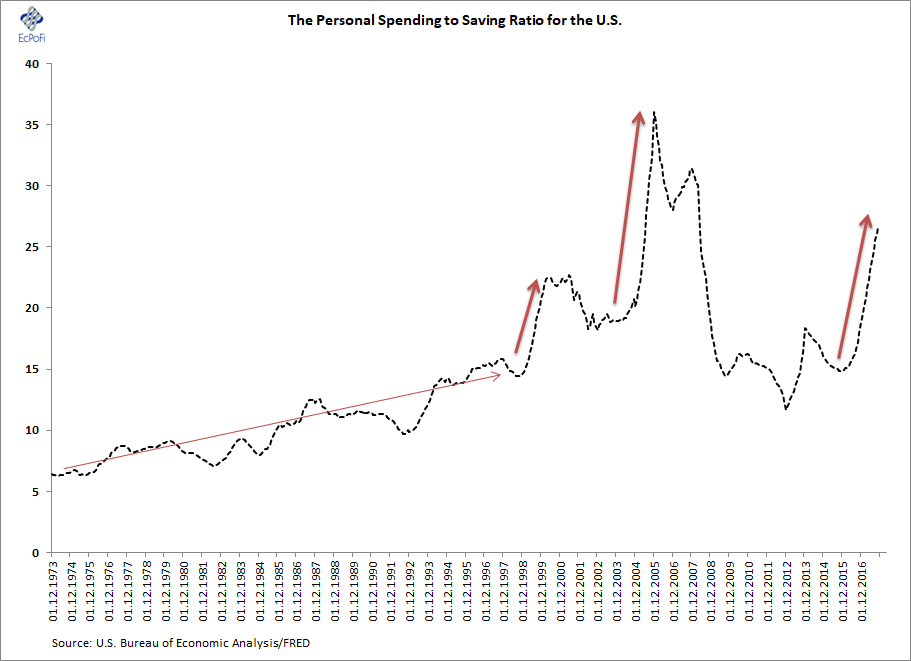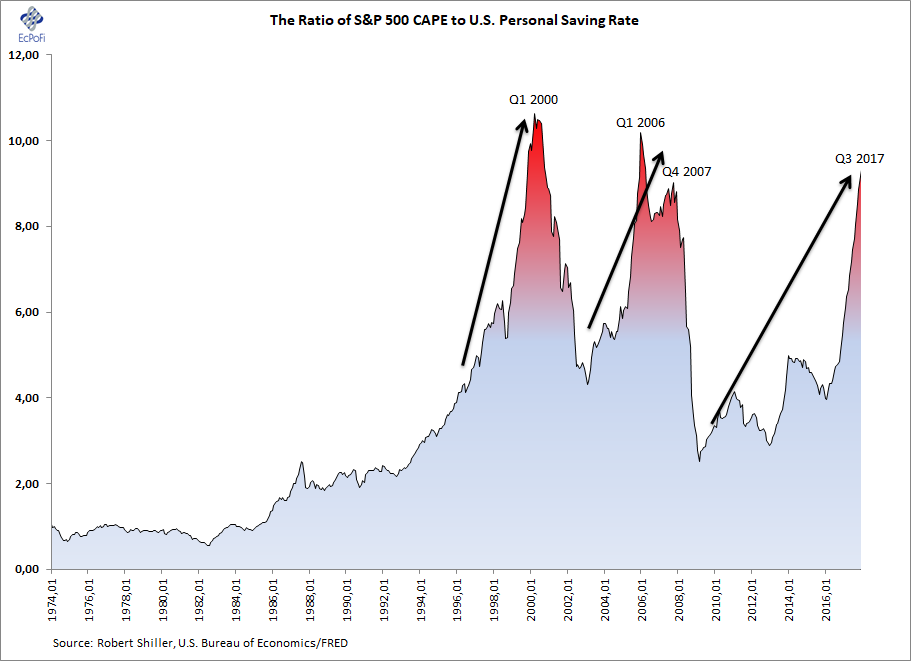 >>>>> Scroll down to view and make comments <<<<<<
Click here for Historical News Post Listing
Make a Comment
Econintersect

wants your comments, data and opinion on the articles posted. You can also comment using Facebook directly using he comment block below.
---
Econintersect Contributors
---
---
---
---
---
| | |
| --- | --- |
| Print this page or create a PDF file of this page | |
---
The growing use of ad blocking software is creating a shortfall in covering our fixed expenses. Please consider a donation to Econintersect to allow continuing output of quality and balanced financial and economic news and analysis.
---
---
---
---
---
---
---
---