posted on 04 January 2018
Written by Econintersect
Early Bird Headlines 05 January 2018
Econintersect: Here are some of the headlines we found to help you start your day. For more headlines see our afternoon feature for GEI members, What We Read Today, published Monday, Wednesday and Friday, which has many more headlines and a number of article discussions to keep you abreast of what we have found interesting.
---
Please share this article - Go to very top of page, right hand side for social media buttons.
---
Special Announcement
The Early Bird has returned and will be published Monday through Friday.
Global
Asian indexes climb on global optimism (CNBC) Asian markets tracked stateside gains on Friday after the Dow Jones industrial average hit a major milestone. Markets in the region traded at or around multi-year highs, with Japan's benchmark index near a 26-year high and the Hang Seng Index earlier touching a fresh decade-high. The dollar index was mostly flat at 91.852 at 12:38 p.m. HK/SIN, above a low of 91.798 seen on Thursday. U.S. West Texas Intermediate was off by 0.05% at $61.98 per barrel and Brent crude futures shed 0.07% to trade at $68.02. Spot gold was mostly unchanged at $1,322.50 an ounce at 0102 GMT. Spot gold was on track for its fourth straight weekly climb, rising 1.5% so far this week.
U.S.
Stunning images of the 'bomb cyclone' (CNBC) Here is a satellite image of the bomb cyclone, shaped like a comma, from the new GOESeast satellite. Econintersect: Our estimate is that the cloud cover of the coma covers well over 1,000 miles. This would make the geographic extent larger than sandy.
Bannon was just spouting off.
Bannon is indeed trying to "burn it all down."
Bannon is trying to distance himself from the Russia probe.
"a heavily made-up Trump failed to recognize a succession of old friends. It used to be inside of 30 minutes he'd repeat, word-for-word and expression-for-expression, the same three stories - now it was within 10 minutes. Indeed, many of his tweets were the product of his repetitions - he just couldn't stop saying something."
Mueller Has Now 'Substantiated Claims' Made by James Comey About Trump: Report (Alternet) A New York Times report released late on Thursday reveals that special counsel Robert Mueller has "substantiated claims that Mr. Comey made in a series of memos describing troubling interactions with the president before he was fired in May." The stunning report also claims that a deputy White House lawyer deliberately misled President Donald Trump about his ability to fire Comey, in fear the president would imperil his own presidency. Stephen Vladeck, a law professor with the University of Texas School of Law, said the "extraordinary" episode did not have any historical parrallel of which he was aware.
Sessions will end policy that allowed legalized marijuana to prosper (The Hill) Attorney General Jeff Sessions will roll back an Obama-era policy that gave states leeway to allow marijuana for recreational purposes.
The Justice Department on Thursday afternoon released a memo announcing that the so-called Cole memo - which ordered U.S. attorneys in states where marijuana has been legalized to deprioritize prosecution of marijuana-related cases - would be rescinded effective immediately.
Four Fed Hikes in 2018? (The Daily Shot) US financial conditions continue to ease, raising the possibility of four rate hikes this year.
UK
New book claims former PM was angling for job
President 'horrified' at own election victory
Iceland
Can the World's Most Equal Country Finally Kill the Gender Pay Gap? (Bloomberg) No country can match Iceland in gender equality. Icelandic women earn just 8% less than men with similar experience in similar jobs - one of the smallest discrepancies in the world. There are laws mandating leave for parents and requiring that at least 40% of corporate board members are women. Yet in the country ranked best for gender egalitarianism by the World Economic Forum, that 8% income gap stubbornly persists, even in spite of an equal-pay law passed in 1961. That's right: Iceland's pay gap is technically illegal. Now, in a bid to finally reach parity, the country is going to make companies prove that men and women are paid exactly the same.
India
Economy looking up, says Jaitley (The Hindu) Union Finance Minister Arun Jaitley said in the Rajya Sabha on Thursday that key economic indicators were showing an upward swing. Mr. Jaitley assured the members that a positive impact of the bold reforms like the Goods and Services Tax and demonetisation would get reflected in the medium to long term.
However, the Congress attacked the BJP government over what it termed a "gasping" economy.

It pointed to increasing unemployment as a bad sign.

Opposition members also raised the issues of farmer suicides and the demonetisation's impact on small industries.
Japan
BOJ's Inflation Target Unrealistic in 2018, Says Credit Suisse (Bloomberg) While the Bank of Japan resolutely maintains its 2 percent inflation target, Credit Suisse Group AG says that's an unrealistic goal. The Japanese economy is enjoying a cyclical recovery, benefiting from a pick up in global demand, but nothing suggests structural change, said Hiromichi Shirakawa, chief Japan economist at Credit Suisse and a former BOJ official. Shirakawa, speaking to Bloomberg Television's Rishaad Salamat and Haidi Lun in an interview, said:
"It's difficult for us to say that 2 percent inflation is achievable in a sustained manner. We are not seeing yet any structural shift in the mindset or behavior of corporates and households in Japan."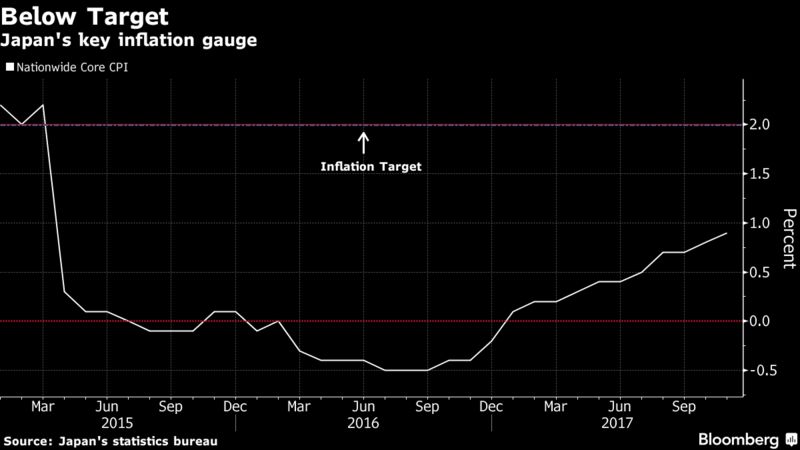 North Korea
Pyongyang accepts Seoul's talks offer (The Hindu) North and South Korea will hold official talks on Jan. 9, South Korea's unification ministry said on Friday, after Pyongyang sent a statement accepting Seoul's offer for talks next week.
The announcement by Seoul's Unification Ministry came hours after the United States said it has agreed to delay annual joint military exercises with South Korea until after the Winter Olympics. The exercises have been a major source of tension because North Korea considers them an invasion rehearsal, although South Korea and the United States have repeatedly said the drills are defensive in nature.
China
China to Set Economic Growth Target 'Around 6.5%' (Bloomberg) China will set its economic growth target at "around 6.5%" this year, according to people familiar with the outcome of a recent high-level planning meeting. It's not clear what the final wording of the target of will be, including any qualification such as 2017's commitment to seek faster growth, "if possible," the people said. The final wording will be released at a meeting of the National People's Congress in March.
>>>>> Scroll down to view and make comments <<<<<<
Click here for Historical News Post Listing
Make a Comment
Econintersect

wants your comments, data and opinion on the articles posted. You can also comment using Facebook directly using he comment block below.
---
Econintersect Contributors
---
---
---
---
---
| | |
| --- | --- |
| Print this page or create a PDF file of this page | |
---
The growing use of ad blocking software is creating a shortfall in covering our fixed expenses. Please consider a donation to Econintersect to allow continuing output of quality and balanced financial and economic news and analysis.
---
---
---
---
---
---
---
---