posted on 18 December 2017
Written by Econintersect
Early Bird Headlines 18 December 2017
Econintersect: Here are some of the headlines we found to help you start your day. For more headlines see our afternoon feature for GEI members, What We Read Today, published Monday, Wednesday and Friday, which has many more headlines and a number of article discussions to keep you abreast of what we have found interesting.
---
Please share this article - Go to very top of page, right hand side for social media buttons.
---
Special Announcement
The Early Bird has returned and will be published Monday through Friday.
Global
The launch of the CME bitcoin futures contract comes a week after the first bitcoin futures launched on an established exchange, the Cboe Futures Exchange.
Bitcoin CME futures went negative in early trading, a stark contrast from the 19 percent surge in CBOE bitcoin futures on their first day of trading a week ago.
U.S.
Three Trump judicial nominees stumble - with Republicans (The Hill) Controversy is swirling over the quality of candidates that President Trump is nominating to lifetime appointments on the federal courts. In the last week, the GOP chairman of the Senate Judiciary Committee has pressed the White House to not proceed with two controversial candidates - including one who had never tried a case in court. A third nominee on Thursday struggled to answer relatively easy questions about basic principles of law during a cringeworthy appearance before the Senate Judiciary Committee. The questioning came from a Republican, Sen. John Kennedy (LA).

Trump, Real Estate Investors Get Last-Minute Perk in Tax Bill (Bloomberg) Lawmakers scrambling to lock up Republican support for the tax reform bill added a complicated provision late in the process -- one that would provide a multimillion-dollar windfall to real estate investors such as President Donald Trump.

The change, which would allow real estate businesses to take advantage of a new tax break that's planned for partnerships, limited liability companies and other so-called "pass-through" businesses, combined elements of House and Senate legislation in a new way. Its beneficiaries are clear, tax experts say, and they include a president who's said that the tax legislation wouldn't help him financially.

Trump officials decline to extend ObamaCare sign-up deadline (The Hill) The Trump administration declined to extend the ObamaCare sign-up period amid the last-minute surge of enrollees, a break with the precedent set under the Obama administration.
The enrollment period ended Friday at midnight. The Obama administration in previous years consistently extended the deadline for a few days to accommodate the high number of enrollees who wait until the last minute to enroll.

However, the Trump administration this year declined to give such an extension.
But even a wave election of historic proportions can't change the fact that the Democratic Party of 2017 offers nothing approaching a coherent economic agenda, and pretty close to a howling vacuum on foreign policy. Sure, Democrats are against all kinds of things, including the GOP tax plan, Trump's unilateral withdrawal from the Paris climate accords, and his man-crushes on authoritarian leaders around the globe. But are they in favor of single-payer health care and a $15 minimum wage, or not? Are they still committed to endless overseas war and dubious alliances, or open to a new era of diplomacy and restraint? Nobody knows, literally - especially not Democrats themselves.
FCC vote won't end net neutrality fight (The Hill) The Federal Communications Commission (FCC) vote this week to repeal net neutrality won't end the fight over the regulation. Opponents are already lining up to sue the agency, which voted 3-2 to scrap the rules on Thursday, while Democrats are pushing legislation that would prevent the repeal from going into effect. The FCC said that the net neutrality repeal has to be approved by the Office of Management and Budget before it can go into effect - a process that could take months.
As a result of Thursday's vote, internet service providers will no longer be prohibited from blocking or throttling websites, or charging sites for faster speeds. FCC Chairman Ajit Pai's plan will also pre-empt states from passing their own net neutrality regulations.
"bankers "own" the U.S. Congress"
Bond Traders Flatten Yield Curve Even as Inflation Set to Bounce (Bloomberg) See also next article. The Treasuries yield curve from five to 30 years is the flattest since October 2007. The yield spread between these maturities touched 52 basis points last week after Federal Reserve Chair Janet Yellen downplayed the significance of the relentless trend. She said the curve "could more easily invert" nowadays with the term premium for longer-dated bonds going negative. From Tom di Galoma, managing director of government trading and strategy at Seaport Global Holdings:
"The only trade to have on in the marketplace is the yield-curve flattener. There's no reason for the curve to steepen -- we haven't seen inflation in so long."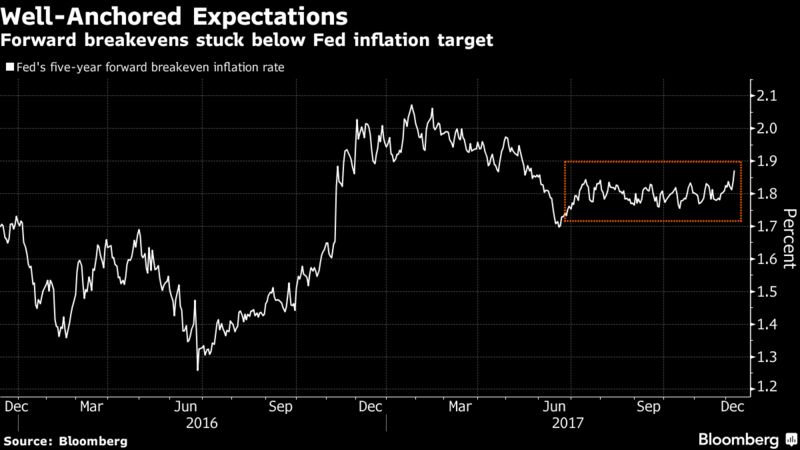 EU
Brexit, phase two (and beyond): The future of the EU-UK relationship (Bruegel) The EU side is willing to offer the UK a trade deal that looks either like the CETA arrangement with Canada, or the EEA agreement with Norway, Iceland and Liechtenstein. A possible timeline of the next steps in the EU-UK relationship is shown in the diagram below:
a one-year period of negotiations that will take us up to October/November of 2018, at the latest. This allows for the minimum time required for the new agreement to be ratified by the EU by March 2019 - the cut-off date for the UK to leave the EU.
After March 2019, a two-year period is envisaged in which the UK would most likely remain a full member of the EU single market and customs union, but without any voting rights. During this period, the UK would also remain bound by decisions of the European Court of Justice and continue to pay its full share in the EU budget. This should ensure a smooth transition from EU membership to the new EU-UK framework.
By March 2021, the new negotiated trade agreement between the EU and the UK will come into effect.
UK
May secured an agreement last week to move previously-deadlocked talks forward onto the topic of interim and long-term trading arrangements.

On Monday she will report back to parliament on those talks, setting out the framework of a time-limited implementation period designed to smooth Britain's EU exit and provide clarity for businesses and citizens.
Russia
Japan
South Korea
South Korea has initiated a plan to renegotiate its 2012 free trade agreement with the U.S.
Earlier this year, President Donald Trump threatened to scrap the deal unless it was revised
China
The next battle: Trump to take on China (Axios) Steve Bannon's influence is still quiding the Trump presidency. As part of an assertive "America First" national security strategy that President Trump will unveil Monday, he will accuse China of "economic aggression," the Financial Times' Demetri Sevastopulo and Shawn Donnan scoop:
One person familiar with the strategy says it is "likely to define China as a competitor in every realm. Not just a competitor but a threat, and therefore, in the view of many in this administration, an adversary."
What it means: This is "a strong sign that he has become frustrated at his inability to use his bond with China's President Xi Jinping to convince Beijing to address his trade concerns."
Why it matters ... Michael Allen, a former Bush official, now a Beacon Global Strategies managing director: "The national security strategy is the starting gun for a series of economic measures against the Chinese ... the Rosetta Stone for translating campaign themes into a coherent governing document."
Chile
Billionaire Pinera recaptures Chile presidency with resounding win (Reuters) Conservative Sebastian Pinera won Chile's presidential election by a wider-than-forecast margin on Sunday, pledging to jump-start economic growth in the world's top copper exporter and opt for more business-friendly policies than his center-left predecessor. Chile's electoral authority called the election for former president Pinera, who won 54.58% of votes compared with 45.42% for the center-left Alejandro Guillier, in a race that had been considered a toss-up.
Canada
Alberta blows past competition to claim cheapest wind energy rate (National Observer) The Canadian province with the largest proven oil reserves has now become home to the country's cheapest wind energy. Alberta's new green energy program has secured the lowest renewable electricity pricing in Canada, its provincial government declared Wednesday, in addition to bringing in roughly $1 billion of private-sector investment and adding around 600 megawatts (MW) of wind power to the grid. The results come as British Columbia says it can't afford to cancel the controversial hydroelectric Site C mega-project, and as the federal government pushes expanded liquefied natural gas trade with China. Alberta has now locked down a 20-year average price of $0.037 cents per kilowatt-hour - less than half of Ontario's 2016 procurement that resulted in an average of $0.085.
>>>>> Scroll down to view and make comments <<<<<<
Click here for Historical News Post Listing
Make a Comment
Econintersect

wants your comments, data and opinion on the articles posted. You can also comment using Facebook directly using he comment block below.
---
Econintersect Contributors
---
---
---
---
---
| | |
| --- | --- |
| Print this page or create a PDF file of this page | |
---
The growing use of ad blocking software is creating a shortfall in covering our fixed expenses. Please consider a donation to Econintersect to allow continuing output of quality and balanced financial and economic news and analysis.
---
---
---
---
---
---
---
---