posted on 04 December 2017
Written by Econintersect
Early Bird Headlines 04 December 2017
Econintersect: Here are some of the headlines we found to help you start your day. For more headlines see our afternoon feature for GEI members, What We Read Today, published Monday, Wednesday and Friday, which has many more headlines and a number of article discussions to keep you abreast of what we have found interesting.
---
Please share this article - Go to very top of page, right hand side for social media buttons.
---
Special Announcement
The Early Bird has returned and will be published Monday through Friday.
Global
A bar of gold. A disk of iron. A chain of beads. A card of plastic. A slip of cotton-linen paper. These things are worthless. One cannot eat them, or drink them, or use them as a blanket. But they are valuable, too. Their value comes from the simplest thing. People believe they are money, and so they are.
U.S.
The GOP tax plan is a multi-billion-dollar gift to China and Germany (CNBC) The relationship between tax cuts and the U.S. economy's external sector is simple: A reduction of income tax liabilities raises households' disposable income, which drives personal consumption, residential investments and, indirectly, business capital outlays - the main segments of the economy that represent 85% of America's GDP. All that new purchasing power then leads to rising demand for imports, while the expanding domestic markets lower the pressure on businesses to sell their goods and services abroad.
A fiscal stimulus with easy money and a growing economy is an unwise policy mix
America's stimulus overload will leak out through trade accounts
Expect downward pressures on the dollar and U.S. financial markets
Rising economic and political frictions with key trade partners are inevitable
Comey back in the spotlight after Flynn makes a deal (The Hill) Former FBI Director James Comey is back in the spotlight of the Russia investigation now that former national security adviser Michael Flynn has pleaded guilty to lying to the bureau. Lawmakers in Sunday television interviews across the networks were re-evaluating Comey's June Senate testimony accusing President Trump of asking him to drop the investigation into Flynn, with several guests indicating Comey might be able to answer additional questions.
FCC's net neutrality repeal sparks backlash (The Hill) The Federal Communications Commission's (FCC) plan to scrap net neutrality rules governing how internet providers handle web traffic has unleashed a wave of intense opposition. FCC Chairman Ajit Pai, a Republican, announced last month that the agency would vote to undo its 2015 net neutrality rules, which prevent companies like Verizon and Comcast from blocking or slowing down websites or creating internet "fast lanes." The plan was met with instant backlash from net neutrality supporters, who have been rallying to save the rules for the better part of a year.
As of Sunday afternoon, at least 750,000 people have called Congress since Pai announced his plan, according to battleforthenet.com. And activists are planning hundreds of demonstrations at Verizon stores and congressional offices across the country next week in protest of the planned vote.

Evan Greer, the campaign director for the pro-net neutrality group Fight for the Future, said she was surprised by the outpouring of support for net neutrality in the days following Pai's announcement just before Thanksgiving.
According to leaked documents obtained by the Associated Press, the president plans to shrink Bears Ears National Monument by nearly 85 percent and reduce Grand Staircase-Escalante National Monument by almost half.

The plan would gut the 1.35 million-acre Bears Ears to only 201,397 acres and the 1.87 million-acre Grand Staircase-Escalante to just 997,490 acres. This is a collective loss of more than two million acres of formerly protected land.
House vs Senate Tax Code (The Big Picture) Econintersect: Reconciliation of these differences should not be too difficult. Source of graphic: WSJ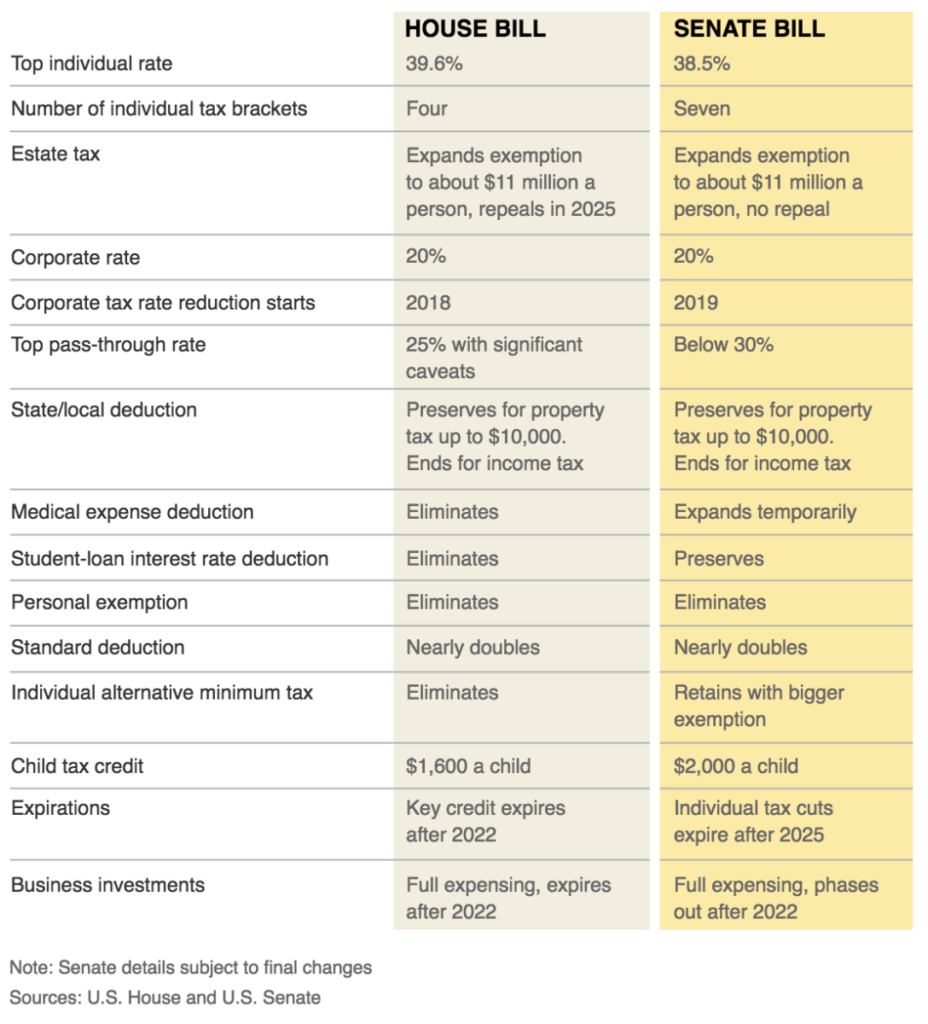 UK
A senior official at the Bank of England has voiced concerns about the possibly negative implications of the UK's high debt-to-GDP ratio, effectively saying that any increase in government borrowing could damage the country's financial stability.

In a speech at University College London on Thursday evening,Richard Sharp, an ex-Goldman Sachs banker and a member of the BoE's Financial Policy Committee, said that the UK must maintain some fiscal space, or risk "jeopardising" the country's financial stability.
Wind generation is forecast to climb to a record on Sunday, creating more output than needed and driving electricity prices below zero, broker data compiled by Bloomberg show. It would be the first time this year that the average price for a whole day is negative, not just for specific hours.

Germany's grid operators can struggle to keep the balance between how much energy people are using and how much is being produced when there are high amounts of wind generation. Negative prices mean that producers must either shut down power stations to reduce supply or pay consumers to take the electricity off the grid.
Iran
If Tillerson's Out, is Iran War In? (The Real News Network) The Trump administration will reportedly oust Secretary of State Rex Tillerson and install CIA Director Mike Pompeo in his place, with Republican Sen. Tom Cotton replacing Pompeo. Trita Parsi of the National Iranian American Council says that's a recipe for a US war on Iran.
Russia
Japan
"We find that there were three key forces that likely improved Japan's fiscal situation relative to more pessimistic predictions. First, the Japanese government has shown remarkable ability to hold down per capita expenditures on social pensions and healthcare. Second, the Japanese government has been able to raise taxes substantially. Third, the remarkable monetary policy pursued by the Bank of Japan has resulted in a dramatic decline in the amount of government bonds held by the private sector."
This paper re-examines Japan's fiscal and monetary policy over the past two decades and finds that the Japanese government has been remarkably adept at restraining benefit growth, raising taxes, and monetizing debt without generating inflation. Japan still needs to continue to balance the generosity of its social pension program with future tax increases, but the simplest interpretation of why markets have not responded to studies showing Japanese finances are troubled is that they have confidence in Japanese policymakers' ability to work out good compromises. If this approach continues, Japan may very well avoid either a financial crisis or a major inflationary episode.
North Korea
China
>>>>> Scroll down to view and make comments <<<<<<
Click here for Historical News Post Listing
Make a Comment
Econintersect

wants your comments, data and opinion on the articles posted. You can also comment using Facebook directly using he comment block below.
---
Econintersect Contributors
---
---
---
---
---
| | |
| --- | --- |
| Print this page or create a PDF file of this page | |
---
The growing use of ad blocking software is creating a shortfall in covering our fixed expenses. Please consider a donation to Econintersect to allow continuing output of quality and balanced financial and economic news and analysis.
---
---
---
---
---
---
---
---