posted on 01 December 2017
Written by Econintersect
Early Bird Headlines 01 December 2017
Econintersect: Here are some of the headlines we found to help you start your day. For more headlines see our afternoon feature for GEI members, What We Read Today, which has many more headlines and a number of article discussions to keep you abreast of what we have found interesting.
---
Please share this article - Go to very top of page, right hand side for social media buttons.
---
Special Announcement
The Early Bird has returned and will be published Monday through Friday.
Global
Asia trades mixed after US tax bill vote gets delayed (CNBC) Asia markets traded mixed in afternoon trade on Friday, giving up some of the early gains. That came despite a positive lead from the U.S. that included the Dow Jones industrial average closing above 24,000 for the first time. The dollar retreated from an earlier high of 93.056 to trade at 92.948 against a basket of currencies at 1:27 p.m. HK/SIN. U.S. crude rose 0.33% to $57.59 per barrel on Friday afternoon at 1:30 p.m. HK/SIN and global benchmark Brent was up 0.42% to $62.89 per barrel. Spot gold was flat at $1,274.34 an ounce and U.S. gold futures were nearly unchanged at $1,273.60.
Bitcoin Volatility (The Daily Shot) Bitcoin blasted past $11,000, and then turned around and sold off 20% from the high.
U.S.
Senate Republicans delayed voting on their tax bill as a setback forced them to patch up the plan only hours before a planned final vote.
Senate Majority Leader Mitch McConnell said senators will rework the legislation with the next in a series of roll call votes set for 11 a.m. on Friday.
Trump's Tax Promises Undercut by CEO Plans to Help Investors (Bloomberg) Major companies including Cisco Systems Inc., Pfizer Inc. and Coca-Cola Co. say they'll turn over most gains from proposed corporate tax cuts to their shareholders, undercutting President Donald Trump's promise that his plan will create jobs and boost wages for the middle class.
Pelosi calls for Conyers to resign (The Hill) Facing criticism for going too soft on sexual harassment, House Minority Leader Nancy Pelosi (D-Calif.) on Thursday called for Rep. John Conyers Jr. (D-Mich.) to resign as the allegations of sexual misconduct have mounted against him. Pelosi said during a briefing in the Capitol, reading from a statement:
"The allegations against Congressman Conyers, as we have learned more since Sunday, are serious, disappointing and very credible. It's very sad. The brave women who have come forward are owed justice. I pray for Congressman Conyers and his family and wish them well. However, Congressman Conyers should resign."
Senate committee advances controversial EPA, White House CEQ nominees (Utility Dive) The Trump White House has put a number of controversial nominees in front of Senate committees this year, but Hartnett White, to head the White House Council on Environmental Quality, could represent its most blatant rejection of mainstream environmental science yet. The former head of the Texas Council on Environmental Quality is known for her incendiary comments on climate change, comparing it to a "kind of paganism" for "secular elites" in 2016. While a number of Trump appointees question established climate science, Hartnett White went a step further in her confirmation hearing, reviving an old fossil fuel industry line that carbon dioxide is actually good for the planet. Also advancing, Andrew Wheeler to be deputy administrator of the Environmental Protection Agency, a past lobbyist for coal miner Murray Energy.
Trump urged Senate Republicans to drop panel's Russia probe, report says (CNBC) President Donald Trump repeatedly urged senior Senate Republicans over the summer to end the Senate Intelligence Committee's probe into Russian meddling in the 2016 election, including the panel's chairman, The New York Times reported on Thursday, citing several lawmakers and aides. Senator Richard Burr, the committee's chairman, said in an interview this week Trump told him that he was eager to see the investigation come to an end, The NYT reported.
Trump's HHS Nominee 'Should be Under Criminal Investigation' (The Real News Network) Health and Human Services nominee Alex Azar, a former president of Eli Lilly should be indicted for price gouging, not picked to oversee a department vital to the public health, says Alex Lawson of Social Security Works.
UK
"Theresa @theresamay, don't focus on me, focus on the destructive Radical Islamic Terrorism that is taking place within the United Kingdom. We are doing just fine!"
GDP Forecasts are Shrinking (The Daily Shot) Here is a GDP forecast out to 2020. Both consumption and investment are expected to be softer next year:
Israel
Trump Plans to Move US Embassy to Jerusalem (The Real News Network) Max Blumenthal and Paul Jay on Mike Pence's announcement that Donald Trump is actively planning to move the US embassy in Israel from Tel Aviv to Jerusalem, going against decades of US policy.
China
China's Solar Surge Hits New Heights (EcoWatch) In 2017 China deployed more PV capacity in one year than any other country has in total - or at least had at end of 2016. Last week, Bloomberg New Energy Finance revised upwards its projection for new solar capacity in China, taking it from the pretty impressive 30GW it forecast in July to a gargantuan 54GW. That latest figure tops the 40GW the U.S. had in place at the end of last year. However, grid issues in China means that somewhere around 10% of the country's solar power is curtailed (meaning it is not used).
Mexico
Inflation Surges as Economy Bogs Down in Mexico (Wolf Street) While inflation has surged, economic growth remains sluggish compared with many other countries, including Mexico's direct neighbor to the north. Banxico is forecasting growth this year of 1.8% to 2.3%. But even that may end up proving to be optimistic after it was revealed this week that third-quarter gross domestic product had shrunk by 0.3% compared with the previous quarter, as manufacturing declined more than expected. It was the first quarter-to-quarter GDP contraction since Q4 2015. The Bank of Mexico is caught in a vise.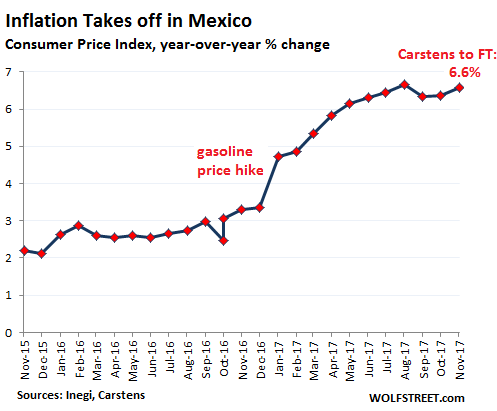 >>>>> Scroll down to view and make comments <<<<<<
Click here for Historical News Post Listing
Make a Comment
Econintersect

wants your comments, data and opinion on the articles posted. You can also comment using Facebook directly using he comment block below.
---
Econintersect Contributors
---
---
---
---
---
| | |
| --- | --- |
| Print this page or create a PDF file of this page | |
---
The growing use of ad blocking software is creating a shortfall in covering our fixed expenses. Please consider a donation to Econintersect to allow continuing output of quality and balanced financial and economic news and analysis.
---
---
---
---
---
---
---
---