posted on 25 November 2017
Written by Steven Hansen
The trends are clear - the middle class is shrinking. The trends began almost forty years ago and the Millennials seem to be wallowing in this trend.
---
Please share this article - Go to very top of page, right hand side, for social media buttons.
---
There is little question the middle class is shrinking.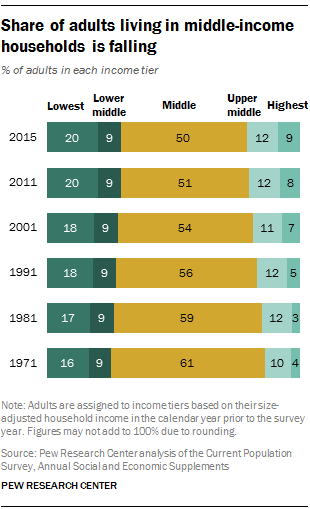 Source: Pew Research Center
While it is a positive thing that the top two income groups have grown by 7% of the 11% reduction of the middle class, the rest of the reduction (4%) shows up in growth of those in or near poverty (the lowest income group in the Pew graphic). This divergence has led to the term "hollowing out of the middle class".
The Millennials now represent the largest block of adults in the USA. The "hollowing out" appears to be hurting this young demographic - there are an inordinate number of Millennials in poverty.
Source: Pew Research Center
Yet the Millennials are much more likely than past generations to have an college degree.
Source: Pew Research
Education may be a double edged sword - as the inflation adjusted cost of going to college has doubled. According to VOX:
And because of the cost of education, Millennials not only are carrying much more college debt (the average Class of 2016 graduate has $37,172 in student loan debt, up six percent from last year) - but with the increased education are earning less money. From The New York Times:
America is inventing a new form of serfdom. Instead of serfs working on land, they are working for globalized corporations controlled by the very few. Tax codes are being revised to aid the very few by taking even more money from the middle class. Job mobility is down - and my belief much of the cause is lack of money to relocate. And household debt has returned to historically high levels.
Source: NY Fed
In a low growth economy with little inflation - debt is a brake on the economy. And college loan debt now exceeds credit card debt, auto loans, and other nonmortgage debt - and in many cases will survive bankruptcy. In medieval times, a free man became a serf because he owed a large debt. How times have changed :)
Other Economic News this Week:
The Econintersect Economic Index for November 2017 returned to the range of normal growth after last months brief dip. Still, the economic fundamentals are somewhat chaotic. Six-month employment growth forecast is now indicating slowing growth.
Bankruptcies this Week from bankruptcydata.com: none
Weekly Economic Release Scorecard:
>>>>> Scroll down to view and make comments <<<<<<
Click here for Historical News Post Listing
Make a Comment
Econintersect

wants your comments, data and opinion on the articles posted. You can also comment using Facebook directly using he comment block below.
---