posted on 17 November 2017
Written by Steven Hansen
Whenever a government changes a taxation scheme, there are current winners and current losers. After a new tax scheme goes into effect, most people adjust and then there are a different set of winners and losers.
---
Please share this article - Go to very top of page, right hand side, for social media buttons.
---
A simplier tax scheme with fewer loopholes would be welcome. With that in mind, my initial thoughts on the GOP tax plan follow. I will focus on the bill passed by the House, since the Senate bill has not come up for a vote yet.
---
NEW TAX BRACKETS
Reduce the corporate tax rate from 35 percent to 20 percent. Reduce the number of tax brackets from seven to four, with respective tax rates of 12 percent, 25 percent, 35 percent, and 39.6 percent.
---
I am not a believer in double taxation - so the reduction in business taxes are a step in the right direction (as profits are taxed at the corporate level, and then the after tax distributions taxed at the personal levels). Further, global business always gravitates its profits to the geographic location with the lowest taxes - and the USA has a high international tax rate.
But if one wants to keep the scheme revenue neutral, then disbursements from the corporations need to be taxed at a higher level to keep the government's tax income level. Lowering the tax rate to those who are shareholders is counter-intuitive. The following table from the Financial Samurai summarizes the current and proposed tax rates: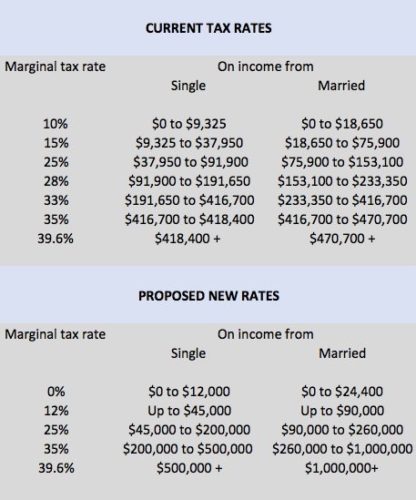 Taxes By Income Percentile
The USA has a growing problem of income distribution where there is a increasing disparity between the rich and the poor. A new tax scheme should not worsen this situation. The following table and graph is from the Tax Policy Center:
As shown on the above graph, there is a huge difference in tax reduction between the poorest tax payers and the very rich. The GOP tax plan appears to make the rich keep more of their income - with the long term losers being the upper middle class (income levels from 80 to 95%).
Hazards and Taxes
There are dangers in writing any post on the GOP tax plan - as it changes from day-to-day. There are vested interests (say the National Association of Realtors) which do not want to see current loopholes closed. Even if the Democrats and Republicans worked together, I doubt a reasonable tax plan could be created as the vested interests, who believe they win from loopholes, will not roll over. But in all events, I attack any tax plan that worsens the current wealth distribution.
Also consider what Brookings says about the relationship between taxation and the economy:
Finally, the argument that tax cuts grow the economy, while tax increases shrink it, is incomplete and incorrect. Economists generally agree that true tax reform, where marginal tax rates are reduced while the tax base is broadened and the revenue collected stays the same, is good for economic growth. But tax cuts that diminish revenue are harmful to economic growth if they increase deficits and reduce national saving.

.... And let us be wise when we hear politicians pitching more tax cuts, understanding that every dollar of additional tax cuts that we receive now only adds more than a dollar to the future tax bills of our children and grandchildren. Our current tax burden is historically low, not high: Federal taxes were less than 17 percent of gross domestic product in 2003-04, the lowest since the 1950s. A civilized society shouldn't go on a spending spree with an unwillingness to pay sufficiently for it, only to stick the bill to future generations with no political voice.
Other Economic News this Week:
The Econintersect Economic Index for November 2017 returned to the range of normal growth after last month's brief dip. Still, the economic fundamentals are somewhat chaoic. Six-month employment growth forecast is now indicating slowing growth.
Bankruptcies this Week from bankruptcydata.com: Pacific Drilling, Real Industry (f/k/a Signature Group Holdings), Privately-held Velocity Holding
Weekly Economic Release Scorecard:
>>>>> Scroll down to view and make comments <<<<<<
Click here for Historical News Post Listing
Make a Comment
Econintersect

wants your comments, data and opinion on the articles posted. You can also comment using Facebook directly using he comment block below.
---