posted on 16 October 2017
Written by Econintersect
Early Bird Headlines 16 October 2017
Econintersect: Here are some of the headlines we found to help you start your day. For more headlines see our afternoon feature for GEI members, What We Read Today, which has many more headlines and a number of article discussions to keep you abreast of what we have found interesting.
---
Please share this article - Go to very top of page, right hand side for social media buttons.
---
Most of the content in this article was intended to be in the Early Bird for Saturday 14 October. But corrupted html code caused it to be 'lost' until tech support recovered the file Sunday. Thus it is being presented two days late, with the Asia markets article for 16 October added along with a couple of other late-breaking stories.
Special Announcement
The next regularly scheduled Early Bird will be published 01 December.
The editor responsible for the preparation of 'Early Bird' is in the process of completing construction on a new home on Lake Frederick, Virginia (northern Shenandoah Valley near Winchester) and moving there from his residence of the past 13 years in Clayton, NC (southeastern suburbs of Raleigh). The house in NC has not yet sold so setting up the maintenance logistics for two houses five hours drive apart is complicating the move.
We apologize for the interruption of the daily presentation of this feature.
Global
U.S.
Trump's entire political life -- dating all the way back to his adoption of birtherism earlier this decade -- is positioned against all things Obama. Why? Because for many Trump supporters in this country, Obama -- and his beliefs about society and government -- were the antithesis of what they believed. (Yes, Obama's race -- and multicultural vision of the country and the world -- were part of that mix as well.)
Desperate Puerto Ricans are drinking water from a hazardous-waste site (CNN) More than three weeks after Hurricane Maria ravaged this island, more than 35% of the island's residents -- American citizens -- remain without safe drinking water. It's clear some residents are turning to potentially risky sources to get by. Friday afternoon, CNN watched workers from the Puerto Rican water utility, Autoridad de Acueductos y Alcantarillados, or AAA, distribute water from a well at the Dorado Groundwater Contamination Site, which was listed in 2016 as part of the federal Superfund program for hazardous waste cleanup.
U.S. Job Tenure Ticks Down To 5.1 Years (ValueWalk) The typical American worker stayed at their job just over five years last year, down slightly from the record high since 1983 set in 2014, according to new research by the nonpartisan Employee Benefit Research Institute (EBRI). Specifically, EBRI found that the median tenure (mid-point, half above and half below) for all wage and salary workers ages 25 or older with their current employers was 5.1 years in 2016, compared with the high since 1983 of 5.5 years in 2014 and the low of 4.7 years in 1998-2002.
5 facts about the U.S. rank in worldwide migration (Pew Reseach Center)
By a wide margin, the U.S. has more immigrants than any other country in the world.
The U.S.-Mexico migration corridor is the world's largest.
Compared with other countries receiving immigrants, the share of the U.S. population that is foreign born is modest.
The U.S. immigrant population is not as diverse in origin as those of other countries.
The U.S. has a lower number of emigrants - those who have left - than 19 other countries, including many with much smaller populations.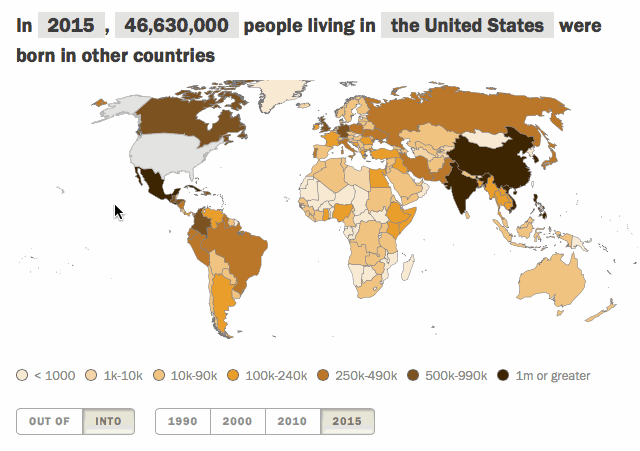 Austria
Austrian populists expect to be kingmakers as politics takes turn to right (The Guardian) Austrian politics is set to tip to the right less than a year after averting a far-right presidency by the populist Freedom party , with the party on course to emerge as coalition kingmaker in Sunday's national elections. Though currently fighting for second place behind 31-year-old Sebastian Kurz of the centre-right Austrian People's party (fiVP), the Freedom party has managed to dictate the agenda of a campaign centred largely around immigration and fears of radical Islam, and will receive a last-stretch boost from a "dirty campaigning" row between the traditional centre parties.
Neither Kurz nor incumbent chancellor Christian Kern of the centre-left SPfi have ruled out entering a coalition with the Freedom party, whose current leader Heinz-Christian Strache could become the first European politician with a neo-Nazi background to sit in government since the second world war.
Ireland
Ophelia is expected to become a hurricane-force post-tropical cyclone by Monday before it moves near Ireland and the United Kingdom. Direct impacts from wind and heavy rain in portions of these areas are likely, along with dangerous marine conditions. For more details on the magnitude, timing, and location of impacts from post-tropical Ophelia, residents in Ireland should refer to products issued by Met Eireann, and residents in the United Kingdom should refer to products issued by the Met Office.
Iraq
Iraq's national army advanced toward peshmerga positions near Kirkuk, which recently declared independence from Baghdad
Oil prices jumped on the news, with Brent crude more than 1 percent higher during Asian trade
Oil Gains on Concern Iraq-Kurd Tensions Will Disrupt Crude Flows (Bloomberg) Crude extended gains from the highest close in two weeks as speculation mounted over potential output disruptions in a region that's home to Iraq's oldest producing oil fields. Futures in London rose as much as 1.3% after gaining 2.8% last week. Iraqi soldiers moved late Sunday to take over fields in the northern city of Kirkuk from Kurdish forces. That's amid an intensifying conflict after the semi-autonomous Kurdistan Regional Government, or KRG, held a referendum on independence from Iraq on Sept. 25. OPEC sees crude demand growing at a "healthy pace" over the next five years.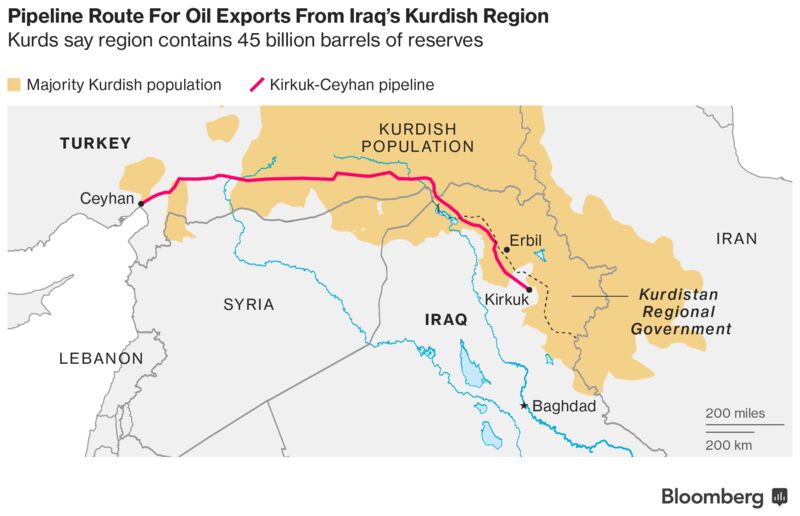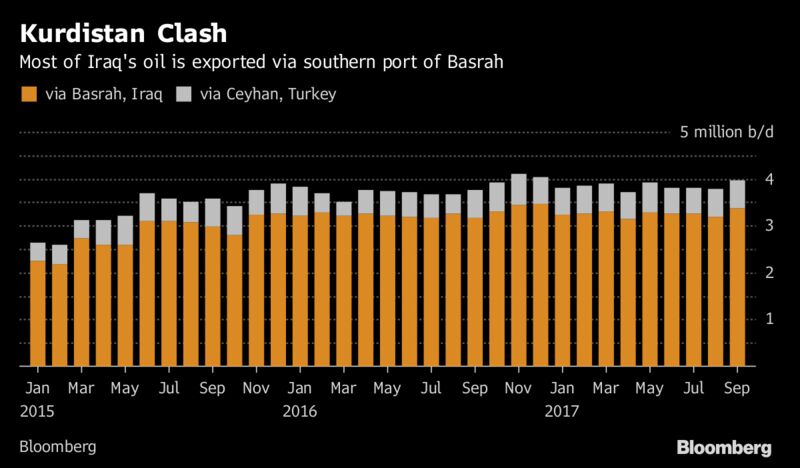 Iran
He appears to want Congress to pass new deal-breaking terms that Iran will never accept, leverage the Europeans into joining, and force Iran through sanctioning the Iranian Revolutionary Guard and ratcheting up the pressure to accept a new accord. None of this is likely to happen. In effect, having opened up the certification process, the President has now guaranteed a new competitive and combustible phase in US-Iranian relations.
China
China September Consumer Price Index rose 1.6 percent, matching forecasts
The September Producer Price Index, however, crushed a forecast rise of 6.3 percent, instead coming in at a 6.9 percent increase on-year
China: A Green Giant In The Making (ValueWalk) China is dropping its focus on "dirty" industrial growth, while making a massive shift toward renewable energy and a less resource-intensive path to economic success. This reorientation could open up substantial opportunities for equity investors.
Cuba
>>>>> Scroll down to view and make comments <<<<<<
Click here for Historical News Post Listing
Make a Comment
Econintersect

wants your comments, data and opinion on the articles posted. You can also comment using Facebook directly using he comment block below.
---
Econintersect Contributors
---
---
---
---
---
| | |
| --- | --- |
| Print this page or create a PDF file of this page | |
---
The growing use of ad blocking software is creating a shortfall in covering our fixed expenses. Please consider a donation to Econintersect to allow continuing output of quality and balanced financial and economic news and analysis.
---
---
---
---
---
---
---
---