posted on 12 October 2017
Written by Econintersect
Early Bird Headlines 12 October 2017
Econintersect: Here are some of the headlines we found to help you start your day. For more headlines see our afternoon feature for GEI members, What We Read Today, which has many more headlines and a number of article discussions to keep you abreast of what we have found interesting.
---
Please share this article - Go to very top of page, right hand side for social media buttons.
---
Global
Trump's Tough Talk on Nafta Suggests Pact's Demise Is Imminent (The New York Times) The North American Free Trade Agreement (NAFTA), long disparaged by President Trump as bad for the United States, was edging closer toward collapse as negotiators gathered for a fourth round of contentious talks here this week. In recent weeks, the Trump administration has sparred with American businesses that support Nafta and has pushed for significant changes that negotiators from Mexico and Canada say are nonstarters. All the while, the president has continued threatening to withdraw the United States from the trade agreement, which he has maligned as the worst in history.
The collapse of the 1994 trade deal would reverberate throughout the global economy, inflicting damage far beyond Mexico, Canada and the United States and affecting industries as varied as manufacturing, agriculture and energy. It would also sow at least short-term chaos for businesses like the auto industry that have arranged their North American supply chains around the deal's terms.
Central bankers face a crisis of confidence as models fail (Financial Times) As central bankers gather in Washington for the annual meetings of the International Monetary Fund, there is a crisis of confidence in central banking. Their economic models are failing and there are doubts whether they understand the effects of interest rates and other monetary policies on the economy. In short, the new masters of the universe might not understand what makes a modern economy tick and their well-intentioned actions could prove harmful.
U.S.
The Memo: Who's winning Trump's war with media? (The Hill) President Trump has opened up a new front in his war against the media, this time with NBC News in his sights. But is the conflict taming the press or simply making it stronger? Trump has used attacks on the media to fire up his base since his campaign began. There are few more reliable applause lines at his rallies than his attacks on the "fake news media".
Yet at the same time, news organizations have reaped journalistic and commercial rewards from a White House that is unparalleled in its drama and volatility.

Media outlets across the board have seen their audiences grow, often in ways that seem correlated with their willingness to confront Trump.
President Donald Trump is planning to sign an executive order on Thursday as a new step to weakening Obamacare, according to multiple outlets
As part of that move, Trump will instruct agencies to allow greater sales of cheaper - and less comprehensive - health plans
But the cheaper plans could draw more younger customers at the expense of sicker people
Trump Promises Benefits for Millions of Americans From Tax Plan (Bloomberg) President Donald Trump said his tax plan would simplify the tax code and save money for millions of U.S. businesses and families as he campaigns against criticism the proposal is a giveaway to the rich. Democrats say that the tax overhaul's benefits are skewed to the wealthy, and an independent analysis found that the plan may actually raise taxes on nearly a third of middle-class families, criticism that is weighing on Trump's plan. A study by the nonpartisan Urban-Brookings Tax Policy Center, which used details from previous Republican plans to fill in gaps in the president's framework, found the Trump plan would raise taxes for almost 30% of filers making $50,000 to $150,000 per year. The president says taxes will be reduced by about $4,000 per family, and possibly more.
Trump touts stock market gains, suggests he is 'reducing debt' (The Hill) President Trump on Wednesday touted gains in the stock market, suggesting that his administration was "in a sense reducing debt." During an interview on Fox News, Trump said he's proud of the "$5.2 trillion of increased in the stock market." Trump said during an interview on Fox News:
"The country -- we took it over and owed over 20 trillion. As you know the last eight years, they borrowed more than it did in the whole history of our country. So they borrowed more than $10 trillion, right? And yet, we picked up 5.2 trillion just in the stock market."
Spain
A Way Out for Spain and Catalonia? (The Real News Network) The Catalan leadership has stopped short of declaring independence from Spain, calling instead for talks with the Spanish government. RNN speaks to Fusion host Nando Vila and Professor Sebastiaan Faber of Oberlin College:
India
The chosen areas include economic growth, job creation, informal sector and integration, fiscal framework, monetary policy, public expenditure, institutions of economic governance, agriculture and animal husbandry, patterns of consumption and production, and social sector.
IMF backs Universal Basic Income in India, serves Modi govt a political opportunity (live mint) Ahead of Union Budget 2018, the Narendra Modi-led government's last full-year budget to be presented in February, the International Monetary Fund (IMF) has made a strong case for India adopting a fiscally neutral Universal Basic Income by eliminating both food and fuel subsidies. The IMF says these subsidies go disproportionately to the wealthy. The IMF also cautioned for planning to avoid potential nflation effects.
Universal Basic Income is a form of social security guaranteed to citizens and transferred directly to their bank accounts and is being debated globally. If indeed the government does go ahead and accepts the proposal, it will be equipping itself with a potent political tool ahead of 2019 Lok Sabha elections.

Finance minister Arun Jaitley had in June said while he is fully supportive of the idea of Universal Basic Income proposed by chief economic adviser Arvind Subramanian in the Economic Survey 2016-17, it may not be politically feasible.
EAC member Rathin Roy questions India's growth projections by IMF, World Bank (business today) Noted economist and member of the Economic Advisory Council to the Prime Minister (EAC-PM) Rathin Roy today dismissed lowering of India's growth projections by the IMF and the World Bank, saying they often go 'wrong'. While the International Monetary Fund (IMF) has lowered India's growth forecast for the current fiscal by 0.5 percentage points to 6.7%, the World Bank has pegged economic expansion at 7%, down from 7.2% projected earlier. The Asian Development Bank too lowered India's current fiscal growth to 7% from 7.4%, while RBI cut economic growth forecast to 6.7% from earlier projection of 7.3%. Roy said in a media interaction when asked to comment on lowering of growth projections by international multilateral lending agencies:
"IMF's growth projections are 80 per cent wrong. World Bank's growth projections are 65 per cent wrong."
Japan
Unloved Japanese Bank Shares Could See a Fourth-Quarter Bounce (Bloomberg) As earnings results at some of the biggest U.S. banks steal the limelight on Thursday, it may be worth keeping an eye on lenders on the other side of the world. Japanese bank stocks, this year's laggards, are due a decent run into the end of the year, if history is any guide. While they've made little headway so far in 2017 compared with rallies in U.S. and European lenders, they tend to put in a solid run in the final quarter.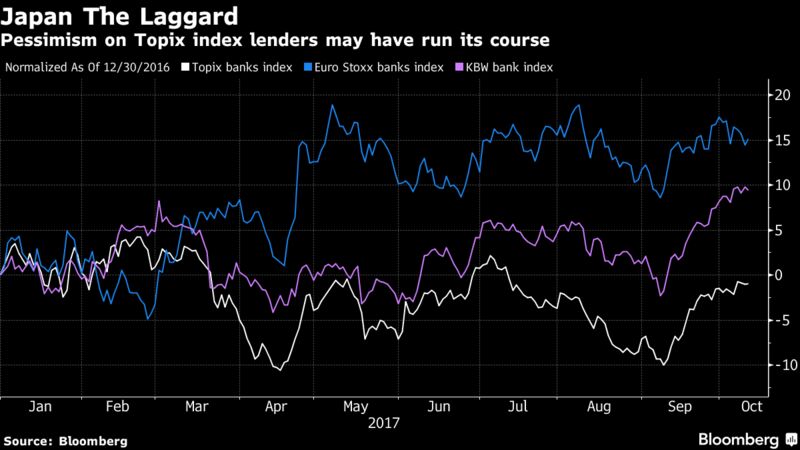 North Korea
North Korea Says Trump Lit 'Fuse of War', Russian News Agency Reports (Bloomberg) North Korea's foreign minister told Russian journalists that Donald Trump lit the "fuse of war" when the U.S. president labeled Kim Jong Un as "Rocket Man" in a recent speech at the United Nations. Ri Yong Ho was quoted by the Tass news agency as saying Pyongyang will never hold talks over its nuclear arsenal and won't enter dialogue with the U.S. as long as Washington maintains sanctions on the regime.
China
The Path to Power in China (Bloomberg) China's process for choosing top leaders is opaque, but not unpredictable. There are patterns in who rises and falls at the Communist Party's twice-a-decade reshuffle like the one that begins Oct. 18 in Beijing. A Bloomberg News analysis of the careers of more than five dozen senior Chinese leaders over the past quarter century revealed trends both expected and surprising: People who run big cities such as Beijing or Shanghai are practically guaranteed spots in the upper echelons, while some rich industrial provinces like Guangdong have had less political clout relative to their economic strength.
>>>>> Scroll down to view and make comments <<<<<<
Click here for Historical News Post Listing
Make a Comment
Econintersect

wants your comments, data and opinion on the articles posted. You can also comment using Facebook directly using he comment block below.
---
Econintersect Contributors
---
---
---
---
---
| | |
| --- | --- |
| Print this page or create a PDF file of this page | |
---
The growing use of ad blocking software is creating a shortfall in covering our fixed expenses. Please consider a donation to Econintersect to allow continuing output of quality and balanced financial and economic news and analysis.
---
---
---
---
---
---
---
---